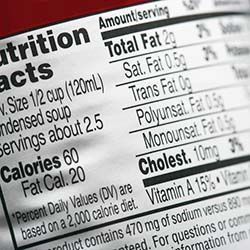 According to an old nursery rhyme, Jack Sprat could eat no fat, so he probably didn't care whether the food he ate contained trans fat. However, his wife, who could eat no lean, should have been concerned since consumption of trans fat is linked to an increased risk of coronary heart disease. According to the Institute of Medicine, trans fat provides no known health benefit and there is no safe level of consumption.
The FDA defines trans fat as the sum of all unsaturated fatty acids that contain one or more isolated (i.e., non-conjugated) double bonds in a trans configuration. Trans fat occurs naturally in some products, such as those from cattle and other ruminant animals, but is also produced during oil refining and deodorization and possibly during food preparation. The primary dietary source of trans fat is partially hydrogenated oils (PHOs) in processed foods. PHOs have been allowed in foods as generally recognized as safe (GRAS) ingredients, but companies have been required to label the trans fat content of their food products.
PHOs have long been used for their functionality, but their use has been declining. Many food companies have already replaced PHOs in their products or are in the process of reformulating their products to eliminate PHOs, but the U.S. Food and Drug Administration (FDA) late last year announced its intention to essentially ban the use of PHOs. The FDA published a notice in the Federal Register (78 FR 67,169) announcing its tentative determination that PHOs would no longer be GRAS. The FDA sought comments on possible alternative approaches, time needed for reformulation, burden on small businesses, and technical challenges to remove PHOs from the food supply. The original deadline for comments was extended to March 8, 2014. FDA spokesperson Arthur Whitmore said that the agency received approximately 1,600 comments in response to the agency's tentative determination regarding PHOs and is in the process of reviewing them.
Nutrition Labeling Compliance
The FDA has required companies to declare the trans fat content of food products and dietary supplements since 2006. The agency published a proposal in the Federal Register (79 FR 11,880) to revise the nutrition labeling regulation for foods and dietary supplements with a deadline of June 2, 2014, for comments.
The agency said that it is not proposing to change its definition of trans fat; neither is it proposing to change the requirement for mandatory declaration of trans fat content. However, the agency is requesting comments on whether mandatory labeling of trans fat would still be necessary if its tentative determination to revoke the GRAS status of PHOs is finalized.
Regardless of whether PHOs are banned and whether labeling of trans fat content would no longer be required, fat and oil processors will need to monitor trans fats produced during oil processing, and food companies will still have to analyze their raw materials and finished products for trans fat content. Since validated analytical methods that provide sensitive and reliable estimates of trans fats in all foods at levels below 0.5 g per serving are not available, the FDA said that it is not proposing any changes to its requirement that trans fat content below 0.5 g per serving can be declared as 0.
To determine compliance with the regulations, the agency said that it will analyze products by appropriate methods provided in the 19th edition of Official Methods of Analysis of AOAC International or newer editions issued before a final rule is issued, provided that there are no substantive changes in the newer edition that require additional comment. If no AOAC method is available or appropriate, the agency said that it will use other reliable and appropriate analytical procedures.
Whitmore said that the FDA does not usually say which methods are acceptable or not unless it specifies a particular method, which it did not do for trans fat. Industry is free to use any method it determines is appropriate, he said, but the FDA will use the AOAC methods for compliance purposes.
--- PAGE BREAK ---
Analyzing for Trans Fat
AOAC International (www.aoac.org), formerly known as the Association of Official Analytical Chemists, publishes the Official Methods of Analysis of AOAC International, and the AOCS (www.aocs.org), formerly known as the American Oil Chemists' Society, publishes the Official Methods and Recommended Practices of the AOCS. Both sets of methods, which in many cases are similar, are recognized by government agencies around the world. The following are AOCS and AOAC methods related to determination of trans fat content:
• AOCS Ce 1h-05 is a capillary gas-liquid chromatography (GLC) procedure for the determination of the fatty acid composition of vegetable or non-ruminant animal oils and fats. The fatty acid methyl esters (FAMEs) of the sample are separated on a capillary GLC column with a highly polar stationary phase.
• AOCS Ce 1j-07 is a capillary GLC procedure for the determination of the fatty acid composition of fats derived from dairy and ruminant products. A modification of AOCS Ce 1h-05, AOCS Ce 1j-07 adds an elution temperature ramp to facilitate the quantification of polyunsaturated fatty acids. When a sample contains both dairy fats and vegetable oils, it must be analyzed by both methods and the data combined. Neither method is suitable for analysis of marine products.
• AOAC 996.06 is a capillary GLC procedure for the determination of the fatty acid composition of foods. Fatty acids are extracted by acidic hydrolysis, and the FAMEs of the sample are separated on a capillary GLC column with a highly polar stationary phase. The method has been the most comprehensive for measuring fatty acids in most food products except marine products, but it does not cover the measurement of trans fatty acids. However, many laboratories have extended its applicability to the measurement of trans fatty acids by combining it with the chromatography of AOCS Ce 1h-05.
• AOCS Ce 2b-11 is a simultaneous alkali hydrolysis and methylation procedure without prior digestion for the preparation of FAMEs directly from food matrices.
• AOCS Ce 2c-11 is an acid-alkaline procedure for the preparation of FAMEs directly from food matrices. The fats or oils are released from the matrix by digestion with hydrochloric acid in methanol followed by alkali hydrolysis and methylation. The additional acid pretreatment, compared to AOCS Ce 2b-11, is needed when analyzing extruded pet foods, oat-based foods, and encapsulated oils.
• AOCS Ce 1g-96 is a recommended practice for isolating fatty acids as FAMEs using high-performance liquid chromatography columns packed with a silver-loaded ionexchange resin. Once isolated, the fractions are further analyzed for identification and quantification by GLC on highly polar stationary phases.
• AOCS Cd 14-95/AOAC 965.35 is an infrared spectrometric procedure for measuring isolated trans bonds in natural or processed long-chain fatty acids, esters, and triglycerides with trans levels greater than 5%. For high accuracy, common interfering absorptions associated with the glycerol backbone of triglycerides and the carboxyl group of fatty acids must be eliminated by conversion to FAMEs prior to analysis.
• AOCS Cd 14d-99/AOAC 2000.10 is a Fourier-transform infrared (FTIR) spectroscopic procedure for the rapid determination of the trans fat content of natural or processed vegetable, animal, dairy, ruminant, and marine fats and oils with trans levels of about 1% or higher. The fats and oils are measured by FTIR in the attenuated total reflection (ATR) mode. The FTIR-ATR procedure requires no weighing and no quantitative dilution of samples in solvent. The major distinguishing feature over AOCS Cd 14-95 is the use of a trans-free reference oil that eliminates the sloping baseline and spectral interferences in the absorbance region for trans fat.
• AOCS Cd 14e-09 is the most recently developed infrared spectrometric procedure for the rapid determination of the trans fat content of vegetable, animal, dairy, ruminant, and marine fats and oils. This method employs the negative second-derivative treatment of FTIR-ATR spectroscopic data. It entails the measurement of the height of the negative second derivative of trans fat's unique infrared absorption band at 966 cm–1. The narrower bandwidth of the second derivative features improved sensitivity and accuracy over previous infrared methods and makes it possible to recognize the presence of potential interferences at low trans-fat levels. The method does not require derivatization of the oil or fat to the corresponding FAMEs and does not require any weighing or quantitative dilution of unknown test samples in solvent.
--- PAGE BREAK ---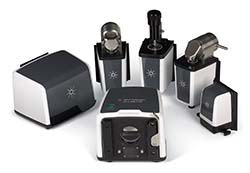 Analytical Instrumentation
FTIR spectroscopic methods have several advantages over chromatographic methods. They are much faster, taking about five minutes from start to finish, and do not require any wet chemistry (namely, derivatization to FAMEs). Numerous companies manufacture FTIR instruments that can be used for trans-fat analysis:
• Agilent Technologies (www.agilent.com) offers the compact Cary 630 FTIR spectrometer. The instrument provides a wide range of sample interfaces, permanently aligned optics to simplify uptime, modules to increase testing, and easy-to-use technology.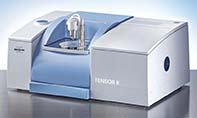 • Bruker Optics (www.bruker.com/optics) offers the new Tensor II FTIR spectrometer. The highly sensitive and easy-to-use instrument is said to be the first R&D FTIR spectrometer using a diode laser with a much longer hold time than HeNe lasers used in conventional FTIR instruments. The infrared source is electronically stabilized to accomplish longer exposure times than before, and the electronic platform provides increased stability against mechanical disturbances and vibrations.
• JASCO Inc. (www.jascoinc.com) recently introduced the FTIR-4600/4700/6600/6700/6800 Series spectrometers. They are said to offer the highest signal-to-noise (s/n) ratio in the industry, unparalleled sensitivity, and vibration-free scanning. The compact instruments feature a highly stable corner-cube interferometer, and AccuTrac™ DSP technology, enabling rapid and accurate tracking of mirror position and velocity for optimum s/n performance.
• PerkinElmer Inc. (www.perkinelmer.com) early last year introduced the Spectrum Two FTIR spectrometer and recently offered a trans-fat FT-IR Analysis Pack as an add-on kit. The kit consists of a single-reflection ZnSe ATR sampling accessory, a temperature controller with a range of 0° C to 130° C, dedicated software for trans-fat analysis by AOCS Cd 14e-09, a user manual, and standard operating procedures. The resulting Spectrum Two Trans-Fat Analysis System is portable, requires minimal sample preparation, and delivers results in less than two minutes.
• Shimadzu Scientific Instruments Inc. (www.ssi.shimadzu.com) last fall introduced the IRTracer-100 FTIR spectrophotometer. The instrument is said to combine high speed, sensitivity, and resolution with enhanced expandability. The instrument allows rapid sample acquisitions of 20 spectra per second. It features a stable, airtight interferometer that incorporates a built-in automatic dehumidifier, protecting the unit against moisture and other environmental influences. The Advanced Dynamic Alignment system, sampling at more than 5,000 times per second, works in combination with a smooth-moving mirror to ensure optimum performance, enhanced stability, and shorter warm-up times. The new LabSolutions IR Series software includes a library of nearly 12,000 spectra as well as a high-performance search function.
--- PAGE BREAK ---
---
Formulating Without Trans Fat
The FDA's proposal to eliminate partially hydrogenated oils, the major source of
trans
fat, from food products will require the reformulation and relabeling of foods. While many manufacturers have already removed
trans
fat from their products, many other companies are still determining what to use instead of PHOs without adversely affecting the characteristics of the product. The Scientific Program at the IFT Annual Meeting & Food Expo in New Orleans, La., June 22–24, 2014, will feature various papers on
trans
fat and reformulation to eliminate it from food products.
In session 094, "A Deeper Look into the Post-Trans Fat World," on Monday, June 23, from 10:30 a.m. to 12 p.m., P.M. Kris-Etherton of Pennsylvania State University will discuss the latest scientific research on fatty acids and their links to chronic diseases; B. Schneeman of the University of California, Davis, will discuss regulatory changes that may appear in the near future and their impact on food companies and consumers; and M. LaGuardia of Dow ArgoSciences will discuss how omega-9 oils can help companies formulate healthier foods, especially those that rely heavily on the physical properties of fats and oils.
In poster session 206-04, "Evaluation of the Effect of High Intensity Ultrasound on Plant-Based Lipid Blends as an Alternative to Hydrogenation for Plastic Fat Development," on Tuesday, June 24, from 10:00 a.m. to 12:00 p.m., L.S. Garrow of the University of Illinois at Urbana-Champaign will discuss how blends of coconut oil, rice bran oil, and palm stearin treated with high-intensity ultrasound can produce a trans fat-free fat with plastic characteristics necessary for many baking applications.
In poster session 206-55, "Determination of Trans Fat Content in Baking Food Products Using a Portable ATR-FTIR System," on Tuesday, June 24, from 10:00 a.m. to 12:30 p.m., A.M. Milligan, L. Rodriguez-Saona, and S. Ryo of Ohio State University will describe use of a portable ATR-FTIR system combined with chemometrics to determine the trans fat content of baked goods.
In session 223-03, "Trans Fat-Free Products that Meet Consumer Demand," on Tuesday, June 24, from 11:25 a.m. to 11:50 a.m., R. Cheatham of Foodscape Group will discuss how high-oleic soybean oils can serve as a zero-trans fat ingredient for product development without increasing the content of saturated fats.
In session 235, "High Oleic Vegetable Oils: Functional and Physiological Benefits," on Tuesday, June 24, from 1:15 p.m. to 2:30 p.m., S. Knowlton of DuPont will discuss how oils with naturally high oxidative stability such as high-oleic oils can be used in foodservice and how high-saturate oils such as palm oil can be used in food applications that require solid fat, and P. Huth of PJH Nutrition Sciences will discuss how vegetable oils high in monounsaturated fatty acids such as high-oleic soybean oil can deliver physical and food functionality characteristics similar to those of partially hydrogenated vegetable oils and saturated fats without adverse metabolic effects.

Neil H. Mermelstein,
a Fellow of IFT,
is Editor Emeritus of Food Technology
[email protected]