Food and beverage product developers continually face new challenges ranging from functionality issues to consumer demands. To help meet these needs, researchers and ingredient manufacturers look to a number of sources to develop new ingredients or improve those in current use. They also utilize various technological advances to help them achieve this. "We are always conducting research to identify and understand the key trends being driven by consumers so that we are poised to fully understand our customers' needs," explains Luis Fernandez, Vice President of Global Applications for Tate & Lyle. This month's Ingredients column will explore some of these ingredients, research, and technologies that help the food industry solve product development challenges and highlight culinary and product concept examples that are trending.
New Twists on Product Concepts
The hybrid food craze is not showing signs of slowing down anytime soon. First came the Cronut™, which combines a croissant and donut (and yes, the creator did have the name trademarked). Then, a waffle restaurant in Chicago began offering the wonut, a waffle that is deep-fried like a donut, glazed or frosted, and topped with sprinkles. And now, David Michael & Co., Philadelphia, Pa. (www.dmflavors.com), presented the Sweet & Savory Croitzel at the 2014 Innovation Roadshow; it's a combination of a buttery, flaky croissant and the salty crunch of a pretzel.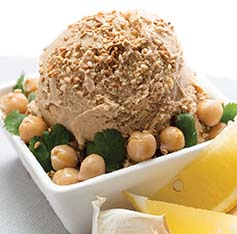 David Michael is best known as a flavorings and ingredients manufacturer not a bakery, but it pulls out all the stops at its annual Innovation Roadshow where its food scientists and technologists showcase the company's flavorings, naturally derived colorings, and more ingredients in a variety of on-trend or emerging product concepts and provide examples of how these concepts can translate into consumer packaged goods and foodservice offerings. The two croitzel concepts presented during the event included a salted chocolate version and a smoked ham and Cheddar cheese version, and the developers say that the concepts could be produced by bakeries, foodservice establishments, and product manufacturers for retail and that they present opportunities for co-branding with pretzel brands.
Another concept, Hummus Flavored Ice Cream, marries the creaminess of ice cream with the nutty flavor of hummus. Hummus is fast becoming a popular spread and dip for such foods as sandwiches and chips and the inclusion of a hummus flavoring in the ice cream plays perfectly into this trend. Suggested line extensions of the hummus-flavored ice cream are roasted red pepper, pine nut, roasted garlic, basil pesto, and spicy hummus. The company also featured Yacon Syrup Cereal Clusters. Cereal clusters, bars, and other similar items are not new. What is new in this product concept is yacon syrup, a sweetener derived from a sweet tuberous root that reportedly does not cause a spike in blood sugar when consumed. Yacon, which is indigenous to South America, contains inulin, prebiotics, and antioxidant properties, is low in calories, and slightly sweeter than honey and sugar.
A couple of emerging flavors that David Michael notes are paw paw and sunchoke. U.S. consumers are just becoming aware of paw paw, which grows in the Eastern, Southern, and Midwestern areas of the United States and has flavor notes of mango, banana, cantaloupe, pear, and pineapple, according to the company. Paw paw flavoring was featured in moonshine, which itself is having a moment at hip bars and lounges across the country, and in a 5% juice drink. Since the fruit has familiar flavor nuances, it can work well in teas, sports drinks, ice pops, smoothies, and fruit preparations. The second flavoring is sunchoke. Sunchoke is an edible root of the sunflower; it has earthy notes of white potato and astringent, nutty notes of chestnut when raw and sweet, and creamy notes of boiled potatoes when cooked, reports the company. So it is no surprise that the sunchoke flavoring developed by David Michael worked well in a crunchy pita chip and a creamy bacon-chive-sunchoke–flavored Greek yogurt dip. Other potential applications are crackers, dips, soups, and sauces.
--- PAGE BREAK ---
Snack Attack: Improving Gluten-Free Crackers
Consumers are reportedly snacking more than ever. All foods are potential snack foods: bars, confections, fruit, yogurt, cereal, chips, nuts, and crackers. At the same time, many of these consumers want better-for-you snacks that offer health benefits in addition to satisfying hunger. Researchers from University of Novi Sad in Serbia and Guelph Food Research Centre in Canada used two ingredients with demonstrated health benefits to formulate gluten-free crackers that have increased levels of protein, fiber, and antioxidants (Radočaj et al., 2014).
Combining hemp flour, a by-product of cold-pressing oil process and an ingredient rich in proteins, minerals, fiber, phytochemicals, and omega-6 and omega-3 fatty acids, with decaffeinated green tea leaves, which contain compounds like certain antioxidants that studies have shown to have potential health benefits related to cancer prevention and the lowering of LDL cholesterol levels, in a cracker formulation produced crackers with a protein content of 14.1 g/100 g, fiber content of 8.4 g/100 g, omega-3 fatty acid content of 3.2 g/100 g, and an antioxidant activity value of 30.3 μmol TE/g dw. In addition to the nutrients, the crackers developed by the researchers were gluten-free, satisfying the needs of a small, yet quickly increasing segment of the population purchasing and consuming gluten-free foods.
Giving Products a Probiotic Boost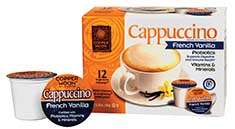 The scientists at Ganeden Biotech, Mayfield Heights, Ohio (www.ganedenbiotech.com), continually conduct research on developing new types of applications and delivery systems for its flagship ingredient, GanedenBC30 (Bacillus coagulans GBI-30, 6086), a patented probiotic, explains Mike Bush, Senior Vice President of the company. "We look at what are the most-consumed products and what are the trends going forward with those particular product categories, and we work with companies to develop products that consumers actually want."
One of the ways the company investigates current consumer trends is by conducting consumer profiling and innovation talks with retailers to learn how interested consumers are in probiotics and how they want product developers to deliver them. The constant refrain that the company's analysts hear from consumers is that they understand the potential health benefits of probiotics and they want probiotics to be included in foods and beverages, but that they want other options beyond supplements and yogurt. As a result of this consumer insight, the company has worked with product developers to formulate GanedenBC30 into breakfast cereal, high-pressure-processed juice, and kombucha, among others, reports Bush. "We are keeping an eye on what is going on in healthy snacking, which seems to be an area that is growing, and we just recently worked with a company that launched the first-ever probiotic-coated kale chip," he says. These fresh kale chips are seasoned with a coating that includes the probiotic ingredient.
Consumers around the world have developed a growing interest in probiotic-fortified foods and beverages, and not just in the United States, where they purchase convenience foods, ready-to-drink beverages, and breakfast cereals that contain probiotics, explains Bush. He cites examples of instant coffee products that combine coffee and functional ingredients and "superfood sachets" that consumers add to their cereal or yogurt as a couple of the trending probiotic-containing products popular in some Asian countries. Europeans love their yogurt, but they are also readily consuming fermented beverages and even considering probiotics in sport nutrition products, he adds. Tea is a popular delivery system for functional ingredients like probiotics in Latin America and India. No matter what the product category is, Bush says that the company's scientists collaborate with product developers around the world to help them find solutions to incorporating probiotics into their foods and beverages to provide them with a point of differentiation from their competitors as well as significant revenue opportunities.
--- PAGE BREAK ---
Inspiration Comes From the Smallest Source
A tiny, ancient seed inspired Angelo Morini, Founder and Chief Executive Officer of Anutra, Windermere, Fla. (www.anutra.com). More than a decade ago, at the request of Norman Borlaug, a central participant in the "green revolution" and winner of both the Nobel Peace Prize and World Food Prize, and his associates, Morini attended a seminar on the health benefits of the chia seed, a seed that has roots going back centuries to the Aztecs. Intrigued by the myriad health benefits of chia seed, Morini set out to develop a new cultivar of Salvia hipanica L., which he called Anutra, and that promised to have even more of the beneficial nutrients. For the new cultivar, he maximized the contents of omega-3 fatty acids, antioxidants, insoluble fiber, calcium, and amino acids. Calling it "the world's healthiest whole food," Morini and the scientists at Anutra are promoting the functional benefits of the Anutra chia seed. For instance, he explains that in meat products like ground beef for burgers, Anutra can help keep the meat juicier and more flavorful since the seed can absorb about 10–15 times its weight in water. Manufacturers of chocolate milk drinks can replace carrageenan, guar gum, starches, and other similar ingredients with Anutra, which can help add thickness to the product with the added benefits of omega-3 fatty acids, fiber, antioxidants, and protein, he adds. The ingredients is said to have thickening functionalities in yogurt and sour cream, too. Morini has even used micronized Anutra to replace fat in ice cream, where he says it is miscible, mimics fat, and helps produce ice cream with a smooth and creamy consistency. And, of course, like other ancient grains and seeds, Anutra chia seeds can be used in grain-based products like flour, breads, baked goods, and more.
Another point about Anutra that Morini emphasizes is that it does not break down over time and leave a fishy taste in foods and beverages like some omega-3 ingredients derived from fish oil can. The vertically integrated company, which grows all of its own ingredients, offers Anutra in whole grain, different grinds like superfine, fine, medium, and coarse, micronized, and oil.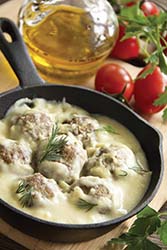 Method May Produce Tastier Reduced-Fat Sauces
By controlling the acidity and calcium level, scientists are able to produce reduced-fat sauces without compromising the look and taste, and they report that this may be the key to developing not only better-tasting reduced fat sauces, but desserts and salad dressings, too.
Fat carries flavor and contributes to a thick and creamy mouthfeel in foods like sauces, salad dressings, and puddings. Additionally, the amount of fat in foods like sauces can affect the opacity or lightness of it (a highfat dressing, for example, appears milky). Researchers from the University of Massachusetts, Amherst, with support from ConAgra Foods, reduced the fat in a white sauce from 10% to 2% by controlling pH and calcium content, which allowed them to regulate the interactions among the fat droplets, reports Bicheng Wu, one of the researchers on the team. This in turn made the fat droplets stick together and form clumps. Water becomes trapped inside these clumps, and this is what the researchers believe makes the sauce seem fattier than it really is and preserves the appearance and flavor, she adds.
D. Julian McClements, the leader of the team that conducted the study, says that the team plans to expand the research by conducting taste and smell tests on the sauces developed using their method. This will allow them to adjust the composition of the sauce and add other ingredients like seasonings, he explains. "This fat reduction is easy for us now, and the fact that our new products contain healthy ingredients that can be used in a wide range of products means there's a great potential to reach the market in the near future."
The researchers presented their findings during the 247th National Meeting of the American Chemical Society in March 2014.
Research Examines Vegan Diet, Protein Blends
The potential benefits of a low-carbohydrate vegan diet and the way in which blending soy and dairy proteins may help promote muscle-building are some of the research topics that DuPont Nutrition & Health, New Century, Kan. (www.dupont.com), is promoting.
The company collaborated with researchers at the University of Texas Medical Branch to conduct a study that examined the effects that consuming different sources of protein had on muscle-building (Reidy et al., 2014). The results of the study reaffirmed that consuming a blend of soy and dairy proteins after resistance exercise extended the duration of amino acids delivery to muscles and helped promote muscle growth. The researchers reported that soy–dairy protein blends in products may be useful to consumers who want to support muscle health and muscle building but said that further research is needed to study long-term effects on muscle mass and strength.
--- PAGE BREAK ---
Researchers from DuPont Nutrition & Health and from universities and medical schools in Toronto, Boston, and New York found that consuming a low-carbohydrate vegan diet had potential beneficial effects on heart disease risk factors (Jenkins et al., 2014). The diet, called "eco-Atkins" and consisting of protein and fat from gluten and soy products, nuts, and vegetable oils, may contribute to greater weight loss and lower concentrations of low-density lipoprotein cholesterol than a high-carbohydrate, low-fat diet. The cholesterol-lowering effects of the diet studied in the research may be due to the soy-containing foods and nuts since other research studies have shown these foods to have potential benefits in lowering cholesterol, according to the researchers.
New Advances in Stevia Sweeteners
Many consumer watchdog groups call out the food industry for formulating foods and beverages that contain high amounts of added sugar. The responses to this include developing sweetener alternatives and reducing sugar in products by reformulating them with these ingredients.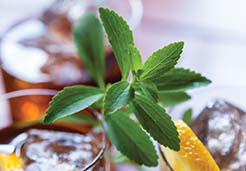 Developing sweetener alternatives is not a one-size-fits-all approach; rather, ingredient manufacturers have to consider the source of the sweetener, the applications in which it will function, and interactions with other ingredients. In recent years, some ingredient manufacturers have developed sweeteners derived from stevia for use in products sold in the United States, but have been challenged by the fact that one of the main extracts used to develop stevia sweeteners, the glycoside rebaudioside A, has bitter, almost licorice-like off tastes that often need to be masked by formulating with other flavors or flavor-masking agents. About 83% of consumers are sensitive to rebaudioside A as shown by sensory research conducted by Tate & Lyle, says Megan Kirchoff, Product Manager, Natural High-Intensity Sweeteners at Tate & Lyle, Hoffman Estates, Ill. (www.tateandlyle.com). So companies like Tate & Lyle have investigated how other glycosides work alone or in combination to provide sweetness with less or no bitterness. To address the need for a better-tasting stevia sweetener, she says, the company developed TASTEVA® Stevia Sweetener by evaluating how taste quality is affected by glycoside composition and applying the company's isolation, separation, and sensory expertise. The ingredient, which made its U.S. debut in March 2014 at the Engredea event colocated with Natural Products Expo West, is said to allow for 50% or more sugar reduction without the bitter taste and the use of masking agents in applications such as juice drinks, tea and coffee beverages, meal replacers, flavored water, sports and energy drinks, beverage mixes, carbonated soft drinks, bakery products, yogurt, snack bars, and chocolate.
Age Is in the Eye of the Beholder
Despite their name, ancient grains are far from out of date. Instead, they are finally gaining mainstream acceptance. First Lady Michelle Obama showed the versatility and deliciousness of quinoa through her Let's Move! health initiative program, nutritionists appear on news programs and talk shows to tout the nutritional benefits of ancient grains, and chia, amaranth, and more are now included in a range of foods and beverages. To keep up with this interest and help product developers have more ancient grain options for consumers, Glanbia Nutritionals, Fitchburg, Wis. (www.glanbianutrionals.com), has expanded its line of specialty grains to include new gluten-free, non-GMO ancient grain offerings that can enhance flavor and optimize texture in specific applications.
The super-fine milled BevGrad® Chia delivers smooth texture, provides good dispersibility, builds viscosity, and has minimal visual impact in ready-to-drink and ready-to-mix beverages. In addition to these functional benefits, the tiny chia seed is rich in fiber, protein, calcium, and vegetarian ALA omega-3 fatty acid. And chia truly is an ancient grain; nutritional anthropologists have traced its use back to 3,500 BC.
ChoiceQuinoa™ Puffed is another new addition to Glanbia Nutritionals' ancient grains line. The puffed form of whole quinoa can give cereal, bars, and clusters a soft-yet-crunchy texture. Quinoa is a great source of vitamins and minerals, is high in calcium and protein, and contains nine essential amino acids. Quinoa's use dates back to about 5,000 years ago when it was first cultivated in the Andes Mountains in South America.
Popping whole sorghum gives it a crunchy texture and an appearance that is similar to popcorn. Like ChoiceQuinoa Puffed, ChoiceSorghum™ Popped functions in bars, cereals, and clusters and contributes high levels of protein, vitamins, and minerals to foods. Sorghum has origins in Ethiopia and has been grown in Egypt since 2,200 BC.
--- PAGE BREAK ---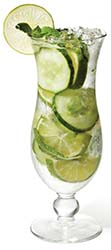 Distillates Enhance Flavor of Vegetable-Based Drinks
To help beverage manufacturers meet the growing consumer interest in vegetable-based beverages, Treatt, Suffolk, UK (www.treatt.com), recently began promoting a new application for its range of vegetable distillates. The company pairs the distillates with herbal specialty ingredients like basil, sage, and ginger, which gives herbal notes or a spicy kick to vegetable drinks.
As the demand for vegetable-based beverages increases in the U.S., Europe, and Asia, manufacturers must find ways to differentiate their products from the competition and support a clean label, remarks Douglas Rash, Group VP–Global Sales for Treatt, in materials supplied by the company. The taste of these beverages is an important consideration. "No matter how healthy the product, the majority of consumers will not purchase a vegetable-based beverage if it does not taste delicious," he comments.
The new concept draws upon Treatt's portfolio of "From the Named Food" vegetable-based ingredients, combining ingredients like Cucumber Treattarome® distillate with various herbal essential oils. The company positions these infusions for use in still beverages, juice-based beverages, and alcoholic beverages.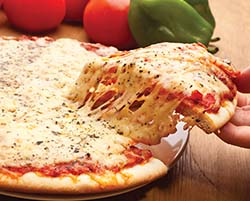 New Ways to Improve Cheese
DSM, Delft, the Netherlands (www.dsm.com), offers a number of ingredients through its DSM Food Specialties unit that can help aid food formulators and improve finished products. At the 2014 International Cheese Technology Exhibition in Milwaukee, Wis., and the 2014 South African Society of Dairy Technology Symposium in Cape Town, DSM Food Specialties introduced one of these ingredients—what it calls a next-generation coagulant that can help retain the texture of cheese (particularly mozzarella, Cheddar, and string cheese) over its shelf life. The enzyme ingredient, Maxiren® XDS, is a bovine chymosin developed by DSM scientists after evaluating various enzyme strains to find the strain with the highest specificity and lowest proteolysis. The high specificity of Maxiren XDS slows the proteolytic activity of the cheese to help maintain the texture of the cheese over its shelf life. What this improved cheese texture means for food processors is that they will have better shreds and less loss during shredding, slicing, and dicing of the cheese and that the cheese can be processed at various stages throughout its shelf life. Maxiren XDS is inactive after pasteurization at 66–73°C, which reduces the concerns of processors over residual rennet in the whey.
Cheese formulated with Maxiren XDS needs to meet consumer expectations as well as processor needs. DSM scientists conducted tests on industrially made mozzarella formulated with the ingredient and found that the cheese had the appropriate stretching properties—tenting at the bottom and making long thin strands toward the top without breaking into thinner strings—and resulted in browning that meets consumers' preferences.
Next month's Ingredients section will showcase a number of confectionery ingredients and products to satisfy a sweet tooth.
--- PAGE BREAK ---
---
New Advances in Resistant Starch Rice
Can a rice variety help reduce the levels of obesity? That is what researchers at Okinawa Institute of Science and Technology Plant Epigenetics Unit hope to do with a newly developed strain of resistant starch rice.
The idea of resistant starch rice is not new; a rice strain was first developed by researchers at Kyushu University 30 years ago, but it did not produce appropriate yields when planted in Okinawa, according to materials provided by Okinawa Institute of Science and Technology. In recent years, Hidetoshi Saze, a professor at Okinawa Institute of Science and Technology, hybridized the resistant starch rice with local strains to genetically design a strain that could thrive in Okinawa's climate. Currently, he uses next-generation sequencing machines to analyze the genomes of the rice strains and plant incubators to shorten the vegetation period of the rice. Researchers at the University of the Ryukyus, Osaka Prefectural University, and Ishikawa Prefectural University are conducting studies to determine the health effects of the rice, with some of the potential benefits being lowering blood sugar levels and preventing lipid accumulation in the liver, both of which may help consumers control weight gain. Food processors are developing prototypes of processed foods formulated with rice powder produced from the resistant starch rice. The project is backed by the Okinawan government and involves work conducted by the food, agricultural, and medical industries.
---
Unexpected Ingredient Formulates Bubble Gum Cookie
A bubble gum cookie is made possible with a restructured fruit inclusion that looks and tastes like bubble gum. QualiTech, Chaska, Minn. (
www.qualitechco.com
), produces the restructured fruit inclusions in a product developer's desired color and flavor and in textures from crunchy to chewy.
"The key reasons for delivering fruit flavor and content through restructured fruit inclusions versus real fruit include improved flavor impact and color consistency, improved protection from sourcing volatility, and significant shelf-life extension and microbiological stability," states Ron Heddleson, Senior Director of R&D at QualiTech. "Restructured fruit also provides better processing stability, allowing for visual identity after mixing or shear that might cause real fruit to disintegrate."
Another restructured fruit inclusion that the company highlights is one for bagel applications that looks and tastes like blueberries but can survive the rigorous dough mixing and baking process required for bagel manufacturing. An additional benefit of this ingredient is that it will not turn the dough green after baking like regular blueberries can, says Heddleson.
---
www.ift.org
Members Only: Read more about emerging ingredients online at www.ift.org. Type the keyword into our search box at the upper right side of our home page.

Karen Nachay,
Senior Associate Editor
[email protected]