A though I own and use a smartphone and a tablet, I confess I am hardly literate with the machines. Since I date from a time when a tall, stick-like, black plastic device connected directly by overhead wire to a live switchboard operator in some mysterious central location, I am barely able to fathom the intricacies of my grandchild's ability to text me from a parasail chute over Sydney Harbor. As much as I am in awe over one of the original Alexander Graham Bell devices shelved in the archives of the MIT Museum, I am stunned by the almost daily bulletins on today's communications as, I imagine, are many of my loyal readers.
My colleagues at the Active and Intelligent Packaging Industry Association (AIPIA) generously provide me with a periodic update on the universe of intelligent packaging from which I select and summarize for
Food Technology
readers. Extracting information from other sources such as
MIT Technology Review
and recent presentations helps to round out the "latest," butsomehow I doubt that even these blurbs truly represent a reasonably complete perspective of the realm of interactivity.
A report from AIPIA on some Deloitte consumer business research indicates that despite the exponential increases (more than 90% of consumers ages 25–34 own smartphones) in mobile (smart) phone unit volume, they have not yet more than marginally influenced the instore environment. Consumers actively applying mobile phones during shopping were measured as spending up to 50% more than the more "passive" consumers. But so far less than half of retail food packages have a mobile-enabled site. Among the deliverables from apps are promotions, digital coupons, availabilities, locations, company information,recipes, instructions for preparation, nutritional values—the foundations of e-commerce for food distribution.
A quick and superficial review of the world of smartphones suggests that linking the food packager/marketer with the consumer is a rapidly growing and changing technology; it's still small, but it's definitely taking place in food outlets.
For example, quick-service food giant McDonald's has printed QR (quick response) codes on some of its carryout bags and cups offering access to nutrition information. As everyone knows, fast food outlets have been among the many targets of environmentalists and food critics concerning their alleged adverse effect on consumers' eating habits. With some regulations in place on providing nutritional information to consumers, and with a great deal of chatter about the topic in the public and social media, data on dietary fulfillment is flying about and through print and electronic spaces. The implementation of the ability of consumers to directly and instantly link with an authoritative source through their seemingly ubiquitous smartphones and tablets would be a major step in satisfying the loud requests for accurate and immediate information. Of course, you might ask how many fast food consumers are about to connect through their QR code to gain those insights onsite while enjoying a piece of pizza.
The Next Generation: NFC and Its Derivatives
According to label maker Avery Dennison (www.averydennison.com), its DirectLink™ using NFC (near field communications, a contactless technology) is an order of magnitude faster than QR code. So here we are reporting on technologies that might possibly be on the verge of obsolescence.Touchbase (www.touch-base.com) is one of several identified sources for an NFC surrogate. Touch base's technology imbeds digital codes with capacitive inks in the package that imitate touching a smartphone screen. Upon entering the proximity of the mobile phone, a stream of information flows to inform users, their healthcare providers, relatives, friends, or other designated recipients.

What further amazing actions are emerging from the world of electronic technology to grow food packaging?
--- PAGE BREAK ---
Package/Product Customization
The popular sugar candy Tic Tac has created a new website that enablesconsumers to customize the packaging (tictacmypack.com). The company is setting up interactive stations that include a photo booth at various festivals visited by its promotions staff. At these sites, consumers create individualized Tic Tac packages from electronic suggestions; the packages are then photographed and instantly transmitted to the consumer's mobile phone. Further, the consumer will be supplied with a real life sample of the personalized package (not yet electronically realized). The astute food packaging observer might comment that the Tic Tac package is one of the world's most recognizable, iconic, and singular package designs, so are the infinite redesigns really necessary to further enhance the product's imagery? To which the maker might respond that the goal is increased sales, which is one important objective for all food packaging.
Packaging Helps Prevent Counterfeiting
Several months ago in this column, we mentioned wine bottle labels offering information on the vintage and sourcing of the contents. Why wine, you might ask? Wine is popular and expensive and vulnerable to label misinformation, i.e., counterfeiting. Thus, vintners can afford to incorporate data generators to better inform distributors, purchasers, and consumers of the nature and status of the contents. Now comes Authentica, a company printing a QR code using Scratch & Screen technology. The discerning consumer accesses the code through the mobile app in his or her smartphone. The code authenticates the wine—ensuring that the contents are indeed as indicated on the label—and identifying it in detail even as to distribution channels. The intent is to intercept counterfeit wines and other nonfood products such as pharmaceuticals.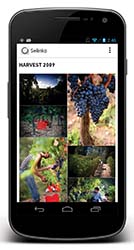 Going the next step beyond QR codes is the Belgian company Selinko (www.selinko.com), which applies NFC labels to authenticate vintage Bordeaux wines from Chateau Le Pin. At values of thousands of dollars per bottle, security measures are warranted to protect all in the supply chain. NFC tags are situated behind the labels so that the consumer may tap his/her smartphone and interface immediately with the vineyard app to provide data such as serial number, grape variety, vintage, etc. Selinko technology is designed to ensure that "every object has an identity" by having the consumer interact with the package or, in the case of hard goods, the product itself. How soon before we imbed chips into a food product itself to ensure against counterfeiting?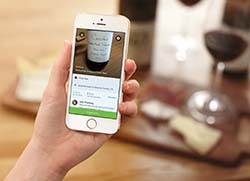 Yet other facets of interactive wine packaging come from organizations such as Delectable (www.delectable.com), which offers an app engineered to provide wine consumers with in-depth information about the wine behind the label. The wine is identified by photographing the bottle label and the picture is immediately enhanced with qualitative and quantitative inputs from fans, users, friends, commentators, and experts. Vintages, vineyards, maps to focus on the wine geography, and recommendations as to when and how the wine might be used are included. And Delectable is hardly alone; there are other wine apps like Vivino and Smooth Wine Pro.

--- PAGE BREAK ---
Innovative Beer Packaging
Rough Draft NFC labels from United Kingdom label maker Diginate are designed for beer bottles to enable communication of personalized information to the purchaser or a designee. That communication might include requesting a designated driver or inviting a friend to the local pub (UK version) to drink until closing time. Or brewers might direct the potential purchaser to the nearest retailer to facilitate acquisition.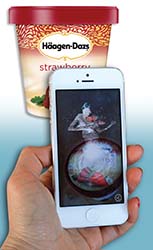 The Music of Ice Cream
Premium ice cream maker Nestlé is offering a Häagen-Dazs Concerto Timer app on its 14-oz cartons. The consumer is instructed to download the app to his or her smartphone, which then may be pointed to the ice
cream carton for a two-minute concert. According to the public relations message from the company, two minutes is exactly the period required for the product to reach proper eating temperature. Further on the emerging legend that is associated with this technology is the claim that an augmented app can generate a picture of a violinist (Itzhak Perlman possibly?) on one carton and a cellist (Yo-Yo Ma perhaps?)
on another. And two cartons together create another presidential inauguration piece when Aretha Franklin joins the party from cyberspace. For those music lovers who cannot purchase tickets to a concert featuring these three, does a packaging-sourced, two-minute excerpt fulfill desires? And if the package can deliver contemporary musicians, why not Elvis? Did you imagine that this column might ever be discussing a concert program arising from a printed package?
A Future Based on Interactive Packaging
Who among the inventors of our communications technologies (smoke signals, solar reflections, telegraphs, and telephones) had the vision to perceive the ability to enter a person's physical presence or psyche and deliver all of the world's knowledge in one package? To receive inquiries and respond, to sense and signal, and to compel action: All are possible. Was it beyond the scope of the Morses, the Bells, and the Grays to imagine interactivity that would measure health status and prescribe complete protein? We have hinted at elevating packaging from passive barrier to active and more—figurative conversations with theentire universe to inform, entertain, assist, and link.

Who among our historians can find any past record suggesting that the 2014 package is the medium? Each month we are exposed to new and dramatic advances and proposals to reach out and grasp the world. Today it's the smartphone, the app, and the package. Tomorrow the food package undoubtedly will expand it applications deeper into our lives. Some have even fantasized transmission of food components through space and assembly at our tables—if they still happen to exist.

Aaron L. Brody, Ph.D., CFS,
Contributing Editor
President and CEO, Packaging/Brody Inc.,
Duluth, Ga., and Adjunct Professor, University of Georgia
[email protected]