Two recently published IFT Press books are available from Wiley-Blackwell.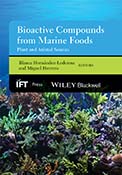 Bioactive Compounds from Marine Foods: Plant and Animal Sources
, edited by Blanca Hernández-Ledesma and Miguel Herrero (ISBN: 978-1-118-41284-8), reviews existing published information regarding bioactive compounds derived from marine foods. Its intention is to enable researchers and product developers to choose appropriate functional ingredients for new products, and it discusses ingredients derived from both plant and animal sources. These compounds—which are defined as those that have been identified, isolated, and characterized as being potentially active against various degenerative diseases such as inflammation, hypertension, and cancer—include polyunsaturated fatty acids, phospholipids, proteins and peptides, and vitamins and minerals. The chapters are organized around these bioactive compounds, though discussions about some specific food sources that are responsible for multiple compounds are presented together. The book also examines extraction methods and analysis techniques.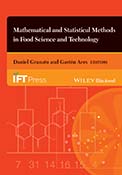 Mathematical and Statistical Approaches in Food Science and Technology
, edited by Daniel Granato and Gastón Ares (ISBN: 978-1-118-43368-3), functions as a useful guide for food scientists who wish to better understand and apply statistical and mathematical methodologies. The book provides theoretical explanations, practical examples, and case studies that aim to help food scientists confidently implement statistical techniques to analyze large quantities of complex data necessary for developing and evaluating food products and processes. The book focuses on recently introduced methodologies such as managing physicochemical, chemical, rheological, nutritional, and sensory data in a comprehensive yet easy-to-follow manner that will make the text useful to food scientists of varying skill levels, as well as researchers, undergraduate, and graduate students.
IFT Press books, developed in partnership with Wiley-Blackwell and crafted through rigorous peer review and meticulous research, serve as leading-edge handbooks for industrial application and reference and as essential texts for academic programs. Topics of future books in the series include nanoscience and nanotechnology, sustainability, nutraceuticals, dairy ingredient separation, fermented foods, medical foods, bitterness, food carotenoids, and food packaging. IFT Members receive a 35% discount on all Wiley-Blackwell books. The Member coupon code is available at
www.ift.org
. Be sure to log in and check out the Knowledge Center/Read IFT Publications/IFT Press Books links for information on how to order this book and other books in the IFT Press book series. For more information, call 877-762-2974, or visit
www.wiley.com/go/ift
. Manuscript proposals may be sent to David McDade, Senior Commissioning Editor, at
[email protected]
(+44-1865-47-6546).
---
Books Received
Introduction to Advanced Food Process Engineering edited by Jatindra Kumar Sahu, CRC Press, www.crcpress.com, ISBN: 978-1-439-88071-5
Introduction to Food Process Engineering by Albert Ibarz and Gustavo V. Barbosa-Cánovas, CRC Press, www.crcpress.com, ISBN: 978-1-439-80918-1
Postharvest Technology and Food Process Engineering by Amalendu Chakraverty and R. Paul Singh, CRC Press, www.crcpress.com, ISBN: 978-1-466-55320-0
Seafood and Freshwater Toxins: Pharmacology, Physiology, and Detection, Third Edition edited by Luis M. Botana, CRC Press, www.crcpress.com, ISBN: 978-1-466-50514-8