Rondenet-Smith speaks at manufacturers' summit

The government should play a stronger role in drawing manufacturers to Illinois—and keeping them there, according to Laurette Rondenet-Smith, CEO of Edlong Dairy Technologies. She recently spoke at the Crain's Midwest Manufacturers Summit on a panel that discussed ways government entities and businesses can encourage manufacturers to return to Illinois.
"As manufacturers, it's our job to raise awareness about what needs to be done to keep business from moving to neighboring states," said Rondenet- Smith, an IFT Member.
Edlong celebrated its centennial in 2014, and the company has been located in Illinois throughout its history. Rondenet-Smith credits the Chicagoland area with providing everything Edlong has needed for its success: a central location, a great source of raw dairy materials, and a wealth of talented, well-educated employees happy to live in Chicago.
Operating out of the Midwest has its share of challenges, though, including high taxes and the expenses companies must dedicate to acquiring talent in a competitive market, according to Rondenet-Smith. She also notes that the Midwest lags behind places such as Silicon Valley, New York, and Boston when it comes to raising early stage capital and receiving funding.
To mitigate those issues, Rondenet-Smith believes the government can support business development through increased tax incentives, as well as workforce development programs to ensure workers acquire the skills they need to stay competitive and knowledgeable in today's workplaces. These also include partnerships, such as the certification program Edlong operates with the Women's Business Enterprise National Council.
Rondenet-Smith is also a huge believer in internships, noting that "on the job training is alive and well at Edlong." She believes that the career of a flavorist is akin to that of a chef, which also requires a blending of art and science, and both professions are nurtured by "doing and mentoring." On the supply side, Rondenet-Smith believes there are great opportunities for talented people willing to work hard and stay the course.
"The word 'manufacturing' might be outdated and not attract the youth of today," she said, but "maybe now the new word that is sexy is 'supply chain.' The opportunities still exist for career advancement in manufacturing/supply chain [for those] with [a] strong work ethic and smarts."
Chicago Section presents awards to Nienaber, Boutin
The Chicago Section of IFT recently recognized two of its members for their achievements within IFT and the greater food science community. Uwe Nienaber received the Ellery H. Harvey Service Award for outstanding volunteer service, named after the founding chair of the Chicago Section, and Robert Boutin was presented with the Chair's Achievement Award, which is given out every other year for outstanding achievement in food science.
Nienaber, a Professional Member of IFT since 1997, is a Senior Group Leader at Kraft Foods Group, where he leads a team of analytical scientists. He holds degrees from Institute of Food Chemistry, University of Münster First State Examination for Food Chemists; Chemical State Inspection Laboratory, Münster Second State Examination for Food Chemists; and Institute of Food Chemistry of Münster. Within IFT, Nienaber served as Section Treasurer from 2007–2010 and was elected Chair in 2010. He has held the roles of Program Chair, Awards and Nomination Chair, and most recently, Chair of the Finance Committee.
Boutin has been a Professional Member of IFT since 1979 and was part of the inaugural class of the Certified Food Scientist program. He attended Roosevelt University and began his career as Research and Development Manager at Breaker Confections/Sunmark. In 1985, he became President of the food industry consulting firm Knechtel, a position he holds today. Over the years, Boutin has been granted 11 patents in confectionery, food, medicine, and aerospace, and he has published 17 technical papers and two books. The American Association of Candy Technologists presented him with its Stroud Jordan Award in 2010, and he was inducted into the Candy Hall of Fame in 2013.
--- PAGE BREAK ---
Wixon hires Cornelius
Kim Cornelius, an IFT Member, recently joined Wixon, a manufacturer of seasonings, flavors, and technologies for the food and beverage industry, as a food technologist in the company's Industrial Ingredients Lab.
"Kim's experience with multiple disciplines, including project management, food safety, and food regulations, make her a well-rounded partner for our clients as they seek on-trend flavor systems and custom seasoning blends," said Mariano Gascon, Wixon Vice President of Research and Development.
In her role, Cornelius will draw on her more than 15 years of experience to lead new product development, product reformulation, and product optimization. She comes to Wixon from Foran Spice Company, where she served as Research and Development Manager, and she has developed seasonings and spices for applications that include meat, dips, sauces, and snacks.
Sunderhaus joins Bell Flavors
Bell Flavors and Fragrances recently hired Todd Sunderhaus as Flavor Technologist. Sunderhaus, an IFT Member, joins Bell from Gold Medal, where he worked in Development and Application. He has also recently worked for Alex Fries and Richelieu Foods, and his food industry experience includes new and specialty product development and innovation.
---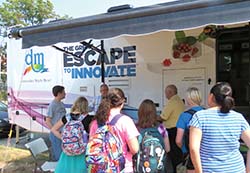 David Michael takes education on the road
David Michael Flavors is on a mission. Through its Great Escape to Educate initiative—part of the larger Great Escape to Innovate program that launched last year—David Michael is traveling the country in a tricked-out RV, introducing food science students to both the company's objectives and the flavor industry at large. Along the way, they've made stops at eight universities and spoken with nearly 300 students—and according to David Michael President and Chief Operating Officer Skip Rosskam, that's just the beginning.
"There's a lot of little spokes of the wheel here that can grow with the Great Escape initiative," said Rosskam—an IFT Professional Member and Fellow—who plans to take the RV into Canada and Mexico in the upcoming months.
Aiming to fill in the gaps in food science education, the Great Escape to Educate brings hands-on learning—and plenty of food samples—to the nine to 10 students that board the RV at each stop. Inside the vehicle, trained sales representatives explain the world of flavorings through a curriculum that includes references to Flavor Flav and Miley Cyrus in an attempt to help students relate to the course material. As a result, the program has raised awareness of where flavors are found and specifically, what David Michael does to create them.
"We get a lot of great people who know us all of a sudden," said Rosskam. "Long term, going forward, this will enhance our abilities to recruit and get the best people."
But this initiative doesn't just benefit David Michael: it raises awareness for the good IFT can do, too. The curriculum includes slides that discuss the benefits IFT provides, and Rosskam sees a tremendous opportunity for the Great Escape to partner with IFT to promote programming such as Food4Thought to reach students outside of the university level. In the meantime, Rosskam and David Michael have plenty to keep them busy.
"It may take us five years to get around to all the food science schools in our travels," he said. In addition, attendees of next year's Annual Meeting and Food Expo can look forward to seeing the Great Escape RV in Chicago; David Michael is planning to use the vehicle as its booth.
---
Section & Division meetings
Great Lakes
July 30: Golf outing. Augusta, Mich. Visit http://greatlakesift.org/wp-content/uploads/2014/04/2014-Golf-Scramble.pdf
Western New York
July 29: Golf outing. Victor, N.Y. Visit www.ift.org/sections/wnyift
---
In Memoriam
George M. Pigott, an IFT Emeritus Professional Member and Fellow, passed away on April 6, 2014. Pigott received his B.S., M.S., and Ph.D. degrees from the University of Washington before teaching at its Institute of Food Science, College of Fisheries, for 37 years and serving as its Director for 10 years. He was founding editor of the Journal of Aquatic Food Product Technology, and he authored more than 200 technical papers and several book chapters. Pigott was a licensed chemical engineer, and he consulted globally for such institutions as World Bank and the United Nations. In addition to his membership in IFT, Pigott belonged to several other professional societies, and after retiring as an Emeritus Professor, he joined the boards of the Washington Society of Professional Engineers and the English Speaking Union.
IFT also notes the passing of the following Members: Eugene N. Bilenker, Patricia Butler, Ian D.H. Cuthill, Henry P. Fleming, Wallace H. Kunerth, Pascual López Lorenzo, K. Sam Miller, Barbara Morley, Sreekumar Ramakrishnan, Henry E. Randolph, Andrew C. Rice, John Scire, Howard Lee Smith, Pedro Solé, and John R. Whitaker.