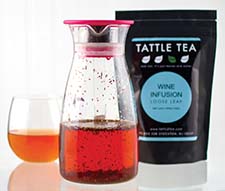 Tea meets wine in sangria alternative
Tattle Tea,
a purveyor of handcrafted loose teas, has created a
Tea & Wine Infusion Kit
that pairs the company's
Love Struck Rooibos
tea, which features lemon peel, hibiscus, and ginger, with white wine for a refreshing, fruity alternative to sangria.
"At Tattle Tea we are not only committed to pulling the veil back on the world of tea, but we're also looking to incorporate tea into customers' lives in fun and inspired ways," said Anthony Borthwick, Tea Expert at Tattle Tea.
To use, consumers mix one packet of tea with a bottle of Pinot Grigio or dry Riesling in the included 32 oz iced tea jug, then stash it in the fridge overnight to let the flavors meld. Thanks to the jug's built-in screen spout, there's no need to strain the tea out before drinking. The kit, which includes three single-serve packs of tea, retails for $29.99 on Tattle Tea's website, and three-pack tea refills are available for $7.99.
---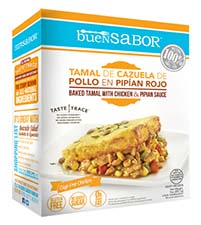 Latin-inspired frozen meals
Buen Sabor recently launched a line of eight Latin American–inspired frozen entrées that add a modern, fresh twist to such traditional dishes as empanadas and tamales. Focusing on sourcing "clean" ingredients, Buen Sabor created a Taste Trace™ initiative to show consumers the origin of every component in each meal.
"We are passionate about creating all-natural and traditionally inspired Latin food for busy people and offering customers a chance at discovering something new," said Sarah Pike, CEO and founder of the company. "We are going beyond the burrito, because there is simply so much more to Latin American cuisine than what is currently offered in stores."
The line encompasses a range of dishes, including the Arroz Con Calabaza Anco y Chiles Poblanos, a savory dish with squash and poblano peppers; the Picadillo de Garbanzos y Comote, a hash made with chickpeas and sweet potatoes; and the Pastelon de Pavo Picante y Lentejas, a one-dish meal that combines spicy turkey, lentils, and plantains. Each dish contains 250 calories or fewer and at least 5 g of protein per serving. The full line is available in 32 states in many retail locations; each entrée has a suggested retail price of $4.99.
---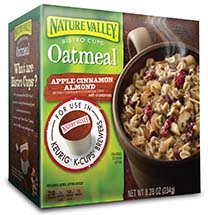 Instant oatmeal innovation
Nature Valley is introducing Nature Valley Bistro Cups™ Oatmeal, which combines Keurig technology with whole-grain oats and mix-ins to produce a cup of premium oatmeal in minutes.
"Nature Valley Bistro Cups Oatmeal is a brand-new product targeted to Keurig lovers who want to do more with their brewers," said Mike Siemienas, Manager, Brand Media Relations at General Mills. "We believe there are many Keurig owners that like oatmeal and would eat it more often, but who have not been eating it because it has not been convenient."
To prepare the oatmeal, consumers pour a packet of oats and a packet of mix-ins, such as dried fruit and nuts, into their mug, then pop the accompanying flavored K-Cup into a compatible Keurig Home Brewing System. The oatmeal, which is ready in one minute, is available in Apple Cinnamon Almond and Brown Sugar Pecan flavors. Each variety provides 310–320 calories, 7 g of fiber, and 7–8 g of protein per serving.
An eight-count box is available at Amazon.com for a suggested retail price of $14.99 and a 12-count box is available at select Sam's Club locations in the Northeast for $17.98. A three-count box will appear on grocery shelves later this year for a suggested retail price of $5.99.