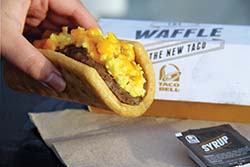 Restaurant breakfast visits and launches up
Although fewer people went to restaurants at lunch and dinner in 2013, their breakfasts out increased for the fourth consecutive year, reported The NPD Group. More than 12.5 billion breakfast visits were made in 2013, an increase of 3% from the previous year.
The strongest increase was seen in quick-service breakfasts, which rose by 4% and accounted for 80% of morning meal visits, while breakfasts taken at midscale/family dining restaurants declined by 3%. NPD predicts overall growth to continue, with total breakfast visits forecast to increase by 7% over the next nine years and quick-service visits expected to increase by 9%.
Many quick-service restaurants are jumping on the breakfast bandwagon. Taco Bell recently began serving breakfast for the first time, in the form of handheld breakfast items such as the Waffle Taco, A.M. Crunchwrap, and grilled tacos. Taco John's added a premium coffee program featuring Boyer's brand coffee, Del Taco expanded its breakfast offerings with value tacos, and White Castle debuted a trio of Belgian waffle sandwiches.
CDC data sheds light on foodborne infections
According to the annual report card released by the Centers for Disease Control and Prevention (CDC), foodborne infections remain an important public health problem, with lowered rates of infection reported for some pathogens but increased rates shown for others.
Compared with the past three years, 2013 data revealed that Salmonella infections decreased by about 9%, bringing it to the same level reported in the baseline data from 2006–2008. Campylobacter infections, however, increased 13% since 2006–2008, and Vibrio infections were observed to be at the highest level recorded since tracking began in 1996.
The reported data comes from the Foodborne Diseases Active Surveillance Network (FoodNet), a group of experts representing the CDC, 10 state health departments, the U.S. Dept. of Agriculture's Food Safety and Inspection Service (FSIS), and the U.S. Food and Drug Administration. FoodNet reported a total of roughly 19,000 infections in 2013, with young children the most affected group for seven of the nine pathogens it monitors.
"Steps are underway to address many of the concerns raised in this report, such as our Salmonella Action Plan and other plans to modernize food inspection," said David Goldman, M.D., Assistant Administrator for the FSIS Office of Public Health Science. "As these actions are being implemented, we are beginning to see progress, and I am confident we will see further improvement over time."
--- PAGE BREAK ---
FDA limits omega-3 claims
The U.S. Food and Drug Administration (FDA) published a final rule that prohibits manufacturers from making certain claims for products that contain omega-3 fatty acids docosahexaenoic acid (DHA), eicosapentaenoic acid (EPA), and alpha-linolenic acid (ALA). This rule affirms a previously proposed rule introduced in 2007.
According to the FDA, manufacturers cannot claim on labels that food products or dietary supplements are "high in," "rich in," or an "excellent source of" those three omega-3s because the FDA has not yet established nutrient levels to serve as the basis for nutrient content claims, which are required under the Federal Food, Drug & Cosmetic Act. Although some scientific bodies, including the Institute of Medicine of the National Academies, have issued authoritative statements identifying such nutrient levels, the FDA has found that these claims have not met the act's requirements.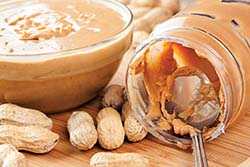 Rise of nuts in snack and spread rollouts
The popularity of nuts and seeds in snack products is increasing, particularly in nut-based sweet spreads, according to recent consumer research conducted by Innova Market Insights and Mintel Group.
"The packaged snack nuts market has seen mixed fortunes in recent years," said Lu Ann Williams, Director of Innovation at Innova Market Insights, "with some difficult times in the market for standard salted peanuts and other commodity-style lines, but rising interest in value-added products, such as natural, flavored, and premium lines, and branding."
According to Innova, nuts and seeds accounted for 37% of snack food launches in 2013, up from less than 36% last year and just above 32% five years prior. As nuts have become increasingly associated with providing health benefits, nut launches marketed as organic, natural, or additive or preservative-free accounted for 19% of total launches.
Also growing are nut-based sweet spreads, according to Mintel, which predicted that sales in this category will increase 65% from 2013–2018; it has already seen growth of 34% from 2008–2013. Mintel's research also highlights consumers' desire for health benefits when purchasing nut-based spreads, with 55% of consumers stating that they wished for more spreads that provided benefits such as added vitamins and antioxidants. Additionally, 36% of consumers expressed interest in spreads free from additives and preservatives.
"Essentially, consumers like the idea of a healthier alternative, but at the end of the day, they also enjoy their indulgences," said Mintel Food Analyst Amanda Topper. "That said, there are certainly ways to achieve both, as Nutella has shown. It's seen as an indulgence, but one that people can rationalize given its claims that it includes no artificial colors or preservatives. Manufacturers of gourmet spreads would be wise to also consider incorporating natural or organic ingredients which, in turn, may also warrant a higher price point."
--- PAGE BREAK ---
---
What's new with food companies
• B&G Foods announced it will acquire Specialty Brands of America, a packaged food maker whose brands include Bear Creek, Spring Tree, and Cary's.
• Balchem Corp. entered into a definitive agreement to acquire Performance Chemicals & Ingredients (SensoryEffects).
• BASF and PETRONAS Chemicals Group Berhad (PCG) broke ground at a new integrated aroma ingredients complex set up by their joint venture company BASF PETRONAS Chemicals Sdn Bhd.
• Blue Diamond Growers was recognized with an Outstanding Commodity Ingredients award in Whole Foods Market's annual Supplier Awards.
• Cargill entered a joint venture with Brazilian sugar and ethanol trader Copersucar to combine their global sugar-trading activities. It also received seven Best of Sustainable Supply awards from McDonald's and strengthened its program with CARE, a humanitarian organization fighting global poverty, in Côte d'Ivoire.
• Swiss chocolatier Chocolat Frey acquired a majority stake in SweetWorks, whose confectionery products include Sixlets and Nerds.
• COFCO Corp. and Noble Group Ltd. entered into a definitive agreement to form an agribusiness joint venture, which will be called Noble Agri Ltd.
• DuPont Nutrition & Health announced it will introduce a new assay to test for Listeria in some foods. The BAX System Real-Time PCR Assay for Genus Listeria will also detect Salmonella at the same time.
• EnWave Corp. signed a royalty-bearing commercial license and a manufacturing agreement with NutraDried Creations LLP to distribute cheeses and other snacks dehydrated using the company's Radiant Energy Vacuum technology.
• Glanbia Nutritionals Inc. opened its new state-of-the-art Next Generation Grain processing facility in Sioux Falls, S.D.
• The U.S. Food and Drug Administration approved GNT USA Inc.'s Color Additive Petition 2C0297, which extends the use of Spirulina extract as a blue coloring ingredient beyond candy and chewing gum.
• Guiding Stars received a patent for its food nutrition database and operating system, which scores and presents nutritional information for fresh, frozen, packaged, and prepared foods.
• Hillshire Brands Co. entered into an agreement to acquire Van's Natural Foods, which produces a range of gluten-free products, from private equity firm Catterton Partners.
• Hilmar Cheese opened its new headquarters, which includes a dairy innovation center, in Hilmar, Calif.
• Hormel Foods Corp. honored high pressure processing equipment supplier Avure Technologies with a 2013 Spirit of Excellence Award.
• Kalsec announced partnerships with Connell Brothers Company and Pacific Flavours & Ingredients to be its new Channel Partners in the Australian and New Zealand food markets, respectively.
• Sankaty Advisors, a division of Bain Capital LLC, bought kosher foods maker Manischewitz.
• Mizkan Americas announced Tim Kobayashi as its new CEO. He replaces former President and CEO Craig Smith, who recently retired.
• PepsiCo Inc. will provide research funding to Senomyx Inc. for a salt reduction program, and it will retain non-exclusive rights to any salt flavor modifiers discovered during the research period.
• Post Holdings Inc. will acquire packaged goods company Michael Foods Inc.
• PURE Bioscience Inc. announced that it has completed testing of its silver dihydrogen citrate antimicrobial and is preparing for submission to the U.S. Dept. of Agriculture and the U.S. Food and Drug Administration for direct food contact use in processing poultry.
• Royal DSM inaugurated its new Fortitech Premixes plant in Vadodara, Gujarat, India.
• Seneca Foods Corp. entered into a Share Purchase Agreement with Peter W. Truitt to acquire his 50% ownership interest in Truitt Bros. Inc.
• Shearer's acquired corn-based snack products producer Medallion Foods from ConAgra.
• Symrise AG announced plans to acquire Diana Group, which supplies organoleptic solutions based on natural ingredients.
• TreeHouse Foods Inc. announced that it will acquire Protenergy Natural Foods, which develops and manufactures premium private label broth, soups, and gravies.
• UTZ Certified launched a three-year initiative to develop a certified sustainable hazelnut supply in Turkey.

Melanie Zanoza Bartelme,
Associate Editor
[email protected]