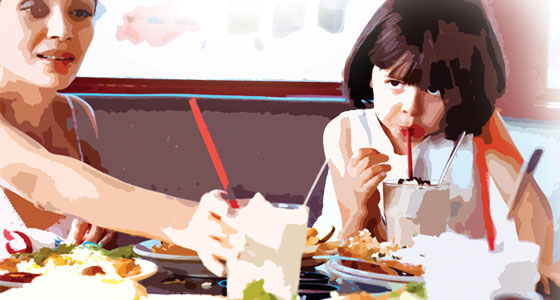 More than ever, consumers are looking beyond the taste and texture of foods and beverages and simply asking, "How does it fit into my life?" A growing variety of lifestyles that include those of millennial moms, aging baby boomers, sports enthusiasts, and even adherents of gluten-free diets are driving the growth of new market introductions. These groups have diverse views about their food, to be sure, and manufacturers are keen on meeting their needs. Gaining a deeper insight into the lifestyles of consumers and the attitudes they have about food is valuable for understanding their purchasing behaviors.
In an analysis prepared for Food Technology magazine, John Fetto, Senior Consumer Insights Analyst at Experian Marketing Services, breaks down consumer lifestyles in North America into five specific segments based on a survey of 23,689 U.S. adults conducted between November 2012 and December 2013. In the survey, respondents answered questions related to everything from their demographics, attitudes and opinions, brand preferences, media consumption, and more. The findings are representative of the total U.S. population. The segments include the following: variety on a budget (27%), reformed traditionals (27%), true foodies (20%), convenience and ease (14%), and weekend cooks (13%) (Table 1). Each of these segments of adult consumers differs in their eating habits, their opinions about what they should eat, and their motivations for eating healthfully. When consumers are asked individually about which group they fit into, the delineations are less clear-cut; they are likely to say that their own food preferences and purchasing behaviors represent an overlap or a combination of two or more of the groups.
Variety on a Budget
At 24, an entrepreneur and a mom of two children under age 6, Brittany Gardner of Abbotsford, British Columbia, says that her own lifestyle is one that represents a combination of eating out and preparing food at home. She is the emblematic "millennial mom" who is frequently on the go. For Gardner, that means having a varied schedule, juggling work and kids, ending up in the drive-through lane on some days, yet managing to eat out at nice restaurants without kids about once a week. She watches her budget, although she admits to having sushi three or four times a week, something she describes as "my guilty, expensive habit." When given the choice between choosing foods that are organic and nonorganic, she says she chooses organic. She tries to limit wheat and gluten consumption in her diet for health reasons. Her kids' favorite snacks register on the healthier side, too: organic yogurt tubes, dried fruits and berries, and "things with less sugar" such as meats, nuts, and natural peanut butter.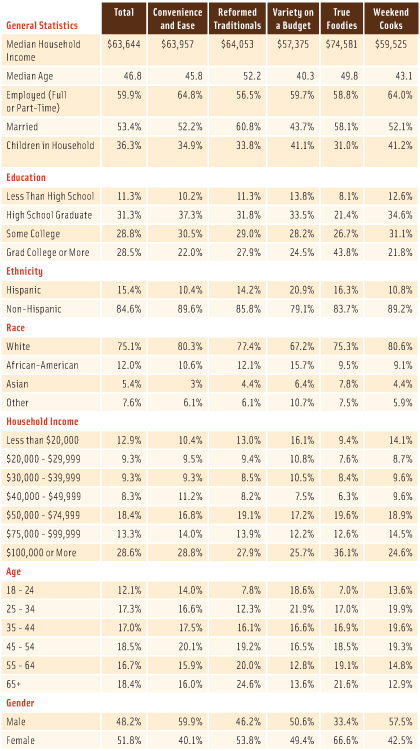 Gardner's lifestyle is one of variety on a budget. According to Fetto's segmentation analysis, "Consumers in the variety on a budget segment are generally very busy and frequently eat on the run. They see frozen food as a convenient alternative and rarely plan ahead for their meals." The group also is likely to express interest in gourmet-style foods or more expensive fare—Gardner's sushi included—as long as it fits in their budget. The main characteristic of the variety on a budget consumer is the need for a variety of food for the whole family. That can mean microwave meals, prepared lunch kits, frozen breakfast entrees, or frozen fried chicken (most likely with nuggets or strips for the kids). Then, to wash things down, these consumers are more likely to choose malt liquor beverages, coolers, or low-alcohol or nonalcoholic beer. In general, they are less likely to be watching their diets in comparison to other segments, but they can have more desire to gain weight or to avoid food allergies or intolerances (e.g., gluten). The variety on a budget group represents just over a quarter of North American adults and encompasses much more than millennial parents.
--- PAGE BREAK ---
Nevertheless, the influence that millennial parents, moms in particular, have within this lifestyle segment shouldn't be underestimated. As Elisa Silva reported in a Forbes article, 68% of all babies are now born to millennial moms and their buying power is estimated at $170 billion (Silva, 2013). These moms spend about 14% more time on smartphones than the average consumer, and they say that their phones are their No. 1 tool for shopping. They're also on social networking sites as well as craft and recipe websites like Pinterest and Etsy. "Marketers that tap into the social currency held by millennial moms will win the race," Silva writes.
In our digital era, millennial moms are not only empowered by technology, but they are also more likely to make independent parenting decisions about money and food in comparison to previous generations. According to Mike Fogarty, Senior Vice President and Global Publisher at BabyCenter, these moms are "bucking convention—in the way they raise their kids and the way they live their own lives." In comparison to Gen X moms, millennial moms are 17% percent more likely to do freelance work, 63% more likely to have used social media to sell items they've made, and 67% more likely to have received payment for running errands or helping others (BabyCenter, 2014). "A few years ago, we saw moms embrace the online couponing trend, but now we're seeing a dramatic shift. Moms aren't just saving money, they're finding creative ways to earn it," Fogarty says.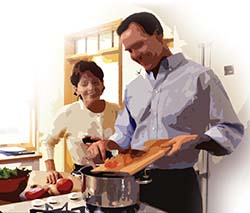 Reformed Traditionals
Baby boomers, who have more money than the average millennial parent shopper, aren't so concerned about variety or budget. What they are more interested in is staying healthy. For this reason, quite a few of them fall within the segment of reformed traditionals. According to Fetto, these consumers are those who have realized they should make healthier choices when it comes to what they eat rather than letting convenience be the guiding force." The segment comprises largely older, married adults in or at the cusp of retirement, who are often "empty nesters." This group represents roughly another quarter of North American adults.
One of these reformed traditionals is Jamie McClellan Johnson, 54, of Chandler, Ariz. When asked to describe her food lifestyle, she responds, "I used to cook for my family when I had kids at home. Now I cook occasionally when they come over, but mostly now I try to eat healthy, avoiding sugar, white flour, and processed foods." When she does cook, Johnson likes to use pink sea salt, and she limits total and saturated fat intake to whole food items such as avocados, coconuts, and olive oil. She says she buys organic products whenever she can.
Reformed traditionals stay away from junk food, watch their fat and sodium intake, have no problem buying fresh food, and look for nutritional content on all of the products they buy, according to Fetto. They also do a lot of their own cooking as evidenced by their food purchases. For example, they are more likely to buy packaged piecrusts, salad dressing mix, and canned milk, which are typically used for preparing home-baked or home-cooked dishes. When it comes to drinks, reformed traditionals choose coffee, tea, and vegetable juice and have less interest in carbonated sodas and energy drinks. They also tend to enjoy a drink with dinner; domestic wines, blended whiskey, and port, sherry, or dessert wines are among their favorites. Johnson describes herself as a "very moderate drinker" and explains that when she does have a glass of red wine, it's "for the anti-aging properties of resveratrol."
In a 2014 report, the Hartman Group notes that 81% of older consumers' eating occasions occur at home. Hartman also reports that one in 10 food items is a frozen product, with more consumption occurring during the dinner occasion. The figures are from an analysis of data from the Hartman Eating Occasion Compass Database from 2010 to 2011. The report recommends that food manufacturers and marketers target consumers 55 and older with an emphasis on "their home environment [and] focusing on smaller portions and natural, simple ingredients" (Hartman, 2014).
Boomers are also slightly more interested in the function of the foods they eat than younger segments of the population, according to the Hartman Group. For example, they are more likely to look for foods higher in protein, fiber, whole grains, calcium, or probiotics, or foods that offer a special health benefit. One example is Greek yogurt—because of its content of probiotics and higher amounts of quality protein—which are especially attractive for this consumer segment for digestive and immune health, as well as for protection against agerelated muscle loss. For these reasons, Euromonitor International reports that these consumers are more likely to purchase Greek yogurt than organic yogurt (Euromonitor, 2013).

Reformed traditionals have similar rates of physical activity as the variety on a budget segment, with 52% of each group reporting that they exercise regularly, Fetto says, although their activities are, as one might expect, quite different (Table 2). The normally younger variety on a budget group favors fast-paced team sports like soccer, hockey, football, skateboarding, and snowboarding. The older segment of reformed traditionals are more likely to be found walking or on the golf course. Knowing the right sports in which members of these segments engage can be advantageous when targeting them with advertising.
--- PAGE BREAK ---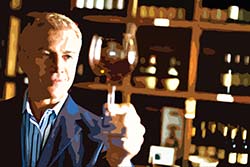 True Foodies
A self-described "foodie," Chris Sturdy, 42, a professor at the University of Alberta, looks for local, ethically raised, environmentally responsible food. He prefers organic, but says he doesn't "get bent" if he can get local fare. Much of the time, he cooks for his family at home, even experimenting with making Indian or Thai food using commercial pastes. He also enjoys eating ethnic cuisine, including Japanese and Lebanese, when he goes out. "I'm up for anything," he says. Sturdy says that he used to adhere to a "pretty strict Paleo" lifestyle (eating organic and select meats), but now he's relaxed his preferences. "These days I'm still gluten-free, but enjoy organic dairy, potatoes, and even oats," he says.

With an income that is 17% higher than average, true foodies are the most upscale food lifestyle segment, according to Fetto. They are also 53% more likely than average to have graduated from college. During a typical month, they spend $172 at family dining establishments compared with the average consumer, who spends $158. Members of this segment are also the most likely segment to be watching their diet and most likely to report having an intolerance to gluten or lactose (Table 3).
Refined tastes are typical of true foodies, Fetto reports, and notes that they seek out foods that fit with their adopted diets. They also tend to be a bit older than those in other segments (except for the reformed traditionals), and they have the largest gender skew, with 67% being female. For example, Julie Caron, 36, of Springville, Utah, says she's a "health nut at home," eating mostly raw foods (in the form of salads and green smoothies). Once or twice a week, she says she "likes to splurge on vegan Indian, Mexican, or Chinese." She has been a vegan for 14 years, has not had sugar in six years, and says she has no known intolerance "except maybe soy," but notes that she isn't afraid of healthy fats or a little sea salt. Now that's extremely refined.
When it comes to drinking, refined tastes are also on display. Members of this group are more likely to consume a variety of types of alcohol. Imported wine, fortified wine, champagne or sparkling wine, and gin are favorites. Along with the alcoholic beverages, members of this segment also rehydrate with sparkling water at rates well above average, Fetto reports. Generally, true foodies tend to be the most active group by far. About 72% report that they exercise regularly, and 68% exercise two or more times a week. They engage in sports that are likely to cause them to break a sweat, including aerobics, biking, and jogging. In contrast, the convenience and ease and the weekend cooks segments are the least likely to exercise regularly, with just one in 10 saying that they visit a gym or fitness center.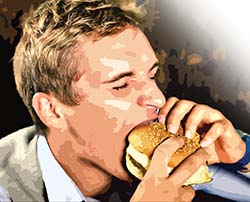 Convenience and Ease
While the true foodie segment has the largest percentage of females and skews slightly older, the convenience and ease segment has the largest percentage of males (60%), and most are slightly younger, including millennials. They want food to be quick, convenient, and easy, Fetto reports. They have little interest in cooking, healthy eating, or nutrition. They're much more likely to visit fast food restaurants and spend little time actually cooking food. And during a typical month, they spend $97.90 on fast food vs the average consumer who spends $84.50, according to Fetto. They're also hyper snackers, eating plenty of packaged and frozen snacks. When it comes to drinks, they go sweet—soft drinks, Gatorade, cocoa mix, and powdered drinks like Kool-Aid at higher than average rates. And their alcoholic drinks of choice tend to be regular domestic beer or flavored alcohol like Smirnoff Ice. The segment makes up about 14% of North American adults.
Sports enthusiasts and athletes are a subgroup that seems to fit somewhere right in between that of true foodie and convenience and ease. Take cyclist Darrin Nillson, who describes himself as a "48-year-old punk." Nillson normally gets a bike ride in, either on road or mountain trails, at least two or three times a week. On the road, he averages 18 to 26 miles each time; on mountain trails, his rides average about 10 to 15 miles. That's a lot of riding.
What does he look for in his diet? "I primarily look for foods that aren't going to weigh me down," he says. He also looks for foods that are healthy and will give him energy. "Fruits are big plus. I often eat a banana before a ride, but I love all fruits, so bring it on," he says. Because his rides are usually in the morning, he also gets plenty of pancakes and waffles. Convenience and ease are major pluses for Nillson, yet here we have a person who is highly focused on his health, so he makes use of energy products and protein bars. "I do take them out on rides and hikes with me. After all, water alone isn't going to do it all for you," he says. But he also notes that he's trying to avoid simple sugars as much as possible; he prefers complex carbohydrates to avoid spikes and drops in blood sugar, which he's concerned will cause fatigue.
The niche category of food products targeted to athletes is one that Euromonitor analyst Chris Schmidt reports continues to grow and that has gone from having an "edgy image" to becoming a health-and-wellness segment mainstay (Schmidt, 2014a). The category comprises non-protein products, ready-to-drink protein beverages, protein bars, and protein powders and is expected to have an impressive 9% annual growth, reaching $13.4 billion in 2018. A large part of this is due to the sports nutrition industry cleaning up its image, Schmidt says. As sports nutrition companies increasingly drop the "rogue image of the category's past," Schmidt also predicts that new sports nutrition lines will increase their targeting of women athletes (Schmidt, 2014b). After all, women account for about half of gym members ages 16 to 39. More products with clean labels are being introduced with a focus on avoiding artificial flavors, colors, and sweeteners. In addition, transparency in labeling—that is, showing actual dosages of ingredients vs holding it as proprietary information—is a growing trend in the category.
--- PAGE BREAK ---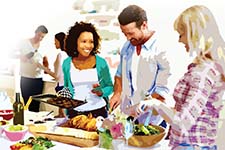 Weekend Cooks
At 13%, weekend cooks are the smallest food lifestyle segment among adult consumers in North America, according to Fetto. As its name suggests, the segment is composed of those who have some interest in cooking, but who are more likely to cook on social occasions on the weekends. Fitting nicely into this segment is graphic designer Leigh Flynn, 35, of Gilbert, Ariz. When asked about her food lifestyle, she responds that she wishes she "had more time to cook from scratch" and that "I'm finally making cornbread today that I've been trying to make for a week—and it only takes an hour!" With two children under the age of 4 and living in a household where both parents work full time, Flynn and her husband, Greg, rarely are able to visit restaurants, and they dip into prepared foods at home as necessary. But Flynn says she does consider herself a foodie, and when time permits, she loves to cook up a variety of foods and goodies that she often shares with her neighbors and colleagues.
Weekend cooks tend to enjoy cooking for their friends and family provided they find the time, and usually the actual meal preparation is less formal and takes up less time than with other segments, according to Fetto. "But they also have a family to feed," Fetto says, "and need all the help they can get." During the week, they eat a lot of prepared foods ranging from prepared lunch kits and toaster pastries to beef jerky and canned meat like Spam. They also like to indulge in certain foods they crave without consideration for calories or nutritional value.
Weekend cooks spend little time at the gym, but Fetto notes that they do tend to engage in sports such as camping, fishing, or hunting at above average rates. When it comes to alcohol, weekend cooks tend to gravitate toward the Canadian whiskeys, bourbon, and malt liquors. They're also likely to purchase energy drinks or shots on occasion for a pick-me-up.
Life in the Food Lane
Judging from market research, specific consumer lifestyles have fueled food trends in health and wellness. Market research provider Euromonitor International reports that the parents of young children and baby boomers are driving the growth in the forecast period that extends from 2012 to 2017. The food intolerance category is forecast to grow at a constant value of 2% between 2012 and 2017, driven by mass market sales of gluten-free foods (Euromonitor, 2013). Gluten-free food (including gluten-free bread) was the fastest-growing area, with sales growing by 16% in 2012 to reach $405 million. Within the organic packaged food category, organic baby food grew by 8% in 2012 to reach $554 billion. Organic functional yogurt also accounted for 15% of U.S. sales of fortified/functional yogurt, according to Euromonitor. Organic packaged food is expected to have constant value growth of 19% over the forecast period and reach $13.5 billion by 2017.
Snacking is also increasingly becoming the norm due to the busy lifestyles of segments such as variety on a budget, weekend cooks, and convenience and ease. Hartman Group reports that half of all eating occasions in the U.S. are now snacks or mini-meals and that almost half of those eating occasions take place when people are on their own. It's the new style of modern eating, with a focus on immediate consumption, yet Hartman reports that these groups are also interested in less-processed items, including dried fruits, nut bars, and jerky in smaller packages (Hartman, 2013).
Where food lifestyles have clearly made their mark is on the National Restaurant Association's 2014 Culinary Forecast (NRA, 2014). Looking over "top trends," one easily can figure that true foodies have inspired "locally sourced meats and seafood," "locally grown produce," "environmental sustainability," "hyper-local sourcing," "ancient grains," and "ethnic-inspired items." Without a doubt, millennial moms have had an influence in the adoption of "gluten-free cuisine," "children's nutrition," and "fruit/vegetable children's items." Likewise, baby boomers and others in the reformed traditionals segment influence the "health/nutrition" and "half-portions/smaller portions for a smaller price" trends. With each existing trend, the value of understanding food lifestyles becomes all the more evident.
David Despain is a nutritionist and freelance writer based in Gilbert, Ariz.
([email protected]).