Kyle Connaughton decided that he wanted to be a chef after eating sushi for the first time at the age of nine. After attending what would become Le Cordon Bleu and California Sushi Academy, he worked at Toya Japon in Japan and then as Head Chef of Research and Development at Heston Blumenthal's The Fat Duck, overseeing a team of food scientists and chefs. Now, Chef Connaughton directs product development for Exo Protein, a protein bar company that uses cricket flour as a nutritious and sustainable protein source.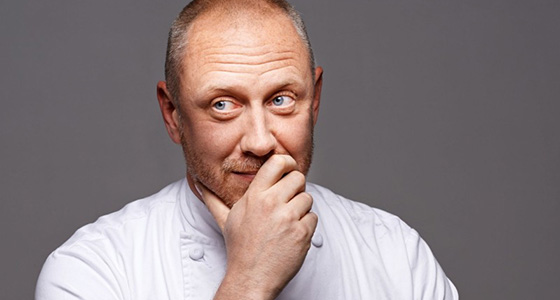 Chef Kyle Connaughton (© Peter Samuels)

Kelly Hensel: How did you start working with Exo?
Kyle Connaughton: A chef friend of mine is friends with the founders of Exo and he told me that there was this company trying to come together and they needed someone to work with them on developing a cricket flour and some recipes. At first they just wanted me to recommend someone for them to work with. Then I met Gabi [Lewis] and Greg [Sewitz], the founders, and they brought me a sample of some things that they had been making in their home kitchen. We sat down and tasted it and they took me through everything that they were doing. I realized then that I wanted to work on this project.
I came to the meeting thinking that I was going to help them find someone, and I realized I wanted to do it. I was so impressed with them, their vision, and the opportunity they were creating. It was something I knew a little bit about from my time running research and development for The Fat Duck in U.K. We had done a little bit with crickets, but we hadn't really explored it in terms of its viability as a protein. But I had been reading about it for years and thinking that it is a vision for the future. And then this opportunity came.
Hensel: What are some of the formulation challenges when working with cricket flour?
Connaughton: First, we are going all the way back to the source—the crickets. [Cricket powder for Exo Protein Bars is supplied by All Things Bugs.] We then had to consider how to best use it [the cricket flour]. The interesting thing about the cricket flour is that it really doesn't have any functional properties working for it or against it. It's really kind of neutral so we use cricket flour just like people use other protein powders. But it is the whole cricket so it's very high in fiber. However, like almost all protein powders, cricket flour isn't soluble for the most part. So, while it does present a few challenges, for the most part it's very easy to work with.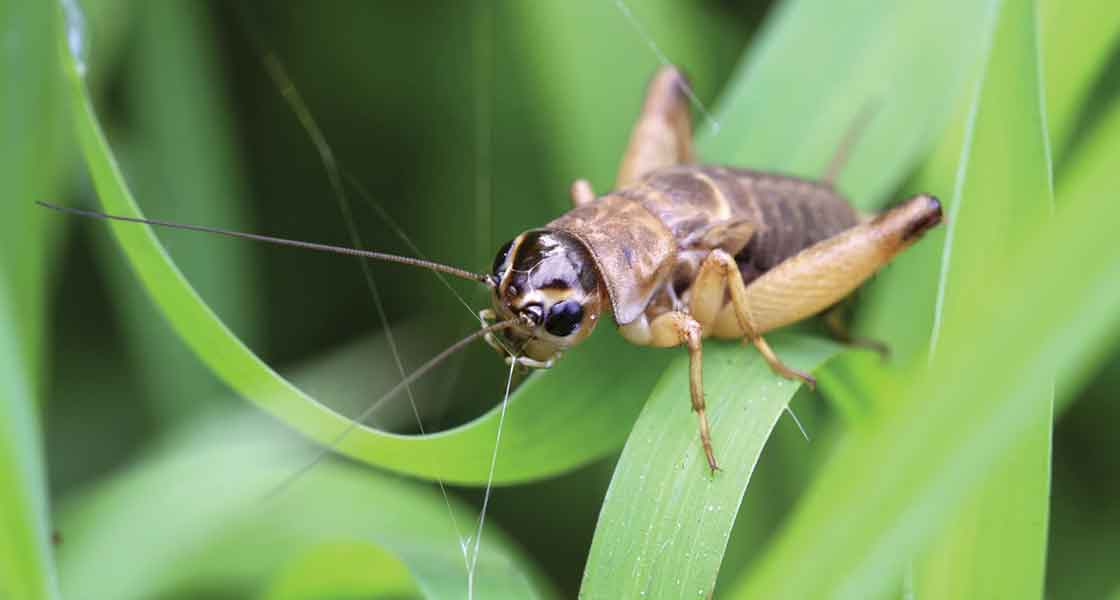 © lnzyx/iStock/Thinkstock
Hensel: Do you have to worry about flavor masking with cricket powder?
Connaughton: No. The method used to make our cricket flour is a little bit different than some. In order to make a shelf-stable product you have to lower the water activity and most people generally roast the crickets to do this. Once all the water is out, you end up with something that you can grind down into a powder. When you roast at a higher temperature you get more of a roasted flavor. It's similar to a roasted shrimp shell, or roasted crustacean type of flavor. But when you grind that down to a powder form that roasted note becomes very concentrated.
The method used to make our cricket flour involves more of a low temperature drying. It's sort of similar to spray drying in the style in which it is done. Because of this, we don't get those roasted and toasted notes. So our cricket flour has an aroma like malted milk powder. There isn't really need for masking. We can actually put quite a bit of the cricket flour into a recipe and we don't have to think about using ingredients to cover up the "cricket-ness" of it.
Hensel: Are you working with Exo to develop different products outside of protein bars?
Connaughton: It's something that we are working on, but it's probably a little further down the road. The goal of Exo is to really normalize the consumption of insects. Exo has targeted crickets because they are the most sustainable protein source and the easiest to grow in the most sustainable way.
For us, the protein bar is a gateway product. We like to use the analogy of sushi, which has been around now for such a long time. When it first came to the U.S. it was really only served in a few restaurants in Japanese communities. It took things like the California roll and the spicy tuna roll to get American consumers to like sushi. You have to create something that feels very familiar, and then you can introduce people to a larger world. Now it seems like every town across the country has sushi. It's become normal. We see that same normalization happening with the consumption of insects in the future. And really the easiest product to put our cricket flour into is in the very familiar form of a protein bar. But we definitely have the vision to expand beyond protein bars.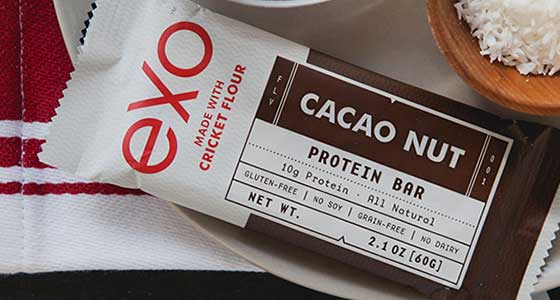 Photo courtesy of Exo Protein
Hensel: You helped develop the new Bachelor's Degree in Culinary Science at the Culinary Institute of America (CIA). What is culinary science?
Connaughton: Historically, chefs have been on one side and food scientists have been on the other. Chefs are very creative and sensory type of people, whereas food scientists are generally more analytical and are thinking about process. And for the most part, chefs and food scientists didn't have a common language. There are really great research and development chefs out there that started as restaurants chefs and when they got into R&D, they had to learn on the job the more scientific aspects of food and the underlying science behind cooking processes.
Recently, for several many reasons, chefs and food scientists have moved closer together. The idea of culinary science is really understanding the underlying science of food, ingredients, and cooking processes to ultimately prepare better food. The more that you understand about science, the better cook you can be. The more that you understand an emulsion, the better you can figure out what an emulsion does. The more that you understand about the functionality of ingredients—how sugars, fats, and proteins behave from a functional perspective—the better that you know how to cook and leverage that understanding.
So, culinary science is really about informing chefs about science and helping ultimately to make better food through that better understanding.
Hensel: You and your wife are opening Single Thread Farms Restaurant & Inn later this year. Why did you decide to open your own restaurant and include an Inn?
Connaughton: We wanted to have a place where we could combine Katina's agriculture with the restaurant and inn to give our guests an authentic Sonoma Wine Country experience. We wanted to be able to extend the hospitality beyond just the restaurant experience.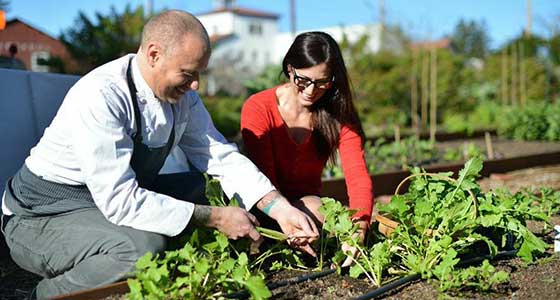 Chef Connaughton and his wife, Katrina, farming (© Sally Egan)
Hensel: What is the concept of omotenashi? How will Single Thread bring that concept to life?
Connaughton: Omotenashi for us is a true and genuine expression of hospitality. It means to be "front facing" and to "have nothing in your hand." Our hospitality comes from wanting to share our work on the farm and gardens as well as in the kitchen with our guests in a way that gives them the best possible experience. Every guest wants something different and our goal is to understand that and tailor the experience to best suit them.
Hensel: You have worked as a culinary scientist and in R&D with food scientists. And now at Single Thread you want to showcase the farm and food source. It seems today that people feel they have to "pick a team." What have you learned from your experiences about how people view food and maybe how people should view food?
Connaughton: I really don't believe in picking any teams. I've cooked very market-driven cuisine in California, French cuisine at Michel Bras, Japanese cuisine in traditional restaurants in Japan, and very modernist cuisine at The Fat Duck. I don't believe in any separation in the kitchen between savory or pastry or that you have to choose fine dining or casual. I enjoy all of those things and there is something to learn from every area of food.
I've been deeply involved in culinary education with the CIA and worked on developing everything from packaged retail products to casual concepts, cooking technology, and Japanese earthenware fired in kilns that are a UNESCO site. I love the act and process of development and educating ... I like to see the interconnectivity between food and people behind the food.