Everyone knows the old nursery rhyme in which Old Mother Hubbard went to her cupboard to get her poor dog a bone but the cupboard was bare. Today, she could go to a major pet supply store such as PetSmart, Petco, and Pet Supplies Plus for a lot more than just a bone. She wouldn't even have to leave her home to shop for pet food if she had a computer and an Internet service provider. She would be amazed, if not entirely overwhelmed, by the number of brands and types of cat and dog foods available today. According to Euromonitor International, the dog food market in the United States in 2014 reached a value of $14.5 billion, and the cat food market reached $7 billion. Nestlé Purina PetCare Co., St. Louis, Mo. (www.purina.com), is the largest marketer of dog and cat food in the United States: In 2013 it encompassed 32.3% of the dog food market with $4.5 billion in sales and 45% of the U.S. cat food market with $4.3 billion in sales.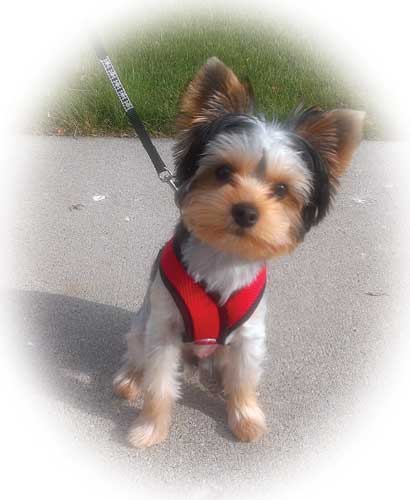 Pet Food Regulations
Pet foods in the United States are regulated not only by the U.S. Food and Drug Administration (FDA) and the U.S. Dept. of Agriculture (USDA) but also by individual states. FDA regulations establish standards applicable for all animal feeds, including pet food: identification of product, net quantity statement, manufacturer's name and address, and listing of ingredients. Some states also enforce their own labeling regulations. Many states have adopted the model pet food regulations established by the Association of American Feed Control Officials (AAFCO), which are more specific, covering aspects of labeling such as the product name, the guaranteed analysis, the nutritional adequacy statement, feeding directions, and calorie statements. All ingredients must be generally recognized as safe or food additives approved for their intended uses. Labels generally must bear a guaranteed analysis statement for protein, fat, fiber, moisture, and optional additional nutrients. A statement of nutritional adequacy for the pet's life stage is also needed since the product may be the sole component of a pet's diet. A claim of "complete and balanced" pet food must be substantiated for nutritional adequacy by either meeting AAFCO nutrient profiles or having been fed to dogs or cats per the AAFCO Feeding Trial Protocols and found to be nutritionally adequate.
In 2007 many pets became ill and died after consuming pet foods containing fraudulently labeled ingredients that were intentionally contaminated with melamine to enhance protein content. Although not passed into law as a direct response to that incident, the Food Safety Modernization Act (FSMA) requires the FDA to implement regulations that improve the safety of both human and animal food. On October 29, 2013, the FDA published its "Proposed Rule for Preventive Controls for Animal Food," which would establish good manufacturing practices for facilities and personnel involved in manufacturing, processing, packing, and holding animal food and would require companies to have a food safety plan and controls in place to minimize any potential hazards. The proposal had a deadline for comments that was extended to March 31, 2014. On September 29, 2014, the agency proposed revisions with a comment deadline of December 15, 2014. The agency expects to issue a final rule by August 30, 2015.
The FDA is also working to address other proposals to improve the safety of animal food. The Food and Drug Administration Amendments Act required the FDA to, among other things, issue new regulations to establish updated standards for the labeling of pet food that include nutrition and ingredient information with input from the AAFCO, veterinary medical associations, animal health organizations, and pet food manufacturers. The FDA held a public meeting in 2008 and used the information to begin drafting a proposed regulation, which is under review.
At present, there are no specific standards for organic pet food, but pet food can be labeled "organic" as long as it meets the USDA's organic regulations regarding product composition, such as acceptable ingredients, processing methods, and labeling requirements. In October 2004, the National Organic Standards Board (NOSB), an advisory board of the USDA, recommended that a task force of pet food manufacturers, organic consultants, and other experts be formed to draft organic pet food standards. The task force was formed in May 2005, and in November 2008 the NOSB approved a final recommendation for organic pet food standards incorporating the provisions that the task force drafted. The USDA's National Organic Program is developing a proposed rule for publication later this year that would establish requirements for the composition and labeling of organic pet foods and would clarify how pet food could be produced, certified, and marketed as organic.
Related Organizations
A number of organizations are actively involved in pet food standards and regulations.
• American Feed Industry Association (AFIA), Arlington, Va., (www.afia.org), is a trade organization that represents the business, legislative, and regulatory interests of the U.S. animal feed and pet food industries and their suppliers. Its Safe Feed/Safe Food Certification Program for the animal feed industry is administered by the Safe Quality Food Institute and benchmarked by the Global Food Safety Initiative. On February 13, 2015, the AFIA announced updates to the program to support the new FSMA requirements. Its updated guidance document is designed to assist facilities with designing, developing, implementing, and maintaining a quality and safety program for feed. The AFIA also offers a Pet Food Ingredient Facility Certification Program and a Pet Food Manufacturing Certification Program, both of which are based on HAACP principles.
--- PAGE BREAK ---
• AAFCO, Champaign, Ill. (www.aafco.org), is an association of local, state, and federal agencies charged by law to regulate the sale and distribution of animal feeds and animal drug remedies. Although the AAFCO has no regulatory authority, it develops and implements uniform and equitable laws, regulations, standards, definitions, and enforcement policies for regulating the manufacture, distribution, and sale of animal feed, including pet food. It establishes standardized nutrient profiles for cat and dog food and provides advice to small pet food manufacturers regarding regulatory requirements. It has established model regulations for adoption by state regulatory agencies and protocols for feeding trials to demonstrate nutritional adequacy of pet foods. The organization has also developed guidelines for natural claims for pet foods, and its website lists laboratories that provide analytical testing of pet foods and ingredients.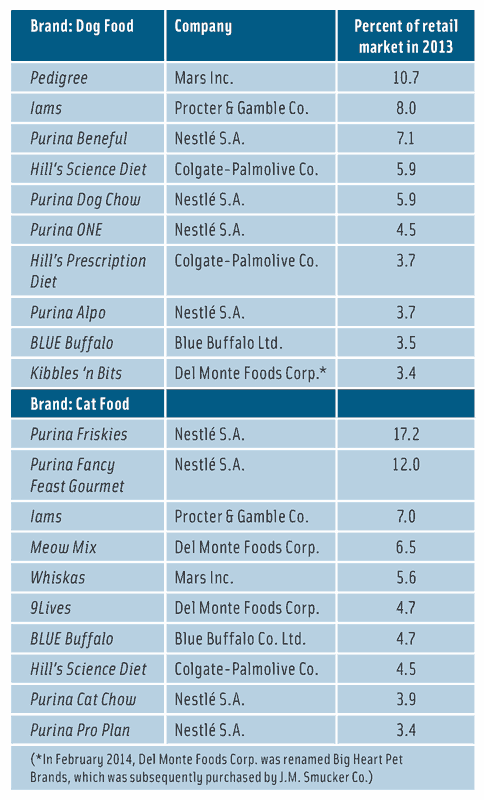 • FDA Center for Veterinary Medicine (CVM), Rockville, Md. (www.fda.gov/cvm), regulates the manufacture and distribution of animal food, animal food additives, and drugs that will be given to animals. If scientific data show a health risk to animals of an ingredient or additive, the CVM can prohibit or modify its use in pet food as it did when it prohibited the use of propylene glycol in cat foods and asked the pet food industry to voluntarily lower the maximum level of use of ethoxyquin in dog foods.
• Pet Food Institute (PFI), Washington, D.C. (www.petfoodinstitute.org), is a trade organization representing the companies that produce 98% of the dog and cat food in the United States. The organization works closely with states for product registrations and helps its member companies understand the regulatory requirements under the FSMA. The PFI works closely with dog and cat food manufacturers to develop industry-wide consensus on key issues such as food safety, product labeling, and ingredients and works with federal and state regulatory officials to provide valuable industry input into regulatory and policy decision-making regarding the production and sale of dog and cat food. It produces guidance documents and publications to assist pet food manufacturers with increasingly complex issues such as food safety, regulatory requirements, and labeling. The PFI also presents, in cooperation with the National Grain and Feed Association, an annual conference that brings together the manufacturers of feed and pet food and equipment and services suppliers. The next conference will be held in Columbus, Ohio, September 29 – October 1, 2015.
Q & A with Analytical Experts
Pet food experts at Eurofins Scientific Inc., Des Moines, Iowa (www.eurofinsus.com), one of the largest companies offering analytical services to the pet food industry, answered a few questions about pet food testing.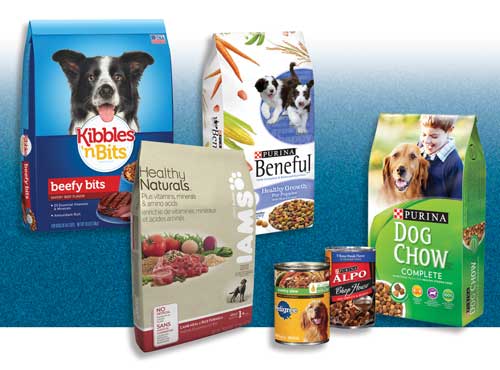 • What are the major differences in analytical testing for pet foods vs. human foods?
Lars Reimann, chief scientific officer at Eurofins Nutrition Analysis Center, said that pet foods have more in common with infant formula and adult nutrition than with regular human food since pet foods are formulated to be complete diets, often with special nutrients such as glucosamine added. Correct sampling and sample preparation become much more critical because sample homogenization can be a challenge. Nutrients can be present in multiple forms: in their natural form as part of an ingredient as well as in an added form as part of premixes and additives. Stability testing is important because the pet food is expected to be shelf stable for about one year or more at room temperature (or even worse storage conditions) with minimal amounts of preservatives added.
With regard to microbiological testing, Doug Marshall, chief scientific officer at Eurofins Microbiology Laboratories, said that there is very little difference in testing pet foods vs. human foods. Microbial quality indicators—aerobic plate counts, yeast and mold counts, Enterobacteriaceae counts, and coliform counts—are routinely used to verify the integrity of incoming raw materials, ingredients, and finished products. Food safety tests also are conducted, such as detecting the presence of undesirable chemical contaminants such as mycotoxins, pesticides, antibiotics, and heavy metals as well as pathogens, primarily Salmonella.
• What are the major differences in testing dog foods vs. cat foods?
Reimann said that the only major difference in testing dog foods vs. cat foods lies in the type of analytes of interest. Cat food is typically tested for the amino acid taurine. Cats cannot synthesize taurine, so it is an essential component of cat food. Other nutrients of more concern for cats are the fatty acid arachidonic acid, vitamin K, and biotin.
• What are the major differences in testing dry pet foods vs. wet pet foods?
Reimann said that getting a representative sample from a can of wet pet food is more difficult than getting a representative sample of a dry pet food. Fat is often unevenly distributed in a can and is difficult to get out of the can together with the rest of the content. Wet samples tend to settle after blending, and analytes are often much less stable in a wet environment than in a dry one. Freezing wet samples reduces the rate of analyte degradation but increases the probability of separation into phases.
Marshall said that the pathogen of greatest concern for dry foods is Salmonella because of its ability to survive long periods of time when dehydrated, its low infectious dose, and its potential to cause human illness due to direct consumption (by children playing near food bowls or adults seeking low-cost calories) or by cross-contamination of human foods in the kitchen. High-moisture raw pet foods have the potential for harboring a large variety of pathogens, including Salmonella, Campylobacter, Listeria monocytogenes, Yersinia enterocolitica, and pathogenic Esherichia coli. Of these, L. monocytogenes and Y. enterocolitica have the potential to multiply during refrigerated storage. All cooked pet food products (e.g., dry kibble and wet/canned products) are processed to be free of pathogens and microbes that could cause spoilage.
--- PAGE BREAK ---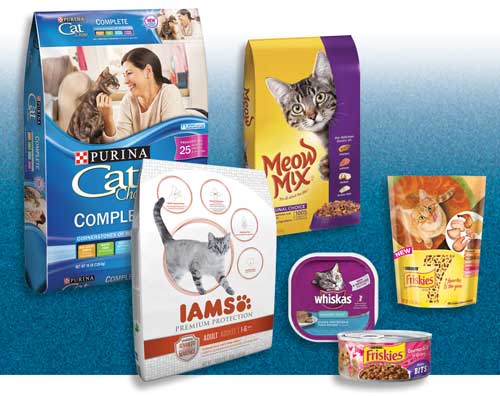 • What are the major challenges ahead regarding pet food safety and pet food safety testing?
Reimann said that the major challenges are the lack of good toxicological data focused on dogs and cats. Although it is possible to perform quick tests for an increasing number of contaminants, zero tolerance is not practical and realistic limits are needed. Likewise, good data addressing the level of specialized nutrients, such as glucosamine, that must be present to have a functional impact need to be established.
Some pet food manufacturing facilities were not built to standards expected of human food processing facilities. Significant resources are being invested to upgrade and qualify existing facilities to meet contemporary standards of good manufacturing practices. Significant effort is being placed on testing to validate critical control points for food safety hazards and to verify the quality and safety of raw materials, ingredients, finished products, and the manufacturing environment. As recognition of the role of food allergens in human health increases, interest is growing in how these may also impact animal health. Pet food additives such as prebiotics, probiotics, and nutritional and non-nutritional supplements require testing for authenticity, safety, and purity. Many of these additives are difficult to measure in complex pet food matrices. Consumer trends toward all-natural, non-GMO, minimally processed, authentic, and locally sourced products are being exploited in the pet food market. Testing will generate scientific data to support the growth of such trends and give consumers, auditors, and regulators confidence in the quality and safety of new pet food products.
• What have been the most recent advances in pet food safety testing?
Reimann and Marshall said that there are a number of screens that can identify a variety of contaminants, such as mycotoxins, pesticides, biogenic amines, and pathogens using ELISA, PCR, and advanced chromatographic technologies. In addition, there are advances in whole genome sequencing, 16s sequencing, and matrix-assisted laser desorption/ionization time-of-flight mass spectrometry (MALDI-TOF MS) for microbial strain identification and strain typing and PCR for source material species authenticity and label verification of GMOs.
---
Company-Sponsored Literature
The following are some analytical laboratories and analytical supply companies offering literature related to pet food testing.
• Eurofins Scientific Inc. and Eurofins Microbiology Laboratories, Des Moines, Iowa (www.eurofinsus.com). A global leader in food and feed testing, Eurofins has provided analytical services to the pet food industry for many years. Its tests include the analyses required to meet the AAFCO's standards for dog and cat food labeling, complex chemistries, and microbiological safety indicators. The company issues news releases that cover not only its products and offerings but also general pet-food manufacturing issues such as ingredient sourcing and pesticide use.
• Midwest Laboratories, Omaha, Neb. (www.midwestlabs.com). One of the largest feed labs in the United States, Midwest Laboratories provides feed and pet food testing using standard wet chemistry methods, microbiological and antibiotic testing, and tests for melamine and related compounds. AAFCO-compatible testing is also available for cat and dog food. The company has a series of memos regarding specific analyses for pet food.
• Neogen Corp., Lansing, Mich. (www.neogen.com). Neogen offers the pet food industry a comprehensive line of product safety solutions, including rapid test kits for pathogens such as E. coli O157, Salmonella, and Listeria; mycotoxins, such as aflatoxin and DON; and sanitation monitoring, including an ATP testing system. It has a pet food industry newsletter and a blog that has covered such topics as "FSMA and the Pet Food Industry" and "Protecting Animal and Human Health in the Pet Food Industry."
• Merieux Nutrisciences, Chicago, Ill. (www.merieuxnutrisciences.com). Merieux Nutrisciences (formerly Silliker) is said to be the leading internationally accredited provider of food safety and quality services. Its analytical services for the pet food industry comply with the AAFCO's nutrient profile requirements, and the company participates in the AAFCO check sample programs and other proficiency programs. The company has issued the white paper "FSMA: A New Regulatory Paradigm for Pet Food Safety" and has a food safety and quality blog that has addressed topics such as "State of the Pet Food Industry—FSMA Update" and the company's "Pet Food Vendor Monitoring Program."

Neil H. Mermelstein, IFT Fellow,
Editor Emeritus of Food Technology
[email protected]