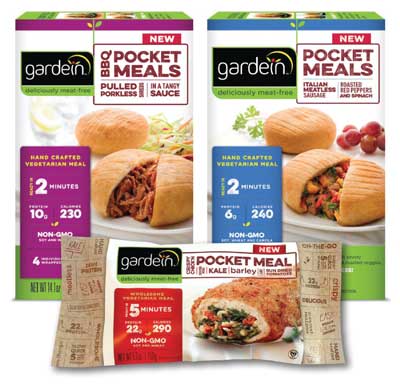 Plant protein pockets
A new line of frozen handheld products released by gardein features three flavors of non-GMO soy protein alongside an array of nutrient-rich veggies and ancient grains. The company intends its Pocket Meals to provide consumers with a healthier option for on-the-run eating.
"Today's consumer wants a healthier protein meal they can eat on the go," says Yves Potvin, founder of gardein. "We handcrafted these products to meet their needs in a delicious and sustainable way."
The Italian Meat-Free Sausage and BBQ Pulled Porkless Shreds pockets (suggested retail price of $4.49–$4.99) each feature a soft dinner roll stuffed with meatless meat and veggies; the "sausage" version provide 6 grams of protein and the "pork" offers 10. Both are ready in two minutes.
The single-serve Crispy Chick'n variety (suggested retail price of $2.99), meanwhile, puts the protein on the outside, which encases kale, barley, and sun-dried tomatoes and provides 22 grams of protein. It can be prepared in five minutes.
Every variety in the line contains fewer than 300 calories, and all flavors are vegan and dairy-free. Pocket Meals can be found at select U.S. retailers.
---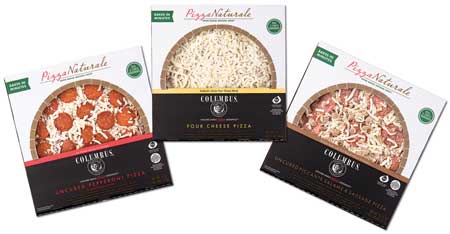 Take-and-bake pizza
After nearly a century of producing salami and other deli meats, Columbus Foods launched a line of ready-to-cook artisan pizzas. The Pizza Naturale line, which is available in the deli case, pairs the company's uncured pepperoni and salami with premium rBST-free cheese and vine-ripened California tomatoes. The pies are ready in less than 15 minutes.
"We're a company with a rich Italian heritage and a 98-year reputation for producing the highest-quality premium salumi and deli meats; pizza is a natural fit for the brand," says Tim Fallon, Columbus's CEO. "Like all of our products, our fresh, all-natural, ready-to-bake pizzas are handcrafted with authentic ingredients."
The pizzas are available in three varieties: Four Cheese, Uncured Pepperoni, and Uncured Piccante Salame & Sausage. They can be found at select H-E-B and Super Target stores for a suggested retail price of $7.99–$9.99.
---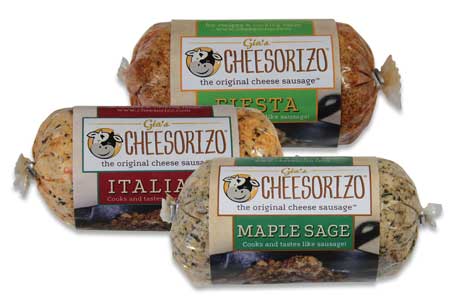 Cheese 'sausage'
Thanks to its production method, Cheesorizo cheese doesn't melt. The high heat and acid preparation instead forms curds similar to those in queso fresco and paneer, and they contain a protein network that allows them to keep their shape when heated. Cheesorizo curds, though, are flavored with herbs and spices, creating a cheese that cooks up and tastes like sausage.
Cooked Cheesorizo can be added to meaty dishes such as tacos, omelets, and pizzas, or it can be crumbled into salads or used as a spread directly from the package. Available in Fiesta, Italian, and Maple Sage flavors, it is sold in 6-ounce packages for a suggested retail price of $5.99. It can be found in select stores in Oregon or ordered in six-packs from cheesorizo.com.
---