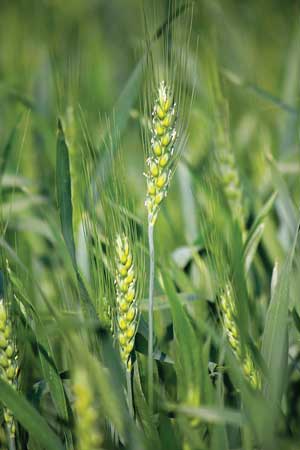 Wheat species variations affect sensitivity
Much has been said in recent years about the way wheat affects people who suffer from a range of maladies, including celiac disease, wheat allergy, non-celiac wheat sensitivity, fructose malabsorption, and irritable bowel syndrome. An article published in
Comprehensive Reviews in Food Science and Food Safety
reviews the components of wheat that contribute to these reactions and examines different species and genotypes to determine if any produce lesser reactions among those sensitive to wheat.
According to the authors, it might be feasible to select for wheat varieties that have lower amounts and fewer types of reactive prolamins and fructans. Einkorn—the oldest cultivated ancient wheat—and other species that lack the D genome of wheat, such as emmer and durum, appear to exhibit average lower reactivity than common wheat among people with celiac disease.
In addition, the research indicates that germination and fermentation technologies can effectively alter certain immunoreactive components. Although research has not proven causation in the increase in wheat sensitivity over the last decades, the authors suggest that modern wheat processing may have increased exposure to immunoreactive compounds. For people who experience wheat sensitivity, less reactive wheat products can slow down disease development and improve quality of life. Further research, however, is necessary to understand the influence of modern wheat cultivars on epidemiological change, say the authors.
Peanut intake lowers mortality risk
Peanut consumption has previously been linked to a decreased likelihood of death in people of higher economic status. A study published in Journal of the American Medical Association Internal Medicine determined that peanuts also reduced mortality risk within lower-income and racially diverse populations, especially from heart disease.
The study examined the peanut consumption of three large cohorts: participants in the Shanghai Women's Health Study (SWHS), participants in the Shanghai Men's Health Study (SMHS), and U.S. residents of African and European descent primarily of low socioeconomic status who participated in the Southern Community Cohort Study (SCCS). With a median follow-up of 5.4 years in the SCCS, 6.5 years in the SMHS, and 12.2 years in the SWHS, nut intake was found to be inversely associated with the risk of total mortality in all three cohorts and was primarily driven by cardiovascular disease mortality.
Overall, peanut eaters decreased total deaths by 21% and reduced cardiovascular deaths by 38%. In addition, the nut-mortality association was similar for both men and women, as well as blacks, whites, and Asians. "Consumption of nuts," the authors write, "particularly peanuts given their general affordability, may be considered a cost-effective measure to improve cardiovascular health."
Report examines modern eating
A report from Acosta Sales & Marketing explores the ways consumers' relationship with food has changed over time and suggests steps food manufacturers might take to appeal to modern eaters' preferences. According to The Evolution of Eating Hot Topic Report, even though the households of today contain more singles and fewer children than in previous decades, across generations, nine out of 10 shoppers surveyed still said they prefer eating at home.
In the past, this involved cooking from scratch rather than the meal preparation that dominates today—something that is facilitated by the expanded availability of ready-to-eat options in grocery stores. "We have less time for cooking, more resources for meal solutions, increasingly sophisticated palates, and we demand more from our diets," the report says. As a result, more consumers are creating hybrid meals, such as store-bought chicken paired with a salad kit.
Thanks to technology such as smartphones and the Internet, consumers are better informed about how their diets impact their health, and they are demanding foods with whole grains, fewer preservatives, and lower sugar and fats. To meet these desires, Acosta suggests that retailers and CPG companies focus on ways to tie center-store products to items in the perimeter and fresh food departments to make healthy meal planning easy, such as offering a protein with a vegetable side. It highlights smaller portions, resealable packaging, flavor variety, and affordability as factors that drive purchasing decisions.
--- PAGE BREAK ---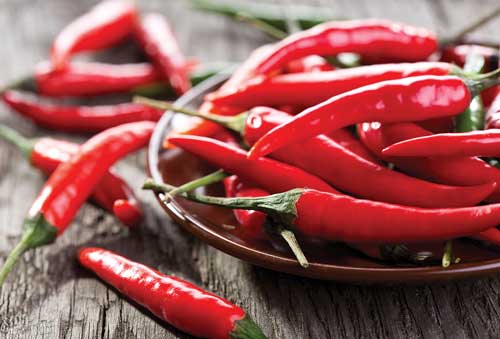 Capsaicin may help prevent weight gain
Adding just 0.01% of capsaicin—a compound found in chili peppers—in a total high-fat diet was enough to prevent high-fat-diet-induced weight gain in mice, according to research from the University of Wyoming's School of Pharmacy.
Dietary capsaicin is a chief agonist—initiator of a response—of transient receptor vanilloid 1 (TRPV1) channel protein, which suppresses high-fat-diet-induced obesity. In trials conducted with mice, dietary capsaicin prevented weight gain without changing food and water intake in mice in which TRPV1 was present; the response was not seen in mice that genetically lacked the protein. The researchers hypothesize that dietary capsaicin induces browning of white adipose tissue and stimulates thermogenesis in brown fat cells to counteract obesity, and they hope this effect may also be seen in humans in order to help fight the obesity epidemic.
"The main goal of our work is to expand the knowledge of the mechanism by which capsaicin antagonizes obesity, as well as to advance the proof of principle of the antiobesity potential of dietary capsaicin," say the researchers. "Next, we'll focus on our longer-term goal of developing TRPV1 agonists as new drug molecules to prevent and treat obesity."
Campbell's spotlights dynamic food trends
Filipino flavors, purposeful eating, and seafood awareness are among the top 10 most dynamic food trends to watch, according to the 2015 Culinary TrendScape report compiled by Campbell's global team of chefs and bakers.
"A deep desire for holistic wellness is bringing increased emphasis on foods that are good for the body and the planet," says Thomas W. Griffiths, vice-president of Campbell's Culinary & Baking Institute. "Bold flavors, global influences, and authenticity remain influential."
According to the report, Filipino food is "global fusion at its best, full of sharp, distinctive flavors that blend native, Spanish, Malaysian, Chinese, and American traditions." The cuisine is known for its use of vinegar, garlic, and soy sauce, all of which appear in the dish known as chicken adobo, which refers to both its vinegar-based sauce and the one-pot cooking method used to prepare it.
"People are increasingly turning to food for wellness, paying more attention to what's on the plate and why it's good for them," the report states, and many consumers are looking to combine nutrient-rich components to create satisfying, healthy meals. Already-hot healthy ingredients such as kale and quinoa are joined by supergrains, supergreens, and superseeds to serve as the base for building delicious and nutritious balanced dishes. "Healthy eating is no longer about what you don't eat. It's about what you do eat," the report points out.
Consumers are also looking for more sustainable seafood. The farm-to-table movement has hit the high seas, and diners and home cooks are more aware of the people supplying their fish and the increasingly depleted environments where they are found. The notion of fin-to-tail eating is catching on, and some restaurants now serve fish heads, collars, and even bones; others take advantage of unintentionally caught bycatch by putting it on the menu. "The deeper dive toward seafood sustainability is proving to have a delicious effect on cuisine," says the report, "and there's much more for us to explore."
--- PAGE BREAK ---
---
What's new with food companies
• Acme-Hardesty, a division of Jacob Stern & Sons that distributes RSPO-certified palm products, castor oils and derivatives, and preservatives, achieved RSPO Mass Balance Supply Chain Certification.
• Amira Nature Foods, a global provider of packaged Indian specialty rice, announced partnerships with CROSSMARK and United Natural Foods to expand its brand presence in the United States.
• Ball Corp. will acquire can maker Rexam.
• The Barry Callebaut Group was awarded a patent from the European Patent Office on reduced-fat chocolate, making it possible to manufacture milk chocolate with only 25% of fat by weight instead of 36%.
• Bunge North America purchased the assets of Heartland Harvest, a leader in the production of die-cut pellets used to make extruded foods.
• Cargill signed a formal partnership agreement to support Mondelēz International's Cocoa Life program.
• CHS announced that its soybean meal and oil and soy flour and flakes were granted Non-GMO Project Verified status.
• Davisco, a business unit of Agropur, significantly increased the production capacity of alpha-lactalbumin at the Jerome Cheese facility in Jerome, Idaho.
• Flavorseal announced that its facility and seasoning transfer products have been certified gluten-free by NSF International and certified organic by Quality Assurance International.
• Golden State Foods plans to establish a new meat processing facility in Opelika, Ala.
• The Hain Celestial Group acquired the remaining approximately 80% that it did not already own of EK Holdings and its wholly owned subsidiary, Empire Kosher Poultry.
• Harvest Hill Beverage Co., which makes Juicy Juice, has signed a definitive purchase agreement to acquire American Beverage Corp., whose products include Little Hug Fruit Barrels.
• Kalsec announced it will contribute financial support to Kalamazoo Valley Community College's new brewing science program, as well as donate pilot brewery equipment, assist with curriculum development and instruction, and help evaluate student beers.
• International Flavors & Fragrances expanded its flavors facility in Isando, South Africa.
• McCormick will acquire Drogheria & Alimentari, a privately held spices and seasonings company based in Italy.
• McDonald's announced it will phase out using chickens raised with human antibiotics.
• Mondelēz International announced the acquisition of its employee-created Betabox product-sampling product by VaynerMedia, a social media and digital marketing agency. It also agreed to sell its 50% interest in Ajinomoto General Foods to its joint venture partner, Ajinomoto.
• Okanagan Specialty Fruits agreed to be acquired by Intrexon, a leader in synthetic biology.
• Silliker announced that it is rebranding to become Mérieux NutriSciences.
• Target will double the size of its Made to Matter collection of products this year.
• Trailblazer Food Products, which manufactures private label and branded grocery products in the western United States, received $67,000 from the Energy Trust of Oregon in support of the company's sustainability initiatives.
• Tyson Foods will spend $110 million to renovate its Vienna, Ga., chicken processing plant.
• The U.S. Dairy Export Council launched ThinkUSAdairy.org, an online resource tailored to the needs of global buyers, foodservice professionals, and food and beverage manufacturers.
• Wixon participated in a pilot project of the Council of Small Business Executives designed to expose middle- and high-school students to different career opportunities.
• AB-Biotics and Derbycare signed an agreement to launch a product for gastropediatric health in China.

Melanie Zanoza Bartelme,
Associate Editor
[email protected]