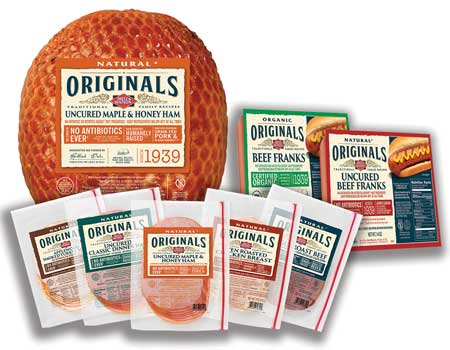 Antibiotic-free deli fare
Dietz & Watson
introduced a line of "no antibiotics ever" deli meats, growth-hormone-free cheeses, and organic beef hot dogs called
Dietz & Watson Originals
. The company says it will work with its suppliers and conduct annual audits to ensure that they never use antibiotics, even to treat illnesses.
"The best part of the Originals line is that they certainly don't compromise taste," says Lauren Eni, vice-president of brand strategy at Dietz & Watson and great-granddaughter of company founder Gottlieb Dietz. "When my great-grandfather talked about quality, the most important aspect of quality was in the raw materials and ingredients, so we want everyone to know that these products have the same great taste and quality as every product in the Dietz & Watson line and that the only difference is in the raw material."
The new line contains a variety of meats, including ham, turkey breast, chicken breast, and roast beef. Cheeses include baby Swiss, yellow cheddar, and picante provolone.
---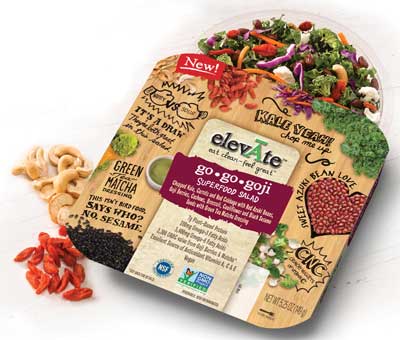 Superfood salads
Ready Pac Foods recently released its new elevĀte line of gluten-free, organic salads made without genetically modified ingredients (non-GM). The salads, which are packed with superfoods, are housed in full-sleeve packaging that invites potential consumers to read about the salad as well as see the contents inside.
"The elevĀte packaging also takes an innovative approach in the fresh foods category," says the company. "Its full-sleeve packaging, a first for any Ready Pac Foods product, tells a unique story for each flavor combination, prompting and encouraging consumers to remove the sleeve to see what's inside."
The salads come in eight varieties, such as Blu-Rugula Superfood Salad, which contains baby greens and lettuces with sorghum, aronia berries, almonds, chia seeds, cacao nibs, and a blueberry-honey vinaigrette, and the Organic Power Grains Superfood Salad, which combines spring mix, quinoa, wheat berries, carrots, red cabbage, raisins, and sliced almonds with an orange vinaigrette. The salads can be found at a range of retailers around the country for a suggested retail price (SRP) of $4.99.
---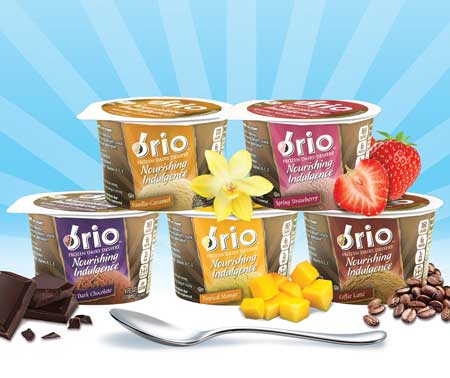 Nutritionally balanced desserts
Nutricopia launched its Brio Nourishing Indulgence line of frozen dairy desserts. Made without added sugars or artificial sweeteners, Brio is low-glycemic and contains 10% less sugar than traditional ice creams.
The gluten-free dessert is made with hormone-free milk and non-GM ingredients, including Alphonso mangoes and Madagascar vanilla. Each 4-ounce serving contains 160–170 calories and 6–7 grams of fat while providing 6 grams of protein, 2 grams of fiber, and 24 essential vitamins and minerals.
According to the company, "Brio is an excellent solution for those who may need an extra boost of nutrition, whether as a meal replacement or a nourishing snack." It can be found at Central Market in Texas or ordered online for an SRP of $1.99.