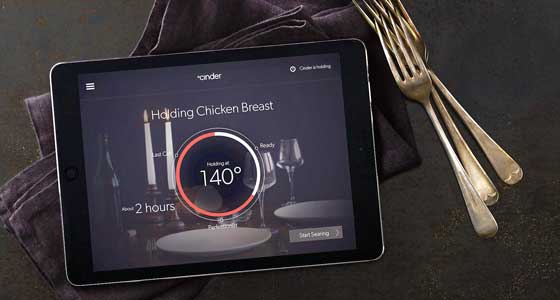 In the kitchen of the future, cooks will be able to choose from a huge array of helpful appliances, from 3-D printers and gel fridges to robotic arms capable of flipping pancakes and re-creating your recipes. Until those are ready, today's consumers will be able to draw on a range of innovative devices to add convenience and control to their cooking.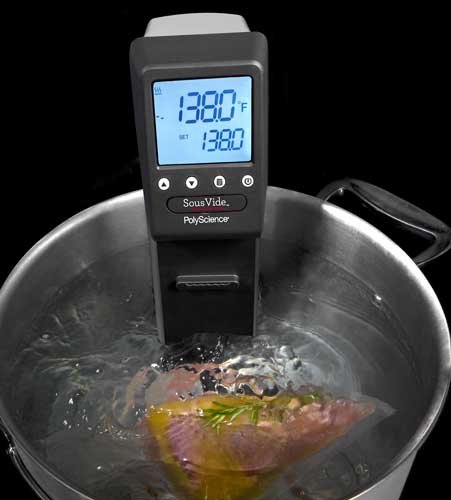 PolyScience's immersion circulator allows home chefs to apply specific temperatures to the foods they are cooking, something the company's founder, Philip Preston, calls "precise temperature cooking." This method, also known as sous-vide, submerges proteins, vegetables, and even eggs in a temperature-controlled water bath over an extended length of time and helps to break down tough proteins while retaining moisture. PolyScience's circulator can be attached to nearly any tub or other water-holding vessel, giving cooks control over how and where they use the tool. The true advantage of this technique, says Preston, is on the back end; food that's been cooked this way can be safely held for long periods of time; unlike roasts baked in traditional ovens, meat and other food won't be overcooked if a guest is running behind and a dinner party starts late.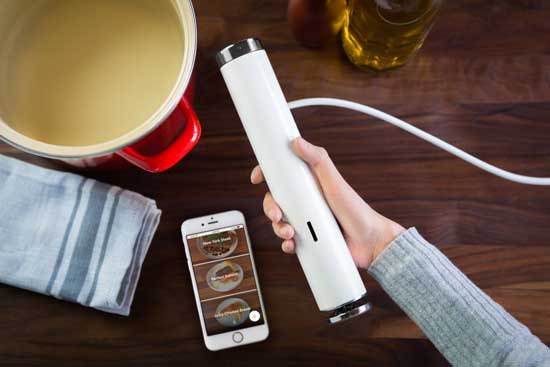 Another sous-vide tool, ChefSteps' Joule, aims to make this cooking method even more accessible. Its sleek cylindrical design fits easily into pots and operates nearly noiselessly, and its founders intend for the device to live in users' drawers, not tucked away in the back of a pantry with the other gadgets that are time-consuming to set up and use. The device features a waterproof design, neodymium magnetic mount, Bluetooth and Wi-Fi, and a 1,100-watt heater that uses thick-film technology and water-cooled power switching. Joule is available for preorder, shipping May 2016.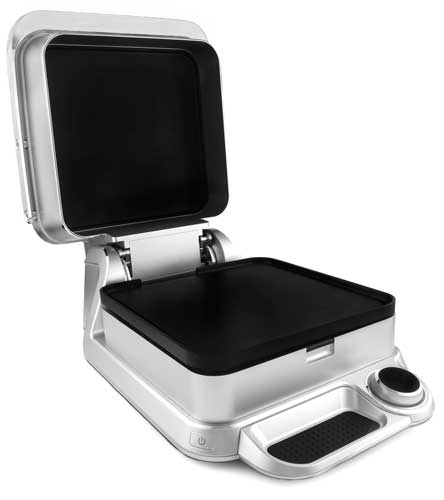 Cinder, meanwhile, brings sous-vide technology into a griddle-like countertop appliance. Drawing on smart sensors, the device maintains a consistent and even temperature across its cooking surface, ensuring precisely cooked results—even when cooking frozen proteins. While the device will sense when food is done, within 2 degrees, cooks can use the accompanying app to tinker with their dishes, such as adding a crispy crust. As its website states, "Cooking is still an art. We're just backing it with science." Cinder is available for preorder, shipping summer 2016.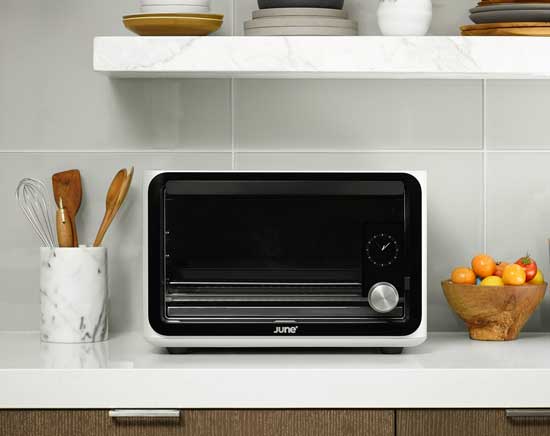 June Intelligent Oven is a high-precision countertop oven that can be operated remotely via an app designed for iPhones and iPads. The oven's in-ceiling high-definition camera scans its contents, recommending a cooking program based on the food it sees; it then monitors the food's weight and temperature to ensure foods are cooked right. In addition, the oven's manual mode lets users control nearly every aspect of the oven, from cavity temperature to top and bottom element power levels to convection fan speed. Its 1-cubic-foot capacity means that it can cook anything from a roast or whole chicken to a 12-inch pizza. June will be available starting spring 2016 and can be preordered.