Active packaging is that category of protective structures that sense changes on the package environment and links with responses, changing the characteristics of the package for the better. For decades, food packaging technologists have been studying active packaging as one of the coming revolutionary generations of future food packaging and the route to enhanced protection of contained food.
Shelf Life Extension
To retard growth of pathogenic microorganisms on cured (i.e., processed) meats, researchers at Pennsylvania State University have incorporated naturally antimicrobial essential oils such as oregano and rosemary and minerals such as nanoparticulate silver salts and zinc oxide into edible pullulan film. Pullulan is produced from the fermentation of starch by the fungus Aureobasidium pullulans. Pullulan film adheres to meat surfaces so that antimicrobial compounds in sufficient concentrations are in prolonged contact with surface microorganisms. Because of the poor gas permeability of pullulan film, research is directed at mating antimicrobials with more conventional hydrocarbon-based films even though they do not meet the criteria of sustainability.
From researchers at the Federal University of Viçosa in Brazil comes a film laced with oregano and clove buds that add about two weeks to the shelf life of bread. Sachets containing the antimicrobial substances release the compounds to the contained bread to retard mold growth. Other natural antimicrobial substances that have demonstrated internal volatility and good dispersion in food products are mint and cinnamon. Dairy products, fresh meats, and peanuts are examples of applications that seem to especially reap beneficial effects from natural antimicrobials. But at least one problem seems obvious: aromatic compounds may convey secondary flavor effects. Researchers claim that secondary flavors are not present at low but still effective concentrations.
Essentra Packaging, Colonial Heights, Va. (www.essentrapackaging.com), has developed Aquasense™, an active label for the inside of a semi-rigid closure for a container. Aquasense features a water absorbent pad that releases moisture to provide relative humidity within closed containers. The elevated moisture in the package environment maintains the structure and freshness of the contents.
PERES is a portable electronic nose that analyzes the gaseous environment surrounding meat, poultry, or seafood to measure the adverse odors that signify food spoilage. Developed by ARS Lab Ltd., Vilnius, Lithuania (www.getperes.com), PERES senses volatile organic compounds such as ammonia, temperature, and humidity and transmits the data to a reader for action by the operator.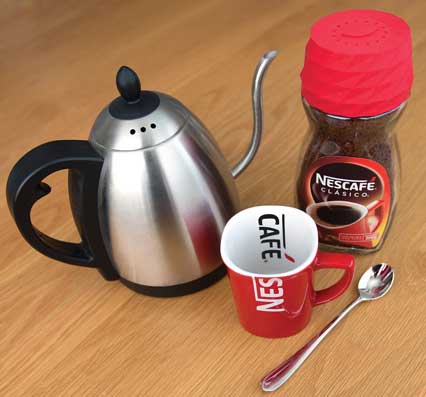 Printable Protection
Researchers at Nanyang Technological University in Singapore are printing complex electronic circuitry on substrates of plastic, aluminum foil, and paper. The inks are made of materials such as silver nanoparticles, carbon, and plastics, and the printers are said to be analogous to t-shirt presses, enabling a very low cost.
Modeled upon some insects' ability to change color depending on exposure to air, light, moisture, or other elements, a color-changing ink that can be printed on packages changes color with the environment. The ink contains colloidal photonic cells that are capable of exhibiting different colors and patterns, depending on external changes. The color changes signal natural or manmade intrusions.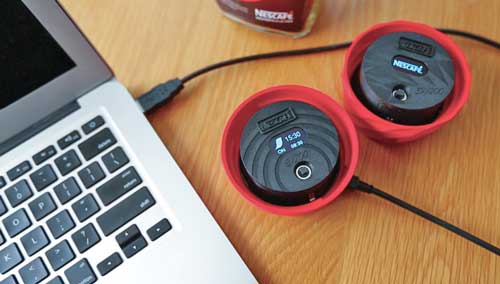 And Nestlé S.A., Vevey, Switzerland (www.nestle.com), has incorporated on Nescafé instant coffee jars a 3-D printed jar lid with an LED interface to awaken consumers with a soft sound and pulsing lights. To turn the Alarm Cap device off, consumers must open the jar and, presumably, make a cup of coffee.
More Thin Film
Thin Film Electronics ASA, Oslo, Norway (www.thinfilm.no), has demonstrated a near field conductor that incorporates a temperature sensor/recorder smart label. The data are captured wirelessly, especially when the temperature exceeds the optimum for distribution control. And related to thin film circuits are thin film solar generators fabricated from laminations of silicon compounds, cadmium telluride, and copper indium gallium selenide/sulfide. Using semiconducting materials that exhibit the photovoltaic effect, solar photovoltaics convert solar energy into direct current electricity. A photovoltaic system employs solar panels composed of a number of solar cells to supply usable solar power. The direct conversion of sunlight to electricity occurs without moving parts or environmental emissions. Because of advances in technology and increases in manufacturing scale and sophistication, the cost of photovoltaics has declined steadily.
--- PAGE BREAK ---
Distribution Control via the Cloud
GT Nexus, Oakland, Calif. (www.gtnexus.com), has measured the out-of-stock problem on retail shelves, which is an obvious deterrent to sales. Surveys in the United Kingdom, France, Germany, and the United States reveal that consumers are disturbed by the paucity of their favorite products. Interestingly, the level of out-of-stock is 10% in Germany, 11% in France, 16% in the United Kingdom, and an astonishing 31% in the United States. GT Nexus provides cloud technology that allows inter-company collaboration and information: communication from value chain to value chain. This give companies the ability to network rapidly with supply chains on a global scale.
RFID Rescues Freshness
Freshly prepared ready-to-eat foods generally have a refrigerated shelf life of approximately one day. Delivery of such foods from public vending machines normally requires daily or even more frequent service, including removal of food packages. Pantry, San Francisco, Calif. (pantrylabs.com), has developed a vending machine that is stocked with foods with on-package codes read by internal radio frequency identification tag readers to monitor the safety and quality levels of packaged food. The tags alert operators to remove expired food and restock beverages, sandwiches, salads, and entrees. Out-of-stock situations are substantially avoided through communications from food packages. Among the actions that may result from RFID signaling is increased refrigeration. Machines have been installed at the University of California, San Francisco, medical center in areas open to employees and visitors.
Self-Heating & Compliance Packaging
Another in the relatively long line of self-heating packages comes from RBC Technologies, College Station, Tex. (www.rbctx.com). The company offers a device based on hearing aid battery chemistry that scavenges oxygen from the air to drive the reaction. One iterationis the RBC Exothermix® Heater as used in the DJO Exos® Thermoformable Rapid Splint™ System, which is said to heat the contents to 200°F within minutes. The heater is only 0.030 inches thick and, through its engineering, heats contents while maintaining a safe-to-touch exterior. Another singular feature is the ability to control temperature so that low temperature heating is feasible.
Devices to ensure that patients and consumers take their medicines properly have been sprinkling the market for several years. MEMSCAP®, Research Triangle Park, Durham, N.C. (www.memscap.com), offers a smart electronic cap device that tracks each opening of the container and removal of a pill/tablet/ capsule. Besides its applications for the healthcare industry, the device could be incorporated into food packaging to ensure adherence to recipes and portions.
Projections
Active food packaging has been an ongoing development for decades with relatively little commercial progress. Each year, we try to conduct an overview of active food packaging in the expectation that one or more of the many published papers, patents, and trials would enter the market and alter the basic technologies of food packaging. Despite our many ventures into the realm of active food packaging, 2014 was not the year. We must thus wait until next year.
On a different note, the revived IFT Food Packaging Division will be scheduling a webinar for the second half of this year on the subject of active packaging. Keep a lookout for the official announcement.



Aaron L. Brody
, Ph.D., CFS,
Contributing Editor
President and CEO, Packaging/Brody Inc., Duluth, Ga.,