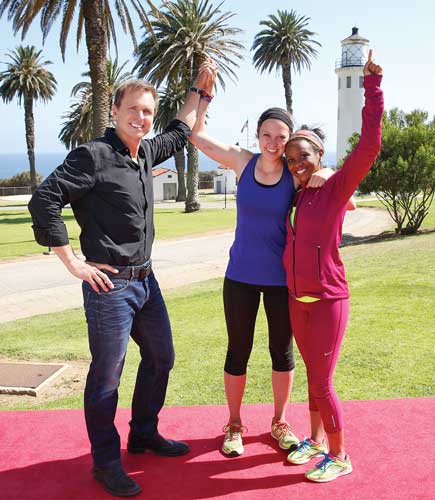 Sweet Scientists win The Amazing Race
IFTSA president-elect designate Amy DeJong and IFTSA member Maya Warren, graduate students at University of Wisconsin–Madison, beat 10 other teams to become the third female pair to win The Amazing Race during the show's 25th season. Dubbed the Sweet Scientists because of their areas of study—ice cream for Warren and candy for DeJong—the pair combined their unwavering positivity with the flexibility and determination their academic pursuits have instilled in them to take home the $1 million prize.
On the show, each team faces a series of mental and physical challenges. Warren and DeJong said that because the other teams didn't see them as a threat, they were able to use their brain power to their advantage, particularly on the final challenge. "I think that we had the advantage of being the only team that consistently uses the left side of our brains on a daily basis in our everyday lives," says Warren. "So the last [puzzle-based] challenge was designed to our advantage and Amy went in knowing that."
The scientists' experience in the lab also helped prepare them to analyze difficult situations and overcome obstacles calmly. The pair only argued once during the race, and DeJong attributes that to their shared world view. "Neither of us are the type of people to give up when things get tough," she says. "Since 'never giving up' is such a big part of both of our personalities, we were rarely at odds with each other." And because, as DeJong explains, "things rarely go right the first time in research," they were already used to "pushing through and working hard regardless of the situation."
Both Warren and DeJong considered it an honor to represent food science in front of a national audience. "I do believe that we definitely opened people's eyes to the field and to what scientists can look like," says Warren. "I also think that we were very relatable to the public, and they appreciated that we are scientists and positive, dynamic women!"
DeJong adds, "All too often, food scientists are only in the media when things go wrong: food safety concerns, outbreaks, mislabeled product, etc. It was nice to be able to put food scientists out there in a fun, positive light.
"We can be fun and we can succeed at crazy, out-of-the-box things like The Amazing Race as well as in our research. Being labeled as 'food scientists' on the race definitely got people talking about the field, and, who knows, we may have helped some young Amazing Race fans find the field of their dreams," she continues, noting that she and Warren have been thanked by parents who watched the show for being positive role models for their children.
Now that the race is over, DeJong and Warren are back in the lab and classroom, completing their PhDs. But it seems like the TV bug may have bitten Warren: in addition to one day opening some ice cream shops, she hopes to dabble "a bit more into television with a show of my own, exploring the intricacies of frozen desserts around the world," she says.
View the Day in the Life of a Food Scientist video DeJong and Warren filmed for IFT.
Chromeless Video Player branded for IFT
IFT presents candidates for Leadership Election
The IFT Nominations & Elections Committee presents the candidates for the 2015 Leadership Election. The candidates for president-elect are John Coupland and Luis Fernandez. The candidates for members of the board of directors are Mohamed Badaoui Najjar, Pam Coleman, Carolyn Fisher, Jonathan Gray, Larry Keener, Robert McGorrin, Anthony Pavel, and Gunnar Sigge. The candidates to serve as members of the Nominations & Elections Committee include Bill Barrier, Nicolas Bordenave, Faith Critzer, and Jennifer McEntire.
IFT's voting membership elects one member for president-elect, four members for the board of directors, and three members for the IFT Nominations & Elections Committee. The election will be held February 17–March 18. Please forward any questions about the slate of candidates, petition process, or the online elections to Kate Dockins, staff liaison to the Nominations & Elections Committee, at [email protected].
IFT15 student travel grants
Feeding Tomorrow, the foundation of the Institute of Food Technologists, will offer student travel grants to IFT15 in Chicago, which will be held July 11–14. In addition to the foundation-sponsored awards, the following additional travel grants will be offered: Jan and Andy Rao International Division Travel Grant, Quality Assurance Division Travel Grant, Ruth M. Patrick Travel Grant, as well as travel grants sponsored by the Carbohydrate and Muscle Foods Divisions. As a benefit of membership in IFT, student members are eligible to apply for these grants. Information for the travel grants will be available in early March on www.feedingtomorrow.org.
--- PAGE BREAK ---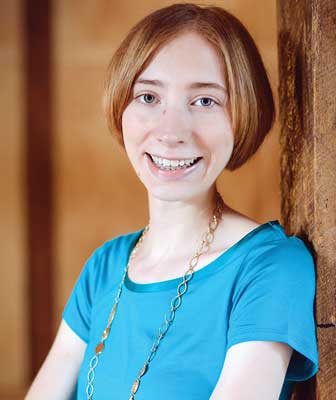 Tebben receives Turek Scholarship
Congratulations to Lauren Tebben, an undergraduate student at the University of Minnesota and the recipient of the 2015 Evan Turek Memorial Scholarship Internship sponsored by Kraft. Tebben will receive a $1,000 scholarship and a summer internship at Kraft Foods.
"I am really excited for the internship this summer and feel so privileged to have this opportunity," said Tebben.
A food science major, Tebben will graduate in 2016 and hopes to focus her career on food chemistry and product development. During her internship at Kraft Foods, she looks forward to the opportunity to apply the knowledge she has gained through her school coursework to real world problems and broaden her knowledge of food science to improve her technical skills.
Hall of fame inducts Rondenet-Smith
The University of Illinois at Chicago recently inducted Laurette Rondenet-Smith into its 2014 Chicago Area Entrepreneurship Hall of Fame. She joined nine other business leaders in receiving the honor, which recognizes entrepreneurs who have made enduring social and commercial contributions that have helped foster a thriving, diversified economic engine in Chicago and have enhanced Chicago communities.
Rondenet-Smith, an IFT member, is the president and CEO of Edlong Dairy Technologies, which celebrated its centennial this year. Under her leadership, the company has shifted its strategic direction to center on dairy flavors, ingredients, and flavor-delivery technologies.
"Laurette is an exceptional leader who is passionate about every employee having a voice in our processes and future, and on a greater level, feeding the world," said Jennifer Lowry, Edlong's vice president of sales and marketing.
NACMPI appoints IFT members
U.S. Agriculture Secretary Tom Vilsack announced the appointment of several IFT members to the National Advisory Committee on Meat and Poultry Inspection (NACMPI), which meets on food safety concerns and advises the secretary of agriculture on matters affecting federal and state inspection program activities. New committee members include IFT member Manpreet Singh, Purdue University; IFT professional member Patricia Curtis, Auburn University; and IFT member Betsy Booren, American Meat Institute. Additionally, IFT professional member John A. Marcy, University of Arkansas, was reappointed to the committee.
NFL promotes Lohmeyer
Debbie Lohmeyer, a professional member of IFT and a Certified Food Scientist, has been named senior vice president of consulting services by the National Food Lab (NFL). In her newly expanded role, Lohmeyer, who has been with the NFL for 15 years, will oversee the company's custom work in product design, food safety, and process authority/aseptic divisions.
Rotondi joins Kancor
Kancor America recently hired Jeff Rotondi as its application manager. He will lead all application and proactive concept development initiatives for the company. Rotondi, an IFT member, recently worked for Takasago Flavors. He graduated from The Culinary Institute of America and holds an MS in food science from Kansas State University.
Jackson becomes JFP co-editor
Lauren S. Jackson has been selected as co-editor of The Journal of Food Protection (JFP). In this position, she will work closely with the International Association for Food Protection editorial staff and other scientific co-editors to manage the peer-review process of submitted manuscripts for publication in JFP, as well as serving as an intermediary between manuscript reviewers and authors.
Jackson, an IFT professional member, currently serves as chief of the Process Engineering Branch (PEB) at the U.S. Food and Drug Administration (FDA) Institute for Food Safety and Health. Since joining the FDA in 1991, she has served in various positions, including acting chief, research food technologist, and staff fellow. She holds a BS in food science from Cornell University and an MS and PhD in food science from the University of Wisconsin–Madison. She has authored or co-authored 36 peer-reviewed publications, 10 book chapters, and more than 125 meeting abstracts, and has made more than 40 invited presentations.
---
Section & Division meetings
Central New Jersey
March 10
:
Dinner meeting
. Monmouth Junction, N.J. Contact Gerri Cristantiello at 201-905-0090 or
[email protected]
, or visit
http://bit.ly/1yGwa3x
.
Chicago
March 9: Dinner meeting/student night. Lombard, Ill. Call 630-916-4960, e-mail [email protected], or visit http://bit.ly/1vTqhwo.
New York
March 3: Dinner meeting. East Hanover, N.J. Contact Gerri Cristantiello at 201-905-0090 or [email protected], or visit http://bit.ly/1yGwa3x.
Southern California
March 4: Suppliers' night. Anaheim, Calif. Contact Linda Rogers at 714-282-0919 or [email protected], or visit http://bit.ly/1zEyMU0.
Western New York
March 24: Food industry expo. Rochester, N.Y. Contact Shirley Barber at 207-839-3064 or [email protected], or visit http://bit.ly/1xxqSsI.
---
In Memoriam
IFT Past President and Fellow John J. Powers passed away December 23, 2014. After earning a BS in chemistry from Massachusetts State College and a PhD in food technology, Powers joined the staff of the University of Georgia in 1947. There he held many roles, including associate professor and head of the Department of Food Science, and was appointed William Terrell Distinguished Professor of Food Science. Within IFT, Powers was responsible for helping form the Dixie Section and served as its first chair, and he also served on the Board of Directors and the Finance Committee. IFT recognized Powers' contributions to food science and the organization with the William V. Cruess Award, the Nicolas Appert Award, and the Macy Award. At various times, Powers served on the editorial board for six journals and was editor of the Journal of Food Quality for 12 years, and he was active internationally as well. He received a Fulbright Award to teach in Ecuador in 1972 and in Finland in 1986, received the National Academy of Science Award to lecture in four countries behind the Iron Curtain, taught in both Taiwan and Indonesia, and held a workshop in South Africa.
IFT also notes the passing of the following members:
Ed Brown and Robert B. Huntoon
---