"The strengths of the U.S. dairy industry—nutrition, flavor, and functionality—give food and beverage manufacturers peace of mind to help bring innovative products to market on a global scale," states Terri Rexroat, vice president, U.S. trade services, global marketing, at U.S. Dairy Export Council®, Arlington, Va. (www.usdec.org).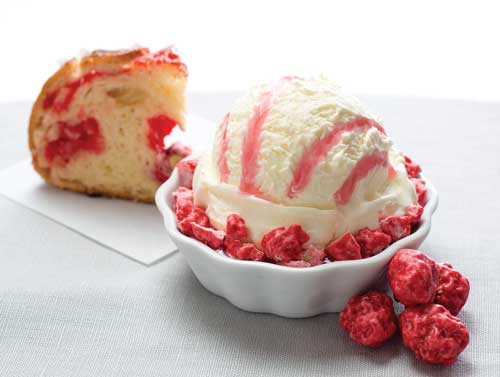 To help product developers bring these innovative products to consumers, ingredient manufacturers offer a range of dairy ingredients to solve functionality challenges and enhance the nutritional profile of both dairy and nondairy foods. Dairy ingredients can help improve texture, add flavor, and reduce sodium. Developers can formulate dairy ingredients to boost the protein, calcium, and other nutrient contents in foods and beverages for health-conscious consumers. The use of fruits and even vegetables in yogurt, dairy proteins for protein fortification in applications like soup and bakery, and product prototypes like Brioche de Saint-Genix Flavored Ice Cream, Sichuan Pepper Flavored Ice Cream, and Hummus Flavored Ice Cream (developed by David Michael & Co., Philadelphia, Pa. (www.dmflavors.com)) illustrate the innovation in dairy ingredients and dairy products by the industry and how it continues to change to meet consumer and product development needs.
Expanding Uses of Dairy-Based Ingredients
"The U.S. dairy industry provides a broad portfolio of multifunctional ingredients that help food and beverage formulators meet ever-evolving consumer needs," says Rexroat. "Three of the more popular dairy ingredients are whey protein, milk protein concentrate, and permeate."
Whey protein, a protein naturally found in dairy, is one of the best sources of branched-chain amino acids, says Rexroat. In addition to these benefits, whey protein offers functional benefits like texture, emulsification and stabilization improvements, high solubility across a wide pH range, and a neutral taste. Whey protein isolate brought these functionalities as well as helped contribute to a total 12 g of protein/serving in a Veggie Burst beverage product concept that the U.S. Dairy Export Council (USDEC) developed for the 2014 IFT Food Expo.
Milk protein concentrates range in protein content from 42% to 85%, and they contribute minerals like calcium, magnesium, and phosphorus, explains Rexroat. In a Veggie Moo Dumpling with Reduced Sodium Sauce product concept developed by the USDEC, milk protein concentrate 80 not only added protein and calcium; it also provided texture and bound water in the dumpling dough. Product developers can use milk protein concentrates in cheese, yogurt, soup, beverages, enteral foods, protein bars, desserts, baked goods, toppings, low-fat spreads, and dairy-based dry mixes.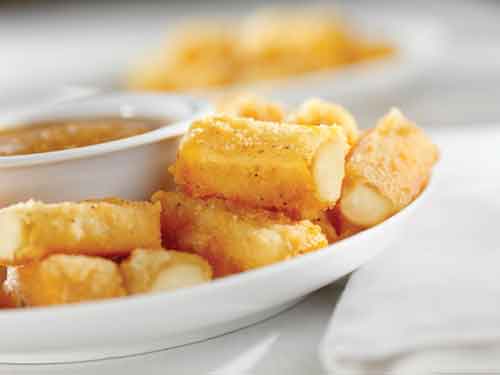 The dumpling and sauce product concept contained another type of dairy ingredient: permeate. Milk and whey permeates, also labeled as dairy product solids, are co-products of the production of whey protein concentrate, whey protein isolate, ultrafiltered milk, milk protein concentrate, or milk protein isolate. Delactosed permeate, a by-product created through the removal of lactose from permeate, has about three times as much mineral content as permeate. "Current science indicates that permeate's salt-enhancing and flavor-potentiating characteristics make it ideal for replacing salt in many applications while maintaining flavor profiles that are acceptable to consumers," states Rexroat. Whey permeate provided salty taste characteristics to the mushroom sauce and enhanced salt perception and other flavors in another product concept, Poutine-Inspired Cheese Dippers with Mushroom Sauce. In addition to whey permeate, these sweet potato-encrusted cheese sticks with mushroom sauce were formulated with cheese and butter for authentic flavor; milk protein concentrate 80 for protein, calcium, and texture building; nonfat dry milk to build body and contribute to browning of the crust; and whey protein concentrate 80 for protein fortification, improved texture, and prevention of moisture loss.
--- PAGE BREAK ---
Arla Releases Dairy Ingredient Solutions
Helping dairy product developers tackle issues like processing waste and protein fortification is something that Arla Foods Ingredients, Viby J, Denmark (www.arlafoodsingredients.com), provides through ingredient development expertise. One of the most recent innovations, launched in November 2014, is a combination of Arla Foods Ingredients' Nutrilac® functional milk proteins, fat (butterfat or anhydrous milk fat), and water to help product developers formulate recombined white, processed, and cream cheeses without the use of fresh milk. Recombined dairy products are commonly available in regions where there is limited or no access to fresh milk, like Southeast Asia, Africa, Latin America, China, and Russia. Some recombined dairy products like recombined liquid milk and yogurt made from rehydrated milk powder are widely available, but recombined cheese is a bit more complex to produce, according to Arla. The company has developed more than 20 different options that utilize Nutrilac milk proteins to create a variety of recombined cheeses in ways that it says will not generate a whey side-stream and thus help reduce waste.
In addition to the functional milk proteins under the Nutrilac line, there are also whey proteins that Arla began promoting in November 2014 for use in offerings marketed as yogurt-based sports nutrition products. The Nutrilac whey proteins are said to boost the protein content of drinking "sports yogurt" to as high as 28 g/serving while maintaining the acceptable taste and texture of conventional drinking yogurt. Whey protein is used in sports nutrition products because studies have shown that the body quickly absorbs and easily digests it and that it can help in muscle recovery after exercise. These sports yogurt products can be positioned as alternatives to sports gels and shakes and packaged in bottles or pouches, which are popular formats in the sports nutrition market.
A new Greek-style yogurt smoothie concept is possible with Nutrilac YO-8075 whey protein. Arla announced the development last fall as a way to show manufacturers that they can use the ingredient to produce a thick and creamy Greek-style yogurt smoothie that is fat-free and high in protein without generating acid whey during the process. Manufacturers can also add fruit or vegetables to the Greek-style yogurt base made with Nutrilac YO-8075, giving consumers even more choice in the smoothie product category.
Finally, Arla in October 2014 announced the need for a collaborative effort on the part of the global dairy industry to push for the inclusion of dairy ingredients in emergency food programs like those administered by the United Nations' World Food Programme. Ingredients derived from milk are generally not included in emergency food programs because of their cost and lack of availability in many of the regions that the food programs serve, according to the company. Arla is funding research into how whey protein and whey permeate can be used to formulate food aid products in an affordable way and will continue to work with the dairy ingredients industry to ensure that an affordable supply of dairy ingredients can reach the areas served by food aid programs.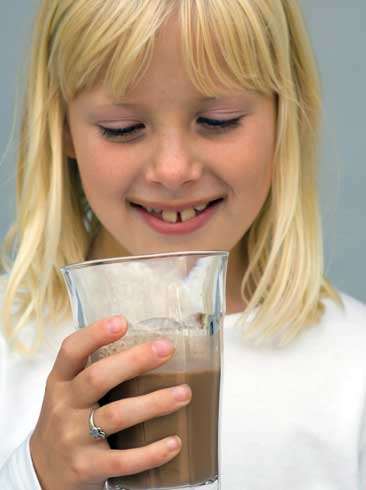 Sweeteners from Cargill for No-Sugar-Added Dairy
A 25% reduction in sugar in chocolate milk is possible with traditional stevia sweeteners, but by using ViaTech® stevia-based sweeteners, manufacturers can develop no-sugar-added chocolate milk, says Wade Schmelzer, principal scientist at Cargill Inc., Minneapolis, Minn. (www.cargill.com). "Depending on the chocolate flavor profile and its interplay with sweetness, natural flavors can be effectively leveraged to round out the sensory experience. Equally important for no-sugar-added chocolate milk is slightly modifying the hydrocolloids and starch concentrations to recreate the body of full-sugar chocolate milk."
The development of ViaTech stevia-based sweeteners involves the use of a proprietary model that allows the company's food scientists to precisely predict the right combination of glycosides to deliver optimal taste and sweetness to the finished food or beverage product without the use of bitter blockers or flavor modifiers, explains Pam Stauffer, global marketing programs manager at Cargill.
In addition to developing a combination of steviol glycosides to formulate the no-sugar-added chocolate milk, the Cargill food scientists were able to find the right combination of steviol glycosides to use in reduced-sugar and no-sugar-added ice cream and yogurt applications. For example, they reduced the sugar in ice cream from 34 g of sugar/cup (including 20 g of added sugar) to 24 g of sugar/cup (including 10 g of added sugar) and then to 14 g of sugar/cup (with no added sugar), says John Fry, principal consultant to Cargill. Sugar was not the only thing that the scientists were able to reduce. "We cut the calorie count by nearly a quarter, importantly, without increasing the calories from fat," continues Fry. They replaced the added sugar with ViaTech stevia-based sweeteners, Zerose® erythritol, and glycerin. "Sensory analysis was impressive; there was no significant difference on overall liking, and the texture of the lower-sugar products was significantly preferred," he says.
--- PAGE BREAK ---
Going All the Whey
Whey protein is one of the dairy proteins that product developers turn to when formulating foods and beverages with higher protein levels. That is because whey protein is a complete protein for lean muscle, has stability across different process methods, and has a neutral flavor, according to Hilmar Ingredients, Hilmar, Calif. (www.hilmaringredients.com).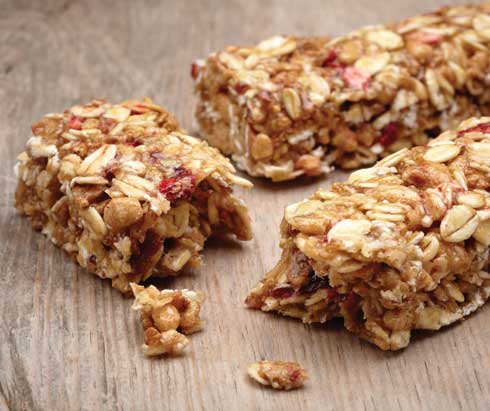 Whey protein plays a particular role in protein fortification of products for the sports nutrition market, where research has shown its effects on repairing muscle fibers after exercise and contributing to lean muscle mass. The food technologists at Hilmar Ingredients have developed sports nutrition product concepts like Chocolate Dry Mix Protein Drink made with Hilmar™ 9410 Whey Protein Isolate. Whey protein isolates, whey protein hydrolysate, and whey protein concentrates bring a number of functions to many types of products, not just those positioned for the sports nutrition market, which the company highlighted in product concepts showcased at industry expos and promoted on its website. The 9410 ingredient used in the protein drink has quick dispersibility and hydration into solution and is acid- and heat-stable. In protein snack bar applications like a PB&J Crispy Protein Bar, which was formulated to appeal to children, Hilmar 9400 Whey Protein Isolate has heat and acid stability and Hilmar 8370 Whey Protein Hydrolysate can make the texture of the bar more soft and pliable. Another bar concept, this one showcased at the 2014 IFT Food Expo, was a BBQ Crunch Bar formulated as a savory protein bar for men. The whey protein concentrate, whey protein hydrolysate, and whey protein isolate ingredients helped deliver 9 g of protein/serving. As people age, the need for protein in the diet increases. Hilmar Ingredients has showcased product concepts throughout the years that can help older adults meet their daily protein needs. One such concept is Vanilla Protein Pudding. The 9400 Whey Protein Isolate used in the pudding contributes 11 g of protein and, according to the company, is easy to digest.
TIC Gums Debuts Stabilizer System
Dairy proteins are increasingly used in ultra-high temperature (UHT) processed ready-to-drink (RTD) protein beverages, and ensuring proper texture and maintaining stability to eliminate separation is a challenge, says Dan Grazaitis, food scientist at TIC Gums, White Marsh, Md. (www.ticgums.com). "When you start adding high levels of protein, which is a big trend right now, you need more stability."
One of the newest ingredients offered by the company to help maintain the necessary stability to these beverages over the course of shelf life is Ticaloid ® Pro 432. The synergies of the ingredients in this system, which include microcrystalline cellulose, carboxymethyl cellulose, and carrageenan, are said to modify viscosity and help keep the protein in suspension through processing and the product's shelf life.
The consistent suspension of protein in the beverage eliminates grittiness, improving the mouthfeel of the beverage. Attendees at the 2014 SupplySide West show were able to see and taste he effectiveness of Ticaloid Pro 432 in a high-protein RTD beverage fortified with milk protein concentrate.
Range of Ingredients to Improve Dairy Products
Premium Ingredients, Murcia, Spain (www.premiumingredients.es), recently released several stabilizers for use in dairy applications. Premitex ® XLB-14028 can provide stability and improve the mouthfeel of recombined plain and flavored UHT-treated milk. The company notes that manufacturers will be able to run longer product cycles by using the ingredient because it is said to result in a low level of fouling. Other benefits of the ingredient are that it can help prevent sedimentation and improve emulsion, according to the company.
Two different stabilizers can add functionalities to recombined chocolate milk applications. Manufacturers can control costs by using Premigum® XLB-13059, which is said to reduce milk powder content. This ingredient and the second one, Premitex XLB-14022, help suspend cocoa particles, provide a creamy texture, and improve mouthfeel.
The last ingredient, Premitex XLB-14012, is used in recombined milk applications, where it helps stabilize products over the course of their shelf life. Manufacturers can use it in high-fat, low-protein products and still achieve the desired emulsification properties, reports the company. In addition to these functionalities, the ingredient can also help prevent the agglomeration of protein. The company develops its stabilizer ingredients based on starch, milk proteins, and hydrocolloids such as pectin, agar, guar gum, xanthan gum, carboxymethyl cellulose, and more.
--- PAGE BREAK ---
Microbial-Derived Enzyme Enhances Cheese Flavor
Enzyme-modified cheese is often made with animal pregastric esterase. The enzyme is easily available and often used to produce enzyme-modified cheese with the flavors of Parmesan, Romano, and provolone cheese. However, because it is derived from an animal source, it is not suitable for use in vegetarian products. Biocatalysts Ltd., Cardiff, Wales, UK (www.biocatalysts.com), is promoting its microbial pregastric esterases to help develop the flavor types of Italian cheeses in enzyme-modified cheese without the use of animal-derived enzymes. The ingredients, Flavorpro™ C, Flavorpro K, and Flavorpro L, can replace calf, kid, and lamb pregastric esterase, respectively. The sharp and piquant flavors these enzymes develop are characterized by brothy, sulphur, and butyric aromas.
Tastant Technology for Enhanced Dairy Taste
The proprietary FlavoGen 3D Tastant Technology developed by Agropur Ingredients, La Crosse, Wis. (www.agropuringredients.com), concentrates the essential flavor molecules found in milk to produce compounds that have enhanced creaminess and rich flavor found in cream. These tastants activate transient receptor potential channels and modify the chemo/mechano texturant sensations characteristic of the physical nature of the food to give mouthfeel, texture attributes, creaminess, and astringency suppression, according to the company.
This is said to also increase the sensation of yumminess, allowing for a reduction in fat in the product formula. It also reduces the metallic taste of artificial sweeteners and off-flavors of certain protein ingredients and produces a saltiness perception to allow for sodium reduction in the formula. The FlavorGen ingredients produced from finite milk fractionation are used to replace some of the more expensive dairy solids in formulations like yogurt, creamers, chocolate milk base, and process cheese, and they can be blended into bases, stabilizer systems, and egg alternative systems.
Food technologists incorporated FlavorGen ingredients and other dairy ingredients in product concepts featured at the 2014 IFT Chicago Section Suppliers Night event and the 2014 SupplySide West show. A Cheddar and Firecracker Protein Coating gave plain popcorn a burst of creamy and spicy flavors along with 8 g of protein/3 cups of popped popcorn. A protein boost came primarily from IsoChill® whey protein isolate derived from sweet whey, produced through a low-temperature cold microfiltration process, and finally spraydried by indirect heat. In the Watermelon Cream Hydrolysate Protein Beverage, whey protein hydrolysate from IsoChill whey protein concentrate and Deerland Enzymes' ProHydrolase provides 20 g of protein/33 g serving size. Such a high amount of whey protein in the product could cause bitterness, so FlavoGen ingredients were added to balance out the off-flavors.

Greek Yogurt Powder Adds Tangy Flavor to Coatings
Greek yogurt and Greek-style yogurt seem to have taken over the yogurt section of the dairy case, where consumers can find plenty of varieties from producers both large and small. Food manufacturers of other dairy products like ice cream and nondairy products like bakery, cereal, and snacks are capitalizing on the popularity of Greek yogurt by incorporating the flavor into these products. Oftentimes, they turn to Greek yogurt powder, which can add the characteristic rich, tangy, and tart flavors of Greek yogurt. Barry Callebaut Group, Zurich, Switzerland (www.barry-callebaut.com/foodmanufacturers), uses Greek yogurt powder in its recently launched Greek yogurt coatings and inclusions. Manufacturers can use the EZ Melt Coatings for enrobing or drizzling on snack bars, ice cream bars, and baked goods and the 1M or 4M Chip Inclusions in cereal, snack foods, bakery products, and dessert items. The company promotes the line of Greek yogurt coatings and inclusions as containing more protein than traditional yogurt coatings. "The Greek yogurt products can be incorporated into a number of applications, making them the perfect vehicle to deliver rich taste and nutrition," states Laura Bergan, senior marketing manager at Barry Callebaut, in a company press announcement.
--- PAGE BREAK ---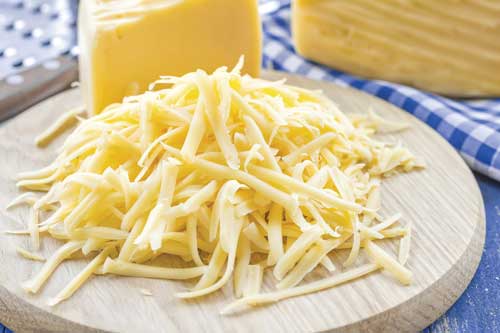 Cultures Minimize Spoilage
DuPont Nutrition & Health, Century, Kan. (www.food.dupont.com), manufactures ingredients that help dairy product developers formulate products that meet a number of consumer demands and maintain quality. Recently, the company expanded a range of ingredients to help control spoilage in cheese and mild acidic yogurt and featured a weight management smoothie product concept at a trade show.
Broader spectrum protective cultures are not that effective at inhibiting the growth of yeast and mold in the mild acidic pH environment of the cheese matrix, according to the company. The HOLDBAC ® YM-XPK Protective Culture is a culture ingredient that helps improve the shelf life of cheese by controlling the growth of spoilage organisms and offers other benefits like flavor enhancement and waste reduction. The other ingredient in its expanded HOLDBAC ingredient range is HOLDBAC YM-XPM, a culture ingredient designed to limit spoilage due to fungal growth in mild and very mild acidic-tasting yogurt and fresh fermented dairy products. Like the cheese, these types of yogurt and fresh fermented dairy products have mild acidic environments that are more conducive to the growth of spoilage organisms.
An ingredient trifecta of protein, fiber, and probiotics gave a nutritional boost to a Go-Greek Smoothie product concept showcased at the 2014 SupplySide West show. SUPRO® XT 40 isolated soy protein provided protein and calcium, LITESSE ® TWO polydextrose added fiber, and HOWARU® BIFIDO (Bifidobacterium lactis HN019™) contributed probiotics to the strawberry-banana-flavored beverage made with Greek yogurt. The company promoted the product prototype as a weight management dairy beverage solution with 10 g of protein and 5 g of fiber/236 mL serving.
Ingredients to Solve Texture Issues
Product developers have a lot to consider in regard to texture when developing dairy-based foods and beverages. This includes determining which starch, hydrocolloid, or combination of these will provide the optimal texture and stability to various formulations (full-fat, low-fat, no-fat) and storage conditions (refrigerated, frozen, shelf-stable). "Dairy-based foods require starches that would perform well under refrigeration," says Ibrahim Abbas, director of research and development at Penford Food Ingredients, Centennial, Colo. (www.penford.com). "For example, Penford's PenBind® non-GMO starches have excellent water-holding capability and minimal tendency to retrograde on storage. These starches also provide stable viscosity and creamy mouthfeel under various processing and storage conditions."
Low-fat and no-fat dairy products continue to be offered, but these products need additional ingredients to help build back some of the texture that fat provides. Penford offers two non-GMO clean label starches, PenPure™ 37 and PenPure 30, to provide creamy mouthfeel to low-fat and no-fat dairy products. PenPure 37 native waxy rice starch has high viscosity, water-holding capacity, and binding abilities and freeze-thaw stability in dairy desserts and ice cream. PenPure 30 native regular rice starch also has high viscosity, water-holding capacity, and binding abilities, which it brings to gelled dairy desserts.
Product developers are adding fiber to different products, including dairy products, and Abbas explains that an ingredient like PenFibe® RO 177 soluble fiber can enhance the dietary fiber content of finished dairy products. The ingredient, a non-GMO, potato-based soluble resistant starch, can provide a minimum of 56% dietary fiber to drinkable and spoonable yogurt and smoothies.
In addition to starches, product developers can formulate with gum systems and other hydrocolloids to improve the quality of dairy foods. "Gum systems provide a creamy texture and provide proper set such as our Coyote Brand® Stabilizer AP-1009, a blend of agar-agar and pectin, for use in yogurt applications," says Janae Kuc, research & development manager at Gum Technology, a business unit of Penford Food Ingredients, Tucson, Ariz. (www.gumtech.com). To improve the texture of ice cream, Gum Technology offers Coyote Brand Stabilizer LGC-0613, a synergistic blend of locust bean gum, guar gum, and carrageenan to provide a creamy texture and reduce ice crystal size, and Hydro-Fi ™ TC-1123, a synergistic blend of tara gum and citrus fiber to develop a creamy texture, promote aeration, and reduce ice crystallization, she explains.
Next month's Ingredients section will highlight some of the ingredients that help product developers formulate a better piece of cake.

--- PAGE BREAK ---
---
Say Cheese
Flavor ingredients that capture the flavor profiles of European cheeses are cost-effective ways to add distinct tastes to foods. The
European Cheese Flavour Collection
from Edlong Dairy Technologies, Elk Grove Village, Ill. (
www.edlong.com
), features on-trend artisanal cheese flavors that appeal to consumers looking for something beyond flavors like cheddar and Swiss and provides product developers with flavors to add distinction to sauces, snack foods, baked goods, seasoning blends, and more. The line features such flavors as
Natural Gruyere Type Flavour
with buttery, fruity, and savory notes;
Natural Camembert Type Flavour
with creamy, dairy, fatty, mushroom, and musty notes; and
Natural Goat Cheese Type Flavour
with buttery, butyric, caproic acid, creamy, and milky notes. The other flavors in the line are
Natural Brie Type Flavour
,
Natural Edam Type Flavour,
Natural Emmental Type Flavour,
and
Natural Gouda Type Flavour
. All are liquid flavors except the goat cheese type and Gouda type flavors, which are powders.
Cheese flavors and cheese ingredients like powders and process cheese can lend dairy, creamy, buttery, and savory tastes to sauces, soups, snacks, bakery, frozen foods, pasta, and more. A range of cheese ingredients from Kraft Food Ingredients, Memphis, Tenn. (www.kraftfoodingredients.com), includes Kraft® Process Cheese for consistent flavor and uniform melt and texture, Kraft Pasteurized Specialty Cheese for cost effectiveness, and Kraft Modified Melt Process Cheese for a variety of melt characteristics. Product developers, particularly those who develop bakery products like cheesecakes, Danishes, and frostings, can choose from a line of Kraft Soft Cheese that includes cream cheese (full-fat and fat-free), Neufchatel, and blends. Not only do Kraft Cheese Powders provide cheese flavor to products; the powders can also be combined with other ingredients to create signature flavor profiles for popular cheese-flavored products like sauces and snack chips. Kraft Dry Cheese Sauce Mixes are freeze-thaw stable and hydrate easily.
---
Cost-Effective Gelatin Replacement
Yogurt is no longer a food eaten only for breakfast; both sweet and savory versions are eaten at all meal occasions. Yogurt is available in low-fat, no-fat, reduced-sugar, and reduced-calorie varieties. Greek yogurt and European-style yogurt have characteristic consistencies and texture. Consumers have come to expect the yogurt that they buy in the store will have a certain appearance and texture. An ingredient like gelatin is used to give yogurt a shiny appearance, smooth mouthfeel, and stability to avoid syneresis. It can also help rebuild texture in the shear-intensive production of stirred yogurt. Yogurt manufacturers are increasingly looking to other ingredients to partially or completely replace gelatin, an ingredient that has seen price increases, experienced periodic supply issues, and cannot be used in products marketed as vegetarian. Ingredion Inc., Westchester, Ill. (www.ingredion.com/us), published a white paper in which it detailed how its ETENIA™ 457 maltodextrin, a patented enzymatically converted potato starch, can replace gelatin without affecting any of the sensory or quality attributes of fat-free yogurt.
The company's food technologists conducted several trials that compared fat-free yogurt made with ETENIA 457 and gelatin and were able to determine that a usage level of 0.7% of ETENIA 457 produced yogurt with sensory attributes like firmness, mouth coating, slipperiness, surface shine, spoon indentation, meltaway, and overall flavor impact that was most like the control. Yogurt formulated with the ingredient also had improved gel strength. The ingredient can be labeled as "maltodextrin" or "hydrolyzed potato starch."
---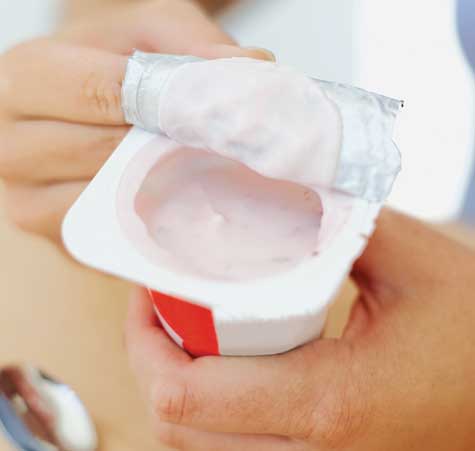 Consumers Say 'Keep It Simple' for Yogurt
A simple ingredient statement that lists familiar ingredients is what consumers want for yogurt, and nearly half of consumers surveyed are willing to pay at least 10% more for yogurt free from artificial coloring, flavors, preservatives, and additives, according to a Global Insight paper by DSM, Delft, the Netherlands (www.dsm.com/food) (DSM, 2014a).
A survey of more than 6,200 consumers in the United States, China, Brazil, and Turkey, which was the basis of the paper, found that 83% of consumers regularly check the ingredient statement on yogurt, and one out of three survey respondents said that a clean label statement would be a reason to eat more yogurt. When asked if organic yogurt is better than regular yogurt, 52% of the survey participants said yes. The percentages of residents in Turkey (85%) and China (77%) who said yes to the question are greater than the overall percentage, indicating preference differs greatly by region. Jacob Bauly, global marketing manager at DSM Nutritional Products, points out in the report that the survey shows consumers want "clean and lean labels," but the challenge to the industry is that the clean label ingredient solutions need to perform as well as the synthetic counterparts without negatively affecting the cost and quality of the finished products.
Another Global Insight paper featured the results of a survey of more than 6,200 participants from the United States, China, Brazil, France, Poland, and Turkey; that survey found that more than half of the participants have increased their yogurt consumption in recent years (DSM, 2014b). The increased yogurt consumption is greater in China, Brazil, and Turkey, where 67%, 61%, and 60%, respectively, of the respondents said that they are eating more yogurt today than they did three years ago. Increasingly, health and wellness is driving consumers to eat more yogurt, with respondents revealing that gastrointestinal health (53%) and bone health (51%) are reasons why they choose yogurt. The survey showed that calcium is by far the most popular nutrient that the respondents look for in yogurt, with 70% choosing it. Protein (49%), probiotics (48%), vitamin D (43%), and vitamin C (31%) trail calcium.
---
www.ift.org
Members Only: Read more about dairy ingredients and ingredients used in dairy products online at www.ift.org. Type the keywords into the search box at the upper right side of the home page.

Karen Nachay,
Senior Associate Editor
[email protected]