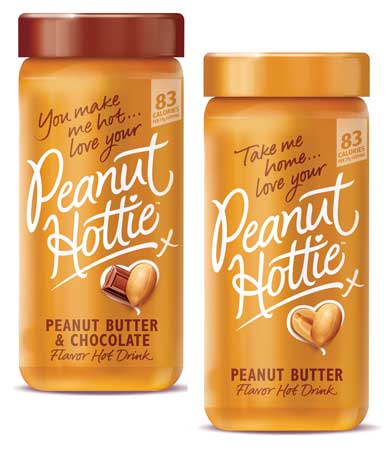 Drinkable peanut butter
UK-based Bravura Foods LLC launched Peanut Hottie, the first-to-market instant hot peanut butter drink, according to the company. Available in Peanut Butter and Peanut Butter & Chocolate flavors, the powdered mix dissolves in hot water, creating a rich and soothing beverage with just 83 calories per cup.
"Peanut Hottie was created to fill a gap in the hot beverage category, which I discovered when I washed down a spoonful of peanut butter with a swallow of hot tea, realizing what [a] fabulous taste sensation it made, which couldn't be found anywhere else," said Lisa Gawthorne, joint president of Bravura Foods and the product's co-creator.
The mix is available at Wal-Mart in 9.15 oz jars, which contain approximately 13 servings, for a suggested retail price of $4.78–$4.98. Both flavors are caffeinefree, vegetarian-friendly, and contain no artificial additives or colors.
---

Bourbon with a kick
Beam Suntory released its Jim Beam Kentucky Fire, a spicy cinnamon-flavored liquor made with authentic Kentucky straight bourbon whiskey. Perfect for winter nights, the 70-proof bourbon can be enjoyed as a shot or served chilled, straight, or on the rocks, according to the company.
"[O]ur latest flavor, Jim Beam Kentucky Fire, really turns up the heat," said Chris Bauder, general manager of whiskies at Beam Suntory. "We recognized that the rich spicy flavor of cinnamon is a natural complement to Kentucky straight bourbon but hadn't seen a bourbon that offered this taste profile, so we felt that the time was right to pair the taste of cinnamon with the world's finest whiskey, which is made in Kentucky."
The third in the Jim Beam line of flavored whiskeys, Kentucky Fire is available in 750 mL bottles nationwide at a suggested retail price of $15.99.
---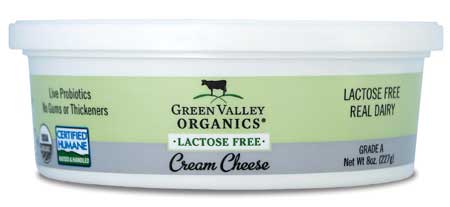 Lactose-free dairy cream cheese
Sonoma County–based Redwood Hill Farm & Creamery introduced what it says is the first lactose-free dairy cream cheese available in the U.S. Its Green Valley Organics Lactose Free Cream Cheese is made with just four ingredients: sea salt; a blend of 10 live, active cultures; organic cream, and lactase enzyme, which converts the lactose in the cream into glucose and galactose, which are more easily digested.
"Our customers have been asking for cream cheese since we first introduced Green Valley Organics in 2010," said Redwood Hill CEO and president Jennifer Bice. "When it comes to dairy, people want the 'real deal,' which is exactly what we make—it just also happens to be lactose-free."
The product can replace traditional cream cheese in any application, from spreading on bagels to baking cheesecake. The gluten- and additive-free spread is available exclusively at Whole Foods stores nationwide for a suggested retail price of $3.49.
---