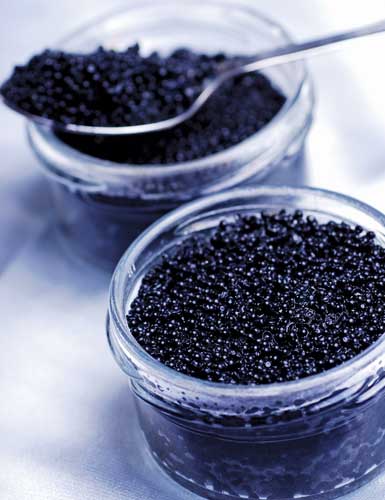 Developing a sensory lexicon for caviar
A study published in the Journal of Food Science aims to develop a lexicon for sensory evaluation of caviar's appearance, texture, aroma, and flavor/taste and to relate these attributes to consumer acceptance.
In the study, a trained panel identified 16 sensory attributes for evaluation and identified less frequently encountered off-aromas, appearance traits, and persistent flavors. Using this lexicon, the panel described differences among caviar samples harvested from sturgeon fed varying diets. Acceptance of the caviar was also evaluated by a consumer panel.
The researchers found differences among caviar in the sensory attributes of tactile firmness, mustard color, egg size, in-mouth firmness, seafood fresh flavor, fresh butter flavor, earthy flavor, yeasty flavor, and bitterness. In addition, overall consumer acceptance of caviar was driven by tactile firmness, sea fresh flavor, fresh butter flavor, and black color. This overall acceptance was highly correlated with acceptance of texture and flavor/taste.
The researchers concluded that this lexicon allows for standardized sensory evaluation of caviar using a common set of descriptors. This lexicon, as well as the information regarding the drivers of caviar acceptance, can be used by industry professionals to ensure optimal caviar quality.
A culinary trends forecast for 2015
Matcha, coconut sugar, and authentic, regional Asian dishes are three trends that food developers might want to incorporate into their new products in 2015. These trends appeared in the Sterling-Rice Group's Culinary Trends for 2015 report created by Kara Nielsen, the company's culinary director.
Of the 10 culinary trends Nielsen predicts for this year, "advanced Asian" is the one she believes has the most potential to cross over into food manufacturing. This trend goes beyond the Asian takeout most people are already familiar with, pushing diners' boundaries into what Nielsen calls "spicier, funkier, fattier fare," such as the cuisine of Northern Thailand and the Philippines. Nielsen sees this trend easily taking the form of frozen food in the natural or specialty channel, as well as in sauces and meal kits.
Known for its use in lattes and ice cream, matcha—ground green tea leaves—is moving into a starring role. Because the whole leaf is consumed, the health benefits are greater than those of steeped tea. Nielsen foresees the potential for manufacturers to not only continue including matcha as an ingredient in products such as energy drinks but also to clearly call out the ingredient's benefits on packages. "It shows a growing sophistication because we're now going to be seeing matcha called out for what it is—it's going to be promoted for its health benefits," said Nielsen.

On the sweetener front, coconut sugar is finding its way into naturally positioned products such as Purely Elizabeth granola. Touting a low-glycemic index, this sugar alternative is made from coconut blossom nectar and tastes similar to dark brown sugar. Nielsen sees this sweetener being popular in foods positioned toward Millennial parents seeking lower-sugar options for their children.
Other trends include the rise of locally milled flours, beer made without hops, and making use of misshapen and otherwise funny-looking produce to prevent food waste.
How consumers interpret food information
The way that technical and scientific information is introduced to certain groups of consumers affects how it is perceived, according to "Cracking the Code on Food Issues: Insights from Moms, Millennials, and Foodies," the new consumer trust research from The Center for Food Integrity (CFI).
In a web-based survey completed by 2,005 respondents who reflect the general U.S. consumer population, results were segmented into the three groups most driving consumer thought on key issues: moms, Millennials, and foodies. In the survey, respondents were exposed to information from three "voices": a mom scientist, a federal government scientist, and a peer "who shares my interest about food." The respondents reported trusting the mom scientist and government scientist while losing trust in the peer, indicating that "having technical expertise and a credential build credibility" once shared values are established, according to the CFI press release.
Additionally, the survey found that all three groups turn to websites first for information about the food system. Moms prefer local TV as a second choice, and Millennials and foodies prefer receiving information from friends. Food-specific television programs and networks are also important sources for foodies.
--- PAGE BREAK ---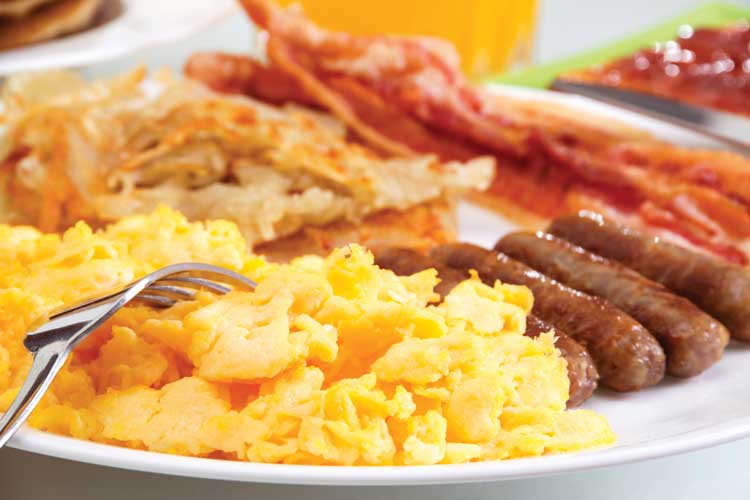 High-protein breakfast helps reduce cravings
Incorporating a normal- or high-protein breakfast into the routines of obese late-adolescent girls who typically skip breakfast helps reduce their post-meal cravings, according to recent research published in Nutrition Journal.
In the pilot study, researchers asked 20 participants to either consume a normal-protein (13 g) or high-protein (35 g) breakfast or continue skipping the meal for six consecutive days. On the seventh day, the participants answered foodcraving questionnaires and their blood was tested for plasma homovanillic acid (HVA) levels, which is an index of central dopamine production. The researchers found that both types of breakfast meals reduced cravings and increased HVA concentrations, and high-protein breakfasts tended to produce greater reductions in post-meal savory cravings as well as sustained increases in HVA concentrations before lunch.
EU backs country-specific GMO bans
The European Union (EU) Parliament's Environment Committee has voted in favor of allowing individual countries to ban genetically modified food crops on environmental grounds. The draft plan approved by the committee would allow member countries to restrict or ban the cultivation of crops containing genetically modified organisms on their own territory even if it is allowed at EU level.
"The measures approved today will secure flexibility for member states to restrict, ban the cultivation of GMO crops if they so wish. At the same time, we have secured a clear process for the authorization of GMOs at EU level, with improved safeguards and a key role for the European Food Safety Authority, which is important for us," said Frédérique Ries, who is steering the legislation through Parliament.
According to the committee, bans could be founded upon environmental concerns, the prevention of contamination of other products, scientific uncertainty, the development of pesticide resistance among weeds and pests, invasiveness, the persistence of a GMO variety in the environment, or a lack of data on the potential negative impacts of a variety.
---
What's new with food companies
• Agropur Inc. is investing more than $55 million in its Weyauwega, Wis., facility to increase its Feta cheese production capacity.
• Arla Foods Ingredients opened a new €120 million lactose-manufacturing facility in Jutland, Denmark.
• Barry Callebaut plans to expand its chocolate plant in Lodz, Poland, to help supply Central and Western Europe. The company also inaugurated its new chocolate factory located in Paine, Chile.
• BASF has signed a definitive agreement to sell its manufacturing facility for natural fish oils, medium-concentrated omega-3s, and customized bottled fish oil in Brattvåg, Norway, to Marine Ingredients.
• Cargill Inc. released its first palm oil progress report, which revealed that it is on track to map 80% of its palm oil in key markets back to individual mills by the end of 2014 and 100% of all mills by December 2015.
• ConAgra Foods opened a new potato-processing facility in Shangdu, China.
• Del Monte Fresh Produce opened a fresh-cut facility in Oshawa, Canada.
• Ecolean AB opened a U.S. office in Dallas, Texas, to facilitate expansion in North and South America.
• Fuji Food Products Inc., a fresh food manufacturing division of Meruelo Group, announced a new manufacturing facility in South Elgin, Ill., where it will produce fresh, refrigerated, and ready-to-eat meals.
• Glanbia Foods will invest $82 million into expanding its manufacturing and production plants in Gooding and Twin Falls, Idaho.
• Ingredion Inc. achieved Non-GMO Project Verified status for a number of its key texturizer and nutrition solutions.
• International Flavors & Fragrances Inc. opened a creative facility in Jakarta, Indonesia, and a sales office and applications laboratories in Santiago, Chile.
• JBS SA, the world's largest meat processor, announced plans to acquire Primo Smallgoods Group, a leading producer of ham, bacon, and small meat products (smallgoods) in Australia and New Zealand.
• Lindt & Sprüngli is set to construct a manufacturing and warehousing facility in Sydney that will become its Australian headquarters.
• Mars Saudi Arabia opened its first chocolate factory in Saudi Arabia, and it is also the first food factory to obtain the Leadership in Energy and Environmental Design Gold Standard there.
• Mondelēz International Inc. announced plans to increase the capacity of its state-of-the-art plant in Gebze, Turkey, to support growth in the company's global confectionery business.
• Nestlé will open a $40 million water-bottling facility in the Pee Dee region of South Carolina.
• Noosa Yoghurt LLC was acquired by private equity investor Advent International.
• PerkinElmer has entered into a definitive agreement to acquire Perten Instruments Group AB, which is expected to significantly expand the company's presence in the area of food testing.
• Pinnacle Foods Inc. has entered into a definitive agreement to acquire Garden Protein International Inc., a Canadian company that manufactures the plant-based protein brand Gardein.
• ROHA USA received Level 3 Certification from the Safe Quality Food Institute for the third year running at its color manufacturing location in St. Louis, Mo.
• TIC Gums has opened a new manufacturing facility in Guangzhou, China, which significantly expands the company's production capabilities to fulfill orders intended for the Asia Pacific market.
• Unilever acquired Talenti Gelato & Sorbetto.

Melanie Zanoza Bartelme,
Associate Editor
[email protected]