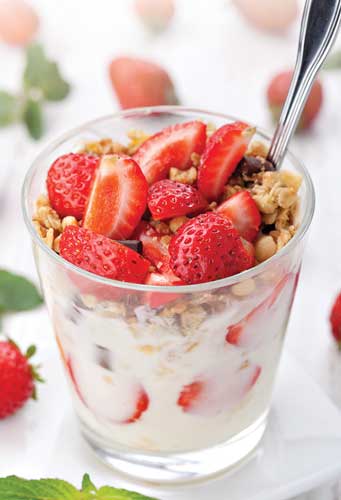 A global view of yogurt preferences
Consumers around the world continue to enjoy yogurt and other varieties of fermented milk products. More than half (53%) of consumers surveyed for DSM's Global Insight Series: Patterns in Yogurt Consumption report said that they eat more yogurt today than they did three years ago, with 61% of consumers in Brazil and 67% in China saying that they eat more. More survey respondents in Brazil (57%) and the United States (59%) reported that they eat yogurt for breakfast, and product developers are addressing this by developing more yogurt products that offer a single serving of yogurt and some type of grain as a convenient breakfast option. On the other hand, French respondents more often eat yogurt as a dessert.
Consumers were surveyed in six markets: Brazil, China, France, Poland, Turkey, and the United States. Chinese consumers had a much stronger preference for drinkable yogurt than those in other markets; in China, 49% of survey respondents said they consumed it—far more than in the other five countries. The majority of respondents (66%) said that they eat yogurt on its own while about one-third eat it with either cereal or fruit.
Some other points made in the report that will interest product developers are that probiotic yogurt is more popular in China than in the other regions, respondents in Poland prefer flavored yogurt products, and 36% of respondents in the United States report eating more Greek-style yogurt.
Report reviews NAFTA's impact on food industry
It has been more than 20 years since the implementation of the North American Free Trade Agreement (NAFTA) between the United States, Canada, and Mexico, and a new government report details the "profound effect" it has had on North America's agricultural and food markets.
NAFTA, which removed thousands of tariffs, quotas, import licensing requirements, and other policy measures between the three countries, produced a large increase in the cross-border economic activity in the agricultural and processed food sectors, with the total value of intra-regional agricultural trade more than tripling, according to NAFTA at 20: North America's Free-Trade Area and Its Impact on Agriculture from the U.S. Dept. of Agriculture.
Some specific developments since the implementation of NAFTA in 1994 include large increases in sugar imports from Mexico to the United States and high fructose corn syrup from the United States to Mexico, a doubling in volume of U.S. meat exports to Mexico, and expanded Canadian hog exports to the United States.
The report also notes that NAFTA has helped to make more produce available to these regions year-round. Mexico is the largest foreign market for U.S. apples and pears, while the United States is getting more greenhouse tomatoes, cucumbers, and peppers from Canada than it had prior to NAFTA's implementation. Each country continues to make direct investments in the others' processed food industry, and American companies have seen sales of processed foods rise in Mexico. There is one processed product exported from Mexico that is quite popular in the United States: beer.
Tracking calories by country
People around the world buy 1.5 trillion calories a day through packaged foods and soft drinks, according to a Euromonitor International nutrition database, which tracks energy, fat, saturated fat, carbohydrates, sugar, salt, protein, and fiber in food and beverage products. Consumers in North America and Western Europe purchase more than 1,500 calories per day while those in India and China purchase far less per day at 150 calories and 510 calories, respectively. The average global consumer purchases 765 calories per day from packaged food and soft drinks. "Understanding how packaged food and soft drink brands contribute to the total purchase of nutrients by category and country helps address the rising concern of nutritional value in food," reports Lauren Bandy, nutrition analyst at Euromonitor International in a company announcement.
The market research firm also notes that consumers in Mexico purchase the most calories per day—1,928. Consumers in Germany buy nearly twice as much fat per capita per day than those in Japan, and consumers in France buy more calories from bread each day than consumers in India buy from packaged food and soft drinks combined. Even though more than 40% of the global population is overweight and obese, Bandy says that Euromonitor's data show that by 2019 consumers around the world will purchase only 90 calories more a day.

Karen Nachay
,
Senior Associate Editor