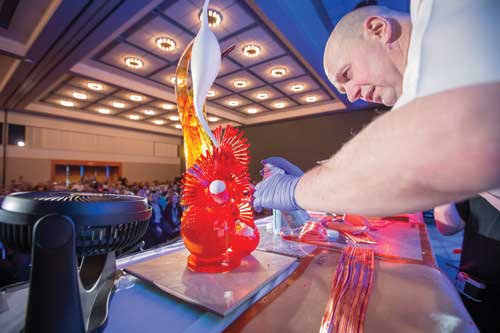 The Annual Conference & Culinology Expo of the Research Chefs Assoc. (RCA) is headed to the Big Easy. The 2015 show will be held March 24–27 at the Morial Convention Center in New Orleans, La., a city known around the world for its Cajun and Creole cuisine, historic cocktails, and Southern charm. Focused on the blending of culinary arts and food technology (i.e., culinology), the conference offers educational and social opportunities for professionals in the culinary arts industry.
In Wednesday's general session, "Culinary Analysis: Flavor Trends at Street Level," Gerry Ludwig, corporate consulting chef for Gordon Food Service, will discuss "the best and brightest new commercial restaurants" and identify dishes, beverages, ingredients, and flavors that he believes offer the greatest sales growth and menu differentiation opportunities for foodservice operators. Thursday's general session, "The Changing Face of Casual Dining: An Expert Panel of Top Chain Chefs," features chefs and innovators from four restaurant groups, including Arby's, Subway, and Panera, who will talk about their career experiences and offer advice to attendees. During Friday's session, "A Library of Plants?," Top Chef alum Chris Jones, now director of culinary innovation at Hampton Creek, will discuss the strides the company has taken to reinvent how we look at what food can be.
The keynote speaker for the 2015 Annual Conference & Culinology Expo is John Besh, a southern Louisiana native who promotes the region's ingredients, techniques, and heritage in his acclaimed New Orleans restaurants, including August, Lüke, and Borgne. Besh was inducted into the James Beard Foundation's "Who's Who in Food & Beverage" in 2014, and in 2006 he won the James Beard Award for Best Chef of the Southeast. Food & Wine named Besh one of the "Top 10 Best New Chefs in America," and in 2009, he was awarded Food Arts' Silver Spoon Award for revitalizing the culinary legacy of New Orleans.
In addition, attendees can take part in a range of breakout sessions scheduled between March 25 and 27. Sessions include "The Kitchen Moves Into The Bar—Ingredients That Are Joining the Cocktail Party," which will discuss the "garden to glass" shift that is bringing fruits and vegetables into alcoholic and nonalcoholic drinks; "How Innovation in Foodservice Equipment is Impacting Tomorrow's Menu," which will cover the way that accelerated cooking may affect the way that foodservice kitchens operate; and "Flavor: It's All in Your Head," which will explore the concept of sensory adaptation and its effect on food and beverage pairings. A culinology roundtable will bring together nine industry experts to discuss relevant topics in small group settings, and chefs from Campbell's Culinary & Baking Institute will share their integrated approach to understanding today's food trends. Other breakout session topics include product development, research and development, creating products for children, Middle Eastern cuisine, mixology, and the use of sociocultural anthropology to understand what drives consumer purchase decisions.
Preconference workshops to be held Tuesday afternoon include "An Intro to Protein, Carbohydrate, and Lipid Chemistry for the Research Chef"; "Beyond HACCP: What's Next for the Food Industry?," which will explain the interconnectivity of food safety and quality systems beyond regulatory requirements; and "AMP It Up—Awesome Multifunctional Phosphates to Deliver Quality to Meat, Seafood, Dairy, Sauce, and Bakery Products," a training session that includes hands-on demonstrations with a team of experts in phosphate function.
Conference attendees can participate in a variety of additional activities planned by the RCA. Participants will be able to sample French Quarter fare, taste classic New Orleans cocktails, or partake in a golf tournament and fundraiser at the TPC Louisiana, home to the state's only PGA Tour event, the Zurich Classic of New Orleans. A 5K race and fun run will take place on Wednesday, March 25, at Audubon Park, and the conference will conclude on Friday, March 27, with an awards ceremony and celebration overlooking the Mississippi River and the lights of New Orleans.
To learn more about the Research Chefs Assoc. and/or register for the Annual Conference & Culinology Expo, visit Culinology.com.
---
Culinology Expo Hours
Thursday, March 26, 12:30 –5:30 p.m.