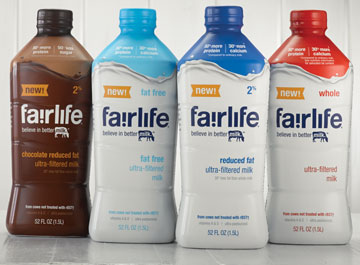 High-protein milk

Thanks to its additive-free cold-filtration process,
fairlife
's ultrafiltered milk contains 50% more protein and 30% more calcium than traditional milk, according to the company; one serving provides 13 grams of protein, compared with the 8 grams normally found in milk. The process also reduces sugars by half and removes lactose from the final product.
"Our patented filtration concentrates the best of milk's natural nutrients, like protein and calcium, while filtering out the lactose and reducing the sugars," says cofounder Mike McCloskey. "We're very excited to be taking a superfood and making it even better."
The milk comes from Select Milk Producers, a co-op of family-owned dairy farms based in Texas, New Mexico, and the Midwest and the fifth-largest dairy co-op in the United States.
Distributed by The Coca-Cola Co.'s Minute Maid division, the filtered milk is available nationwide in fat-free, reduced-fat, whole, and chocolate reduced-fat varieties. A 52-fluid-ounce bottle retails for a suggested price of $4.29 and an 11.5-fluid-ounce single-serve bottle for $1.99.
---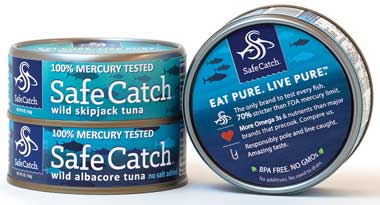 Low-mercury tuna
Safe Catch released what it is calling the "first 100% mercury-tested canned tuna," which is made possible by its Multispecies Mercury Analyzer that uses technology the company developed to screen every fish for purity before it is processed. The resulting canned tuna contains mercury levels 90% lower than those recommended by the U.S. Food and Drug Administration.
"Safe Catch is the only brand to establish purity levels that are stricter than the Consumer Reports' 'Low Mercury' criteria limit and average set in 2014 for pregnant moms and children," according to a press release. "Safe Catch is also the only canned tuna to be able to surpass the purity and omega-3 criteria for 'best seafood' as set by the Environmental Working Group."
In addition, Safe Catch raw-packs its tuna, which ensures that the seafood retains all of its nutrients, including omega-3s, amino acids, B vitamins, selenium, and potassium. The tuna will be available in stores soon and can currently be found on SafeCatch.com; Wild Skipjack retails for $3–$4 per can and Wild Albacore for $4–$5.
---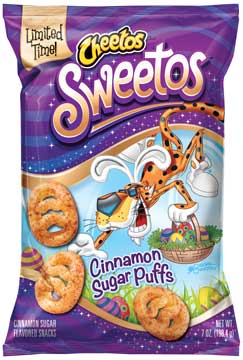 Cheetos go sweet
PepsiCo has launched its first-ever sweet spin on traditionally cheesy Cheetos in the United States with its limited-edition Sweetos cinnamon-sugar puffs. Timed to coincide with Easter, the product's release is intended to compete with chocolate bunnies and marshmallow candies, according to the company.
"We're always looking for ways to add some playful fun to the snack aisle," says Jeff Klein, vice president of marketing, Frito-Lay. "So this year—in true Cheetos fashion—we decided to turn spring snacking on its head with the most unexpected treat in decades. Move over chocolate bunny, there's a sweet new snack in town."
Sweetos will be available in stores nationwide in 7-ounce bags for a suggested retail price of $3.49.