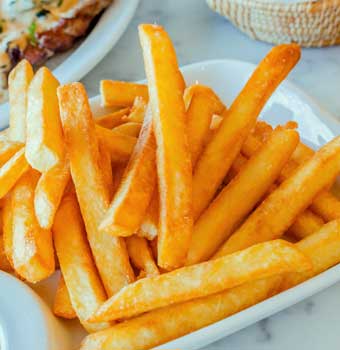 Examining air-fried fries
In a recent study published in the Journal of Food Science, researchers examined quality and sensory differences between french fries prepared via two frying methods: air frying and deep-fat frying.
In air frying, raw potato sections are heated in hot air containing fine oil droplets; the process dehydrates the potato in an attempt to produce characteristics similar to traditional fries but with a lower level of fat absorption. In the study, the researchers examined both processes under otherwise similar operating conditions and compared their color, texture, microstructure, calorimetric properties, and sensory characteristics.
Although the air-frying method did produce fries with a substantially lower fat content, the process took much longer to complete—21 minutes versus nine minutes for deep-fat frying. The slower evolution of temperature resulted in lower rates of moisture loss and color development reactions, and differential scanning calorimetry studies showed that the extent of starch gelatinization was also lower in the air-fried fries. Overall, the air-fried fries had a dryer mouthfeel and appearance with a harder texture, resulting in fries that were more akin to a baked or puffed potato product.
Listeria occurs in retail delis
Standard cleaning procedures may not completely eliminate Listeria monocytogenes bacteria in retail delis, according to new research from Purdue University.
In the study, which was published in the Journal of Food Protection, researchers tested delis for L. monocytogenes in two samplings. In the first, 6.8% of samples taken in 15 delis before daily operations began tested positive for the bacteria, and in the second, 9.5% of samples taken in 30 delis over the course of six months tested positive. In 12 of these, the same subtype was found in several of the monthly samplings. Most positive samples came from surfaces that do not normally touch food, such as floors and drains, but the bacteria can be unintentionally transferred to food and sicken customers.
"It's kind of the Wild West," says the study's leader, Haley Oliver, assistant professor of food science. "Manufacturing has a zero-tolerance policy for Listeria, but that dissipates at the retail level. The challenge of developing systematic cleaning procedures for a wide variety of delis—which are less restricted environments than processing plants—can make Listeria harder to control."
Cleaning procedures can only manage bacteria as long as the delis themselves are also in good condition, she says, with functioning drains and properly sloped floors. Delis might also consider reducing the number of items they carry to make thorough cleaning easier.
Benefits of high-altitude cooking
Cooking at high altitudes, where pressure is low, can intensify food's flavor, color, and aroma while possibly improving its nutritional quality, according to research out of the Nestlé Research Center in Lausanne, Switzerland, and published in the Journal of Agricultural and Food Chemistry.
In their experiment, scientists prepared vegetable broth from the same recipe in three settings: at 833 meters above sea level, in the lab at ordinary pressure, and in the lab using high pressure. The results were analyzed both in the lab and by a panel of tasters. Researchers found that the broth prepared in the high-altitude, low-pressure setting—where water boils at a lower temperature and cooks food more gently—reduced food weight loss and increased the yield of vegetables while preserving the food's natural amino acids, carbohydrates, and volatile compounds, including aromas. The researchers believe that imitating the conditions of high-altitude cooking through low-pressure boiling may help enhance food's flavor without the need for flavor enhancers or additives.
USDA deregulates first nonbrowning apple
The U.S. Dept. of Agriculture's Animal and Plant Health Inspection Service announced that it has decided to deregulate the first two nonbrowning Arctic apple varieties, created by Okanagan Specialty Fruits.
Arctic apples are the result of more than 20 years of development, according to the company. These apples resist the enzymatic browning that's caused by a reaction between polyphenol oxidase (PPO) and phenolics that normally occurs when fruit is cut or bruised. Arctic apples have been bred to suppress the PPO gene in a process called gene silencing, which utilizes low-PPO genes from other apples.
According to a press release, Arctic Granny and Arctic Golden trees can be planted and grown just like any other apple variety in the United States, and Canadian approval is expected later in 2015.
--- PAGE BREAK ---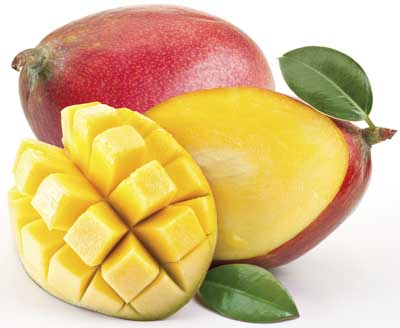 Mango butter as cocoa butter equivalent
Butter made from the seeds of mangos shows potential as a cocoa butter equivalent, according to a study that appeared in the Journal of Agricultural and Food Chemistry.
Cocoa butter is expensive, so manufacturers often look to cocoa butter equivalents (CBE) to mimic it in chocolate and pharmaceutical applications. Effective CBEs must provide similar physiochemical properties to cocoa butter at a lower cost. Many such CBEs have been explored, but until now, mango butter had not, according to the researchers.
Mango butter is derived from mango seeds, which are generally considered agroindustrial waste. In the study, researchers compared mango and cocoa butter in gelatin aqueous solutions and found that when used in this form, mango butter is sufficiently comparable to cocoa butter and may be used as a substitute—and at a low cost, since it takes advantage of a source that would normally be discarded.
"Alone in India, tons of mango seeds are discarded after harvesting the mango pulp," says Kunal Pal, one of the study's authors. "Any industrial raw product obtained from the waste of the agri industries is of low cost."
---
What's new with food companies
• Barry Callebaut
signed a long-term agreement with
World's Finest Chocolate
, which will help expand the company's overall manufacturing footprint in North America.
• Bell Flavors & Fragrances received Safe Quality Food 7.2 Level 3 recertification for its manufacturing facility and corporate headquarters in Northbrook, Ill.
• Bosch Packaging Technology will acquire Oldsmar, Fla.–based Osgood Industries.
• Coca-Cola Enterprises created an Advanced Technology Development Center at Georgia Institute of Technology to work on emerging technologies and develop apps to help retailers improve their business.
• D.D. Williamson kicked off a yearlong celebration in observance of its 150-year anniversary.
• DuPont's BAX System Real-Time PCR Assay for Listeria monocytogenes has been certified as a Performance Tested Method by the AOAC Research Institute.
• Swiss dairy company Emmi acquired a 100% stake in Canadian-based J.L. Freeman's cheese business.
• Emmi Roth USA announced that its 77,000-square-foot specialty cheese plant in Platteville, Wis., has received FSSC 22000 certification by the Global Food Safety Initiative.
• Flavor & Fragrance Specialties announced its merger with Lucta S.A.
• FOODesign launched a new website, Foodesign.com, that provides international customer support, an overview of the company's portfolio, and updates on its latest news and events.
• Frutarom Industries acquired Spanish company Ingredients Naturales Seleccionados SL, which specializes in plant extracts, and United Kingdom–based FoodBlenders, which specializes in savory systems.
• Ganeden Biotech announced a new partnership with Georgia Nut Co. to develop snack product concepts that incorporate probiotics.
• Hawaiian Host will acquire Mauna Loa Macadamia Nut from Hershey.
• Hershey acquired Sonoma, Calif.–based gourmet jerky maker KRAVE Pure Foods.
• ICL entered into a share purchase agreement to acquire Prolactal GmbH, and its subsidiary, Rovita GmbH.
• Ingredion has entered into a commercial agreement with Gelymar, a producer of carrageenan based in Santiago, Chile.
• International Flavors & Fragrances opened a new flavors facility located in Schaumburg, Ill.
• Kalamazoo Valley Community College (KVCC) and Western Michigan University (WMU) are launching the nation's first higher-education programs in sustainable brewing. Students will earn a certificate or associate degree at KVCC, then move on to a BS degree at WMU.
• Kalsec validated the kill step for Salmonella in its extraction process for spices and herbs.
• Kellogg acquired a majority stake in Egyptian cake and biscuit maker Bisco Misr.
• Mondelēz International formed a partnership with FLOCERT, a socially focused global certification body, to verify cocoa volumes and commercial transactions for Mondelēz's Cocoa Life program. It also acquired Enjoy Life Foods, which is based in Schiller Park, Ill.
• Mühlenchemie expanded its Technology Center to include a pilot plant for pasta.
• Nespresso will launch its first Nespresso Café in Vienna in March and open a second café in London at a later date.
• Post Holdings will acquire MOM Brands.
• Solazyme announced that the U.S. Food and Drug Administration has issued a favorable response to its notification concluding that its whole algal protein is Generally Recognized as Safe as an ingredient in food and beverage products.
• Tyson Foods will invest around $110 million to expand its poultry plant in Vienna, Ga.
• Unilever's Breyers ice cream brand will now source milk and cream only from farmers who don't treat their cows with artificial growth hormones.






Melanie Zanoza Bartelme,
Associate Editor
[email protected]