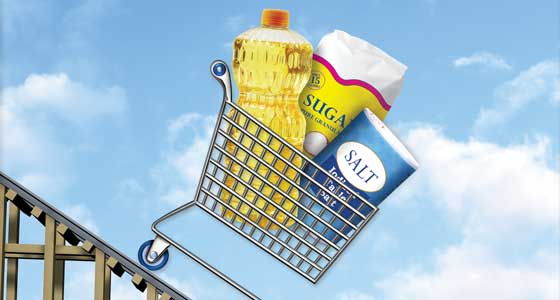 Low and light foods are very well established in the United States and have a long history in the marketplace. Many mainstream brands have lines formulated to deliver reductions in fat, calories, salt, and/or sugar. There are also many specialized low and light umbrella brands despite a trend in recent years to move to a more general health and well-being positioning in some markets. This has resulted in products that encompass a range of health benefits, not just in terms of low and light but also in terms of clean labels and optimal levels of components such as protein, whole grains, and fiber. According to Innova Market Insights data, more than half of all U.S. food and drink launches in 2014 used a health positioning of some kind, well ahead of the global average of 40%.
Looking more specifically at low and light claims, the United States is again a leader in this area, reflecting the highly developed nature of the market and ongoing concerns over levels of obesity as well as interest in general health and well-being. Low and light claims relating to calories, fat, sugar, and sodium were used in 16.5% of total new product launches recorded in 2014 (Figure 1). Low-fat claims were the most common, used in just over 8% of introductions, ahead of low-sugar (including no added sugar and sugar-free) and low-calorie, each used in just under 5%, and low-sodium, used in just over 3%. It is clear from these percentages that there are considerable levels of overlap with many products featuring more than one of these claims.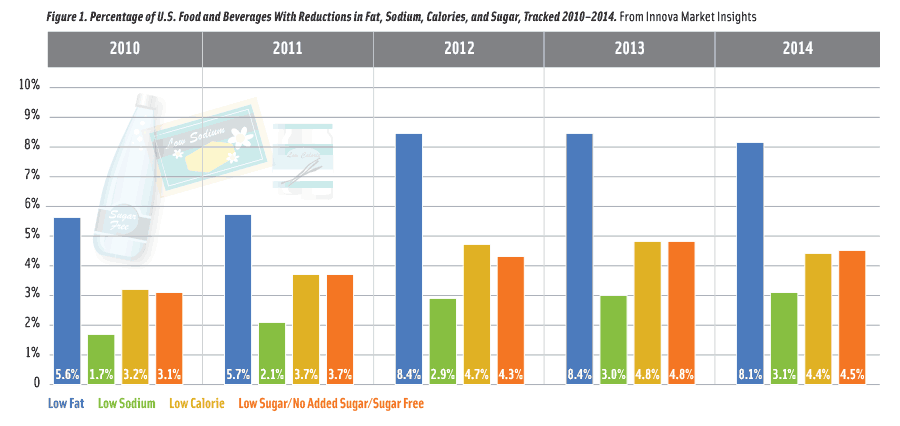 Prepared/Ready Meals
This is particularly in evidence in the ready meals category, where the low and light sector now comprises not only meals for those seeking to lose weight, such as the Weight Watchers brand, but also those with a more general health message, encompassing a whole range of nutritional benefits, including reductions in calories, fat, and sodium, as well as high levels of protein and vegetables.
Products positioned on low-calorie, low-fat, low-sodium, or low-sugar platforms made up 11% of U.S. ready meals launches recorded by Innova Market Insights in 2014, with low-fat claims the most popular, used on 8% of products, ahead of low-sodium, used on 5%. Low-calorie was used on 2% and low-sugar on 1%.
Levels of product activity in these areas appear to have remained relatively static over the past few years, however, probably reflecting rising levels of interest in products positioned to address other consumer health/nutrition concerns. Perhaps the most notable examples in this area are gluten-free products and products that tout protein content. The availability of gluten-free options has risen to the point where they accounted for 14% of U.S. ready meal launches in 2014 while launches marketed on protein content rose by about one-third over the year and were featured on more than 11% of introductions.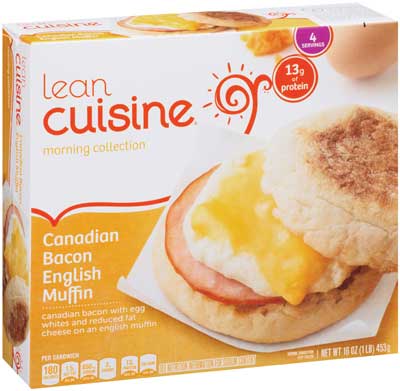 The United States has a very established market for healthful/weight control meals, with all three major players in the overall frozen meals market having strong better-for-you brands. Nestlé's Lean Cuisine leads the overall single-serve frozen dinner market, ahead of Weight Watchers Smart Ones from Heinz and ConAgra's Healthy Choice. The single-serve sub-category is a key area for better-for-you lines, and the three brands account for more than 40% of sales, with private label brands also very strong.
Nestlé's Lean Cuisine meals were first launched under the Stouffer's label in 1981 as the links between diet and health were becoming much more widely understood and interest in weight management products and healthier alternatives started to rise. The brand was relaunched in early 2012 with a new look, a focus on modern healthy cuisine, and sub-brands that include Culinary Collection, Spa Collection, and Market Collection, as well as Simple Favorites and the new Morning Collection that features breakfast products such as muffins and scrambles.
Heinz's Weight Watchers Smart Ones range claims to pair great taste with calorie-controlled, nutritionally balanced meals. It now encompasses a range of entrees, breakfasts, snacks, and desserts under a number of categories, including Smart Creations (which claim to help you feel fuller longer with nutrient-packed options), Classic Favorites (portioned home-style favorites), Smart Anytime (fork-free options), Smart Beginnings (breakfast products), and Smart Delights (desserts). Recent activity included the addition of four chicken recipes to the Smart Creations range and three smoothies to Smart Delights.
ConAgra's Healthy Choice frozen meals range was first launched in 1988 and has undergone various changes over successive years. It now consists of complete meals and baked entrées and Café Steamers ranges, as well as soups and frozen treats. Recent developments include the launch of a minimally processed Simply sub-brand and the marketing of gluten-free options, both in the Café Steamers range. A brand labeled Simply certainly makes sense in a climate in which consumers are seeking maximum transparency from food and beverage marketers, a trend that Innova Market Insights describes as "clear label."
--- PAGE BREAK ---
Dairy Products
While the ready meals market tends to favor the use of multiple low and light claims alongside other health benefits, the dairy market tends to focus much more strongly on fat reduction. The dairy sector accounted for over 20% of total low-fat claims on 2014 product launches, making it by far the largest user of these claims, ahead of the meat, fish, and eggs category and the snacks category, each of which accounted for 10% of low-fat claims, and the sauces and seasonings category, which accounted for just over 8% of claims.
Low-fat claims were used on more than one-third of U.S. dairy launches in 2014 and were particularly strong in yogurts as well as milk drinks (Figure 2). Nearly 70% of yogurt launches featured low-fat claims in 2014, which suggests that low and light characteristics may now be more or less taken for granted, with most products tending to put more emphasis on other aspects of the product. This reflects rising levels of interest in naturalness and high fruit content as well as the dynamic growth of Greek yogurt and other creamy and indulgent lines, including dessert-style products.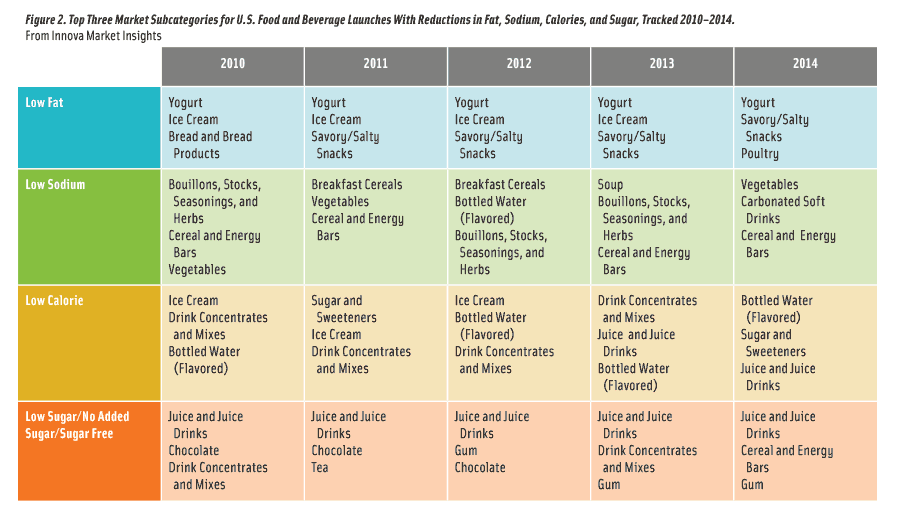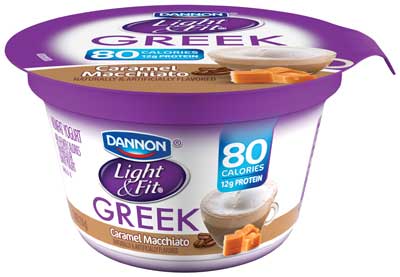 Prior to the seemingly unstoppable rise of Greek yogurt, interest in low and light products was reflected in the fact that Yoplait Light and Dannon Light & Fit were two of the leading brands in the U.S. yogurt market overall. The Dannon Light & Fit range fought back with its own Greek range, marketed as nonfat, calorie-counted (80 calories per 5.3 ounce container), high in protein, and gluten-free, and it now encompasses an extensive range of flavors, including dessert-style and indulgent options such as Key Lime, Banana Cream, and Caramel Macchiato, as well as seasonal limited editions such as Mango Lemonade and Caramel Apple Pie. The Light & Fit brand is also keeping up with current trends with its new Protein Shakes range, launched in early 2015, and diabetic-friendly Carb & Sugar control options along with the range of flavors in its regular portfolio.
General Mills meanwhile continued to develop flavor and format options in its Yoplait Light range. It also reformulated the range in 2014 so that it was free of the sweetener aspartame, using a blend of acesulfame-K and sucralose instead. It also moved to exploit the popularity of Greek yogurt via its Greek 100 fat-free light yogurt with 100 calories per container, launched in 2012 and now available in a wide range of flavors. In early 2015, General Mills extended the concept with the launch of Greek 100 Whips, a whipped Greek yogurt mousse.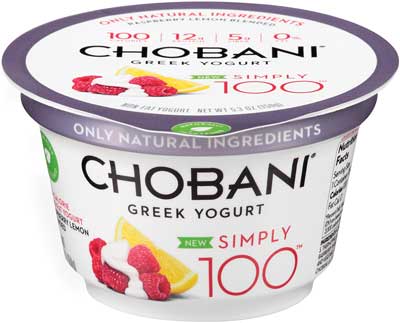 Meanwhile Greek yogurt pioneer Chobani extended its range with its Simply 100 nonfat strained yogurt range. Launched at the end of 2013, it offers a 100-calorie product in six flavors with the additional benefits of a high protein and fiber content and natural sweetening with a monk fruit extract, stevia, and evaporated cane juice blend. The range now encompasses 10 flavor variants, including the recent Raspberry Lemon and Tropical Citrus additions.
In the milk market, as in yogurt, low-fat products are seen as the norm, with low-fat and skim milk far outselling whole milk in U.S. supermarkets. Interestingly, there are now some signs of rising interest in whole milk lines, with a rise in value in 2014, compared with a marginal fall in the low-fat sector. The milk market traditionally has a commodity-style image and has been in long-term decline, despite ongoing efforts in the industry to renew interest and add value.
Initiatives to boost sales have included the development of dairy-based protein and performance beverages, many of which are also low in fat, but perhaps one of the most interesting initiatives in recent years involved soft drinks market leader Coca-Cola. The company had already identified value-added dairy as a top target for still beverage retail growth to 2020, and its Fairlife milk, launched at the end of 2014, looks to change the nutritional profile of milk and present it as a premium beverage.
Fairlife is a filtered milk in which a proprietary process separates the milk into its five key components—water, butterfat, protein, vitamins and minerals, and lactose—before recombining them in different proportions to provide a lactose-free skim milk with 50% more protein and calcium and 30% less sugar than regular milk. It is more expensive than standard lines in a notoriously price-sensitive market that is highly fragmented and where own brands account for about one-third of sales. But high levels of marketing activity are being used to differentiate the product and try to drive sales forward.
--- PAGE BREAK ---
Soft Drinks
The low-calorie or diet soft drinks market is very well established in the United States, with strong-selling diet versions of almost all mainstream carbonated brands and more recent growth in reduced-calorie fruit drinks. Recent emphasis in the market has been on sugar reduction, however, as companies have sought to boost sales, particularly in the relatively mature traditional carbonated soft drinks market, which has been in long-term decline. Nearly one-fifth of soft drink launches in the United States in 2014 featured low- or reduced-sugar claims, with the highest penetration in flavoured waters, where over 30% of launches used this type of positioning, ahead of energy drinks and juice drinks with 24% each.
In spite of this, one of the most high-profile areas has been in the carbonated soft drinks sector, where new sweetener blends have been developed to try and drive sales. The focus has been increasingly on mid-calorie lines, rather than more traditional zero-calorie products, and stevia-based sweetening systems are being developed to reduce sugar content by up to 50% without any of the bitter or licorice-like aftertaste associated with some of the earlier formulations.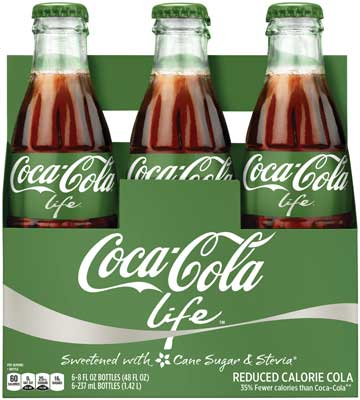 The two leading soft drinks brands, Coca-Cola and Pepsi, have both been active in this area. Both have been using stevia in drinks for some years, but mainly in still fruit drinks and flavored waters. Coca-Cola launched its first stevia-sweetened cola under the Coca-Cola Life name in 2013. It was first launched in Argentina rather than the United States or Europe and featured a striking green label rather than Coca-Cola's trademark red. It was sweetened with sugar and stevia and had 108 calories per 600 milliliter bottle, positioning it between Classic Coke with 250 calories and zero-calorie Diet Coke. After some regional testing, Coca-Cola Life was also rolled out nationwide in the United States in November 2014, following its launch in the United Kingdom in August. Launches in a number of other European markets followed, and it has also been introduced in Chile and Mexico.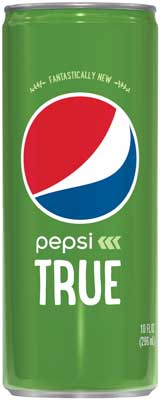 PepsiCo has responded with a rival product, Pepsi True, also sweetened with stevia. It is currently being rolled out in test markets in Denver, Minneapolis, and Washington DC, having previously been sold only via the Internet. It has 30% fewer calories than regular Pepsi, again targeting the U.S. mid-calorie sector. Other carbonated soft drink launches have included Royal Crown's RC Neo mid-calorie cola line sweetened with stevia, as well as zero-calorie products such as Zevia, reformulated in 2014 with a new sweetener blend of stevia, monk fruit, and erythritol.
Beverage formulators were recently introduced to a new sweetener option—a low-calorie sugar called allulose sold under the brand name Dolcia Prima by ingredient marketer Tate & Lyle, Hoffman Estates, Ill. Its applications in beverages are being tested by Dr. Pepper Snapple Group, according to a February 2015 Wall Street Journal article. Tate & Lyle reports that Dolcia Prima is 70% as sweet as sucrose and contains 90% fewer calories because it is absorbed but not metabolized by the body, which presents the opportunity for significant calorie reduction in product formulations.
Confections/Sweets
With ongoing interest in sugar reduction in the diet, the sugar-free confectionery market is another that should be booming, particularly in the face of ongoing technical developments that have improved sensory properties and the appearance of new sweeteners and other ingredients with a more natural image (Figure 2). Sugar-free lines accounted for 11% of U.S. confectionery launches in 2014, which was ahead of the global average, but there are significant differences between product types, with sugar-free launches representing just 3% of chocolate confectionery introductions, rising to just under 14% in sugar confectionery, and to more than two-thirds in chewing gum. Even within the very diverse sugar confectionery market, penetration varies by type of product, with sugar-free launches heavily focused in the hard candy market, where they accounted for more than one-third of introductions.
In combining calorie reduction—and particularly sugar reduction—with naturalness, the spreading regulatory approval for stevia sweeteners in markets such as the United States, Australia, and then the European Union over the past five years or so has caused something of a revolution in sweetener use across a range of food and drinks markets, although this appears to have had only limited effect in confectionery to date. Stevia was featured as an ingredient in 2.6% of U.S. confectionery launches in 2014, compared with 4.6% across the food and drinks sector as a whole and well behind the levels of use seen in soft drinks and tabletop sweeteners, for example.
Formulation problems and the bitter aftertaste of stevia are felt to have held back product activity in some instances, but some sectors have found this less of an issue, particularly licorice sweets and medicated confectionery, and improved formulations are now being introduced to allow more products in other areas. Stevia was used in 3% of sugar confectionery launches, in just under 2% of launches in the chocolate category, and in 7% of chewing gum launches although chewing gum launch numbers were much lower in absolute terms.
A review of new product activity over the past few months reveals a wide range of introductions featuring stevia, including additions to the Coco Polo and Chocorite chocolate bar ranges, SteviDent's Stevita chewing gum, Ricola Liquorice Pearls, Rap Protein Gummis, and Sencha Naturals Green Tea Mints.
--- PAGE BREAK ---
Sodium
There has been a much lower level of activity in low-sodium lines in recent years in comparison with low-fat and low-sugar products, despite ongoing efforts to reduce salt and sodium levels in foods while maintaining functional and sensory properties. Companies launching lower-salt ranges have generally found very limited success while efforts to reduce salt levels in existing products and brands have often met with technical obstacles as well as consumer resistance.
Just 3.2% of U.S. food and drinks launches in 2014 featured low-sodium claims although this was twice the global average of 1.6%. Ready meals, sauces/seasonings, cereal products, and snacks had the highest levels of activity overall, but in terms of penetration, soups also move into the frame, with low-sodium lines accounting for 8.4% of 2014 soup launches, which is a similar level to that in cereal products, while ready meals had a level of about 5%, and the level rose to nearer 6% for snacks.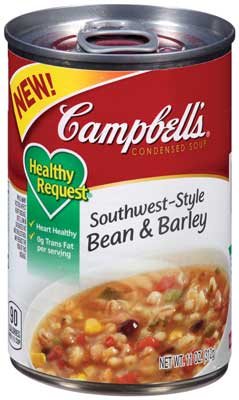 The United States led developments in salt reduction in the soups market, in line with interest in lowering salt levels in prepared foods as a whole. Soup category market leader Campbell's was a key pioneer with specific reduced-sodium lines launched in 2006. In 2011, however, the company reversed this initiative in the face of falling soup sales, focusing on flavor and taste, and specific reduced-sodium lines appear now to be restricted to two products with "25% less sodium" in the Campbell's Condensed range, which also includes a number of 99% fat-free lines and Healthy Request options based on a more general health platform, as well as regular products.
It seems that optimizing the nutritional profile of existing products and boosting "better-for-you" sub-brands has become the way forward for Campbell's and other soup companies. General Mills' Progresso brand, for example, has Light and Heart Healthy sub-brands.
Retailer own labels are also reflecting this trend, as exemplified by Target's Simply Balanced range. Looking at Innova Market Insights data makes it clear that there is a much higher level of interest in fat reduction, for example, with low-fat claims used on over 21% of U.S. soup launches in 2014, well ahead of the penetration level for low-sodium lines.
In the snacks market, which traditionally has a relatively unhealthy image, there have also been relatively high levels of interest in both fat and sodium reduction, which are in line with overall efforts to improve the nutritional profile of the products. Consumers are eating fewer traditional meals and seeking more snacks, which opens up new opportunities in the category. Low-fat claims were strongest in the salty snacks and meat snacks markets, used on nearly 20% and just over 40% of 2014 launches, respectively, while low-sodium claims featured most strongly in snack nuts and seeds, where over 12% of product introductions used this type of positioning.
In addition to using different fats and cutting down on fat levels, the market has also seen the revival of established products and the appearance of new ones. Popped snacks is one of the recent high-profile arrivals. Made with potato or corn flakes or other cereal pieces, popped chips are turned into crisps using heat and pressure and are marketed as a healthier, guilt-free option to standard fried and baked products.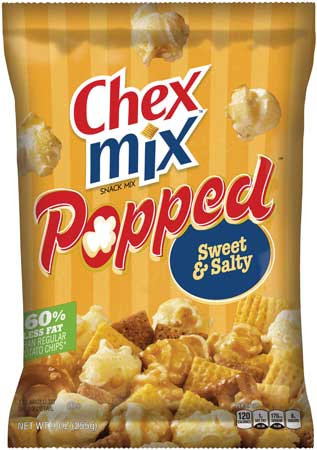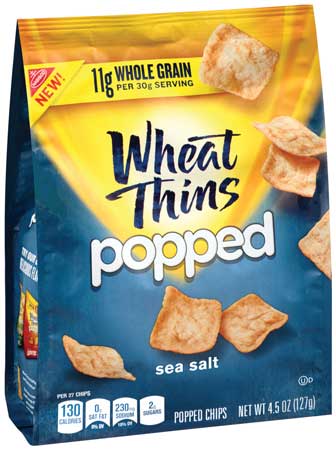 The original Popchips brand was launched in the United States in 2007 and has continued to perform well despite the subsequent arrival of heavyweight brands, including Kellogg's Special K Cracker Crisps, Mondelēz's Nabisco Wheat Thins Popped, General Mills' Chex Mix Popped, and, perhaps most notably, U.S. snacks market leader Frito-Lay (PepsiCo), which introduced its Lay's Air Popped in 2013. Popchips' initiatives to maintain its competitiveness have included the 2014 launch of a Veggie Chips sub-brand, made with a blend of nine vegetables (kale, spinach, tomatoes, pumpkin, potatoes, beets, bell peppers, navy beans, and chickpeas).
In general, it can be seen that interest in low and light foods has remained high in the United States, and it leads the world in terms of sales. Within that, however, there has been a strong move toward products with a more general health and well-being positioning, and it appears that low and light alone may no longer be enough. Products are not only tending to use a number of different low and light claims but also are increasingly adding other benefits related to the use of healthy ingredients, such as good fats, whole grains, fiber, and probiotics. This in turn is influenced by changes in consumer concerns, with current favorites including free-from products of all kinds and a high protein content.
Lu Ann Williams, a member of IFT,
is Director of Innovation at Innova Market Insights,
Duiven, The Netherlands ([email protected]).