As 2015 winds down, I look back at this year's trade shows and note the presence of protein ingredients as a predominant force. According to Innova Market Insights, "high protein" claims show no sign of slowing down, with 18% growth in the United States in 2014 versus 2013. Consumers are looking for proteins in foods and beverages to build and maintain muscle mass and to contribute to their overall wellness. In addition, the world's population is estimated to reach 9.6 billion by 2050, leading to increased demand for protein.
While animal proteins such as whey and egg enjoy mainstream status, newer protein ingredients make up a category that is often referred to as "alternative" proteins. The surge of these predominantly plant-based proteins is due to benefits related to sustainability, digestibility, low allergenicity, and dietary concerns.
FutureFood 2050 (futurefood2050.com), a publishing initiative of the Institute of Food Technologists, recently posted a slideshow highlighting 10 novel food ingredients found at July's IFT15 food expo. Of the 10, four were alternative proteins: water lentils, faba bean, algae, and mankai. Here is a look at these as well as other up-and-coming protein ingredients.
Pea Protein

Pea protein is one of the main plant-based proteins that is enjoying a surge in use and interest. Consumers desire it because it is considered sustainable, natural, easily digestible, and vegetarian.
FlapJacked, Westminster, Colo. (flapjacked.com), offers FlapJacked Protein Pancake & Baking Mixes and FlapJacked Mighty Muffins with Probiotics. Both utilize PURISPea pea protein from World Food Processing, Oskaloosa, Iowa (worldfoodprocessing.com), in the formulations. "We have found that combining whey protein isolate with pea protein offers easier digestibility in our products," says Jennifer Bacon, co-founder of FlapJacked. "Currently our protein source is split about 50/50. We only use the highest quality ingredients in our products. We have found that many pea proteins on the market source peas from different suppliers at different times of availability and from different countries. With PURISPea, we know the source; it's non-GMO and we can guarantee its quality."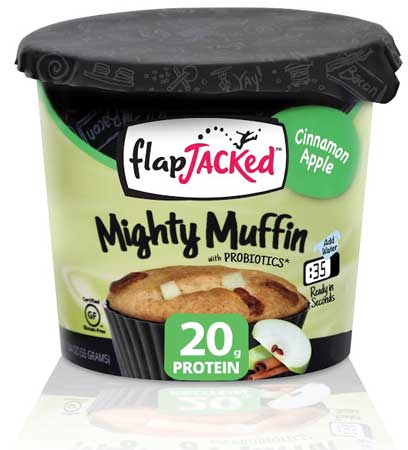 At this year's SupplySide West event, the FlapJacked mixes as well as a whey/pea protein cookies and cream shake and a brownie offering 10 g of protein were featured. World Food Processing offers certified organic and Non-GMO Project Verified ingredients including PURISPea Proteins, PURISSoy Protein Isolates, PURISSoy Organic Hexane-Free Soy Proteins, PURISWhole-soy Powder, and other plant-based ingredients.
SupplySide West hosted other pea protein suppliers. Glanbia Nutritionals, Fitchburg, Wis. (glanbianutritionals.com), announced that it had eliminated the bitter and green notes from its Harvest Pro pea protein. HarvestPro Pea Protein 83 contains more than 83% protein and is allergen-free, gluten-free, and kosher, and has not been genetically modified (GM). Its neutral flavor profile with significantly fewer green pea, pyrazine, bitter, and nutty notes than many pea proteins have is ideal for bars, cereals, clusters, baked goods, and ready-to-mix and ready-to-drink beverages.
AIDP, City of Industry, Calif. (aidp.com), announced that it has launched a new version of its PeasiPro pea protein called PeasiProXS, a smoother, silkier formulation of the original protein. It is designed for better texture, mouthfeel, and taste, particularly in beverage and RTD applications such as powders. The Scoular Company, Minneapolis, Minn. (scoularfood.com), featured its organic pea protein. Scoular's pea protein ingredients are derived from yellow peas grown in Canada and include pea protein 50%, pea protein isolate 80% and 85%, organic pea protein isolate 80%, and pea protein crisps 60%.
Also at the event was Axiom Foods, Los Angeles, Calif. (axiomfoods.com), which launched a neutral-tasting green pea protein that offers up to 80% protein. Finally, Roquette, Keokuk, Iowa (pea-protein.com), highlighted its Nutralys pea protein, extracted from dry pea (Pisum sativum), with pea isolates of 85%–90% protein.
--- PAGE BREAK ---
Bean-Based Proteins
In addition to peas, beans also serve as alternative sources of protein. For example, one of the winners of the 2015 IFT Innovation Award, LENTEIN plus from Parabel USA, Melbourne, Fla. (parabel.com), contains more essential amino acids than soy or pea protein, and is comparable to whey protein. The 100% sustainable plant protein ingredient is extracted from a water lentil, Lemnoideae, and has high levels of protein combined with other macro- and micronutrients. The water lentil plant grows in a carbon-neutral, lined aqua farm. The water use per kilogram of LENTEIN is substantially lower than that of other proteins. It is a non-GM, fast-growing plant that doubles in size every 16–32 hours, so it is harvested every day, which contributes to a yield higher than any other crop per square meter. The cold-pressed technology allows for additional versatility and enables the extraction of various concentrations of the protein, allowing Parabel to bring different densities and functionalities to market.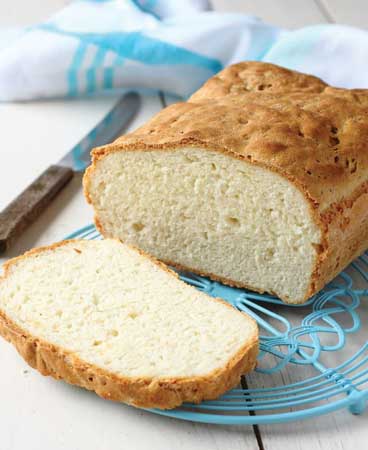 Dealers Ingredients, Ontario, Canada (dealersingredients.com), highlighted its Profi line of ingredients. Profi is a complete vegetable protein and fiber ingredient that contains all essential amino acids in the proper proportions. It is particularly high in the amino acids lysine, isoleucine, phenylalanine, tyrosine, and valine when compared to the required values indicated by the World Health Organization. Profi Pro, a proprietary blend of vegetable proteins, is a one-ingredient solution for boosting protein. When Profi Pro is used in a formulation, it can be declared as "pea protein, oat protein, whole grain brown rice protein, natural flavor, lentil protein, chickpea powder, and high oleic sunflower oil." It is recommended that manufacturers use 9 g of Profi Pro/serving to achieve 6 g of added plant protein.
Among the legumes, fava (also called faba) bean is a valuable crop. Multari et al. (2015) wrote a review of the benefits of fava bean. It is a rich source of proteins, fiber, and other non-nutrient compounds considered beneficial for health. The authors add that "in addition, fava bean enables symbiotic fixation of atmospheric nitrogen and can provide a more environmentally friendly substitution for industrial N-fertilizers with associated improvements in resource efficiency and production costs."
Ingredion, Westchester, Ill. (ingredion.us), introduced the VITESSENCE line of pulse proteins that includes fava, pea, and lentil proteins. The specific ingredients are Pea Protein 55 (55% protein), Lentil Protein 55 (55% protein), and Faba Bean Protein 60 (60% protein).
The most popular plant protein, soy protein, enjoys mainstream use. Suppliers are still finding ways to innovate and make soy protein a versatile ingredient for protein fortification. For example, DuPont Nutrition & Health, St. Louis (food.dupont.com), at SupplySide West launched a fast-dispersing soy protein, SUPRO XT 221D Isolated Soy Protein. This protein ingredient boasts superior dispersibility; it completely disperses in just nine seconds. Consumer sensory studies have rated SUPRO XT 221D as significantly higher than a protein supplement formulation in terms of flavor, dispersibility, mouthfeel, and overall liking.
Archer Daniels Midland, Decatur, Ill. (adm.com), most recently announced a new addition to its specialty proteins portfolio. SUPERB is a functional ingredient containing protein and fiber. Made from soybeans, it provides manufacturers an effective way to boost protein and fiber content, enhance water-binding, and improve the texture of meat products and meat substitutes. In addition, ADM is evaluating options for offering pea protein isolates and concentrates. ADM's current specialty protein offerings include soy protein isolates, concentrates, textured proteins and crisps, and soy flour and grits. Other offerings include its line of edible bean powders and Fibersol soluble dietary fibers.
Mankai Protein
Mankai is a whole vegetable that has been named as an ingredient to watch. In July, Hinoman, Tel Aviv, Israel (
hinoman.biz
), announced that it had been granted self-affirmed GRAS status for its mankai ingredient, a vegetable whole-protein ingredient with high nutritional value. The nutritional composition of the mankai microgreen ingredient has been determined to be high in protein (at least 45%–48%) and low in fat (7%–8%) and to have a 24%–45% carbohydrate content. Analysis of the amino acid composition reveals that the protein is a rich source of all of the essential amino acids, according to the company.
Mankai is produced in an advanced hydroponic system that optimizes yield throughout the year. This precisely regulated aquaculture platform is highly controlled, operating under remote cultivation management and regulation. As a result, it ensures plant purity so that mankai is clean and free from all pesticides and heavy metals, to a level that exceeds nutritional grade.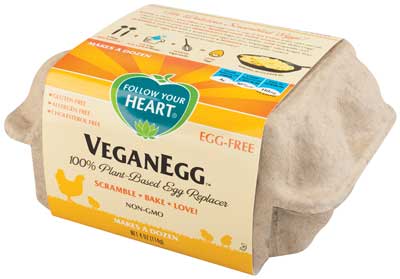 Microalgae Protein
A new product,
VeganEgg
, from Earth Island, Canoga Park, Calif., (
followyourheart.com
), was featured at SupplySide West. The product, sold under the
Follow Your Heart
brand, features whole algal flour and whole algal protein as its two main ingredients. "
VeganEgg
fills the need for vegetarian and vegan egg replacers that have egg functionalities beyond leavening such as scrambling and binding," says Bob Goldberg, CEO of Earth Island.
VeganEgg
is allergen-free,
trans
fat-free, and cholesterol-free, offers 4 g of fiber/serving, and contains all of the essential amino acids. It is available to consumers as well as food manufacturers looking for a vegan egg replacer.
Whole algal flour and whole algal protein were a natural fit for VeganEgg. "Most microalgae are green. However, the microalgae used to make these ingredients are grown in the dark, so the green color doesn't develop," explains Erin Keys, technical director, research & development, at Earth Island. "The microalgae are high in lutein, which adds a natural yellow color to VeganEgg." The whole algal flour is approximately 46% lipid, with heart-healthy monounsaturated fats that add to mouthfeel and texture. The whole algal protein is approximately 63% protein and contains all of the essential amino acids. "The nutritional profile, no allergen[s], and sustainability of whole algal flour and protein fit with the type of products we make," says Keys.
Whole algae protein was another ingredient featured in the FutureFood 2050 slideshow of innovative ingredients. Solazyme, South San Francisco, Calif. (solazyme.com), offers AlgaVia Whole Algae Protein, a source of quality protein with the added benefits of insoluble fiber, healthy lipids, and micronutrients such as lutein and zea-xanthin. Solazyme's microalgae-based protein platform leverages fermentation technology to produce highly nutritious, naturally derived, minimally processed ingredients for consistency. AlgaVia has high digestibility and contains all of the essential amino acids. In addition, the protein ingredient has limited interaction with other food ingredients, allowing for easier formulation in broad applications.
--- PAGE BREAK ---
Grain-Based Proteins
Popular grain-based proteins include rice and wheat. Research has shown that leucine, the key amino acid to activate muscle building, was absorbed faster from
Oryzatein
brown rice protein, which is offered by Axiom Foods, than leucine from whey protein (Axiom Foods 2014). This was an interesting finding considering leucine levels are slightly lower in rice protein versus whey protein. The study also found that amino acids in
Oryzatein
brown rice protein are highly bioavailable and are non-statistically different from whey protein in trained athletes. Amino acids from rice protein appear slower in the bloodstream than whey, providing bodybuilders and other athletes with a plant-based alternative to animal-based whey protein to enhance their performance and body composition over a longer period of time.
At SupplySide West, AIDP launched RisaPro XS, a smoother version of its popular rice protein ingredient. In addition, the company also launched Hemprotein, a new hydrolyzed wheat protein, and a sacha inchi protein, a "superfood" plant native to Peru. The seeds are high in omega-3 fatty acids and protein, and the oil from the seed can be extracted for dietary supplements.
RiceBran Technologies, Scottsdale, Ariz. (ricebrantech.com), offers Proryza P-35, an all-natural vegetable protein derived from the nutrient-rich bran layers and germ of brown rice. Proryza P-35 is a minimally processed, hypoallergenic protein that is dispersible and ideally suited for healthy and nutritious beverage applications. It is 100% made from rice that is grown and processed in the United States, with typical values of 35% protein. Proryza PF-20/50 is a protein and dietary fiber extract of rice bran with typical values of 20% protein and 50% fiber. Thanks to RiceBran Technologies, the bran layers and germ of rice are now being captured immediately after white rice is milled, and that raw rice bran is being stabilized into a low-glycemic, natural, and minimally processed source of protein, fiber, complex carbohydrates, and oil.
MGP Ingredients, Atchison, Kan. (mgpingredients.com), offers Optein Lightly Hydrolyzed Wheat Protein with more than 90% protein content. The ingredient is rich in peptide-bonded glutamine, making it ideal for use in products that aid in muscle recovery following exercise.
Earlier this year, Glanbia Nutritionals launched HarvestPro vegan plant proteins derived from ancient grains, flax, and chia. The line includes protein crisps and powders. Offering a high source of protein with levels ranging between 50% and 60%, HarvestPro crisps constitute a great-tasting, gluten-free alternative to soy equivalents. The current portfolio includes a quinoa/chia/sorghum crisp, a chia/amaranth crisp, and an organic quinoa/flax crisp, which can enhance the flavor, texture, and nutritional profile of bars, clusters, and cereals.
Finally, another novel protein source to be on the lookout for in the future is insects. There have been various news stories this past year about the use of crickets as a protein source in products like flour. According to Innova Market Insights, one in five typical Western meat consumers is ready or definitely ready to eat insects as a meat substitute. It will be interesting to see if insect-based protein will hit mainstream status.
Next month's Nutraceuticals section will showcase ingredients that are important to women's health.
---
www.ift.org
Members Only: Read more about alternative protein ingredients online at ift.org. Type the keywords into the search box at the upper right side of the home page.

Linda Milo Ohr,
Contributing Editor
Denver, Colo.
[email protected]