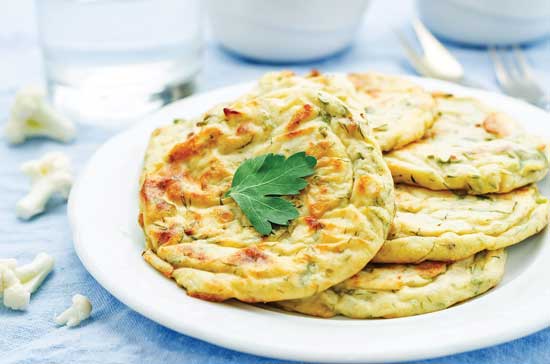 Fruits and vegetables are having a renaissance of late. More than just snack foods or side dishes, fruits and vegetables are now found in just about every food and beverage category in one way, shape, or form, and chefs have elevated them to the center of the plate. "Cauliflower does a million culinary tricks, and it's super healthy for you too," says Christine Keller, director of trend practice at CCD Innovation, Emeryville, Calif. (ccdinnovation.com), who added that it can be roasted, mashed, or pureed and included in everything from pizza to ice cream. Innova Market Insights found a 22% increase in global product launches containing cauliflower in 2014 versus 2013. It's more than cauliflower, though. Walk through most grocery stores and you're sure to find pumpkin in salsa, açai berries in chocolate bars, parsnips in yogurt, kale and celery in smoothies and cold pressed juices, and peaches and rhubarb in craft beer. Fruits and vegetables are even turning up in unexpected places. This summer, astronauts on the International Space Station had fresh romaine lettuce grown with NASA's Vegetable Product System, a.k.a. Veggie, a plant growth unit that provides lighting and nutrient delivery and utilizes the cabin environment for temperature control and a source of carbon dioxide.
Half of Americans are determined to eat more fruits and vegetables this year, according to Innova Market Insights. This includes the younger generation—Generation Z—who are increasingly looking to include healthier foods in their diet, says Keller. Her company conducted a survey of children aged 15–17 and found that they wanted foods that were both craveable and healthy. Not surprisingly, foods like hamburgers were listed, but so were different fruits as well as salads. Keller attributes this in part to how these children are learning from their parents, many of whom impress upon their children that fruits and vegetables are important to maintain a healthy lifestyle. She also points out how these children are exposed to cooking shows and restaurants presenting fruits and vegetables in different ways and grocery stores like Whole Foods that have extensive salad bars.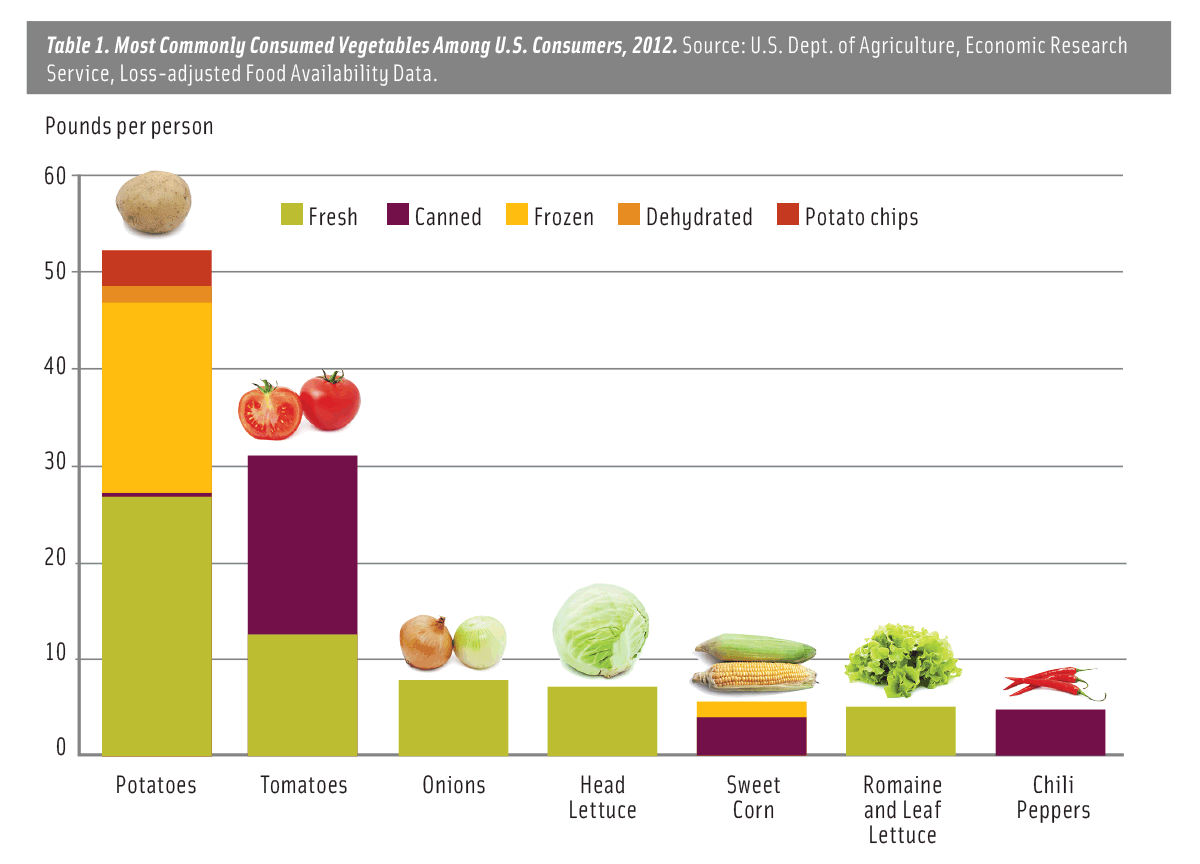 While potatoes and tomatoes are the most commonly consumed vegetables and oranges and apples are the top fruits (see Tables 1 and 2), consumers are becoming more willing to try exotic fruits like dragon fruit and passion fruit and vegetables like kohlrabi and celeriac. Sour cherry, rhubarb, pink grapefruit, prickly pear, and melon are some of the fruits that Keller sees as growing in popularity, not just the fruit itself but as a flavor in different foods and beverages. Vegetables like cauliflower and Brussels sprouts have hit their stride as delicious entrees and also as ingredients in many products. In addition to cauliflower, CCD Innovation's Culinary Trend Mapping Report: Veggie Chic finds other cruciferous vegetables are increasing in popularity as consumers realize that they taste great when properly prepared (CCD 2014). The report calls out root vegetables like parsnips, turnips, and rutabagas, too, as chefs create unique and flavorful dishes with them, and this Ingredients column gives several examples of the versatility of using root vegetables in food and beverage products. Keller also points to dinosaur kale and sea vegetables like kelp as having a place in certain instances. Some of the trending fruits and vegetables tend to be sour or bitter, she adds, due to consumers being exposed to more of these tastes.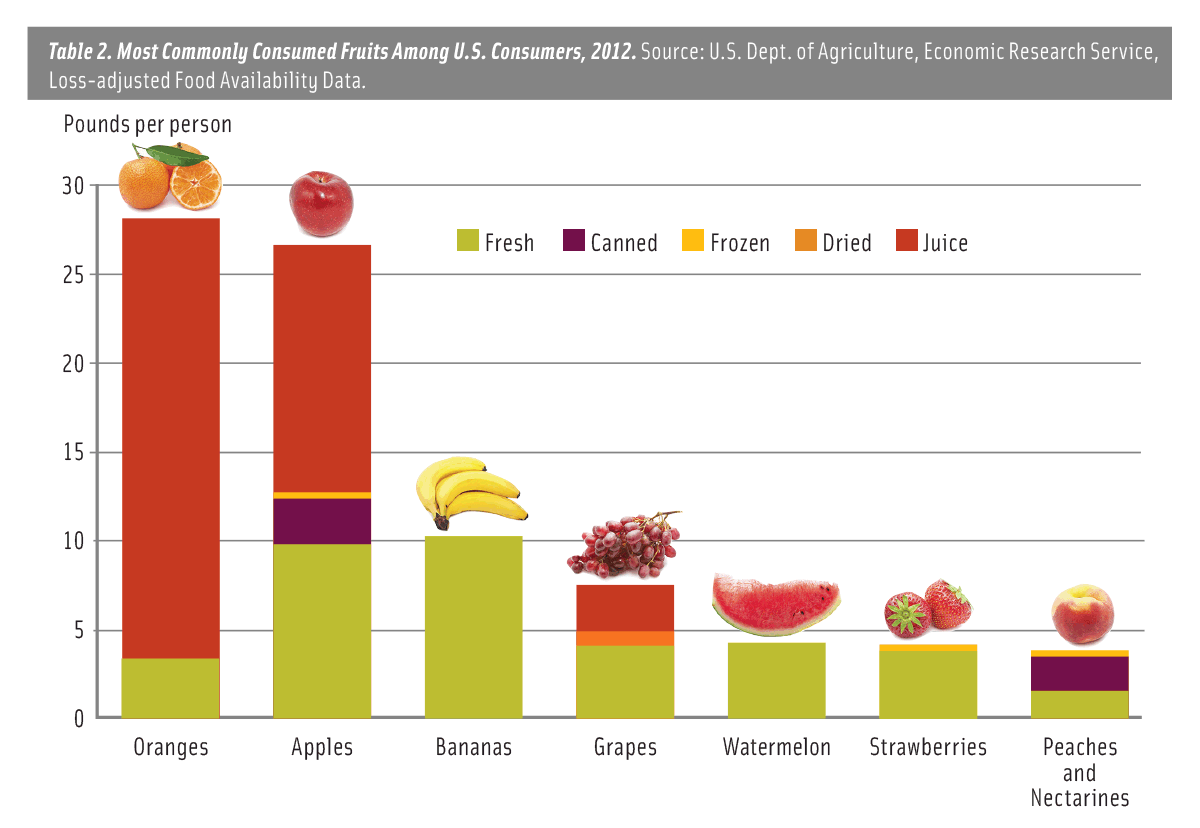 People may not be ready to give up their steaks and hamburgers quite yet, but to meet the demands of consumers who want to eat healthier, reduce the amount of meat in their diets, and want new and exciting flavors, the food industry has responded with a number of new products featuring fruits and vegetables and ingredients to make them possible.
A Tropical Twist
Banana bread is a traditional bakery treat, but why not replace the banana with guava puree to take the bread to another level and create something more interesting, asks Don Giampetro, vice president of innovation at iTi Tropicals, Lawrenceville, N.J. (ititropicals.com). Passion fruit in pastries. Banana puree in pet food. Acerola in glazes and sauces for chicken and fish. Coconut cream in soup. These are just a few of the potential applications for tropical fruits in forms like concentrate, puree, and juice that the company produces.
One of the newest lines of product concepts the company developed are blends of coconut water with other fruit and vegetable juices that highlight how tropical fruits and other ingredients add variety to the popular beverage coconut water. The company's coconut water is reconstituted at only 4.2° Brix, so it is lower in calories than apple, pear, grape, pineapple, and some other fruit juices. It helps to lower calories in a Coconut Water Concord Grape Blend concept and to lower calories and acidity in a Coconut Water Cranberry Blend concept. Some manufacturers of popular coconut water brands add 1% fruit sugars to sweeten the beverage; iTi's Sweetened Coconut Water from Concentrate is sweetened with deionized apple concentrate. A caramelized coconut water concentrate gives flavor to Toasted Coconut Water, which also contains 2% fat from coconut cream. Alphonso mango puree, spinach, red beet, passion fruit, blueberry, carrot, and apple concentrate are combined with coconut water to make Coconut Water Green Vegetable Blend and Coconut Water Red Vegetable Blend. Finally, sugar and apple concentrate cut the acidity and increase the Brix/acid ratio in Coconut Water Passionfruit and Coconut Water Acerola.
What are some other tropical fruits that consumers may see in grocery stores? Well, many more stores are carrying tropical fruits like dragon fruit, passion fruit, and star fruit. iTi offers purees for processing into any number of food and beverage products. In addition to this, Giampetro says that consumers will start to see more varieties of common tropical fruits like mangoes, which come in more than 800 varieties, each with its own distinctive flavor and texture. While iTi does not offer anywhere near the total number of varieties available, the ones it does offer can help product developers set their foods and beverages apart from their competition. Bananas and pineapples are two other common tropical fruits with several varieties available in produce sections. The Cavendish banana variety is the most popular variety of banana, but plantains (starchy and almost always served cooked), baby (about half the size of Cavendish and made up of two different cultivars), and red (sweet and creamy) are turning up in more mainstream grocery stores. As far as the pineapple is concerned, Giampetro points out that consumers can find a miniature version of the typical pineapple that is about the size of your palm.
--- PAGE BREAK ---
Welch's Introduces FruitWorx Inclusions
The new FruitWorx line of fruit inclusions from Welch's Global Ingredients Group, Concord, Mass. (welchsgig.com), gives manufacturers the opportunity to add fruit flavor with an ingredient that maintains its structural integrity in applications. Wayne Lutomski, vice president of international and global ingredients at Welch's, explains that an ultra-rapid concentration process creates fruit pieces from the company's fruit puree and concentrates with high heat for a short period of time. The resulting pieces have very low water activity levels. "That's important because you don't have any migration of water from piece to piece, which could cause hardening of fruit or softening the product, like a cookie, for example."
Another advantage of the FruitWorx fruit pieces from a processing standpoint is that they do not clump. "As you run them through a production line, they're free flow, they don't clump like an ingredient such as a raisin can," says Lutomski.
Earlier this year, Welch's and Taura Natural Ingredients, Winchester, Va. (tauraURC.com), formed a partnership where Taura uses its proprietary Ultra Rapid Concentration (URC) process to create the FruitWorx ingredients from Welch's Concord Grape Juice and Puree. Initially, the FruitWorx ingredients are available in the North American, Japanese, and South Korean markets with plans to expand into other areas. Taura uses its URC process to produce fruits and vegetable pieces, flakes, and pastes, and it also manufactures JusFruit ingredients made from 100% fruit- and vegetable-derived ingredients with no added sugar.
Welch's promoted FruitWorx at the 2015 IFT15 expo by having a range of varieties both in forms and in flavors on display at its booth for attendees to taste and touch. The little fruit pieces come in squares, flakes, and strings and are made from either grapes, particularly Concord grapes, other fruits like apple, apricot, or pineapple, or a combination of any of these. They are 100% fruit, but the company can produce pieces made with added sugar or flavors if a manufacturer desires. Some of the varieties the company showcased were Concord grape, a Concord grape-apple blend, and an apple-Niagara grape-pineapple blend. There was even a Concord grape piece enrobed in a peanut butter shell, showing how coatings can add more variety. (Lutomski says a chocolate coated–version also tastes great.)
Powders Punch Up Nutrient Content
Two companies recently highlighted the versatility of fruit and vegetable powders as convenient ingredients to add healthful nutrients to any number of food and beverage products.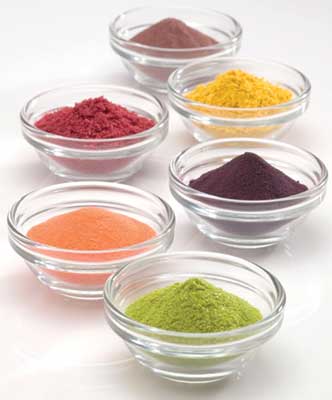 A patented drying technology used to produce fruit and vegetable powders is being promoted as an energy-efficient way to supply people with some of the important nutrients that they need and also to help reduce food waste, says Mark Savarese, CEO of PowderPure, The Dalles, Ore. (powderpure.com). The company's Infidri proprietary drying technology uses wavelengths of light to target water molecules and evaporate them within minutes without affecting the nutrients in fruits and vegetables (whole, juices, pulps, and purees) or their colors, flavors, and aromas. Savarese explains that because the Infidri process does not use a vacuum like freeze-drying or high heat like drum-drying, the colors and flavors of the fruit and vegetable powders are not affected. There is no need to add flavors or colorings back to the fruit and vegetable powders. When heat is used to produce powders, it can create porous particles with inconsistent shapes, leaving the particles more susceptible to oxidation or moisture degradation, Savarese adds. On the other hand, he says that the Infidri process produces small, encased particles of uniform shape that are protected from oxygen and moisture.
The powders, which range from açai berry to winter squash, also function in sauces, soups, bakery, dairy, bars, meat, and beverages (both alcoholic and nonalcoholic). They can be combined with other powders or other ingredients to create new flavor sensations. During the IFT15 expo, representatives developed product concepts like Spicy Nacho Kale Chips made with sriracha powder, red bell pepper, apple cider vinegar, yellow miso, and garlic; Pumpkin Pie Popcorn made with pumpkin powder, sugar, and spices; and Rainbow Popcorn made with blueberry, raspberry, and strawberry powders.
PLT Health Solutions, Morristown, N.J. (plthealth.com), uses a patented technology that evaporates water from fruits and vegetables to preserve the active enzymes, antioxidants, minerals, and vitamins in Vibrant Harvest Whole Food Powders. These powders, which also maintain the aroma, color, and flavor of the original fruits and vegetables, are promoted by the company as a convenient way to get daily servings of fruits and vegetables.
The Vibrant Harvest powders are nonporous particles with a moisture content of 3% or less, flow easily, and are water soluble. One of the most important qualities of the powders is helping to reduce food waste; a very low moisture content means that the powders have a long shelf life.
While PLT Health Solutions has nine varieties of Vibrant Harvest powders available in stock (apple juice conventional, beet juice organic, blueberry conventional, blueberry organic, carrot juice organic, grapefruit pulp powder organic, kale 50/50, lemon pulp powder, and strawberry juice conventional), it can produce powders from many more fruits and vegetables.
--- PAGE BREAK ---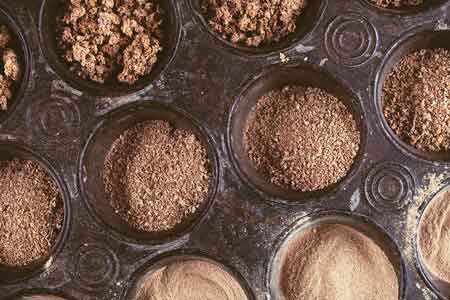 CIFI Expands Uses of Sweet Potato
Sweet potatoes have earned their place as a delicious ingredient in pie and side dishes. Now, Carolina Innovative Food Ingredients (CIFI), Nashville, N.C. (cifingredients.com), has developed a line of sweet potato ingredients to enhance the nutritional value of foods and beverages and provide clean label product development benefits.
CIFI is located in the heart of North Carolina's sweet potato–growing region, and the organization works with farmers to source a domestic supply of sweet potatoes for its ingredients. From these sweet potatoes comes sweet potato juice and dehydrated ingredients that can provide, among many functions, a replacement for high fructose corn syrup. Specifically, CIFI promotes its line of sweet potato juices as an alternative sweetener to HFCS.
The juices come in concentrate or single-strength, acidified or nonacidified, and clarified or unclarified. CIFI manufactures five versions: Clarified Orange Sweet Potato Juice Concentrate, Ultrafiltered Orange Sweet Potato Juice Concentrate, Clarified Murasaki Sweet Potato Juice Concentrate, Decanted Orange Sweet Potato Juice Concentrate, and Ultrafiltered Purple Sweet Potato Juice Concentrate. On the dehydrated ingredients side, CIFI offers Orange Sweet Potato Granules, Orange Sweet Potato Reduced Size Granules, and Orange Sweet Potato Flour. The company promotes these as minimally processed ingredients high in vitamin C, beta-carotene, fiber, and resistant starch.
The company developed a variety of product concepts for the IFT15 expo to show the versatility of the sweet potato ingredients. These included 100% Fruit/Vegetable Juice Blend, Sweet Potato Mini Muffin, KC BBQ Beef Sliders, Ketchup & Mustard, and Sweet Potato Cheesecake. In the juice, the marinade for the beef sliders, and the ketchup and mustard condiments, CIFI's sweet potato ingredients were the main sweetener; no sugar or HFCS were added. For more ideas on incorporating sweet potato juice, granules, and flour in products, turn to the company's website.
Sweeten sauces like Vegan Caramel Sauce, Korean Barbecue Sauce, and KC-Style Barbecue Sauce with sweet potato juice concentrate. Using single-strength sweet potato juice in beverages like Sweet Potato, Mango & Ginger Juice Blend and Carolina Sweet Potato Lager and sweet potato juice concentrate in Kale, Sweet Potato, and Lime Juice can help generate interest as sweet potatoes are not widely used as an ingredient in the juice and craft beer categories. The granules can extend meat like ground beef, add texture to muffins and savory snack bars, and be ground with other ingredients in powdered sports drinks. Try sweet potato flour in pancakes and pasta. Sweeten gummy candies with the juice concentrate. Soup, dips, and even frozen novelties are more product applications highlighted by the company.
Ingredion Adds Fruit and Vegetable Ingredients to Lineup
Last year, Ingredion, Westchester, Ill. (ingredion.us), expanded into the pulse market by becoming a distributor of pulse ingredients from AGT Food and Ingredients, Regina, Saskatchewan (agtfoods.com). Earlier this year, the company made the move into supplying fruit and vegetable ingredients with its acquisition of Kerr Concentrates, Salem, Ore. (kerrconcentrates.com), a manufacturer of fruit and vegetable concentrates, purees, and essences.
More than 20 different fruit juice concentrates are standardized by °Brix and can be customized to meet product developers' specifications. Vegetable juice concentrates are available in filtered versions for products that require a smoother texture and in unfiltered versions for developers who want to provide more vitamins and fiber in finished products. Try these in savory applications or blended with fruit juice concentrates. Single-strength purees add flavor and texture to products while puree concentrates add flavor and fiber. Essences can be used to enhance flavor or aroma profile or add a top-note to a finished product. Distillates can give a concentrated fruit flavor, primarily in beverage applications. Use pomace, the byproduct of the finisher and juice decanting process, to increase fiber and enhance texture.
Rich Sources of Colorful Pigments
More than ever, consumers are scrutinizing food labels with a keen eye, demanding that food manufacturers remove what they consider "unhealthy" and "unnatural" ingredients. Even though researchers and regulators have determined that these ingredients are safe and effective for use in food, manufacturers are complying with consumers' requests and reformulating with naturally derived ingredients where possible. This includes color additives, one of the main ingredient categories that some consumers have targeted for change. Coloring manufacturers turn to fruits and vegetables for naturally derived coloring options. They can be minimally processed into forms like purees or juice concentrates or processed to extract the pigments that give them their color. Here are some of the fruit- and vegetable-derived coloring ingredients available to food product developers.
One of the naturally derived coloring specialties from Kalsec, Kalamazoo, Mich. (kalsec.com), is Durabrite carrot colors. The company uses carrots as the source of carotenoid pigments alpha-carotene and beta-carotene, which are then put through a patented stabilization system that provides them with better stability against heat and light. These colorings impart various shades of yellow to foods and beverages.
--- PAGE BREAK ---
In addition to carotenoid pigments, others like anthocyanins for hues of red, blue, and purple and betalains for deep red and purple hues are used. ColorMaker, Anaheim, Calif. (colormaker.com), custom blends anthocyanins from elderberry, blueberry, grape juice, grape skin extract, purple carrots, red cabbage, and purple sweet potatoes; carotenoids from carrots; and betalains from beets to create its naturally derived fruit- and vegetable-based colorings. Sensient Food Colors, St. Louis, Mo. (sensientfoodcolors.com), relies on different fruit and vegetable sources to develop some of its naturally derived colorings, which are further stabilized using emulsion and dispersion technologies. Some of the colorings are processed in such a way as to be labeled simply as "vegetable juice (color)."
Speaking of juice, fruit and vegetable juices as well as extracts (anthocyanins) create ColorFruit colorings while minimally processed fruits and vegetable are used to make FruitMax colorings from Chr. Hansen, Milwaukee (chr-hansen.com). The FruitMax colorings are ingredients like fruit juice that have coloring properties. In fact, they can be labeled as "fruit and/or vegetable juice for color" on products sold in the United States. Another line of colorings that can be labeled the same way is the EXBERRY line from GNT USA., Tarrytown, N.Y. (gnt-group.com). To produce these, the company mechanically chops the colorful fruits and vegetables into small pieces and then cooks, mashes, filters, and concentrates them.
Various fruits and vegetables are the base for the NATcolor portfolio of naturally derived colorings from Naturex, Avignon, France (naturex.com). The portfolio consists of two distinct lines: VegeBrite fruit and vegetable juice concentrates and E-Color naturally derived extracts. Roha Food Colors USA, St. Louis, Mo. (rohagroup.com), offers its versions of concentrates and color additives like pigments with Futurals and Natracol lines. The Futurals line includes fruit and vegetable concentrates produced by removing water from the raw materials, and extracts that are obtained from the raw material using water in most cases or another solvent that meets U.S. and European regulations. The Natracol line includes the color compounds like carotene, lycopene, and anthocyanin obtained through various methods such as extraction or fermentation.
In addition to anthocyanins, carotenoids, betacyanins, and more derived from fruits and vegetables that make up a line of naturally derived colorings, D.D. Williamson, Louisville, Ky. (ddwcolor.com), manufactures a line of caramelized fruits and vegetables. There are eight varieties of caramelized ingredients: garlic, savory vegetable, onion (powder), onion (liquid), apple, pear, tomato, and the company's newest, pumpkin. They are derived from 100% juice concentrates of each of these fruits and vegetables. In addition to providing what the company says is consistent color in various shades of brown, the ingredients also provide flavor. They can be labeled as "caramelized [fruit or vegetable] juice concentrate" on products sold in North America and as "natural flavoring" on products sold in Europe.
San Joaquin Valley Concentrates, Fresno, Calif. (sjvconc.com), produces colorings in shades of red hues from dark red and purple anthocyanins found in Rubired grapes, purple sweet potatoes, and purple carrots. The process begins with the juice of these fruits and vegetables brought to 68° Brix. Water is added to the concentrate before going through an ultrafiltration process. The resulting dark-colored concentrate is brought to 65° Brix and sold as liquid coloring or processed through a belt dryer to produce Crystal colorings that are nonhygroscopic, nondusting, and five times more concentrated than their liquid counterparts.
Next month's Ingredients section will take a trip around the world to feature global ingredients and cuisines, specifically those from Asia.
---
Five to Try
Here are five examples of how product developers are diversifying their offerings with fruits and vegetables.
• Yogurt takes a savory turn. When you think of flavored yogurt, what comes to mind? Probably sweet ingredients like fruit, syrup, and granola. As consumers want healthier snacks and are more willing to explore different flavors, why not try adding vegetables to yogurt for a savory twist? Blue Hill Farm, Great Barrington, Mass. (bluehillyogurt.com), produces six yogurt varieties made with carrot, sweet potato, beet, butternut squash, tomato, and parsnip. Vegetable Juices, A Naturex Company, Bedford Park, Ill. (vegetablejuices.com), listed savory yogurt as a trend to watch in 2015 because it fits into snacking opportunities throughout the day. Some potential savory yogurt varieties the company proposes are kimchi, hummus, coconut lemongrass, fig and butternut squash, and sweet currant and carrot.
• New flavors for spreads. Take the usual fruit spreads like strawberry, blueberry, and mixed berries to the next level by adding other fruits and vegetables that complement each other's flavors. For a Beet, Strawberry, Pomegranate and Faba Protein Spread product concept developed for the IFT15 expo, Ingredion, Westchester, Ill. (ingredion.us), balanced the sweetness of strawberries with the tartness of pomegranate juice and earthiness of cooked beets.
• Follow a hidden agenda. Cake and pizza are not the healthiest of food choices, but adding vegetable ingredients to the batter and dough may up the healthfulness quotient just a bit and help picky eaters to get some vegetables in their diet. Growers Express/ Green Giant Fresh, Salinas, Calif. (greengiantfresh.com), produces Cauliflower Crumbles and developed recipes for foods like pizza crust, chocolate cake, and macaroni and cheese that incorporated the product.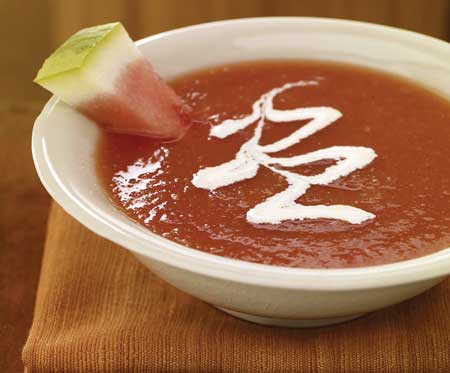 • Reinvent chilled soup. Go beyond the typical tomato-based gazpacho by using vegetables and different kinds of fruits, especially tropical varieties for interesting flavor twists. McCormick & Co., Hunt Valley, Md. (mccormick.com), offers up suggestions like Cucumber Herb Gazpacho with Watermelon Croutons and Chilled Papaya and Watermelon Soup with Lemon Coriander Cream.
• Give breakfast foods an earthy appeal. Beets are highly nutritious and have a slightly sweet, earthy flavor. They are typically roasted or steamed and added to salads or side dishes. They can also be a delicious accompaniment to other foods. Love Beets USA, Philadelphia (lovebeets.com), is right on top of pushing the boundaries for using beets in products (pizza, martini, hummus, truffles, risotto, pudding, and more). Including vegetables like beets in breakfast foods can move beyond the typical ingredients and set the product apart from others. The company developed a Beet & Blueberry Oatmeal with Almonds product concept featured at the 2015 United Fresh show.
--- PAGE BREAK ---
---
Ingredient Roundup
Looking for more fruit and vegetable ingredients? Consider the following options for improvements and enhancements.
• For a variety of dried tomato ingredients, turn to Culinary Farms, Woodland, Calif. (culinaryfarms.com), which processes and supplies these ingredients for bread, spread, soup, cheese, dip, dressing, sauce, pasta, and frozen meal applications.
• The Full Spectrum Fruit & Vegetable Phytoconcentrates from Draco Natural Products, San Jose, Calif. (draconatural.com), allow food manufacturers to add various phytonutrients to their food and beverage products. The range includes mulberry, watermelon, apple, blueberry, spinach, asparagus, beet, goji berry, mangosteen, and more.
• Graceland Fruit, Frankfort, Mich. (gracelandfruit.com), uses a proprietary process to create its Soft-N-Frozen frozen fruits pieces so that they are immediately soft and edible and easily scooped, according to the company. Additionally, Soft-N-Frozen fruits are ready-to-use, retain fruit piece integrity, and can be added directly to ice cream, yogurt, sorbet, fresh and frozen baked goods, and frozen dairy and nondairy products.
• Freeze-drying removes moisture from frozen fruits and vegetables using a very low temperature and a vacuum, concentrating taste and preserving the color of the original fruits and vegetables. Freeze-dried fruits and vegetables can be stored for long periods of time. Mercer Foods, Modesto, Calif. (mercerfoods.com), specializes in producing freeze-dried fruits and vegetables from produce from local farmers.
• The MicroDried Plus ingredients, one of the recent developments from Milne Fruit, Prosser, Wash. (milnefruit.com), are made from 100% fruit in three varieties: aronia, blueberry, and cranberry. Milne uses a gentle heat process to reduce the microbial load and help preserve the nutrients in the fruit pieces. They add crunch and flavor to candy, confections, bars, hot and ready-to-eat cereals, and bakery applications.
• Seawind Foods, San Clemente, Calif. (seawindfoods.com), featured its True NO SO2 line of dried fruits, which are manufactured without sulfites, at the IFT15 expo. They are available in two different size ranges (1–3 mm and 3–5 mm) for use in bar and yogurt products. The company also produces 30 varieties of dehydrated vegetables.
• About half of all blueberries produced go to the food processing sector and are used in forms like freeze-dried, dehydrated, puree, juice concentrate, fiber, and essence, according to the U.S. Highbush Blueberry Council (USHBC), Folsom, Calif. (blueberry.org). Product developers are moving beyond blueberry muffins and are formulating the berries into foods like salsas, dressings, bars, and sauces. Like other fruits, blueberries are packed with beneficial nutrients and high in antioxidants. Research has linked blueberries to having potential benefits for heart health, cancer prevention, memory, diabetes, and eyesight. In addition to promoting these benefits, the USHBC is also highlighting research that shows the possible effects that blueberries have on inflammation.
• Van Drunen Farms, Momence, Ill. (vandrunenfarms.com), specializes in producing freeze-dried, drum-dried, air-dried, and low-moisture fruit ingredients, and freeze-dried, drum-dried, IQF, air-dried, and sun-dried vegetables. Some of the forms are pieces, powders, dices, flakes, slices, and granules.
• Apples are still a popular fruit choice. For dehydrated apples in a variety of forms, turn to Voicevale, Hamburg, Germany (voicevale.com). Some of the dehydrated apple forms the company offers are rolled flakes, chips, and dices with or without skin in various moisture levels.
---
www.ift.org
Members Only: Read more about fruit and vegetable ingredients at ift.org. Type the keywords into the search box at the upper right side of the home page.

Karen Nachay,
Senior Associate Editor
[email protected]