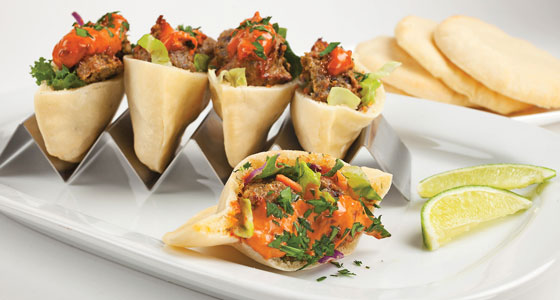 What do consumers want from the foods they eat and the manufacturers who develop them? In short, everything. From sweetener alternatives that promise great taste with less sugar and flavors and textures that are pleasing to the palate to convenience foods and antimicrobials that keep food safe, ingredient manufacturers have the best options. The IFT15 expo was the event to learn about the latest ingredients used to help solve any number of product development challenges, experience the functionalities of ingredients in food and beverage product concepts, and hear about the trends driving product development and consumer purchasing habits from market research experts.
Several trends were reflected through the types of ingredients exhibitors promoted. Clean label, for instance, was the focus for many as they showcased naturally derived colorings, flavors, texturizers, and preservatives. With recent moves by food manufacturers and large fast-food and fast-casual restaurant chains to remove artificial ingredients from their product lines, ingredient manufacturers went all out to promote their naturally derived ingredient offerings.
The removal of trans fats from foods is another important issue ingredient manufacturers addressed at the expo just a few weeks after the U.S. Food and Drug Administration's (FDA) final determination that partially hydrogenated oils (PHOs) were no longer generally recognized as safe (GRAS). While many food manufacturers have removed trans fat from products, some still use it. Because experts have felt for some time now that a decision like the one the FDA made was inevitable, ingredient manufacturers were prepared with a full range of non-PHO ingredient options that promise to function as well as PHOs.
Another area of interest still going strong is protein fortification. Dairy protein ingredients are popular ingredients for product developers looking to boost protein levels in foods and beverages, but plant proteins are growing in popularity, with soy being a top choice. Ingredient manufacturers are also looking at alternative plant sources like Lemnaceae and pea to produce different kinds of protein ingredients. Some are even turning to microalgae, single-celled organisms that contain surprising amounts of nutrients, including protein.
Missed the IFT15 expo? What follows is a recap of some of the key ingredient offerings and product concepts showcased at the event. For more, read Linda Milo Ohr's article on page 91, which details some of the ingredients that promise to help enhance the nutritional quality of foods and beverages. Check out the IFT15 News online show daily (news.ift.org) published during the three-day event, which includes stories about ingredient exhibitors and video interviews with ingredient experts. But most importantly, plan to join fellow food industry professionals next year at IFT16 in Chicago to see for yourself all of the exciting advancements in ingredient development.
Ingredion's Expansive Ingredient Lineup
Over the course of the three-day-long event, Ingredion, Westchester, Ill. (ingredion.us), showed off more than two dozen product concepts that demonstrated its wide range of ingredient offerings, from starches and fibers to sweeteners and pulses, and the variety of product categories in which its ingredients function. Many of the ingredients can function as label-friendly ingredients for manufacturers seeking to produce foods and beverages with shorter ingredient decks. Other ingredients help manufacturers increase the nutritional benefits of products, and these include everything from added protein with pulses to improved digestive health with prebiotics. Still more ingredients are available to add stability and improve the texture of products.
Several product concepts served at the Ingredion booth illustrate the versatility of the company's ingredient portfolio. HOMECRAFT Pulse 2102 flour made from yellow lentil semolina and VITESSENCE Pulse 3600 faba bean protein gave a protein boost to Vegan "Meatballs," while NOVATION 5600 functional native starch contributed to the structure. VITESSENCE Pulse 3600 was also used for protein fortification in a Protein Pack Chocolate Smoothie. ENLITEN reb A stevia provided sweetness, and COYOTE BRAND GUMPLETE BV111 helped to develop a creamy texture and improved suspension of other ingredients. Watermelon Agua Fresca featured NUTRAFLORA prebiotic soluble fiber, which is said to provide digestive health benefits and support bone and immune system health.
To replace gluten in Gluten-Free Pita Bread, PRECISA Bake GF starch and HOMECRAFT Pulse 4101 chickpea flour were used. The starch is a drop-in flour replacement that is said to prevent grittiness or crumbling. The chickpea flour replaced some of the wheat flour and provided protein. The bread also featured HI-MAIZE 260 resistant starch, a dietary fiber that the company reports may provide benefits for healthy blood sugar and weight management. One of several sweet treats that the company served was Cassis (Black Currant) Dessert Spring Rolls. In this product concept, modified food starches were the key Ingredion ingredients. ULTRA-SPERSE 3 instant agglomerated tapioca starch developed upfront viscosity, PENNOVO 00 enzymetreated starch replaced egg whites, and NATIONAL 104 tapioca-based pregelatinized starch provided heat and acid stability.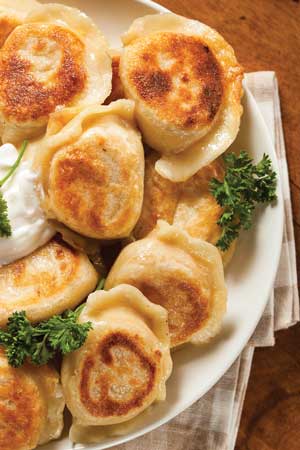 Going With the Grain
As companies move to reformulate products to incorporate more whole grains, Didion Milling, Johnson Creek, Wis. (didionmilling.com), offers options for those seeking to add fiber while steering clear of gluten. Didion's Harvest Gold whole grain corn flours are dry-milled and preservativefree as well as naturally gluten-free. Didion developed whole grain corn flour in response to a request from a leading cereal maker, but its use isn't limited to cereals. Mintel GNPD data show that a total of 97 new food products made using whole grain corn flour as a primary ingredient were launched between 2010 and mid-2015. At IFT15, Didion served up a healthier version of pierogis, the traditional Polish dumpling delicacy. Didion offered breakfast, lunch/dinner, and dessert varieties made with whole grain corn flour, corn bran, and pregelatinized corn flour.
IFF Demonstrates Flavor Capabilities
International Flavors & Fragrances, New York (iff.com), offered a number of product concepts made with flavorings not only from its broad ingredient portfolio but also from the recently acquired Ottens Flavors.
IFF organized its booth into several stations that highlighted flavorings for sweet, savory, dairy, and beverage applications. Chocolate was the perfect medium to demonstrate the complexity of the company's Natural Artisan Vanilla flavor, which is a new development from its Always Vanilla program. What makes this flavor special is that it elevates the classic bourbon Madagascar vanilla extract by intensifying the aged, rummy notes. For those who prefer something savory, IFF served pico de gallo and jalapeño-seasoned chips. The seasoning blend featured pico de gallo's components of tomato, citrus, and onion, and it also incorporated IFF's proprietary spray-dry jalapeño flavor for authentic flavor with a hint of heat.
Continuing along the savory line, a lemon dill Greek yogurt dip illustrated how Greek yogurt has moved from being a sweet treat to a savory indulgence. The product concept developed by IFF blended the herby flavors of dill with the citrus tang of lemon.
Finally, after sampling the product concepts, thirsty attendees tried citrus-herb sparkling water and pear-ginger iced tea. The first showed how flavored sparkling water can function as a healthier alternative to high-sugar sodas and juices. Flavorfit Sweet sweetness modulator helps to improve the overall taste perception, sweet/acid balance, flavor performance, and body and mouthfeel of reduced-sugar beverages, according to the company. The second beverage concept was flavored with pear and ginger flavors, which are trending flavors for products such as ready-to-drink tea.
--- PAGE BREAK ---
Cargill Develops Traceability Program
Recognizing that consumers are interested in understanding where their food comes from, Cargill, Minneapolis (cargill.com), has developed a program to tell the story.
The Knowing Your Roots: From Farm to Table program will document the journey of canola seeds from seed development to the final high oleic canola oil used in foodservice and food product development and everything in between, including the farmers who plant the seeds and grow the canola and oil processing and packaging. "The program will document the entire traceable supply chain to our customers, and in turn to consumers," said Kristine Sanschagrin, marketing manager of Cargill Specialty Seeds and Oils.
While Cargill will document the entire supply chain and make the information available, it is expected that consumers will probably be most interested in the relationship with the farmers, said Sanschagrin. "We want to help our customers and consumers better understand agriculture and better understand what a farmer goes through."
The program, which will officially begin on Oct. 1, will involve a process of documenting every aspect of the high oleic canola supply chain and making the documentation available to Cargill customers, who can promote the information that their customers find the most interesting, explained Sanschagrin. This could mean telling consumers more about the region where the canola was grown through messaging on food packaging, for example. Sanschagrin added that Cargill has received positive feedback from customers, with some saying that they do not know of any other company like Cargill that is doing this.
Cargill is both a seed company and an edible oil supplier that manufactures salad and cooking oils, shortenings for baking and frying applications, specialty shortenings that offer specific functionalities for targeted applications, and high oleic oils and shortenings that offer such benefits as trans fat–free or added omega-3 fatty acids. New trait development continues, and the company is working on new oil ingredients to release in the near future, said Sanschagrin. "We're continuing to bring healthy oils to the market for our customers and their consumers."
Power of Pulses
With the United Nations deeming 2016 the year of the pulse, USA Dry Pea & Lentil Council, Moscow, Idaho (pealentil.com), had plenty to promote at IFT15. The council communicated the benefits that protein derived from pulses present, such as clean label opportunities. It sampled a pea protein isolate bar covered in chocolate at the booth and conducted a Cooking Up Science session. Focusing on how pulses can be used for creating indulgent products, the council offered recipes for dishes such as Za'atar-Spiced Crispy Chickpeas, Split Pea Hummus, and Peanut Butter Chocolate Chip Dessert Hummus. In addition, it provided information about the nutritional benefits of pulse flours, particularly in gluten-free applications.
ADM Celebrates Its Expanded Portfolio
"We viewed this IFT event as the coming out party of the recent acquisitions that we've made," said Lesley Nicholson, project manager of WILD Flavors & Specialty Ingredients Group at ADM, Chicago (adm.com/food). Integrating the portfolios of WILD Flavors & Specialty Ingredients and Specialty Commodities into the ADM range of ingredients greatly increased the number of ingredients and the different types of ingredients the company offers. "We have so many more options to customize and to help develop different products," added Nicholson. "There were lots of synergies involved with these acquisitions."
ADM manufactures grains, soy, nuts, legumes, flavors, flavor enhancers/modifiers, colorings, soy, oils, sweeteners, fiber, gums, cocoa powder, and preservatives. With such a complete range of ingredient offerings, the company "can start at the beginning with customers and help them formulate to the latest trends," said Nicholson. The trends addressed included vegan, gluten-free, added (stealth) nutrition, portable nutrition, protein, and snacking. These were reflected in the product concepts that ADM food technologists developed. Nicholson pointed out a few key product concepts like Vegan Rich Vanilla Soft Serve and Iced Cinnamon Roll Protein Smoothie. These are made with isolated soy protein and soy protein isolate, respectively, which can impart a slight off-flavor to products, but they also contain naturally derived flavors to mask off-flavors. These ingredients used for flavor modification came to ADM via its acquisition of WILD. The Cool Beans Veggie & Fruit Smoothie concept is an on-trend 100% fruit juice blend with protein, thanks to black beans. A vegetarian and gluten-free Chilled Thai Carrot Soup was a market-ready option for culinary applications. There was even one product concept—Orchard Fruit & Nut Bar—in which all but one (salt) of the 15 ingredients was an ADM ingredient, truly illustrating how comprehensive ADM's ingredient portfolio is, remarked Nicholson.
Clearly Beautiful Brewed Teas
Made with tea sourced from around the globe, brewed tea extracts from Amelia Bay, Johns Creek, Ga. (ameliabay.com), are free from sedimentation, clouding, and off-flavors. Amelia Bay uses specialized extraction methods and a closed, continuous brewing process to capture tea's authentic profile, including flavors, volatiles, and top notes, said John Harper Crandall, the company's vice-president of sales. Tea is the second-most-consumed beverage on the planet, and according to Crandall, ready-to-drink beverage developers are increasingly opting for brewed tea instead of soluble tea powders thanks to its fresh taste and clean label appeal.
Amelia Bay sampled a half tea/half lemonade combination beverage, a lightly sweetened black tea, and a brewed 100% Columbian coffee latte. Tea/lemonade combinations are a fast-growing category, and sugar-reduced teas appeal to health-conscious beverage lovers, Crandall said. In addition to sampling at its food expo booth, Amelia Bay treated IFT15 attendees to refreshment breaks as they waited for shuttle buses and taxis at McCormick Place.
Enhancing Flavor
Biorigin, Louisville, Ky. (biorigin.net), demonstrated the strengths of its flavor enhancers through a series of taste tests at its booth. Its new BioSavour natural flavoring enhanced the tomato and salty perception and tomato juice notes in a bloody mary, which allowed for a 60% reduction in sodium. Biogard D, another new ingredient, added matured cheese notes to cream cheese, and the ingredient's organic acid composition also helps inhibit yeast and mold growth. Bionis YE DRK, a dark brown yeast extract with a robust brown profile, enhanced the overall flavor of a brigadeiro, a traditional Brazilian truffle that paid homage to the company's South American roots.
Showcasing Soy
Soybeans were highlighted in two forms by the United Soybean Board, Seattle (soyconnection.com). A fresh corn, tomato, and avocado salad starring whole soybeans was accented by a vinaigrette that contained soybean oil and lime. On its website, the board provides recipes like this that promote soybeans' use, as well as information about how soybeans and soybean oil can promote health. In addition, the board had a soybean farmer on hand at the booth, as well as oil and protein experts. The United Soybean Board also sponsored several events held during IFT15, including a panel discussion that provided insights into the supermarket shopper.
--- PAGE BREAK ---
Specialized Heat
Wearing distinctive black shirts around the expo floor, employees of Kalsec, Kalamazoo, Mich. (kalsec.com), promoted the company's new ghost pepper extract, one of three new chili pepper varieties that have been added to Kalsec's specialty pepper line. Most of the peppers in this line are expeller-pressed without solvents in Southwest Texas and are not genetically modified (non-GM), and organic varieties are available. These peppers—which also include cayenne and pasilla—were added to help answer consumer desire for specialized heat. Their flavors were demonstrated in several applications at the show, including Chimichurri Kettle Corn with Ghost Pepper Cashews, Dill Pickle and Ghost Pepper Peanuts, and Chimichurri Cayenne Pepper Almonds.
In addition, the company shared its latest consumer market research on clean labels. According to Gary Augustine, executive director, market development, consumers do not want artificial ingredients in their products, and the research shows that two out of three respondents indicated "no artificial ingredients" claims are important or very important in their purchasing decisions. Additionally, consumers particularly want to avoid artificial ingredients in meat and poultry, dairy products, and cereals.
Foods Get a Makeover From Jungbunzlauer
Chicken nuggets made with sub4salt and ice cream made with Erylite were offered by Jungbunzlauer, Newton Centre, Mass. (jungbunzlauer.com). The sub4salt ingredient is a patented blend of mineral salts for more than 35% sodium reduction in products. The company also reports that the ingredient can help ensure food safety and increase shelf life. Another benefit is that it does not affect the taste of the finished product. The chicken nuggets were served with Reduced-Sodium Roasted Red Pepper Sauce and Country Road Smoky BBQ Sauce, both formulated with sub4salt plus 50, a blend of sodium chloride, potassium chloride, potassium gluconate, and potassium citrate. The ice cream was sweetened with Erylite, a blend of erythritol and stevia. The zero-calorie bulk sweetener provides a sugar-like taste without the use of masking agents or flavors.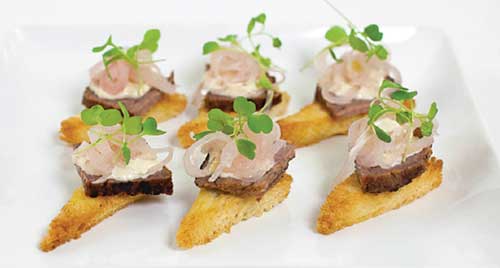 Morton Salt Debuts New Salt Ingredient
Morton Salt, Chicago (mortonsalt.com), has been producing salt for more than 160 years, and in that time, it has become an industry leader in food-grade salt ingredients. At the IFT15 expo, the company launched its newest ingredient, Morton PureSun Culinary Crystals, which join a portfolio of more than 50 salt ingredients. PureSun Culinary Crystals are produced from salt harvested from the Great Salt Lake using a solar evaporation method at Morton Salt's facility in Grantsville, Utah. Use the salt in soups, sauces, and snacks.
In addition to introducing the new ingredient, Morton Salt presented eight product concepts ranging from snacks to meat made with some of the other salt ingredients it offers. Some of the highlights were Root Vegetable Chips dusted with granulated sugar and a blend of KaliSel KCl and Star Flake Dendritic Salt; Seared Beef with Pickled Shallot, which featured shallot pickled with Morton Refined Sea Salt and a garnish of Morton Top Flake Topping Salt; and Nutella Popcorn coated with Morton Flour Salt. Morton Top Flake Topping Salt was used in Pistachio Nut Cluster and Black Garlic Rice Cake with Corn Salsa product concepts while Morton White Pretzel Medium Salt was used to top Wasabi Pretzel Nuggets and Sriracha Honey Dusted Pretzels. A blend of KaliSel KCl and Morton Refined Sea Salt helped reduce sodium in Chipotle Ranch Dressing.
Beverages and Bars Focus on Five Trends
Five trends are dominating the food industry, affecting everything from the types of ingredients used in products to consumers' purchasing habits. These five trends, identified by researchers at Virginia Dare, Brooklyn, N.Y. (virginiadare.com), as free-from, natural, clean label, sustainable, and protein, were the focus of the company's product concepts distributed at its booth.
Ready-to-drink tea (tea extracts and tea concentrates are key ingredients in Virginia Dare's portfolio), a protein shake, and bar product concepts focused on appealing to consumers who want products made with naturally derived ingredients rather than synthetic ones, have ingredients that contribute to clean labels, are produced with sustainability in mind, and/or are formulated with protein. They also showcased the company's three newest ingredients: certified organic liquid green and black tea extracts and Japanese matcha. The teas developed by the food technologists were Lime Matcha Green Tea, Jasmine Matcha Green Tea, Apple Green Tea, and Ginger Black Tea. Three other product concepts—a Chai Flavored Tri Blend Protein Shake, Lime Cilantro Flavored Fruit & Nut Bar, and Lemon Ginger Flavored Fruit & Nut Bar—were formulated for the health and wellness product sector. Each contained added protein, with the shake formulated with a blend of pea, hemp, and brown rice proteins.
Celebrating 150 Colorful Years
D.D. Williamson, Louisville, Ky. (ddwcolor.com), celebrated its 150th anniversary with a cocktail party during IFT15 to recognize its "colorful past [and] brilliant future." Its booth featured a wide array of examples of the colors the company can provide in a variety of applications. These included fruit-on-the-bottom yogurt, extruded cereal, panned candy, and pet food. Drawing on a century and a half of expertise, the company also promoted several new innovations. Its Simply Brown line of caramelized fruits and vegetables can provide natural browns with clean label potential; its newest ingredient in this line, caramelized pumpkin, was shown in granola. DDW's oil technology, meanwhile, coverts water-soluble caramel and natural colors for use in lipid systems and powder plating applications without needing emulsifiers. This technology allows manufacturers to achieve natural colors in applications such as sweet and savory fillings, popcorn, bouillon, and compound coatings, and it was demonstrated at the show in colorful accents atop dog treats.
Bunge Focuses on Oils, Ancient Grains
Bunge North America, St. Louis (bungenorthamerica.com), a well-known manufacturer of edible oils, has a range of non-PHO options with low saturates for food manufacturers that need to remove trans fat from products. These shortenings and oils have been available to the industry for at least a few years now, remarked Dilip Nakasi, director of innovation, and new ones are in development thanks to technologies like triglycerides mismatch and enzymatic interesterification. So as the company highlighted ingredients from its UltraBlends, PhytoBake, and Nutra-Clear HS lines that allow manufacturers to remove trans fat and reduce saturated fat in products, it also focused on ingredients that address another important trend in food processing, that of formulating with different types of grains to bring texture, flavor, and nutrition to products.
Bunge recently begun milling operations for ancient grains, specifically sorghum, millet, and quinoa. More emphasis is on millet and sorghum because the company can leverage its relationships with farmers and get a consistent crop without having to do any importing (both are grown in the United States), said Jake Schneider, associate product development manager at Bunge. But the company is including quinoa in the mix because it recognizes that quinoa is one of the most popular ingredients in the ancient grains category. The ancient grains will be processed into different forms, like flour, for example. Schneider explained that Bunge is using direct extrusion and pellet extrusion, or half-cooked extrusion, to produce crisps for use in bar applications or add-ins to products like yogurt, as well as rings that are partially cooked, allowing the end processor to puff them up with air or oil.
A Better Brew
One of the newest ingredients that RiceBran Technologies, Scottsdale, Ariz. (ricebrantech.com), showed at the IFT15 expo is designed to add improvements to brewed beverages. Proryza Brew, which was actually launched in January 2015, is a coarse granulated ingredient derived from the bran layers and germ of brown rice. "We discovered that certain components in our rice bran helped to pull out the natural flavor in hops," explained Mark McKnight, senior vice-president of sales and marketing at RiceBran. "A brewer can put this ingredient into a mash in making beer and have a more distinct flavor profile and save money because this ingredient costs less than hops." Brew masters can use a certain percentage of Proryza Brew in place of hops or add it along with the original amount of hops. The ingredient can also be added to ground coffee at 0.3% and brewed as usual to help improve coffee flavor extraction.
Rice bran contains healthy fats, and it is these fats that help to pull out the natural flavors of beer and coffee, McKnight added. "Fat carries flavor, and that's really a key function." The ingredient declaration is "stabilized rice bran" or "rice bran."
ADM Cocoa Introduces New Cocoa Powder
Alkalization, or "Dutch processing," is a process where cocoa nibs are treated with an alkali solution of potassium carbonate or sodium carbonate to neutralize the acidity, remove astringent cocoa flavor, and develop colors from red to light brown to dark brown in cocoa powder. The industry has used this method since its development in the early 1800s. Currently, products made with what is called Dutch-processed cocoa are labeled "cocoa processed with alkali." Some of today's consumers are scrutinizing food and beverage labels more than ever and want shorter ingredient labels with easy-to-understand ingredients. To meet these demands, ADM Cocoa, Milwaukee (adm.com), debuted TRUEDARK, a nonalkalized dark cocoa powder released under its deZaan brand.
The company manufactures two types of cocoa powder: natural cocoa powder that is light brown in color with chocolatey and fruity flavor notes and alkalized cocoa powder that is darker in color and stronger in flavor. With the introduction of TRUEDARK, ADM Cocoa offers product developers an alternative that gives them a nonalkalized cocoa powder with a darker color and more balanced cocoa flavor, the same as alkalized cocoa powder, said Adam Lechter, director of technical services, North America, at ADM Cocoa. Attendees had the chance to compare the color and flavor for themselves by trying a trio of ice cream samples, each one made with one of three types of cocoa powders: TRUEDARK, natural, and alkalized.
Lechter emphasized that there is nothing wrong with the alkalization process; the company decided to develop TRUEDARK, which it believes to be the first-to-market cocoa powder of its kind, to satisfy the needs of product developers who want to make natural claims and shorten their label declarations. The ingredient, which took about two years to create, is produced using supercritical carbon dioxide with no solvent extraction used, added Lechter.
--- PAGE BREAK ---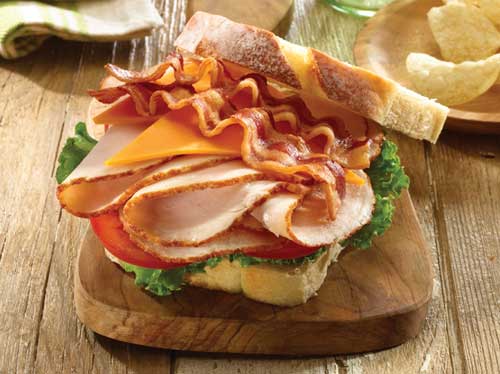 Corbion Offers Varied Ingredient Solutions
Ingredient introductions from Corbion, Lenexa, Kan. (corbion.com), promise to improve the shelf life and safety of certain meat products and replace emulsifiers that contain PHOs.
Two ingredients for use in ready-to-eat and raw meat and poultry products are part of the Verdad Advanta line. The first, Verdad Advanta F100, helps extend the shelf life of raw and processed meats like sausage. "The F in F100 stands for freshness," said Tom Rourke, senior business development manager at Corbion. "Apply this to your fresh ground sausage or meat products and you don't have to worry about freshness." The ingredient is made from vinegar powder to extend the shelf life and jasmine tea extract to inhibit oxidative rancidity and extend the shelf life of the color of the product, added Rourke. The second ingredient, Verdad Advanta Y100, functions in ready-to-eat meat products by providing maximum yield, controlling Listeria, and improving texture and sliceability. Rourke emphasized that the ingredient, which is made from vinegar powder and citrus flour, can give cooking yield improvements anywhere between 3% and 9%, depending on the application.
To help food manufacturers reformulate products without PHOs, Corbion offers a new line of non-PHO emulsifiers called Ensemble. Corbion has been involved in the development of emulsifiers since the 1950s, said Jim Robertson, category manager, emulsifiers. "Some of the emulsifiers we've made have revolutionized the industry, so we view ourselves as a pioneer in emulsifiers." Three that were highlighted at the IFT15 expo were BFP 550 for texture and flavor maintenance in bakery, caramel confections, whipped toppings, and shortening; Alphadim 570 for stability over the shelf life of ice cream, imitation sour cream, whipped toppings, and pudding; and Starplex for better flow and improved machinability and throughput in breads, tortillas, cereal, imitation cheeses, and pasta. All three are drop-in ingredients.
Heighten Umami Taste With Less Sodium
Even though some consumers are looking for less sodium or less gluten, they are not willing to compromise on taste. Kikkoman's Less Sodium Gluten-Free Tamari Soy Sauce (40% less) delivers the rich savory flavor of soy sauce with less salt and without gluten, making it a great addition to many gluten-free foods. Even though soy sauce is associated with certain Asian cuisines, more and more effort is being made by companies like Kikkoman Sales USA, San Francisco (kikkomanusa.com), to show product developers and foodservice operators that soy sauce and many other Asian ingredients that it manufactures function as delicious flavor enhancers in sauces, meat and poultry products, breads, soups, and more. "That's why we used it in a Southwest Chile-Lime Beef dish," said Elizabeth Gibson, coordinator of foodservice and industrial marketing at Kikkoman Sales. The Latin cuisine–style application is definitely one that is not associated with Asian cuisines. The Less Sodium Gluten-Free Tamari Soy Sauce helps to reduce added sodium and boost salty and umami flavor notes. The company does not dilute the product to reduce the sodium, stated Gibson. Rather, it employs a proprietary soy sauce fermentation process in which all the rich flavor nuances of the sauce develops and removes 40% of the sodium after brewing.
In addition to the Southwest Chile-Lime Beef product concept, Kikkoman Sales developed Sriracha Ranch Dip with its Sriracha Hot Chili Sauce ("We've had sriracha for a few years, but the sriracha trend isn't going away based on what we're seeing," said Gibson), and NFE Natural Flavor Enhancer, which is produced from its soy sauce. Another product concept developed for the IFT15 expo was Teriyaki Popcorn featuring Granulated Gluten-Free Tamari Soy Sauce and Salted Mirin.
Boost Savory Sensations
Ajinomoto North America, Itasca, Ill. (ajiusafood.com), manufactures a range of yeast extracts under the Savorboost line to enhance savory and umami flavors in snacks, soups, sauces, and more. Savorboost U enhances the upfront umami flavor, Savorboost F delivers both umami and kokumi flavors, and Savorboost K lends a rounded background savory flavor. The company demonstrated the savory-boosting effects of the yeast extracts in four product concepts available for sampling. The chicken broth made with the yeast extracts gave a full-bodied umami and kokumi flavor impact to Vietnamese pho. The yeast extract brought another layer of richness to meat seasoned with taco seasoning and served with tortillas. Another meat product concept—grilled jerk chicken—had layers of flavors like spice and smoke that were given an additional jolt with Savorboost. Alfredo sauce, the only nonmeat offering enhanced with Savorboost—showed how a thick and creamy application filled with rich dairy flavor notes is taken to another level with the addition of yeast extracts.
Almonds Continue Dominance as Consumer Pick
For the eighth year in a row, almonds were the top nut used in new product introductions around the world, according to Molly Spence, regional director, North America, at the Almond Board of California, Modesto, Calif. (almonds.com). Data from the 2014 Innova Global New Product Introduction Report, as reported by the Almond Board, indicates that six categories (snacks, bars, confectionery, cereal, bakery, and desserts and ice cream) represent 92% of all almond introductions around the world.
The bar category in particular is the most popular category for almond inclusion in North America. Both the Innova Market Insights research and consumer research that the Almond Board conducted in 2014 show that almonds are the top ingredient in bars. "We surveyed consumers on what their favorite ingredients in bars were, and almonds were the No. 1 ingredient that they wanted to see in bars—not just nuts, but out of all ingredients," said Spence. In response to this, the Almond Board created the Perfect Snack Bar for the IFT15 expo. "The reason that we called it Perfect Snack Bar is based on research we did that asked consumers what their perfect ingredients would be in bars," explained Spence. The five cited most by the consumers—almonds, almond butter, dark chocolate, coconut, and oats—were used in the bar.
Of course, almonds can be used in whole or sliced forms in bars and other applications, but other forms like almond butter and almond flour are increasingly popular. The Almond Board showed how versatile these ingredients are in bars, beverages, and more. Almond butter and water were blended to create an emulsion and serve as the base for Spiced Almond Milk, which was flavored with turmeric, ginger, cinnamon, cardamom, clove, honey, and vanilla bean. In the Matcha Almond Fudge Bar, almond butter and almond flour were used to mimic fudge. The almond butter replaced the butter found in a traditional fudge recipe. The confection also contained two popular ingredients: matcha powder and chia seeds. The Almond Board chefs demonstrated how almond ingredients could be used to formulate an interesting twist on a classic snack, the chip. Using almond butter and almond milk along with a few other ingredients, they formed a mixture that was steamed, cooled, sliced, dehydrated, and then fried until the slices puffed slightly to create Spiced Dusted Almond Chips.
New Fruit Inclusions Offer Better Shelf Life
Welch's Global Ingredients Group, Concord, Mass. (welchsgig.com), promoted its new FruitWorx line of fruit inclusions made from Welch's Concord grape juice and puree. "Now we can take a Concord grape and put it in applications that we could not before," said Wayne Lutomski, vice-president of international and global ingredients at Welch's.
The little fruit pieces in forms like strings, flakes, and squares are produced using the company's ultrarapid concentration process. This process creates pieces that have a long shelf life and helps minimize water migration out of the pieces into the food product, stated Lutomski. They are 100% fruit and do not contain added sugar, although Lutomski said that sugar can be added if a customer requests it. Welch's produces FruitWorx made from grapes, other fruits like apple or apricot, or a combination of these.
Manufacturers of cereal, cookies, bars, and confections can use FruitWorx to add flavor and texture to their products. Lutomski added that the company also offers a paste under the FruitWorx line that manufacturers can use in ice cream and yogurt.
Taking a New Look at Stevia
Two new sweeteners made from 100% stevia glycosides were showcased in beverage and dairy applications. PureCircle USA, Oak Brook, Ill. (purecircle.com), produces Sigma T for use in ready-to-drink tea beverages and Sigma D for use in dairy applications. For each ingredient, the company's scientists created proprietary blends of different stevia glycosides specifically to function in tea beverages and dairy-based products, said John Martin, global director of technical development and innovation at PureCircle. He explained that scientists have many more stevia glycosides available to them beyond the original one, reb A. Reb A is very sweet, but it imparts a strong licorice-type aftertaste. Now scientists are developing new stevia sweeteners like Sigma D and Sigma T by combining the glycosides in ways to provide more upfront sweetness, reduce astringency, or allow for a deeper reduction in sugar.
The company achieved a 50% reduction in sugar in chocolate mousse formulated with Sigma D. A ready-to-drink Arnold Palmer tea beverage had a 40% reduction in sugar thanks to Sigma T. Both ingredients are part of the company's Matrix Solutions category-specific ingredients.
--- PAGE BREAK ---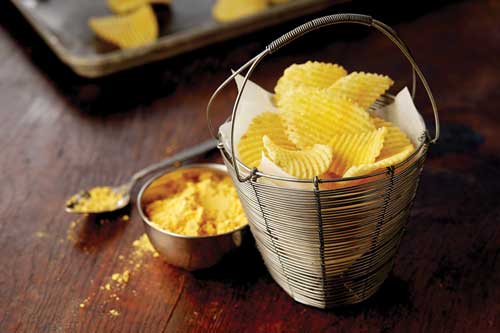 More Than Just a Hot Sauce
Jud McLester, chef at Tabasco Brands/McIlhenny Co., Avery Island, La. (tabascoingredients.com), developed several different product concepts to illustrate the versatility of Tabasco ingredients, including the new Tabasco Brand Spray Dry Flavor and the company's flagship product, Tabasco Brand Original Red Sauce.
The Tabasco Brand Spray Dry Flavor is a concentrated flavor that enhances foods and beverages with the characteristic taste of Tabasco Brand Original Red Sauce in a convenient dry format. It is made from Tabasco pepper mash, distilled vinegar, salt, and maltodextrin and gives products vinegar and aged fermented notes. McLester combined the ingredient with a ranch seasoning on potato chips.
Tabasco Brands/McIlhenny also manufactures seven different Tabasco Brand sauces in a range of flavors and heat levels. McLester developed a Crab and Corn Chowder with the company's Original Red Sauce and what he called Mexican Sp-Iced Coffee with Chipotle Pepper Sauce to show how just a small amount of the sauces can enhance the savory and spicy flavors of other ingredients and, in turn, the entire product. The final product concept was Jalapeño Ice Cream with Habanero-Pineapple Topping and Toasted Coconut, illustrating how the distinctive flavors of these two peppers can move beyond savory applications into sweet ones.
A Flavorful and Colorful Journey
A blend of ingredients that give foods an umami flavor, African Basil Water and Maple Mirch Mini Corn Muffin product concepts, and colorful samples on display were some of the items that showed the capabilities of the three business units of Sensient Technologies, Milwaukee (sensient.com).
Umami Natural from Sensient Natural Ingredients, Turlock, Calif. (sensientnaturalingredients.com), is a proprietary blend of naturally derived ingredients that delivers well-rounded savory and brothy tastes to foods. The new ingredient is made of vegetable powders, making it a label-friendly replacement for monosodium glutamate (MSG) or autolyzed yeast extract (AYE), says Jean Shieh, marketing manager at Sensient Natural Ingredients. Umami Natural has far less sodium than MSG and AYE (100 g of Umami Natural has 381 mg of sodium vs. 12,300 mg of sodium for MSG and 4,460 mg of sodium for AYE, according to Sensient).
Sensient Natural Ingredients is also capitalizing on the popularity of Indian cuisine by adding three Indian chili pepper varietals to its chili collection. Of course, these ground chili peppers can be used in traditional Indian foods, but product developers will find that these ingredients provide distinctive flavors to a wide variety of foods. The Indian chili pepper varietal collection features devanur chili, which is red brown in color with an earthy-nutty flavor and medium heat; byadgi chili, which has a pungent-sweet flavor and mild heat; and teja chili, which is the hottest of the three, is orange red in color, and has a smoky-sweet flavor. Calling out the varietal and giving information about it as the company has done touches on the authenticity of ingredients and foods that many consumers like to know, said Roger Lane, marketing manager of savory flavors North America at Sensient Flavors, Hoffman Estates, Ill. (sensientflavors.com).
The inspiration for the product concepts served at the Sensient Technologies' booth came from Sensient Flavors' Trends to Taste program, an annual look at ingredients and flavors that are influencing culinary and product development. The scientists at Sensient Flavors showed how some of the flavor trends for 2015 (African blue basil, cascara tea, desert wildflowers, everything bagel, falernum, maple mirch, salted satsuma, and smoked Chantilly) work in product concepts that address two microtrends: savory in motion and hybrids. Savory foods are quite delicious, and these flavors are moving beyond savory applications. Shieh remarked that we are seeing savory ingredients and flavors being used in applications like beverages, dairy foods, and desserts. Sensient Flavors showed Fennel Vanilla Iced Coffee with fennel vanilla flavor and a Dark Chocolate Mendicant made with African blue basil flavor. The hybrid microtrend shows how product developers and culinary professionals are going beyond using only sweet flavors and ingredients or savory flavors and ingredients and are using them together in foods and beverages for new flavor experiences, said Shieh. The combination of sweet maple syrup and the spiciness of mirch red chili pepper powder is one that really drew the interest of the company's food scientists. They developed a maple mirch flavor with sweet maple syrup notes and the overall flavors notes of not just the chili pepper but also of Indian spice akin to garam masala, explained Shieh. The flavor was featured in Maple Mirch Iced Coffee, Butter Chicken, and Maple Mirch Mini Corn Muffins.
As major food companies report that they will begin removing synthetic ingredients from their products, ingredient suppliers are stepping up efforts to meet the demand for naturally derived ingredients. In recent years, St. Louis–based Sensient Food Colors (sensientfoodcolors.com) has expanded its offerings of naturally derived colorings that promise to offer the necessary stability and consistency that food manufacturers need to successfully formulate products with these types of colorings. Its Microfine aluminum-free naturally derived line of colorings uses encapsulation technology and particle-size management that creates colorings that simulate synthetic lake colorings. The red and orange shades under its Pure-S Natural Colors line are produced in such a way that they do not impart off-flavors or odor notes to products. The company also manufactures Natural Blue, which produces blue shades and can be used to create green and purple shades, and Natural Brown, which comes in color ranges from yellow brown to deep auburn. Colorful powders and other samples were on display in cases throughout the booth.
Adding Fiber and Protein
MGP, Atchison, Kan. (mgpingredients.com), showed the potential of several of its ingredients during IFT15. High-Fiber Chocolate Chip Cookies drew on Fibersym RW resistant wheat starch to boost fiber and Arise 5000 wheat protein isolate for 100% egg white replacement. Arise isolates are low in cholesterol and can provide a minimum 85% protein content. The Meatless Chicken-Flavored Trumpet, meanwhile, incorporated TruTex Redishred 65. This versatile, cholesterol-free ingredient possesses a firm, meat-like fibrous structure when hydrated, and it imparts a pleasing taste that can be matched to the desired flavor of the finished product. The TruTex line is non-GM and can be used in a variety of applications, including crispy snack foods, breakfast cereals, and meat, poultry, and seafood enhancement.
Mizkan Extends Denatured Spirits Line
With the addition of spirits in food products and culinary applications a growing trend, Mizkan Americas, Mount Prospect, Ill. (mizkan.com), added two ingredients to its line of denatured spirits.
The first is a denatured porter ale, a dark brown beer with malt, coffee, and chocolate notes. This ingredient works well in sauces and glazes, especially those used for meat, where the distinctive flavor notes of porter stand up to the flavors of the meat. Garth Vdoviak, product development manager at Mizkan Americas, mentioned that the ingredient functions in the meat itself. But that is not to say the ingredient is only for meat applications. It works equally as well in cake batter, frosting, pie, bread pudding, baked beans, glazes for vegetables, soup, bread, and condiments, added Vdoviak.
The other ingredient Mizkan recently launched is denatured moonshine white whiskey. Moonshine is a trendy beverage in bars right now, and product developers are taking note and using it in everything from soups and stews to cheesecake and caramels. Customer requests drove the company to develop the ingredient, said Dave Sackett, executive director of sales and marketing at Mizkan, who added that moonshine "has moved from outlaw to trendsetter." The denatured moonshine has a tangy flavor with a bit of a sweetness to it. Sackett noted that moonshine ingredients have appeared on the menus of chain restaurants like Outback Steakhouse and in retail products. Attendees had the opportunity to try samples of Moonshine Crab Cake with Sherry Vinaigrette and Triple Sausage Moonshine Gumbo at the Mizkan booth.
Focus on Functions of Stevia, Erythritol Blend
Erysweet+ with stevia is a proprietary blend of erythritol and stevia that has nearly zero calories and is said to taste and function like sugar in baked goods, packaged meals, confections, fondants, fillings, condiments, sauces, and beverages. Steviva Ingredients, Portland, Ore. (steviva.com), developed the ingredient to help food manufacturers reduce calories and sugar in foods and beverages and maintain the necessary functionalities to produce products that consumers will enjoy. It is available in a 100 mesh fine powder version that dissolves quickly with virtually no sedimentation in beverages.
Thom King, founder and CEO of Steviva Ingredients, has been working with producers of hard cider to demonstrate how Erysweet+ with stevia can be used successfully in back sweetening the beverage. Back sweetening involves adding a sweetener to the fermented cider beverage to give it a sweet taste that was lost during fermentation. Some sweeteners can cause an undesired secondary fermentation in the cider while others can cause digestive issues in some consumers. King was able to use his ingredient in the hard cider production process to develop the proper sweet taste with no aftertastes or other issues.
Another popular application for Erysweet+ with stevia is bakery. The ingredient's heat stability reaches to 180°C (356°F), making it an alternative sweetener to sugar in many baked goods. The company served samples of brownies formulated with the ingredient that showed attendees how the ingredient helped produce a moist product that had a clean, sweet taste.
--- PAGE BREAK ---
Tate & Lyle Showcases Progress by Going Retro
As a throwback to the 1940s to celebrate the 75th anniversary of IFT's annual event, Tate & Lyle, Hoffman Estates, Ill. (tateandlyle.com), featured soda-shop favorites with a healthier twist.
The reboot of retro treats—root beer craft soda, low-sodium crispy french fry sticks, gluten-free German chocolate cake, and a reduced-calorie/reduced-sugar soft-serve ice cream sundae—was made possible by a number of ingredients from the Tate & Lyle portfolio.
"What you can expect from Tate & Lyle is continual delivery of innovative ingredients that are going to be on trend for consumers and that our customers are going to be able to use as different tools to create their products," said Michael Harrison, senior vice-president of new product development at Tate & Lyle. "The way we look at it is it's a toolbox, and we're continually adding additional things so that our customers can effectively create extraordinary food from extraordinary ingredients."
These ingredients, including DOLCIA PRIMA allulose, TASTEVA stevia sweetener, PROMITOR soluble corn fiber, PromOat beta-glucan, and CLARIA functional clean label starches, provided a range of functional benefits to the better-for-you product concepts. DOLCIA PRIMA allulose, the newest sweetener from Tate & Lyle, and TASTEVA stevia helped reduce sugar and calories in the soda and ice cream without affecting the taste. Both sweeteners are naturally derived, said Harrison, making them appropriate in products that target the clean label trend. PROMITOR soluble corn fiber has more than two times the digestive tolerance of inulin, according to Nancy Gaul, senior category manager of health and wellness at Tate & Lyle. It also helped improve the mouthfeel and reduce calories and sugar in the soda, provide bulk and texture in the German chocolate cake, and reduce sugar and improve the texture of the soft-serve ice cream.
PROMITOR and PromOat were used together in the french fry sticks to provide 5 g of fiber/serving. CLARIA starches function similarly to modified food starches but can be used in clean label formulas. Starches from this line helped thicken the white cheddar dipping sauce served with the french fry sticks, provide a moist texture to the gluten-free German chocolate cake, and create a thick and creamy frosting for the cake.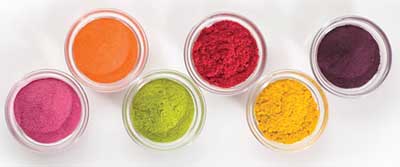 The Power of Powders
Product developers can increase the nutritional content and enhance the color and flavor of foods and beverages with fruit and vegetable powders from PowderPure, The Dalles, Ore. (powderpure.com). Produced through a patented drying process called InfiDri, PowderProduce fruit and vegetable powders are said to have good flowability and solubility and stability against oxidation. This is because the InfiDri process uses light to evaporate water molecules, not a vacuum or high heat like other processes, said Mark Savarese, CEO of PowderPure.
The powders come in a wide range of fruit and vegetable varieties for use in beverages, snack foods, sauces, soups, bakery, and dairy foods. There are also specialty powders like gochujang and sriracha. One of the benefits of the powders is their ability to help manufacturers add nutrients to foods and beverages because the process does not damage the vitamins and minerals in the fruits and vegetables, said Savarese. This is especially important, he explained, because it gives food manufacturers a cost-effective and clean label ingredient option to fortify packaged foods for the growing segment of health-conscious consumers.
At the company's booth, representatives served Pumpkin Pie Popcorn made with pumpkin powder, sugar, and spices; Rainbow Popcorn made with blueberry, raspberry, and strawberry powders; and Spicy Nacho Kale Chips made with sriracha powder, red bell pepper, apple cider vinegar, yellow miso, and garlic.
Taking the Show on the Road
David Michael & Co., Philadelphia (dmflavors.com), literally rolled into McCormick Place with its Great Escape to Innovate mobile innovation center, an RV fitted with a preparation and demonstration area, storage, and meeting space that allows the company to take a mini version of its Innovation Roadshow on an actual roadshow. The company served up some upscale tailgating fare formulated with flavorings from its wide-reaching lineup. Chicken bratwurst was served with a side of kimchi slaw. An almond-flavored sugar cookie followed for dessert. The beverage served was a decadent bourbon maple pecan pie milk shake sans alcohol. The bourbon flavor was courtesy of Michael-Thermics Natural Flavor Bourbon Type flavor.
A Range of Soy Solutions
CHS, Inver Grove Heights, Minn. (chsinc.com), promoted a range of its soy ingredients during IFT15. It presented its chicken and beef strip analogues in Asian-inspired sauces—Mandarin orange and Mongolian, respectively. According to Kara VanKleek, marketing director, processing and food ingredients, these prototypes were intended to show how close these sustainable, heart-healthy analogues can feel to whole-muscle meats. In foodservice applications, they can function as an extender; VanKleek reported that the company's foodservice customers commented that customers would not be able to tell they were not meat, especially when served over rice.
CHS also highlighted its soy isolates, which it demonstrated in two ways: it mixed the ingredient with plain water to show its neutral, nonbeany flavor, and it also mixed it into a vanilla-flavored shake. This ingredient is ideal both used on its own and as part of a blend, as soy and whey proteins are absorbed at different rates. Potential applications include drinks for athletes as well as meal replacement shakes.
Finally, CHS promoted its Honeysoy brand flour, which it included in a chocolate chip cookie. The ingredient, which is Non-GMO Project Verified, added 1 g of protein to each cookie, and it also extends shelf life, increases moisture, and can reduce cooking time and temperature, offering cost savings. According to VanKleek, CHS went through 41 dozen cookies in two hours on Monday afternoon.
Grilling Up Flavor
Springfield, Mo.–based French's Flavor Ingredients (frenchsflavoringredients.com) included its French's mustards and Frank's RedHot sauces, among other ingredients, in the prototypes it served at its booth. Naan bread was served with three globally inspired dips: a French's Dijon "B" Sandwich Spread featuring Dijon "B," an Italian Buffalo Aioli that included Frank's RedHot Original Cayenne Pepper Sauce, and a Curried Mustard Yogurt Sauce with French's Salad Style Yellow Mustard.
For its main courses, French's rotated its prototypes daily. On Sunday, the company served Buffalo Chicken Meatball Sliders made with Frank's RedHot Buffalo Sandwich Sauce and topped with blue cheese dressing and mozzarella. On Monday, Pulled Pork Tacos with Sriracha Mango BBQ Sauce were served over a jicama and cabbage slaw with a Sweet Ginger Slaw Dressing made with Frank's RedHot Asian Sweet Ginger Sauce and Frank's RedHot Sweet Chili Sauce. According to Trip Kadey, director of culinary, the company went through 75 lb of pork that day. Finally, Tuesday's prototype was a burger slathered with a Savory Wild Mushroom Butter infused with French's Rochester Sauce and served with the company's new French's Ketchup, which is made without high fructose corn syrup.
--- PAGE BREAK ---
Introducing Asenzya
At IFT15, Foran Spice Co., Oak Creek, Wis., unveiled its name change to Asenzya (asenzya.com) to better communicate its unique capabilities to customers, which extend beyond spices—the company can also provide customized seasoning blends, flavor solutions, finished product innovation, and functional ingredient solutions. To demonstrate some of these capabilities, Dax Schaefer, executive chef and director of culinary innovation for Asenzya, created a variety of prototypes for the expo, which were intended to showcase unique and thought-provoking flavors.
On Sunday, Asenzya served a Chicago Style Hot Dog Pizza that incorporated the company's pizza sauce seasoning, hot dog seasoning, and seasoning salt; the pizza was covered in hot dogs, yellow mustard, sport peppers, diced onions, pickles, green relish, and diced tomatoes. On Monday, Asenzya created a Korean Street Taco with Braised Pork Belly, which was served with Asian slaw and sriracha crema. This dish incorporated Asenzya's Asian braising marinade, Asian slaw marinade seasoning, and sriracha crema instant sauce. On Tuesday, the booth became a Mexican cantina, and Asenzya served a Yucatán-style barbecue Pork Pibil Empanada, which included pork pibil seasoning and cilantro and lime crema seasoning.
Matsutani Releases New Sweetener
Astraea allulose, a new sweetener developed by Matsutani America, Itasca, Ill. (astraea-allulose.com), promises to help manufacturers develop foods and beverages with reduced calories and sugars without negatively affecting taste, aroma, and color.
Allulose is found naturally in very small amounts in different foods (it is known as a rare sugar), but scientists at Matsutani in collaboration with researchers at Kagawa University in Japan have developed a process to produce allulose from various starches using specific enzymes, explained L. Steven Young, principal of Steven Young Worldwide and a sweetener expert who has worked with Matsutani on sweetener development projects.
Astraea has a sweetness level that is 70% of sucrose and contributes a trivial amount of calories to a finished product, said Young. The company featured the ingredient in a black cherry carbonated beverage and bite-size pieces of dark chocolate. In both, the company used a small amount of Fibersol-2 soluble corn fiber to improve the mouthfeel of the products. The beverage had a 33% reduction in calories without high intensity sweeteners or sugar alcohols. "The primary driver of sweetness is a combination of sugar and Astraea allulose," noted Young. The dark chocolate was made with 100% Astraea allulose and no other sweeteners, including sucrose. Young said that the combination of Astraea and a small amount of Fibersol-2 helped protect the chocolate from picking up moisture and becoming sticky or gummy.
The New Snack Time
Edlong Dairy Technologies, Elk Grove Village, Ill. (edlong.com), demonstrated how its dairy flavors can help snacks stand out. Its tasting menu, which it shared with the customers who met inside the café-themed booth, included innovative, on-trend snacks such as East-Meets-West Wasabi, Bean, Artichoke & Romano Dip and Chickpea, Almond & Brown Sugar Blondie Bites. The latter application included Natural Brown Sugar Flavor #601 WONF and Natural Vanilla Cream-Type Flavor #1411681, which helped mask the beany notes of the chickpeas. Compared with other brownie mixes, this application contained 33% less carbohydrates, more than 20% less sugar, and more than twice the amount of fiber and protein. An Un-beet-able Sweet Potato & Vanilla Rum Cocktail, meanwhile, contained Natural Vanilla Rum-Type Flavor #1412628 and Natural Milk-Type Flavor #1412172, which added richness and creaminess while masking the earthy notes from the vegetables.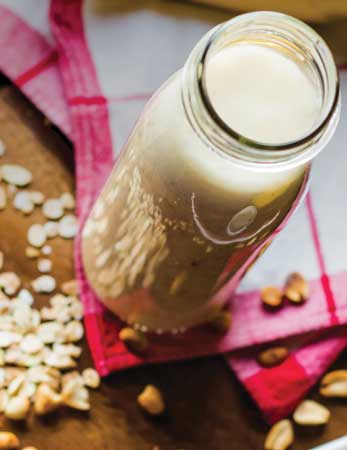 Gums Focus on Beverage Texture, Stability
With the growing emphasis on the beverage category, especially protein beverages and beverages formulated with label-friendly ingredients, TIC Gums, White Marsh, Md. (ticgums.com), prepared beverage product concepts with ingredients to help improve texture and stability.
Protein beverages continue to grow in popularity, but formulating them can be a bit of a challenge. Stabilizing protein and other ingredients is a concern. In low-pH ready-to-drink beverages, this is even more of a challenge, so TIC Gums developed two raspberry yogurt beverages, identical in formulation except for the stabilizer ingredient. Dairyblend Acidified Beverage 120, a blend of cellulose gum and apple pectin, helped to maintain a uniform color and reduce the perception of particulates. The other yogurt beverage was formulated with TIC Pretested Apple Pectin AM 800, an apple pectin that does not include cellulose gum, suitable for manufacturers who want to produce products with so-called cleaner labels. The apple pectin ingredient also helps to minimize the awareness of particulates, but it does produce a beverage that is slightly thinner in consistency and mouthfeel. Steve Baker, senior food scientist at TIC Gums, explained that a thinner drinkable yogurt beverage like the one he produced using the apple pectin ingredient is preferred by consumers in China. He added that what American consumers like in terms of product texture varies from market to market.
The second set of beverages TIC Gums featured was made with stabilizer ingredients that suspended not only the added protein in the form of oat powder but cinnamon particles, too. Ticaloid Pro 571 SET and Ticaloid Pro 148 OG (organic) helped prevent a gritty texture and astringent flavor in the high protein cinnamon oat ready-to-drink beverages and provided a high degree of mouthcoating.
The company has also begun producing a series of videos that describe all things gums. "The videos are targeted to the end consumer to educate them about what gums are, where they come from, where they're sourced from, and where their names are derived from," said Corie Beyers, marketing communications supervisor at TIC Gums. The company has received plenty of positive feedback from its customers who are particularly glad that TIC Gums is providing authoritative information in a user-friendly way, she added.
PHO-Free Oil Alternatives
QUALISOY, Seattle (qualisoy.com), a collaborative effort among members of the soybean industry to bring new soybean traits to market, demonstrated opportunities that high oleic and interesterified soybean oils provide for frying and baking applications. At the booth, Emily Ellyn, a winner of the Food Network's Cupcake Wars competition, prepared funnel cake cupcakes topped with pieces of dough fried in high oleic oil. She also conducted a Cooking Up Science demo.
QUALISOY consultant Richard Galloway led a panel discussion during Sunday's scientific session titled "High Oleic Vegetable Oils: Comparative Functionality Testing Results," which shared findings from new comparative functionality and sensory testing studies of high oleic vegetable oils and other high-stability oils to help food technologists understand the functionality and performance differences between them, particularly as they try to remove PHOs from their products.
Promoting a New Ancient Grain
It seems that sorghum has literally been popping up everywhere recently—its grains burst into tiny "popcorn" that can be eaten on its own or incorporated into products such as Kind Popped bars. At its booth, the United Sorghum Checkoff Program, Lubbock, Texas (sorghumcheckoff.com), showed the gluten-free, non-GM ancient grain in these forms, as well as in a range of dishes prepared with Wondergrain, a brand of sorghum made from a grain variety that offers a soft bite and quick cooking time.
Available in pearled and whole grain, whole sorghum can be cooked and frozen without affecting the grain's quality or becoming soggy, making it an easy ingredient to incorporate into soups, bean dishes, and stir-fries. Food Network star Marc Forgione showed how sorghum can be incorporated into meals during a Cooking Up Science session, creating a Popcorn Shrimp dish in which he transformed popped sorghum into "grits." Afterward, Forgione signed aprons for attendees at the booth.
Sorghum is available in a variety of forms, including black sorghum, which provides high levels of antioxidants and other phytochemicals. Sorghum, particularly tan/white varieties, can also be turned into flour, flaked for inclusion in cereals and granola, and milled into bran. Its liquid form, sorghum syrup, is a molasses-like sweetener that can be used in products such as sweet teas or simply drizzled onto breakfast favorites such as waffles and pancakes.
--- PAGE BREAK ---
100 Years of Little Blue Dynamos
In 1916, after years of work spent identifying the best varieties for crossbreeding, Elizabeth White and Frederick Coville sold the first commercial crop of blueberries. One hundred years later, the U.S. Highbush Blueberry Council, Folsom, Calif. (blueberrycouncil.org), celebrated the success of what it calls "little blue dynamos" at IFT15. The council presented attendees with a slew of research related to the berries, including consumer trends, nutritional benefits, and a roundup of papers available online within the Blueberry Research Library (blueberrytech.org). The council also had samples of blueberries available at its booth in a variety of forms, including fresh, dried, and powdered.
'Meating' the Challenge
At IFT15, Kemin, Des Moines, Iowa (kemin.com), spotlighted the meat- and poultry-preserving qualities of its rosemary and green tea extracts. These natural plant extracts help preserve the appearance, taste, and quality of meat while delaying color and flavor degradation—and they can be labeled simply as natural flavors. During the expo, the experienced Kemin team displayed its expertise in creating complete shelf-life solutions and controlling food safety issues. Its food safety solutions, which include buffered vinegar and acid-based products available in liquid and no-sodium options, provide protection from Listeria, E. coli, and Salmonella with no negative effects on meat quality, including water-holding capacity, protein denaturation, color, and flavor. These products can be added directly to meat or used in brines, marinades, and spice blends.
Gains in Grains
At its Mobile Innovation Center on the show floor, Ardent Mills, Denver (ardentmills.com), promoted its range of high-performing flours in a rotating menu of sweet and savory dishes. Sprouted White Spring Whole Wheat Flour was featured in a Toasted Crawfish Roll, Sugar Cookie, and Stuffed Bagel Bomb filled with cream cheese and bacon. This ingredient can improve bake performance, positively affecting loaf volume, proof times, and dough stability while imparting a sweeter, less bitter taste than traditional whole wheat flour. Sustagrain barley—which contains three times the fiber of oats—was used two ways in Dark Chocolate Fruit Tartlets: as a flour in the crust and also to thicken the filling.
Several Ultragrain flours were included in a variety of applications, such as Ultragrain Soft Flour that appeared in Cranberry Zucchini Muffins and Ultragrain Plus Protein Flour, a new product in the line that was used to make Korean BBQ Pork Tacos and Roasted Pepper, Eggplant & Goat Cheese Pizza. These flours provide the nutritional benefits of whole grains with the taste, texture, and appearance of traditional white flour.
Going No PHO
Within the glass cases at The No PHO Cafe, IOI Loders Croklaan, Channahon, Ill. (croklaan.com), showed a range of bakery applications that the company can help make trans fat–free using its more than 200 ingredient solutions. These products include Durkex 500 NT, a high-stability oil that is now available without trans fats or PHOs; it provides excellent resistance to rancidity and contains low solids at room temperature. The company also provided information about dairy fat replacement solutions, including SansTrans 35, an all-palm shortening that provides good mouthfeel and is nonwaxy, and Freedom IC 500, a proven dairy fat replacement in caramel applications.
Working with Chicago doughnut shop Beaver's Donuts, IOI Loders Croklaan served mini doughnuts made without PHOs. The company offers a range of PHO-free doughnut-frying solutions in its SansTrans Donut Fry line, which draw on palm oil. It also collaborated with local bakery Dinkel's to create a trans fat–free fruit and nut muffin.
Functional Twists
ICL Food Specialties, St. Louis (icl-group.com), showed attendees how the company's ingredient functional systems can transform foods. Soft & Chewy Pretzel Bites made with BEKABAKE PZ maintained texture and flavor but proofed 30% faster than traditional yeast-leavened pretzels. They were served with a Harissa Yogurt Sauce made with BEKAPLUS DP200 protein, Salona sea salt, and Licresse FC. Together, these ingredients allowed for extended shelf-life stability and a 22% reduction in sodium. A Toffee Caramel Delight High Protein Dairy Beverage featured BEKAPLUS B1210 to enhance protein and protect stability during heat processing, and JOHA B50 helped create smooth texture with rich caramelized flavor in an accompanying caramel sauce. Savory Chicken Meatballs that incorporated BRIFISOL 550, Salona sea salt, and Licresse FC achieved a 15% reduction in sodium and a 20% reduction in fat. These were served with a Coffee-Q Sauce made with Salona sea salt and Licresse FC that allowed for a 16% reduction in sodium with optimum color stability.
Condiments Around the World
Innova Flavors, Lombard, Ill. (innovaflavors.com), offered attendees authentic tastes from around the globe in the condiments it served at its booth. A Butternut Squash Soup featuring a natural flavor chicken type was complemented by a choice of sauce made with natural flavors. These were Jamaican Jerk, Moroccan Creamy Harissa, and Chilean Creamy Pebre, a salsa traditionally made from cilantro, garlic, onion, cumin, and olive oil. Innova Flavors also presented a series of flavored chips. Mexican Chamoy Tortilla Chips featured the Chamoy Spice Flavor System #1182678, and Middle Eastern Zaatar Pita Chips were flavored with the Zaatar Flavor System Natural #1182782. This spice blend is generally made with thyme, oregano, marjoram, sumac, and toasted sesame seeds.
Matcha Point
At its booth, Aiya America, Torrance, Calif. (aiya-america.com), demonstrated its matcha and tea ingredients in a variety of ways. Sales representative James Oliveira sampled ceremonial-grade matcha—powdered green tea leaves—prepared using a traditional hot method used for special occasions in Japan. He explained, however, that most Japanese people do not consume matcha primarily this way; instead, they eat it in savory noodle dishes and in candies and desserts. Aiya America supplies a range of cooking-grade matcha ingredients, which can better stand up to mixing with other ingredients than the more delicate ceremonial grade. These ingredients were highlighted in a green tea iced latte made with almond milk and a white chocolate infused with matcha; Aiya also sampled a milk chocolate with black tea and a dark chocolate with rooibos, which the company can also supply.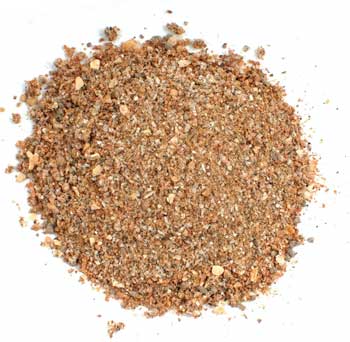 25 Years of Specialty Foods
This year marks 25 years since Woodland Foods, Waukegan, Ill. (woodlandfoods.com), formed as a company that supplied fresh mushrooms to restaurants. Today, it provides more than 1,300 dried ingredients to customers of all kinds, launching 10–15 new ingredients monthly. At IFT15, these new ingredients included small blue Butterfly Pea Flowers; Umami Dust Seasoning, which is derived from dried porcini mushrooms, dried aromatics, and a custom blend of seasonings; and Gochujang Powder, a convenient, shelf-stable powdered form of gochujang paste, which is traditionally used in Korean galbi and bulgogi.
The company also had R&D chefs on hand to speak with visitors, and the booth was decorated with a striking woodland scene made from a variety of its ingredients, which Mark Lavery, inside sales manager for the company, called a metaphor for what Woodland Foods does.
Promoting Eggs' Attributes
According to American Egg Board expert Shelly McKee, it isn't so easy to simply replace eggs in products. Although liquid eggs are in short supply due to the avian influenza outbreak and some manufacturers have had to make do with other ingredients until supplies are restored, it isn't as simple as substituting just one ingredient for eggs. Because eggs play multiple roles in foods, such as emulsifying, aerating, and binding, formulators must often turn to multiple alternative ingredients to perform these functions, adding to ingredient lists and increasing costs. Although she can't say for sure, McKee believes liquid egg supplies could be back to normal within two years. Until then, formulators may choose to hand-break shell eggs in their facilities, and the American Egg Board, Park Ridge, Ill. (aeb.org), provides guidance on how to perform this process safely and cleanly.
At IFT15, the AEB showcased the functionalities of eggs in a variety of applications that changed daily. A Dulce de Leche Pudding with Pumpkin Seed Crunch showed eggs two ways: yolks emulsified and thickened the pudding, and egg whites coated the crunch topping, aiding in crisping and browning. In a Biscotti with Crème Anglaise Dipping Sauce, liquid whole egg added structure to the cookie and aided in browning and crispness, while egg yolk added richness to the sauce while also providing thickness, emulsion, and creaminess.
--- PAGE BREAK ---
Help with Nonhydro
AAK, Edison, N.J. (aak.com), focused on presenting its nonhydrogenated ingredient solutions to removing PHOs in bakery, confectionery, and dairy applications. The company recently launched NonHydro.com, a website devoted to providing nonhydrogenated solutions for creating trans fat–free products. It also recently broke ground on a new innovation center that will house an application kitchen where customers can work directly with AAK's experts to foster product development and collaboration and conduct sensory testing of their final products.
During IFT15, AAK demonstrated some of its nonhydrogenated ingredients in a range of applications. Cisao, AAK's line of multifunctional palm-based bakery fats, was included in a Homestyle Biscuit to ensure flakiness, a softer crumb, even flavor distribution, and enhanced stability, and it ensured proper dough structuring and shape and moisture retention in a Mini Blueberry Scone. A Flaky Pie Crust incorporated EsSence high-performance bakery fat to ensure proper dough structuring, and a Chocolate Flavor Coated Pretzel Rod drew on Cebes premium cocoa butter alternative to provide cost-effective favorable melting properties. Finally, a Chocolate Flavor Praline called on Illexao and Confao, AAK's premium cocoa butter equivalent and filling fats, for optimum quality, milk fat replacement, and cocoa butter–like characteristics.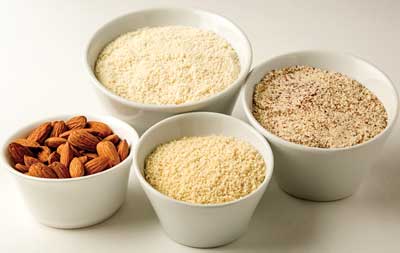 Appetizing Options Made With Almond Flour
Almond flour played a starring role in lemon-almond pound cake and chocolate chunk cookies featured at the Blue Diamond Almonds Global Ingredients Division booth. Sacramento, Calif.–based Blue Diamond (bdingredients.com) touted both the taste appeal and the nutritional benefits of almond flour, noting that a quarter-cup serving provides 6 g of protein, 3.5 g of fiber, and 75 mg of calcium. It is also gluten-free. The ingredient supplier offers three almond flour options: extra-fine natural, which is finely granulated and light tan in color; extra-fine blanched, which has a powder-like consistency and is suitable for use in cookies, cakes, and bread; and fine blanched, which enhances texture in a variety of products and toasts to a rich golden color.
In addition to the bakery applications Blue Diamond showcased at IFT15, almond flour applications include crackers, coatings, sauces, and soups. To provide inspiration for incorporating almond ingredients into meals and desserts, Blue Diamond has developed a cookbook that includes taste-tempting recipes for everything from Almond Chicken Parmesan to Irish Potato Cheese Waffles.
A Pop of Brown Flavor
At IFT15, Prova, Danvers, Mass. (provaus.com), demonstrated some of its new flavor and extract applications in sweet treats and drinks. Cake pops incorporated the company's natural vanilla, maple, and hazelnut type flavors, and key lime pie type flavor, carrot cake type flavor, and green tea flavor WONF were included in colorful chocolates. On the beverage side, a Spicy Chai Coconut Iced Tea included chai type flavor and coconut flavor WONF, while a Chocolate Honey Iced Tea highlighted cocoa extract and honey type flavor and a Coffee Iced Tea incorporated coffee extract. All of these sweet brown flavors are naturally derived, kosher, non-GM, and allergen-free.
Tasting the Rainbow
GNT, Tarrytown, N.Y. (gnt-group.com), showed the colorful range of its EXBERRY line of natural colors made from edible plants, fruits, and vegetables at IFT15 in a variety of applications created by Chef Christina Olivarez. Long lines formed around the company's soda fountain, where servers poured handcrafted drinks in flavors such as Honey Gin, Blackberry Ginger, and Citrus Vanilla. On the other side of the booth, GNT scooped Cilantro Lime Cerveza Sorbet, Strawberry Pretzel Frozen Yogurt, and Sweet Corn Coconut and Chicago Popcorn ice cream. The latter featured bright-yellow cheddar ice cream studded with caramel popcorn.
30 Years of Flavor
During IFT15, Gold Coast Ingredients, Commerce, Calif. (goldcoastinc.com), celebrated 30 years of providing customer-driven flavor solutions to domestic and international clients. At the show, Gold Coast sampled some of these flavors in a beef brisket sandwich with cheese-flavored sauce served on a pretzel roll, and it showed its beer flavor in an apple and pear beverage made with and without sugar. The company also promoted its 100% vegetarian chicken and beef flavor specialty lines, which include chicken broth, fatty chicken skin, rare and well done steak, and grilled beef flavors.
Sweetening Gluten-Free Goods
Domino Foods Specialty Ingredients, West Palm Beach, Fla. (dominospecialtyingredients.com), highlighted its array of sweeteners and rice products in two gluten-free applications during IFT15.
It showed its Domino Honey Granules and Organic Tapioca Syrup in a Toasted Honey Granola, which it served with fresh blueberries. Chocolate Earthquake Cookies, meanwhile, combined Florida Crystals Organic ECJ, Florida Crystals Organic Powdered Sugar, Nulomoline invert sugar, and Organic White Rice Flour to create a moist, chewy cookie. The company also promoted its sugar cane distillate, a flavor modifier extracted from the leaves and stalk of a selected sugar cane variety that can reduce bitterness, round out acidity in beverages, and improve the flavor of low-fat and sugar-free products.
Umami Applications
Nikken, St. Louis (nikkenfoods.com), highlighted the impact of umami ingredients in three types of chocolates it presented over the three days of the show. Drawing on red miso, soy, and shiitake, Nikken asked attendees to taste the difference between control chocolates and those accented with these umami-rich flavors.
Within its portfolio of umami ingredients are 5390 Fermented Rice Extract Powder, an allergen- and gluten-free alternative to soy sauce powder that can add savoriness and mouthfeel to sweet and savory products, and 7503 Umami Medley, which combines rice extract, shiitake extract, and kombu extract into one high-impact allergen- and gluten-free solution to aid in salt reduction.
Sprouting Grain Innovation
Bay State Milling, Quincy, Mass. (baystatemilling.com), recently launched its new website to better demonstrate its mission of supplying plant-based ingredients for grain-based foods. The fully functional, mobile-friendly site features an interactive nutrition calculator for customers to see the nutritional values for grain and seed blends they can customize.
The company also introduced a new line of sprouted flours. BeneGrain Sprouted Wheat Flour—derived from hard red spring wheat—is available in conventional and organic whole wheat flour and steel-cut varieties, and cuts and cracks are available for inclusions and customized blends. The nutrition-boosting flour can improve volume and reduce proof times without the bitterness associated with conventional whole wheat. Bay State can also supply manufacturers with a range of flours, spices, blends and mixes, and seeds, and it offers organic and gluten-free solutions.
A Spark of Creativity
Dishes prepared by Bell Flavors & Fragrances, Northbrook, Ill. (bellff.com), were inspired by the flavors of Southeast Asia and supported by the company's new trend program, Spark.
A Bo Kho Bao sandwich made with braised beef featured Bell's Bo Kho Spice flavor and was served on steamed buns and topped with a Thai basil and lime slaw. Visitors washed this down with a choice of three beverages: a White Peach Tea infused with White Peach flavor, a Chai Cardamom Tea flavored with Chai and Tea flavors, and a Devil's Morning Breath Bloody Mary made with Bell's Bloody Mary type flavor and Cinnamon flavor.
Rounding out the meal were three desserts, a different one for each day of the show. On Sunday, a cupcake showcased Bell's Lychee flavor; on Monday, the Sweet Potato flavor starred in a cupcake topped with a vanilla drizzle and chopped pistachios; and on Tuesday, Bell showed its Red Bean flavor in a hatteok, a Korean-style pancake-like pastry filled with a sweet red bean paste.
--- PAGE BREAK ---
Custom-Made Colors
At its booth, ColorMaker, Anaheim, Calif. (colormaker.com), explained its natural color custom-blending process, which it likens to the Seven Sisters. As this star cluster in the constellation Taurus helped sailors find their way, ColorMaker's seven-question process helps the company's experts create the right color for the application at hand. Topics on the questionnaire include pH, processing parameters, and desired shelf life. The company then selects from its wealth of natural colorants to create the right blend; these include annatto, grape skin, beta-carotene, and recently approved spirulina.
Easy as Sweet Potato Pie
During its first-ever showing at the food expo, Carolina Innovative Food Ingredients (CIFI), Nashville, N.C. (cifingredients.com), showed its sweet potato ingredients in a variety of dishes. These included ketchup and mustard served with pretzels, marinated KC BBQ Beef Sliders, and sweet potato cheesecake. Sweet Potato Mini Muffins provided one vegetable serving per six muffins, and a 100% fruit and vegetable juice blend provided two servings per glass.
Many of these dishes replaced high fructose corn syrup or sugar with a form of sweet potato, which are available in liquid and dehydrated forms. Sweet potato juice is available in concentrate or single-strength varieties, and customers have a range of options when it comes to clarification, acidification, and brix levels. Dehydrated products include granules, reduced-size granules, and flour; these are minimally processed; high in beta-carotene, vitamin C, resistant starch, and fiber; and can be custom-blended.
At the show, CIFI held a press conference about the opening of its new processing plant in September.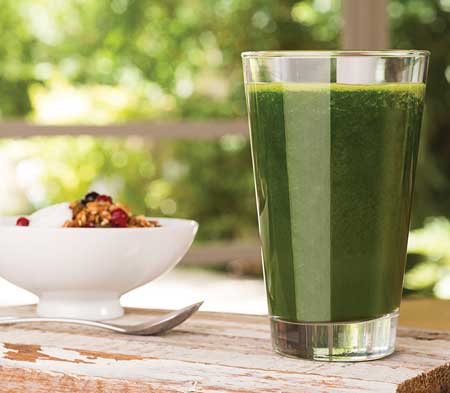 A Tiny Green 'Super Vegetable'
Billed as "the world's smallest vegetable," mankai—a proteinand vitamin-packed proprietary plant ingredient from Hinoman, Tel Aviv, Israel (hinoman.biz), is grown year-round using sustainable hydroponics. The Hinoman team exhibited at IFT15 to introduce the whole leaf protein ingredient, which was recently granted self-affirmed GRAS status, to product developers.
Mankai's small particle size (0.5 mm) and mild flavor make it ready to use without processing in applications that include pasta, crackers, bread, performance beverages, energy bars, and meat alternatives. The tiny new "super vegetable" contains 45% protein on a dry-weight basis and boasts a nutritional profile that is even more potent than standard superfoods, such as kale, spinach, and spirulina, the company claims. It contains all of the essential amino acids and is rich in iron, zinc, and vitamins A, E, and B12.
The microgreen, which is not genetically modified, is fast-growing; mankai can be harvested daily. The company hopes to expand its scope with a growing facility in the United States next year. According to Hinoman, mankai's simple, sustainable outdoor production process consumes minimal water and energy and permits the company to scale up easily, which will ensure a stable supply without price fluctuation.
A Rainbow of Red, Pink, and Orange
During the food expo, Chr. Hansen, Milwaukee (chr-hansen.com), focused on its natural red and orange solutions. Its Ultra Stable Red line, the result of years of sourcing and formulation research, provides bright, vivid shades with excellent stability. ColorFruit Violet 160 WS can create a bright pink and FruitMax Huckleberry Red 501 WS offers a vibrant red; both water-soluble liquids are derived from vegetables and are a great option for pink and red beverages.
The third generation of encapsulated colors, meanwhile, provides versatile orange shades with no sediment or neck ringing. CapColors Orange 053 WSS and 057 WSS are derived from beta-carotene and can create a red-orange or yellow-orange hue, respectively. The stable, water-soluble suspensions provide a cost savings of 20%–40% compared with standard carotenes, according to the company. CulinaColor, an acid-stable powder derived from annatto, presents a bright orange shade with superior stability in powder applications.
All About Oats
Grain Millers, Eden Prairie, Minn. (grainmillers.com), promoted its range of oat fibers at IFT15. Highlighting its ability to provide gluten-free oats, which it will produce at two of its locations, the company can also offer conventional, non-GM, and organic options. Oat fibers are available in a variety of absorption, hardness, and lengths. These ingredients are functional in a range of applications, where they add dietary fiber, promote heart health, and support digestive health. The cost-effective, clean label ingredients enhance texture and improve yields in products such as cereals, breads, snacks, bars, and meat products.
The Power of Vinegar
At its booth, Hawkins, Roseville, Minn. (hawkinsinc.com), promoted its e(Lm)inate DV dry vinegar, a clean label solution to help improve shelf life and enhance flavor in brines, dry mixes, seasoning blends, and surface applications. The cost-effective ingredient works at lower usage levels of just 0.5%–1%. Free-flowing, easily dispersible, and readily soluble, Hawkins calls e(Lm) inate DV a "clear choice" because of how well the ingredient disappears within solutions.
In addition, Hawkins also offers a range of liquid vinegar antimicrobial solutions, which are also label-friendly; e(Lm)inate V can simply be listed as vinegar in ingredient statements, and according to research the company presented, e(Lm)inate V can control the growth behavior of Listeria on sliced natural turkey breast for 90 days. The company can also provide custom problem solving assistance to its customers thanks to a diverse staff with industry experience.
More Than Peanuts
Golden Peanut and Tree Nuts, Alpharetta, Ga. (goldenpeanut.com), showcased its wealth of peanut- and tree nut–based ingredients in a variety of applications. A Peanut & Pecan Granola included dry-roasted runner peanuts and pecan pieces alongside Golden Premium Peanut Oil, Gold Nut 20 Peanut Extract, and 28% Fat Light Roast Peanut Flour. Milk Chocolate Peanut Truffles starred 28% Fat Dark Roast Peanut Flour, and airy extruded Peanut Butter Puffs showed the 12% Fat Light Roast Peanut Flour and Gold Nut 20 Peanut Extract. These flours come in two fat options—12% with 50% protein and 28% with 40% protein—and are available in lighter and darker roasts. An organic variety is also available.
Peanuts are available in a range of forms, from in shell and red skin to blanched and halves, and the company's peanut varieties include runner, Spanish, and Virginia. Golden Peanut and Tree Nuts can also supply roasted aromatic peanut oil, peanut hulls and fiber, peanut meal, and seeds. Additionally, thanks to the 2014 acquisition of Harrell Nut Co., the company can also provide pecans whole in shell and as meal, granules, halves, and pieces for use in bakery applications and much more.
--- PAGE BREAK ---
The Art of Savory
In line with its motto, Activ International, Somerset, N.J. (activ-international.com), has been mastering the art of savory flavors for more than 30 years. The company produces broths, extracts, flavors, and colors derived from meat, seafood, and vegetables that offer clean label solutions.
During IFT15, Peter Gollmer, vice-president, North America, highlighted the company's Chef 's Grill flavors, which are achieved through a patented low-temperature, slow-cool grill technology; meat-based products include beef, chicken, and bacon flavors, while vegetarian options can add a meaty, smoky flavor to vegetarian applications such as soups and sauces. The company also adds the taste of chicken and beef to vegan applications such as nutrition bars by drawing on nonmeat ingredients like yeast to mimic these flavors.
A Flavorful Experience
Carmi Flavor & Fragrance Co., Commerce, Calif. (carmiflavors.com), highlighted its wide array of flavors in a variety of applications. Butter and caramel flavors enhanced freshly popped popcorn, and indulgent popcorn coatings included pistachio, chocolate, and tropical macadamia. Other flavors were highlighted in extra-virgin olive oil and balsamic applications, including tangerine, rosemary, and French lavender. Visitors washed these down with colorful granitas in peach, key lime, blue raspberry, passion fruit, horchata, and watermelon flavors.
Whole Grain Toppings
Richardson Milling, Winnipeg, Canada (richardson.ca), showcased its granola clusters and oat toppings, which were each sampled with Greek yogurt. The Cocoa Espresso Energy Granola Cluster provides an energy boost with vitamins B6 and B12 and caffeine, and a High-Protein Yogurt Granola Cluster contains 6 g of protein and 12 g of whole grains/serving. The Low Sugar Almond Oat Topping contained just 2 g of sugar while offering 16 g of whole grains/serving, and Crunchy Cinnamon Oat Topping provides 21 g of whole grains.
Transparency in Caramel Colors
At IFT15, Sethness Caramel Color, Skokie, Ill. (sethness.com), discussed the opportunities provided by dilution. Sethness offers 80 caramel color options—60 liquid and 20 dry—but the company can create specific shades or hues through dilution. Among its offerings are Class IV Low 4Mel colors, which comply with California Prop 65's requirement to list 4 Methylimidazole as a possible carcinogen in caramel colors. On its website, the company is working to make information about these and other product offerings as transparent as it can, with easy-to-locate information for customers, including certification statements.
Highlighting Umami Flavors
Savoury Systems International, Branchburg, N.J. (savourysystems.com), demonstrated a variety of its savory flavors in samples prepared by Jovany Chanying, who works on product development and culinary applications. A vegetarian pork rind made from rice was coated in the vegetarian and kosher #0869 Bacon Type Flavor, and sea salt caramels received a rich, savory note from #0835 Umami Type Flavor. A Vietnamese pho was infused with #1936 Flavormax to boost the broth's umami profile and add a richer mouthfeel, and a Koreanstyle barbecue was enhanced with one of the company's newest products, #0836 Kokumi Type Flavor. The flavor was also applied to pickled carrots served alongside the beef to demonstrate how it can add lusciousness to vegetables.
The Latest Coffee Technology
As one of the largest coffee and tea providers to restaurants, it seemed like a natural extension for S&D Coffee & Tea, Concord, N.C. (sdextracts.com), to expand into extracts. At IFT15, the company demonstrated these ingredients in a range of applications. Visitors nibbled on Chai Tea Bon Bons and cake soaked in Caramel Coffee Sauce made with caramel and liquid coffee concentrate, and they sipped on a lightly sweetened tea flavored with encapsulated green apple. S&D also demonstrated its nitrogenated cold brew coffee, which it can produce to scale. The resulting coffee is creamier and sweeter without needing to be sweetened, and it is ideal for drinking around the clock as part of the "cold coffee revolution," according to the company.
Enzymes for Any Application
Biocatalysts, Cardiff, Wales (biocatalysts.com), promoted its capacity to create unique enzymes for individual food manufacturers thanks to the investment it has made in biotechnology, which allows it to create novel enzymes in less time and at a lower cost. The company also makes ready-to-use enzymes for a wide range of applications, such as improving vegetable and fruit processing yields and adding value to whey protein hydrolysates. It also recently published technical bulletins about using enzymes in yeast extraction and egg processing.
Gum Helps Fill In for Gluten
Making bread without gluten presents formulation challenges because gluten is so critical to the functionality of dough, but Benecel modified cellulose from Ashland Specialty Ingredients, Wilmington, Del. (ashland.com/food-beverage), helps bakers address those challenges. Benecel modified cellulose—either methylcellulose (MC) or hydroxypropylmethylcellulose (HPMC)—is a versatile hydrocolloid that locks in the gaseous structure of bread, improving its texture and structure. Benecel also helps maintain textural qualities over shelf life by reducing starch retrogradation.
Bread formulations vary widely, which is where the depth of Ashland's technical expertise comes in especially handy, said Mark Hines, principal scientist with Ashland. The gluten-free craze shows little sign of waning, which makes Benecel marketers optimistic about the ingredient's sales growth potential. Currently about 30% of the population purchases gluten-free products, according to Hines. He noted that European bakers have a higher awareness of the benefits of modified cellulose than those in the United States but that domestic awareness is increasing. MC and HPMC also have applications in dairy, meat analogues, coatings, prepared foods, and sauces.
Plant-Based Ingredient Solutions From Dow
Consumers want cleaner labels and more healthful products, and Dow Pharma & Food Solutions, Philadelphia (dowpharmaandfood.com), highlighted two plant-based ingredient families that help formulators deliver those benefits.
Dow's Methocel cellulose derivatives are attracting particular attention thanks to their ability to help formulators enhance texture and retain moisture in egg and gluten replacement applications, said Christopher Spontelli, North America field marketing manager for Dow Food Solutions. They are useful for fat and calorie reduction as well. At IFT15, Dow also showcased its line of cellulose-based Wellence ingredients. When incorporated directly into deepfried reformed food products, the ingredients help reduce oil uptake during frying, allowing for total fat reduction of 30% or more.
With four food-grade research stations around the world and a large pool of scientists available, Dow has the resources to help product developers achieve optimal formulations. "We're a technology company; we're a solutions company," said Spontelli.
--- PAGE BREAK ---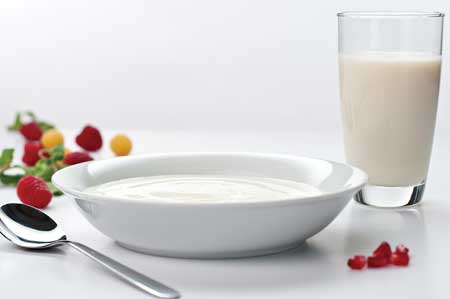 Pumping Up Mouthfeel and More With Emulsifiers
At IFT15, Palsgaard, Morris Plains, N.J. (palsgaard.com), introduced four premium emulsifier and stabilizer systems that give soy milk, soy drinks, and soy ice stability, homogeneity, viscosity, and appealing mouthfeel.
An integrated system, Palsgaard RecMilk 122 contains monoglycerides and diglycerides and carrageenan to reduce fat separation and deliver a creamy, smooth mouthfeel in soy beverages. It also improves soy protein stability, thus extending shelf life. Palsgaard ChoMilk 173 helps maintain homogeneity in soy-based chocolate beverages, including those with low protein content, during warm filling and storage.
Palsgaard Extrulce 252 facilitates the incorporation of air into soy-based frozen desserts, allowing for stable overrun, excellent stand-up and meltdown properties, and a rich and creamy texture. Palsgaard Extrulce 278 provides consistent texture and homogeneous air cell distribution in soy ice products, ensuring that the product is evenly distributed and that there are no air pockets in the finished product. The emulsifier/stabilizer supplier also highlighted its line of emulsifiers for cake mixes and its newest ammonium phosphatide emulsifier for chocolate confections, Palsgaard AMP 4455.
Flavors From Nature
Synergy, Wauconda, Ill. (synergytaste.com), promoted its Synergy Pure essences and extracts, which it captures using proprietary technology that employs reduced-heat processing and vacuum evaporation systems. This process helps protect delicate flavor components and minimizes the degradation of nutrients such as antioxidants and polyphenols, according to the company. At its booth, the company highlighted its flavors of the quarter; Poached Pear starred in a truffle and Honey Fig was showcased in a biscotti.
A Cucumber Dill Dip featured Synergy Pure Cucumber Essence and Dill Essence, and a Green Tomato & Basil Hummus incorporated Synergy Pure Green Tomato Essence and Basil Essence. Drink options included a Chocolate Salted Caramel Cold Brew Coffee and Blueberry Lime Green Tea Sparkler, which were formulated with Synergy's tea and coffee essences and extracts. A Buzz Bar Milkshake provided 16.5 g of protein/8 oz serving, and it contained Synergy Pure Coffee Concentrate, Natural Mocha Type Flavor, Natural Vanilla Flavor, and Natural Chocolate Flavor.
In addition, Synergy hosted a cocktail party on Monday, inviting attendees to sample alcoholic beverages made with mixes featuring the flavors, and the company served mocktail versions of these during the rest of the show. These included a Shishito Margarita, which included Natural Margarita Flavor, N&A Shishito Pepper Type Flavor, and Natural Tequila Flavor. The Grapefruit Hibiscus Paloma also included Natural Tequila Flavor, as well as Natural Grapefruit Flavor, Natural Key Lime Flavor, and Synergy Pure Hibiscus Concentrate.
Enhancing Health With Choline
More than 90% of the U.S. population does not meet the Adequate Intake recommendation for choline, a nutrient that is linked to cognitive function throughout the lifespan and plays an important role in eye development and vision. Choline also has benefits related to heart health, fitness, and fat metabolism. In terms of cardiovascular benefits, choline helps keep levels of homocysteine, a pro-oxidant associated with a negative impact on heart health, in check. As for fat metabolism, it defends against fat accumulation in the liver by enveloping lipids and transporting them out of the liver for use as energy.
SensoryEffects, a division of Balchem, St. Louis (sensoryeffects.com, vitacholine.com), is working to communicate the message about the importance of choline. VitaCholine, the company's branded choline product, may be incorporated into products as a single ingredient or as part of a SensoryEffects powder system. Centennial 75-MCT CCL enhanced creamer from SensoryEffects is a low carb, spray-dried powder that contains a level of VitaCholine that allows for nutrient content claims such as "good source" or "excellent source" of choline. Its applications include shakes, smoothies, and meal replacement bars. SensoryEffects featured a VitaCholine enhanced superfruit and veggie smoothie at IFT15.
---
Sampling the Expo
• Barry Callebaut, Chicago (barry-callebaut.com), presented a soft-serve ice cream bar with colorful toppings, including chocolate curls, flavored chips, and caramel-filled discs.
• Blommer Chocolate Co., Chicago (blommer.com), handed out milk and dark chocolate ice cream bars.
• Eatem Foods Co., Vineland, N.J. (eatemfoods.com), a manufacturer of flavor systems, bases, and concentrates that encompass poultry, meat, seafood, cheese, vegetable, herb, and spices, provided information about one of its newest ingredients, Vegan Broth Concentrate 90-451. By combining yeast extract, natural flavor, onion and garlic powders, and other nonmeat ingredients, Eatem created a vegan concentrate that has the savory aroma, roasted flavor, and mouthfeel of a slowly simmered chicken stock.
• Brownsdale, Minn.–based Kellogg's Specialty Channels (kelloggsspecialtychannels.com) passed out samples of Cheez-Its and Pop-Tarts and shared information about its ingredient and inclusion options, which now include Pop-Tarts for use as dairy mix-ins.
• Monk Fruit Corp., Libertyville, Ill. (monkfruitcorp.com), launched Sweet-Delicious monk fruit juice, a sweetener that can be used to reduce sugar and calories. It is derived from the monk fruit and can serve as a label-friendly ingredient for clean label product development, reported the company.
• Newly Weds Foods, Chicago (newlywedsfoods.com), created two sliders for the show. An Espresso Ancho Slider featured mole sauce and was served on a sweet Hawaiian bun, and the Asian Inspired Gochujang Slider was served on a savory Hawaiian bun.
• Secret Sun Salt, Santa Monica, Calif. (secretsunsalt.com), displayed its inaugural line of reduced- and full-sodium sea salts, which are sun- and wind-harvested in Baja California Sur, Mexico. Attendees who stopped by the booth were able to taste a variety of the offerings, which are available with 25%, 35%, and 45% less sodium than traditional sea salts.
• Briess Industries, Chilton, Wis. (briess.com), featured a sweetener that looked and smelled like wildflower honey but was actually sorghum syrup. BriesSweet White Grain Sorghum Syrup is a 100% white grain sorghum syrup that is light in color and has a clean flavor. Traditional sorghum syrups can have a strong flavor and dark color. The company promotes its sorghum syrup as an alternative to sugar, malt extract, honey, corn syrup, and brown rice syrup and as a flavor masker of bitter notes in yeast-risen breads. The company also featured information on its malt ingredients, grains, and cocoa extenders.
• Nitta Gelatin, Morrisville, N.C. (nitta-gelatin.com), served attendees gelatin-based "drinks," including a mojito and a sparking plum wine cocktail.
• PLT Health Solutions, Morristown, N.J. (plthealth.com), promoted its Vibrant Harvest Whole Food Powders. The powders are made from fresh organically or conventionally grown fruits and vegetables using a process that is said to preserve the color, flavor, and aroma of the fruits and vegetables.
• Prospector, Overland Park, Kan. (ulprospector.com), promoted its database of more than 70,000 ingredients that allows product developers to quickly access product specifications, technical data sheets, MSDS, and nutritional information.
• Visitors to the booth of Suzanne's Specialties, New Brunswick, N.J. (suzannes-specialties.com), learned about sweeteners derived from such sources as sugar cane, cassava, rice, agave plant, and barley. These ingredients can add sweetness, flavor, and color; retain moisture; depress freezing points; inhibit bacterial growth; or prevent crystallization.
• Church & Dwight, Princeton, N.J. (ahperformance.com), announced that its ARM & HAMMER sodium bicarbonate is now OMRI Listed for organic use.
• Enzyme Innovation, Chino, Calif. (enzymeinnovation.com), provided information about its range of enzymes for oils and fats, protein hydrolysis, fruit and vegetable processing, brewing and malting, baking and milling, and specialty applications.
• A new carotenoid-based coloring provided stable color to an Apple & Celery Craft Soda product concept from Naturex, Avignon, France (naturex.com). The naturally derived beta-carotene coloring produces hues that range from yellow to orange. It gets its stability from a specific rosemary extract that is combined into the ingredient.
• Rubired grapes, purple carrots, and purple sweet potatoes contain anthocyanins—compounds that give these fruits and vegetables their dark red hues. San Joaquin Valley Concentrates, Fresno, Calif. (sjvconc.com), uses a drying process to produce Crystal Red Grape, Crystal Purple Carrot, and Crystal Rosé Shade colorings. Sample packets of all three were distributed to attendees who visited the booth.
• Vegetable Juices, Bedford Park, Ill. (vegetablejuices.com), a business unit of Naturex, featured some of its vegetable ingredients in Spicy Chicken Tacos, Butternut Squash and Carrot Alfredo Sauce, and Tuscan Style Greek Yogurt. All three product concepts showed how vegetable ingredients like juices, purees, and dices amp up flavor in a range of product applications.
• Brenntag, Reading, Pa. (brenntag.com), highlighted the clean label ingredients it distributes, including agave from Ciranda, Vegapure plant sterols from BASF, and sub4salt from Jungbunzlauer.
• Visitors to Butter Buds Food Ingredients, Racine, Wis. (bbuds.com), sampled a Chi Town Mac & Cheese that paid homage to the show's location. The sauce was made with mustard, banana peppers, Cheese Buds – American, and Butter Buds 32X, and the pasta was studded with chicken sausage enhanced with Butter Buds – Bacon.
• Representatives from Lee Kum Kee (USA), City of Industry, Calif. (lkk.com), were available to showcase the company's Organic Soy Sauce made with non-GM soybeans and other sauces like Sriracha Mayo and Sriracha Chili Sauce. They also had a number of formulation ideas to share with product developers looking to add different flavor dimensions to food products.
• Pet Flavors, Melbourne, Fla. (petflavors.com), distributed sample packets of its Artificial Powdered Beef Flavor and Artificial Powdered Meat Flavor that are used as flavor bases in chewable tablets, soft chews, and granules for cats and dogs. Ingredients like these help improve the palatability of these products, according to the company.

Karen Nachay, a member of IFT, is senior associate editor of Food Technology magazine ([email protected]).

Melanie Zanoza Bartelme is associate editor, Food Technology magazine ([email protected]).