Recipe: Pork-Rind Roosters
Born in Deep Run, N.C., Chef Vivian Howard spent her post-college years exploring New York City and working at renowned restaurants like wd~50. In 2005, Howard and her now husband Ben Knight returned to North Carolina and opened a farm-to-fork restaurant in the small town of Kinston. That restaurant—Chef & the Farmer—is also the center of her award-winning PBS documentary and cooking series, A Chef's Life. And most recently, Howard released her first cookbook, Deep Run Roots, which celebrates the flavors of North Carolina's coastal plain in recipes and stories.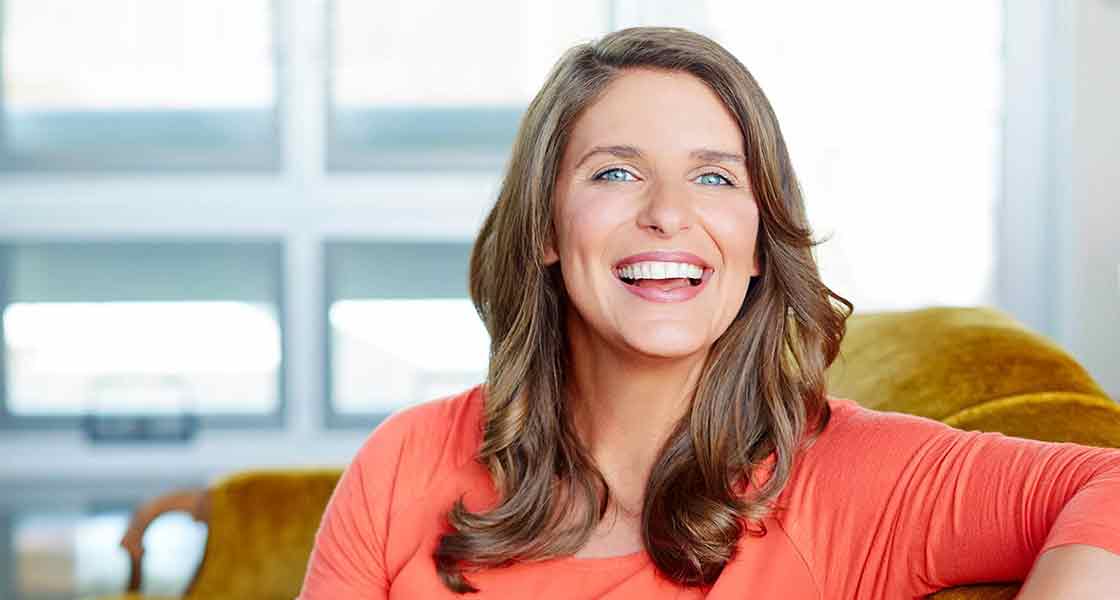 all images by Rex Miller
Q: How do you define Eastern North Carolina cuisine?
Vivian Howard: I think it's loosely defined around resourcefulness and agriculture. Most of the dishes that come out of this region are a result of families trying to use every part of the animal or stretch food as far as it'll go. So, more preserved fruits and vegetables. I would define this as the food of the frugal farmer.
Q: Chef & the Farmer focuses on the ingredients and traditions of the region. What challenges come with having such a defined concept?
Howard: I think it poses challenges as far as becoming fatigued by the concept. We've been open more than 10 years, so I'm intrigued by the idea of cooking outside that genre. But in terms of running a restaurant, I actually think having such a defined concept is quite helpful. People know what they're going to get and they come to the restaurant excited for it. We're able to be really focused in the kitchen because we know what we're supposed to be cooking.
Q: It seems today that a lot of food shows glorify the life of a chef. A Chef's Life is honest and shows the pressure and challenges of having a restaurant and being a chef. Was this intentional?
Howard: Yes, very much so. I'm so annoyed by television that makes restaurant work or the work of a chef look very precious, shiny, and glamorous. Because I think it's probably the least glamorous job that people celebrate. People raise chefs up on this podium and I don't understand it. So, yes, I wanted people to see the industry for what it is—it can be really rewarding if it's something you really love, but it's in no way precious.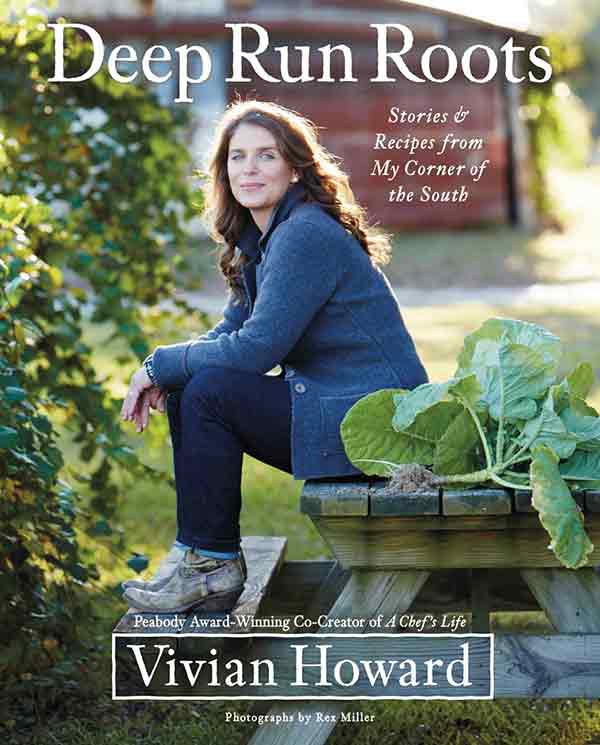 Q: I was thinking about the episode on strawberries and in it you mentioned that green strawberries were very trendy in European restaurants at the time. How do you balance traditions with trends?
Howard: Well I typically don't follow trends in terms of like technique or fads. But I do like to read every food publication and everybody's cookbooks. I like to be aware of what's going on around me, and when someone does something new with an ingredient that is a part of our pantry, I certainly pay close attention.
So for something like the green strawberries, you know, we get a ton of strawberries here for two months. And strawberries are one of these fruits that is not ideal for savory cooking. So, when I see someone doing something with a green strawberry, it may be trendy but it also makes sense. I don't know if you would call it trendy as much as like a new look at strawberries.
Q: In the current season of A Chef's Life there's an episode using rabbits as a more sustainable and healthier source of protein and then there's an episode that focuses on farm-raised catfish. How does the issue of sustainability fit into the traditions of the region and your restaurants?
Howard: It's certainly something we take into account, but it's also something that I think has a lot of folklore surrounding it. So, while I serve beef at my restaurant—and many would argue that it's not a sustainable source of protein—I also try to serve as much rabbit and sustainably farmed fish as possible. I think those things are important and I'm really more about trying to find the balance all while pleasing our diners.
Q:Your first cookbook just came out. How did you decide what to include? What was the process like for you?
Howard: Long! At the beginning, I was trying to figure out how to incorporate both the traditional uses of the regional ingredients as well as the things that we might do with those ingredients in the restaurant. But I didn't want this to be like a "chefy book." So, I decided that every chapter was going to have the traditional recipe for an ingredient and it would also have something on the complete opposite end of the spectrum. Then there would be several recipes in the middle space that would appeal to home cooks of all skill levels. I just wanted there to be something for everyone.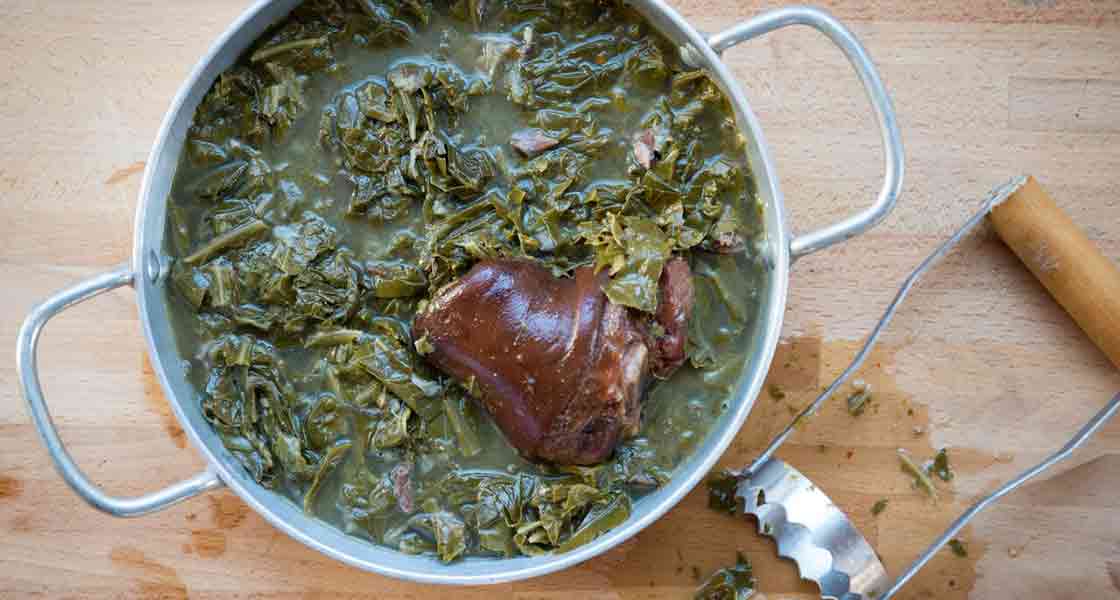 Q: There are a lot of recipes in the book that contain pork, but as you say, it's usually treated as more of a condiment than center of the plate item. Why was this the case traditionally?
Howard: Well, traditionally we would use meat as the condiment because we didn't have a whole lot of it. People would have hog killings in the late fall or early winter and preserve a lot of those parts to use in the winter and spring. That's why we're known for things like collard greens stewed with ham hock. That ham hock would be the meat that stretched a plate full of vegetables, and perhaps cornbread, into a meal.
Also, really big pieces of meat or something like fried chicken, which we are known for here in the South, would've been something that was reserved for Sunday afternoons. It was more of a celebration meal. The book actually contains around 100 vegetarian recipes because we use a lot of produce as the main part of the meal.
This interview has been edited and condensed for clarity.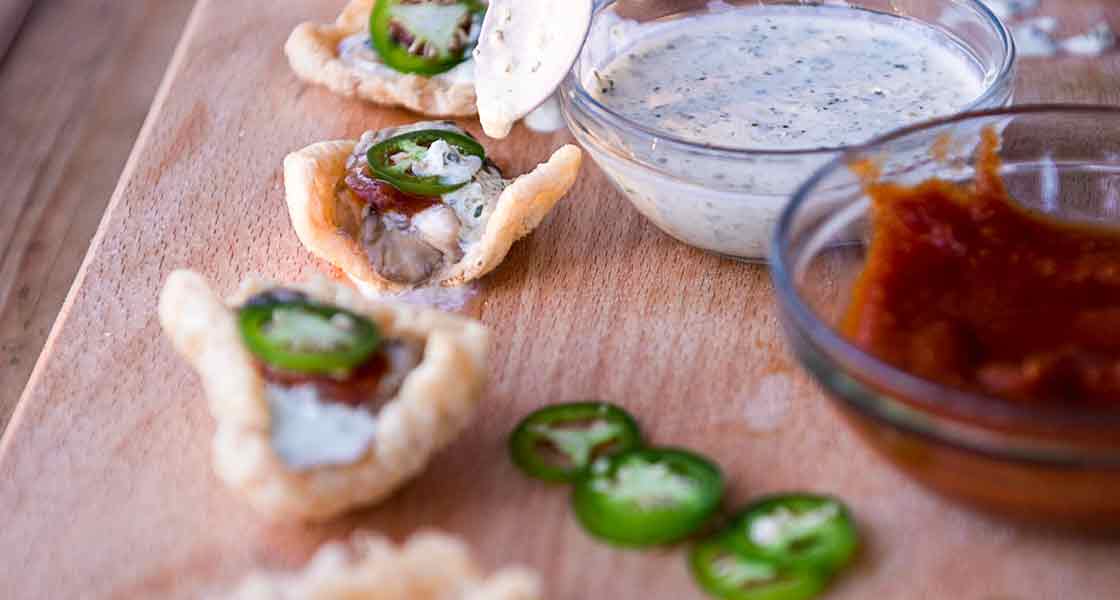 Pork-Rind Roosters (makes 24)
Excerpted from Howard's cookbook Deep Run Roots.
An oyster-bar tradition I didn't know about till I started going to them on my own is that of the rooster. Let me set the stage. You and a buddy settle in at the bar for the evening. You plan to drink pitchers of beer and eat pecks upon pecks of oysters. After the second pitcher, your buddy says, "I'll eat a rooster if you eat one." You say okay, and the two of you clink Budweiser bottles to celebrate. A server brings you a saltine topped with a steamed oyster, about a tablespoon of horseradish, and several sliced jalapeños. You shoot one back, grimace, and chase it with some beer. Your buddy does the same. Before you know it, you've each eaten a dozen and you've got a T-shirt to prove it.
This is not that. This tastes good. Instead of something you'd eat only after partying a bit, this version of the rooster is an adept way to start a party. If you don't have fried puffy pork rinds, use saltines. But the pork rinds do make an impact.
Ingredients:
¼ cup minced pickled jalapeños
¼ cup prepared horseradish
2 tbsp ketchup
1 tbsp mayonnaise
1 large jalapeño sliced into 24 rounds
Juice of 1 lemon
24 fried pork rinds, each about the size of a saltine cracker
24 shucked oysters (small or medium ones work best)
Method:
In a small bowl stir together the jalapeños, horseradish, ketchup, and mayonnaise. Refrigerate for a minimum of 30 min before using and up to 3 days.
An hour before you plan on serving the roosters, marinate the jalapeño slices in the lemon juice. Just before serving, stir 1 tbsp of that lemon juice into the pickled jalapeño mixture.
To serve, spoon a heaping teaspoon of the pickled jalapeño tartar on top of a pork rind. Place an oyster on top of that and crown that oyster with a slice of jalapeño. Serve these immediately, because both pork rinds and saltines get soggy very fast.