In this edition of New Product Explorations, we follow the product development process of a new alcoholic beverage, learn some tips and tricks from beverage development house Imbibe for creating the ideal protein drink, and check out what's hot in beverages at the 2016 National Restaurant Assoc. Show with help from an expert at flavor company FONA International.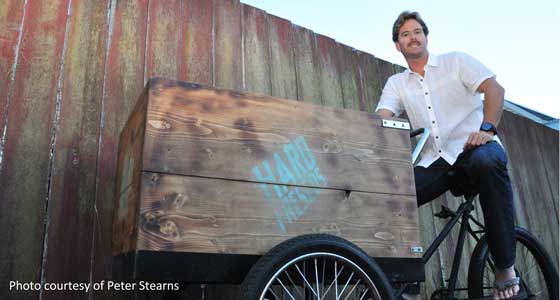 Blurring Lines in the Alcohol Category
When Peter Stearns decided to create an alcoholic version of the aguas frescas—fruit-flavored water—he'd grown up drinking on trips to Mexico, he faced a product development conundrum. That is, what class of alcohol these would be considered. The beverages, which are fermented from batches of real fruit and yeast, aren't what consumers typically consider a beer, but they legally weren't a wine or cider, either. Unable to create a new category for his beverage, Stearns consulted for months with lawyers and the Alcohol and Tobacco Tax and Trade Bureau before his creation, Hard Frescos, officially became a malt beverage—technically a beer.
Stearns is careful to differentiate his beverage from other malt beverages on the market, particularly hard sodas. Unlike these products, which draw on high alcohol neutral malt spirits, Hard Frescos are fermented from fruits such as tamarind, guava, pineapple, orange, lime, as well as hibiscus and kola seed. Comparing the carefully monitored process to making kombucha, another homemade product gone mainstream, Stearns explains, "We want to be the craft experience."
For Stearns, an IFT member, the formation process was a labor of love. Stearns is strongly invested in Mexican culture; growing up in California, he took many trips to Mexico, stopping often at roadside food stands that sold these refreshing drinks. With a sister living in Mexico City, Stearns wanted to share what he calls the "high-low street culture" of the city with everyone.
That's where his friends came in. Working with his longtime friend, Mauro Gomez, Stearns developed his product and tested it informally using Gomez's family—which owns two food manufacturing facilities—as well as at picnics and in the Latino community where he lives. "We don't want to appropriate the culture," he explains. "This product is 90% about education about the culture [of Mexico]."
In addition, Stearns drew on his California connections to test his production process using the Anheuser-Busch pilot plant at the Robert Mondavi Institute at the University of California, Davis. There, he spent two years on fermentation trials and worked with UC Davis staff including Charlie Bamforth, president of the Institute of Brewing and Distilling, and Candace Wallin, who runs operations in the pilot plant. "I owe a ton to UC Davis," says Stearns. "They were amazing in their help, so structured and analytical. People getting their master's degrees were helping us bottle and send the product away for analysis. I feel so lucky for all the talented help."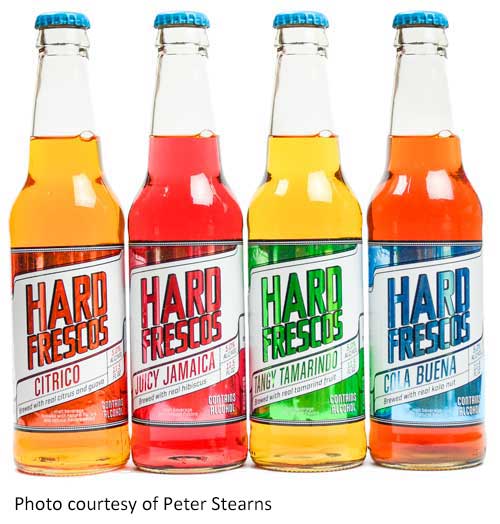 The final product has been on the market in California since August 2015 and is created in a shared facility in the Portland, Ore., area owned by the founders of Crispin Cider. Each of the four flavors takes between four and five weeks to produce, beginning with brewing following by two to three weeks of fermentation; in addition, the Mexican hibiscus flowers used in the Jamaica flavor are steeped for two to three days before brewing can even start. All flavors are then cold filtered, blended, back sweetened with cane sugar, and carbonated.
Stearns is focusing on strategically introducing Hard Frescos into targeted markets such as Austin and employing bilingual brand ambassadors to spread the beverages' story. The company is also collaborating with institutions such as minor league baseball team the San Jose Giants to create pop-up restaurants at the ballpark and working with the San Franpsycho Clothing Co. brand to design giveaways and use this merchandise to tell a story about the brand. "You can't buy cool," he says, explaining that he sees Hard Frescos as more of a lifestyle brand than simply an alcoholic beverage.
Stearns aims to build a production location in the future to service the Midwest and East Coast, but for now, Hard Frescos can be found primarily along the West Coast. Eschewing traditional distribution methods, Stearns is currently driving shipments of the drinks up and down the California coast himself. "You have to support your brand," he says.
--- PAGE BREAK ---
Beverage Trendspotting at the NRA Show
"The beverage category is an exciting category to watch, as there is constant innovation and transformation as consumer demographics and values continue to evolve and they seek out new beverage experiences and choices," says Kari Manze, market manager for FONA International. Manze shared her insights and spotlighted some growing trends within the industry. And at May's National Restaurant Assoc. Show held in Chicago, a variety of drink offerings that answered these trends could be seen.
Honing the Craft
According to Manze, for both alcoholic and nonalcoholic beverages, "craft" is important. Craft beer continues to achieve double-digit growth, and craft sodas are helping to revitalize carbonated drinks. At the show, craft beer offerings abounded, and extended into ciders. In addition, Manze notes that flavored malt beverages—hard sodas—are emerging as the next hot segment.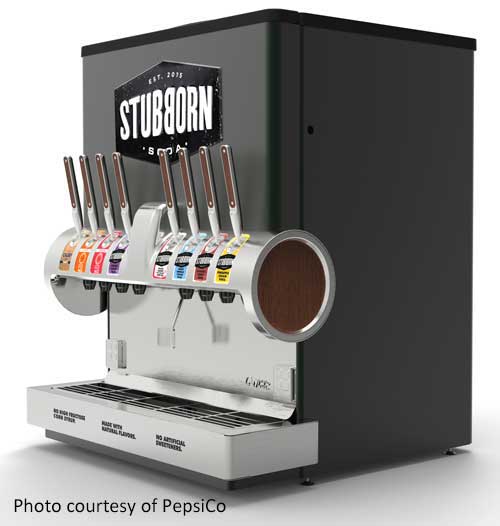 On the nonalcoholic side, companies such as Picketts American Craft—which includes "craft" right in its name—offered new versions of sodas like ginger ale; its all-natural Medium Spicy and Hot N' Spicy concentrated syrups allow bartenders to create on-trend cocktails by simply adding soda water. Serving craft sodas shows that you're a restaurant that cares and is on-trend, advised Steve McDonagh, chef behind the recently closed craft soda–focused restaurant Spritz Burger in Chicago, during the "Down to Fizzness" education session held during NRA.
Some larger companies, though, are also getting into the craft soda game, or at least, offering sodas that feel that way. Coca-Cola recently acquired 40-year-old brand Blue Sky, which uses 100% cane sugar and has no added colors, preservatives, or caffeine; the company will soon offer the natural sodas in fountain for testing as a crafted complement to Coke products, according to reps at the booth.
PepsiCo, meanwhile, is releasing its own craft line called Stubborn Soda. The brand, which contains Fair Trade cane sugar and natural flavors, is less carbonated than PepsiCo's traditional sodas and will be available in unique flavors such as Black Cherry with Tarragon and Lemon Berry Acai. "We're always looking to provide consumers with an array of options to meet their needs, and we created our craft offerings, such as Stubborn Soda and Caleb's Kola, as an answer to what they were already demanding," says Megan Gagnon, director, craft beverages, at PepsiCo. "Craft products emphasize the importance of quality and they deliver a different experience for consumers through authentic ingredients and unexpected flavor combinations."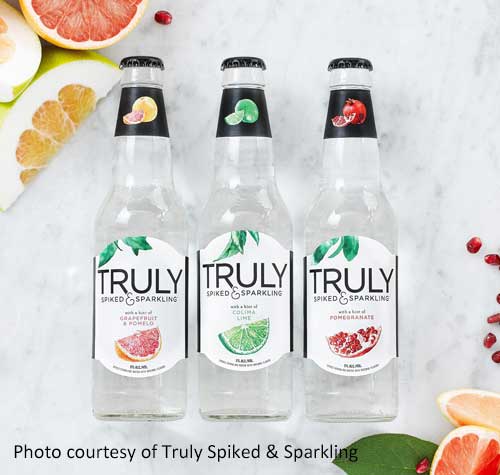 Speaking of carbonation, craft sparkling waters and related alcoholic versions of these products were also on display at NRA. Spindrift, which describes itself as "a fresh take on soda," takes fresh-squeezed juice from fruits and vegetables such as lemon and cucumber and simply adds carbonation. The resulting seltzers are calorie-free with no added sugars. Truly Spiked & Sparkling, meanwhile, adds alcohol into the mix. The beverages, which are 5% alcohol by volume, are intended for consumers looking for alcoholic beverages with lower calories and were inspired by the growth of carbonated bottled water in the United States, according to the company. The alcohol is made from cane sugar and is gluten-free, and each flavor—Colina Lime, Grapefruit & Pomelo, and Pomegranate—contains no artificial ingredients.
Health in a Glass
"The health and wellness evolution continues, driven by consumers' desires to avoid certain ingredients that they perceive as detrimental to their well-being, and add ingredients that they consider to be beneficial," explains Manze. "Beverages with claims noting 'free from' continue to be important. For example, allergen-free, gluten-free, GMO-free, no artificial sweeteners, and no additives. On the flip side, beverages with the claim 'plus' are essential; for example, the addition of added protein, fiber, vitamins and minerals, or probiotics."
A range of juices, waters, and nut-based milks stood out as healthy offerings at the show. Milkadamia, a line of macadamia nut–based milks, claims it is "deliciously free" of dairy, soy, GMOs, and gluten; the Original and Unsweetened flavors are supplemented with protein from peas. The nuts used in the milk are sustainably grown in Australia using low-impact farming with trees that rely only on rainfall to grow. Green Mustache, meanwhile, provides "an approachable, delicious, and convenient way to incorporate greens into your diet" and is intended for children and adults alike; each bottle contains two cups of kale and spinach and features a cartoon animal sporting a green juice mustache on the package.
Steaz Cactus Waters offer natural hydration while remaining vegan and Fair Trade certified, according to the company. The superfruit-containing beverages—which are mixed with green tea—provide antioxidants and are said to reduce inflammation. Coco Libre, meanwhile, adds carbonation to the on-trend coconut water category and is intended as a soda alternative; flavors of the 15-ounce canned line include Grapefruit and Cucumber + Lemongrass.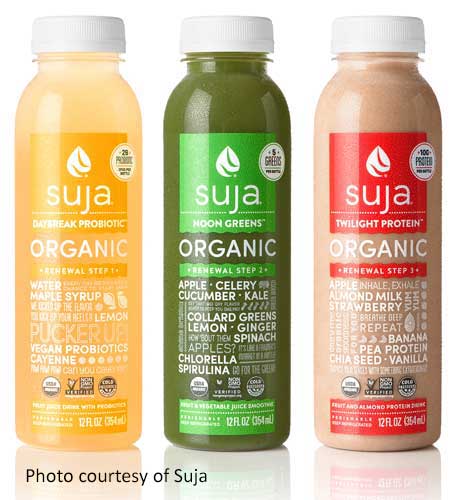 Consumers are also looking for customized beverages, says Manze, and Suja's 1-Day Renewal line of organic juices allows consumers to design their own drinking experience. As a set, the cold-pressed juices serve as a one-day detox, with a Daybreak Probiotic intended to be consumed alongside breakfast, a Noon Greens designed to complement lunch, and a Twilight Protein for consuming with dinner. Don't want to finish the detox? The juices can be consumed as a snack at any time.
10th Avenue Tea, a new line of Japanese matcha tea powder blends, allows consumers to enjoy hot or cold tea at any time in an eco-friendly, convenient form. Each bottle contains 60 servings of tea and can be used to create lattes and cocktails as well. Flavors include Chai, Berry Herbal, and Tropical. "Convenience via package size and format for every consumption occasion remains key as increasingly busy lifestyles mean consumers are seeking ease of use and portability," observes Manze.
Seeking the Authentic

"There is also an increased desire for simple, authentic beverages," says Manze. "Transparency of ingredients, packaging, and production process is important to consumers, as well as sustainability."
Wilks & Wilson, a brand of handcrafted, organic "elixirs" intended as mixers for cocktails, draws on the history of ingredients used in pre-Prohibition cocktails to create fictional backstories for each product the company sells. The creators "scoured the annals of bartending" to illustrate the authentic heritage of these products, such as Genevieve's Grenadine, which the company explains was originally made from pomegranate juice and sugar.
--- PAGE BREAK ---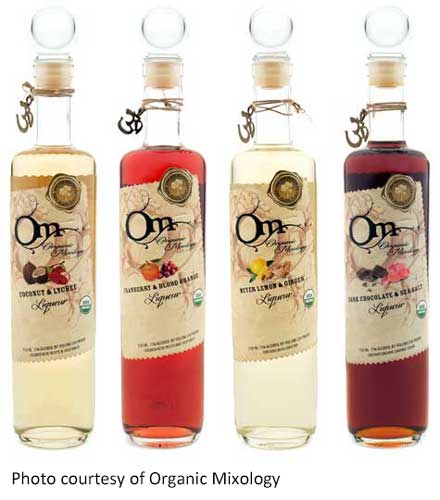 Organic Mixology, a line of organic, socially conscious liqueurs intended for mixology, are made in small batches in Michigan and handpackaged using labels that are printed at a wind-powered facility. Each variety combines two flavors—such as Meyer Lemon & Ginger and Dark Chocolate & Sea Salt—with vodka distilled from organic sugarcane; the liqueurs can drastically cut down on bartender prep time or provide consumers with an elegant ingredient for homemade cocktails.
SmartFruit says that "over the years, fruit juices evolved into absurdly complicated products" and claims that its line of 100% fruit blends are "simply enhanced" with functional foods to help consumers maintain a smart and healthy lifestyle. Mellow Mango + Immunity boosts well-being with zinc, vitamin C, selenium, and echinacea, and Perfect Peach + Energy can increase stamina and maintain energy with ashwagandha extract and B vitamins. The juices can be consumed on their own or used in shakes, cocktails, and bowls.
Oregon Fruit In Hand, meanwhile, draws on its history and experience as a purveyor of canned fresh fruit to offer a line of frozen bottled fruit purees that can be added to drinks such as lemonade, iced tea, and cocktails; blended to create sorbets; and simply poured over desserts and yogurt. With no artificial color and flavors, the pourable fruit is available in traditional flavors as well as infused varieties including Strawberry Basil, Blueberry Mint, and Peach Ginger.
10 Tips for Developing Beverages With Protein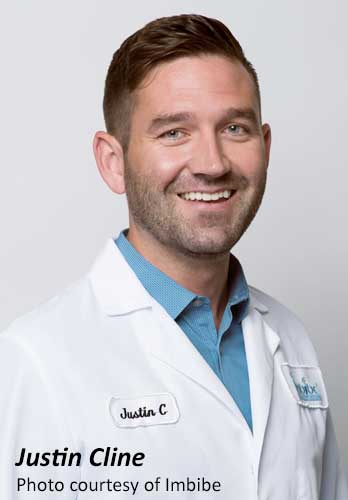 Justin Cline, senior scientist with Imbibe, a technical beverage development company, shares his top 10 list for creating the ideal protein beverage.
Be sure to understand and clarify the processing capabilities (e.g., thermal processing, batching, ingredient incorporation and mixing, homogenization pressures, etc.) of the production facility before starting any product development. One should develop product on the bench by replicating the processing capabilities of the production facility, not the other way around.
Stabilization of protein is key. There are several different ways to destabilize a product. Make sure to pay close attention to pH (protein isoelectric point), processing temperatures, and shear within the system—these are some of the most common factors that may cause stability issues.
Different protein sources may behave differently in the same environment due to the differences in their amino acid profiles and the chemical structures of the protein. When switching between two different sources, it's necessary to validate their stability and functionality. In some cases, it may require significant formulation changes.
Thermal processing has temporary effects on the flavor, mouthfeel, and other aspects of the product. After being exposed to extreme heat, it is necessary to let products containing protein "mellow" for at least three weeks to allow the system to equilibrate.
Refrain from making any formulation and/or processing changes until evaluating samples that have properly aged. Making any changes to formulations before this aging period may be unnecessary and could potentially prolong the process of development.
Any formulation changes should be tested at pilot-plant scale and in full-scale before starting full production. This could help save lost time and money.
Don't hesitate to call suppliers for information on ingredients they are selling. They will know the most about their ingredients and can help point you in the right direction.
Complete shelf-life studies! Products containing protein can appear to be stable for the first two to three months before they begin to show signs of instability.
When transferring formulations and processing information to production facilities and/or providing guidance, make sure you are speaking the same language. It is easy to misinterpret technical information.
Attend the first run! Physically being at the plant can reveal situations that may have been miscommunicated. There are some things that cannot be addressed remotely or over the phone.
Watch for the next edition of New Product Explorations in the September issue of Food Technology. Do you have a tip about a cool new product? Email [email protected].