Consumers' dietary preferences are changing, and that means a growing demand for food options to meat, dairy, and gluten, to name a few. Nuts, beans, pea, and soy are some of the ingredients that stand in for these, offering up benefits like texture enhancement, emulsifying properties, and protein enrichment. Alternative ingredients are also appealing to label-conscious consumers and those looking to reduce their consumption of animal-based ingredients. With products such as So Delicious's Cashew Milk Beverage, Beyond Meat's The Beyond Burger Plant Based Burger Patties, and Tolerant's Simply Legumes line of legume-based pasta, consumers have a wider choice in alternative food products than ever before.
Picking on Pulses
Packed with protein, fiber, and many other important nutrients, pulses are the ingredient du jour, turning up in everything from cookies and snacks to pasta and beverages, where they can be used to replace whey protein and other animal-based ingredients and wheat in gluten-free foods. These ingredients, which include beans and legumes, are also appealing to label-conscious consumers. "People are increasingly paying close attention to product labels and demanding familiar ingredients that have a clear purpose," says Mark Rainey, vice-president of global food marketing at ADM, Chicago (adm.com). "Clean-label remains popular, but it's also given rise to clear labeling, a back-to-basics approach to product development and design, which provides a higher level of transparency in products."
In addition to their clean-and-simple image, pulses are also non-GM, gluten-free, vegetarian, and sustainably sourced, all of which have helped their popularity as food ingredients to surge. "We have seen interest in vegetable-based ingredients skyrocket, with one in three consumers stating that they prefer a vegetable-sourced protein to an animal-source protein," says Patrick O'Brien, manager of strategic business development at Ingredion, Westchester, Ill. (ingredion.us). "Pulse-based ingredients such as flours and proteins derived from lentil, pea, chickpea, and faba bean allow for unique product positioning and meet the characteristics that consumers are looking for in the ingredients being used in their food products."
It's easy to formulate with bean and pulse ingredients, says Janice Rueda, director of research and business development at ADM. "We're seeing beans and pulses increasingly used to enhance grain-based bakery products, and pairing with gluten-free grain ingredients is becoming increasingly popular." Each type of bean or pulse ingredient will have its own particular functional attributes, she adds, and ADM's culinary and product development advisors can provide technical and innovation support to get products to market faster with consumer-preferred eating experiences. "Bean ingredients give formulators the nutritional benefits of plant-based protein while also providing some starch functionality," says Rueda. "Another exciting opportunity for beans and pulses is the pasta category, where the natural colors of beans give the pastas unique visual appeal while also offering consumers a product that meets their demands for nutrition."
ADM's VegeFull bean ingredients are whole, cooked beans that have been dehydrated and milled to specification and are available in whole bean, grit, and powder forms. The company also produces meal grind forms of pinto, black, navy, and red beans that were originally developed for use in single-screw extrusion applications but are now being used in bakery, quick-prep soups, and hot cereals, explains Rueda. Along with enhancing the nutritional profiles of traditionally grain-based food products, the VegeFull bean ingredients also provide a hint of texture, she adds.
Other pulse ingredients like pulse flours and proteins from Ingredion are used in a broad range of applications, such as baked and extruded snacks, pasta, baked goods, bars, batters, and breadings, and even in high-moisture ones like soups, sauces, and dressings, says O'Brien. (Ingredion is the exclusive distributor of pulse flours, protein, and bran ingredients from AGT Food & Ingredients, Regina, Saskatchewan, Canada, agtfoods.com.) "In addition to allowing for unique product positioning such as clean and simple, gluten-free, non-GMO, grain-free, or increased protein and fiber, the products can offer cost savings, like the reduction of egg, and have many functional benefits, like providing emulsification, water-holding, and adhesion." O'Brien adds that both companies have developed close to 100 formulations across application areas for product developers to use as starting points when formulating with pulse ingredients.
The pulse ingredients from Ingredion and AGT Food include the VITESSENCE line of protein concentrates and the HOMECRAFT line of pulse flours. The protein concentrates are derived from pea, lentil, and faba bean, range in protein content from 55%–60%, and can be labeled as protein concentrate on ingredient declarations while the pulse flours are derived from pea, faba bean, chickpea, and lentil and are labeled as flour, says O'Brien. "The choice of using a flour or a protein concentrate depends on the target of the product developer. For instance if the product developer is looking to increase protein, we might suggest a VITESSENCE pulse protein, or if they are looking to improve texture in their gluten-free baked good, we may suggest a HOMECRAFT pulse flour."
Another processor of pulse ingredients, Healthy Food Ingredients, Fargo, N.D. (hfifamily.com), supplies a range of beans, lentils, peas, and soybeans in whole, flaked, flour, and cracked forms and works directly with food manufacturers to determine the best ingredient for an application, says Jennifer Tesch, chief marketing officer. "For example, if the developer is looking to utilize a gluten-free lentil into a granola or nutritional bar application, we might recommend a precooked lentil flake that will easily work with the other ingredients in that particular application. It really is dependent upon our customers' specific requirements for their intended product application and how they will be incorporating it into their finished product."
Pea protein ingredients are also trending, offering product developers functionality and meeting their clean label needs. Roquette America, Geneva, Ill. (roquette.com), manufactures Nutralys pea protein ingredients, including several pea protein isolates and a textured pea protein. Two of the pea protein isolates have emulsifying and gelling properties and water- and fat-retention capacity, while a third one enhances texture, crumb softness, and volume in protein-enriched baked goods. The textured pea protein functions as a meat extender and analog, giving products a meat-like texture. Manufacturers can use it to replace soy- and gluten-based textured protein concentrates.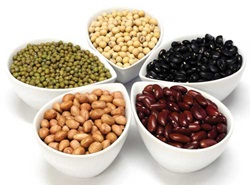 While pulse ingredients are great alternatives to whey protein in nutritional bars or wheat flour in cookies, formulating with pulse ingredients does not come without challenges. One is that they have a natural beany flavor profile. "In certain applications the flavor profile may be desired while in other applications product developers may prefer a bland flavor profile," says O'Brien. Ingredion and AGT Food recently introduced a line of clean taste pulse ingredients that deliver a bland flavor profile for easier incorporation into applications in which flavor has been an issue when trying to formulate with pulse ingredients, he adds. They were developed using a proprietary technology that improves the flavor profile of the pulse ingredients while maintaining their clean label positioning aspect.
The other challenge is that pulse protein ingredients can often have a gritty or chalky mouthfeel, especially when used in beverage products, says Regina Bertoldo, food scientist at Healthy Food Ingredients. There are ways to overcome the challenges with texture as well as with flavor. "These undesirable characteristics can be eliminated and/or minimized by sprouting, roasting, or other process modifications such as enzyme modification, fermentation, etc.," she says. "Formulating with ingredients that have strong favorable flavors including vanilla, chocolate, or fruits is also an easy way to reduce any off-flavors. Sweeteners such as honey, coconut sugar, or stevia can also be used to tone down off-flavors without detracting from the product appeal. A variety of plant protein sources, such as beans and rice, can also be blended to provide a more favorable flavor and texture combination. In addition, plant proteins can easily be incorporated into baked goods to enhance the nutritional and market value without greatly affecting functionality, flavor, or texture of the product."
Functional Benefits of Nuts
Nuts are delicious eaten on their own, as toppings on baked goods, or as inclusions in bars. They also serve as alternative ingredients, standing in for cow's milk, wheat flour, and soy or whey protein powders. And they boast nutrition that health-conscious consumers enjoy. Take almonds, for instance. Because almonds are nutrient dense—protein, calcium, fiber, vitamin E, riboflavin, and niacin are six essential nutrients that almonds are rich in—they are critical to satiety, according to the Almond Board of California, Modesto, Calif. (almonds.com). The organization adds that the protein, fiber, and fat content in particular are generating interest among product developers wanting to formulate more satiety into "free-from" products.
Living a gluten-free lifestyle is still important to some consumers, while others are limiting their overall grain consumption. Nut flours and meals can replace wheat flour or grains in food and beverage products that meet the needs of these consumers. Hazelnut, pecan, walnut, almond, cashew, and peanut in "flour," or powder, form feature functional benefits in a range of applications, particularly bakery, and each possesses its own distinctive levels of key nutrients. Almond flour is widely available, and peanut flour is also having a moment, as more food manufacturers discover the possibilities of formulating with these ingredients.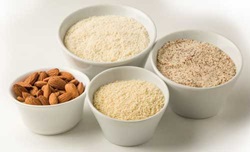 One of the benefits of almond flour is its taste and smooth texture, whereas many gluten-free flours tend to be gritty and rough or have an off-taste, says Jeff Smith, director of marketing for Blue Diamond Almonds Global Ingredients Division, Sacramento, Calif. (bdingredients.com). "While traditional baked goods may become dry and stale in a day or two, those prepared with almond flour stay moist for days. Because almond flour does not contain gluten, there is no need to worry about over mixing batters, which can make cakes, pie crusts, and quick bread dense and chewy in texture. Because of its taste, texture, and overall nutritional value, it is an optimum flour substitute and works in both sweet and savory dishes."
Bakers need to keep in mind that almond flour cannot be substituted cup for cup in baking applications. Also, fats and oils can be reduced by about 25% when baking with almond flour since it has a higher fat content than traditional flour, and sugar can be reduced by about 25% in baked goods because almonds have a sweet flavor on their own, says Smith. Bakers will need to add a binder like egg whites to almond flour batters and doughs to help give them structure, which is a key function of gluten. Blue Diamond Almonds produces three forms of almond flour: extra-fine blanched, extra-fine natural, and fine blanched. All can be used in many bakery applications, and the fine blanched version can also be used as an alternative to breadcrumbs in coatings for fried poultry, fish, and vegetables without becoming greasy or soggy, says Smith.
Another nut-based flour, peanut flour, is a protein-packed powder (10–14 g of protein/oz, depending on fat level, according to The Peanut Institute) that is used to boost the nutrition profile (protein, fiber, and essential nutrients) and replace other sources of proteins in shakes, smoothies, bars, fillings, sauces, confections, pet foods, and dry baking mixes. It's made from ground peanuts with the oils pressed out. In addition to its use as a protein booster in foods and beverages, peanut flour contributes several functional benefits, including binding fat in confections and baked goods, lending roasted peanut flavor and aroma, adding texture and creating mouthfeel, and offering extended shelf life, according to Golden Peanut and Tree Nuts, Alpharetta, Ga. (goldenpeanut.com). Peanut flour is also an ingredient option for use in formulating gluten-free baked goods. Golden Peanut and Tree Nuts sells several varieties of organic peanut flour, 12% fat peanut flour (50% protein), and 28% fat peanut flour (40% protein).
Dairy milk alternatives are popular free-from products. Coconut, hemp, rice, and soy are a few leading varieties, as well as those made with nuts. They're especially attractive to consumers who cannot eat lactose-containing foods or who want to avoid animal products. And for some of the dairy milk alternatives, especially almond milk, consumers just enjoy the flavor. Almond milk drinkers say their top reason for choosing it is taste preference, according to the Almond Board of California. Recipes from the board can inspire product developers and chefs to incorporate the nutty, mild taste and creamy texture of almond milk in many applications. Almond milk is sold as a ready-to-drink beverage, but recipes like almond milk cold brew coffee, dairy-free almond crepes, and quick cinnamon almond rice pudding show the versatility of almond milk as an alternative to dairy milk. Other nut milks available on the market are made from hazelnuts and cashews, each having its own unique flavor and texture.
Soy Protein as Meat Substitute
Even as other ingredients like beans and nuts are increasingly used to replace meat in such products as vegetarian burgers or to reduce the amount of meat in chili, patties, and more, soy protein is still a choice for many manufacturers. "Functional soy proteins can form strong gels and have high water-binding capacity," says Tom Katen, technical service representative at Cargill, Minneapolis, Minn. (cargill.com). "In meat applications, textured soy products help retain moisture, resulting in a juicier, more desirable end product. Meat tends to release its water, but textured soy protein can hold six times its weight in water. This water-binding capacity is a benefit for a range of applications, from meat patties to egg rolls. Similarly, in kettle-cooked products like chili, textured soy protein can absorb the melted fat, improving product appearance and customer appeal. Textured soy protein even offers nutritional benefits, resulting in leaner meats with higher protein levels."
Cargill produces Prosante textured soy flour, an ingredient that can be used for partial meat replacement as well as in some vegetarian applications. Katen adds that Prosante textured soy flour provides meat-like texture, mouthfeel, and visual appearance and boosts yield. It's available in both minced and flaked forms in a variety of sizes, shapes, and colors. To produce it, soybeans are dehulled and the oil is extracted. Then the beans are toasted, ground, and extruded. Katen says the company uses twin-screw extrusion to produce the textured soy flour, a process that reduces the amount of friction and heat, resulting in flakes and minced pieces that are more uniform in size, shape, and color. "Minced pieces work best in applications like chili, pizza toppings, and taco filling, where particle definition is important," says Katen. "Flaked particles are best for patties, nuggets, and Salisbury steak. The determining factor is how the product is cooked. Flakes hydrate faster in cold water but are torn apart in high heat or long cooking processes. Minced forms require longer hydration and are typically used in retort, high-heat applications. Color determinations turn on the same question. Caramel color is available, but is best used in precooked beef products such as Salisbury steak or pizza toppings. Plain-colored textured soy protein mimics the fat pieces in raw red meat, and blends well in both cooked and raw white meat products."
Another advantage Prosante textured soy flour offers is that it can reduce formulation costs. "Prosante textured soy flour is typically half the cost of textured soy concentrate. For a meat processor producing 50 million pounds of 30% soy-extended meat annually, switching to textured soy flour could translate into a saving of $1.875 million."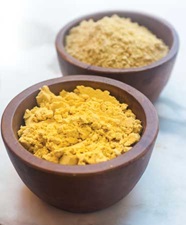 Ingredient Potential of Microalgae
Microscopic algae offer big opportunities for the food industry, particularly ingredients made from microalgae, which can provide functionality and nutrition to food products as stand-ins for other commonly used ingredients. A number of factors are driving the interest in microalgae-derived ingredients, says Mark Brooks, senior vice-president, food and ingredients, at TerraVia, South San Francisco, Calif. (terravia.com). "As consumers place a growing emphasis on health and nutrition, we saw a growing need in the industry to provide new food options that offer optimal nutrition. Before kale, chia, açai, and quinoa, there was algae. Algae is earth's original superfood, it's a natural source of oil and is rich in nutrients, micronutrients, fibers, and healthy fats, and is at the forefront of today's clean eating trend." In addition to health and wellness issues contributing to the growing interest in microalgae, sustainability, particularly foods and ingredients that are more sustainably produced and can feed more people using fewer resources, is helping to accelerate microalgae's popularity, says Brooks. "Our products deliver more protein and healthy fats per available unit of land, water, and carbon than any other food source."
The food industry, too, is looking for new ingredients to meet functional and consumer needs, and microalgae ingredients have qualities that can suit these needs. Today's consumers have a greater understanding of the role that diet plays in health and of a food's nutritional value, and their demand for foods that can promote good health is driving the better-for-you trend, says Brooks. He adds that consumers also want to include "simple sources of nutrition" in their diets and want functional foods and whole foods made with simple ingredients that are less processed. "Algae can be found in some of your favorite foods and can really transform them in terms of nutrition, sustainability, taste, texture, and flavor. Food manufacturers have been excited about the potential of algae in improving the nutritional, taste, and sustainability profile of their products. Today, consumers can find foods with algae ingredients in over 10 aisles of the supermarket."
TerraVia manufactures four microalgae ingredients. AlgaVia Lipid-Rich Whole Algae Powder, AlgaVia Protein-Rich Whole Algae, and AlgaWise Ultra Omega-9 Algae Oil are commercially available to food manufacturers and foodservice operators and have received no objection letters from the U.S. Food and Drug Administration, while Algae Butter will be in the market by the end of 2017 or early 2018, says Brooks. It also received a generally recognized as safe (GRAS) no questions letter from the FDA, he adds.
In addition to offering companies "value proposition from a taste, nutrition, and sustainability perspective," according to Brooks, the AlgaVia and AlgaWise ingredients can be substitutes for many common ingredients. Food manufacturers can use the lipid-rich whole algae powder to reduce or replace dairy fats, oil, and egg yolks, allowing them to reduce overall fat and calories without sacrificing taste or texture. The protein-rich whole algae ingredient is a plant-based protein source that also provides fiber, healthy lipids, and micronutrients. Since it's free of known allergens, is gluten-free, is non-GM, and has a neutral flavor profile, it's an option for fortifying food products that cater to those specific consumer interests, says Brooks.
What makes the algae oil stand out is that it has the highest level of monounsaturated fatty acids (93%) and the lowest level of saturated fat, while its low polyunsaturated fatty acid content (2%) and high smoke point (up to 485°F) give it stability under different processing conditions, explains Brooks. The algae butter is a palm-free, nonhydrogenated, and vegan ingredient for use in bakery, spreads, and confectionery applications, and it can replace palm oil and hydrogenated oils. "You can expect to see more algae-based products in the year ahead, as we've been working with leading food companies and sustainable food innovators in the U.S., Europe, and South America. We are excited to have active projects underway in a breadth of new arenas, including savory snacks, salad dressings, cereals, cheese analogs, cookies, coatings, cooking sauces, yogurts, and RTM [ready-to-mix] supplements."
Next Generation Plant Protein Ingredient
For a final take on the functionalities of alternative ingredients, here's a look at an ingredient that combines the best that plant protein ingredients have to offer. ProDiem, from Kerry, Beloit, Wis. (kerry.com), is a blend of pea, rice, and oat protein for use in nutritional beverages and bars. The protein from these sources offers several nutritional benefits, such as a complete amino acid profile, support for weight management, and control of appetite and hunger, according to Orlaigh Matthews, strategic marketing manager at Kerry, Beloit, Wis. (kerry.com).
Using plant proteins in foods and beverages has its advantages, but also some challenges, such as off-tastes and unappealing textures. "In primary research conducted by Kerry, when asked to report the three most important factors in choosing a protein product, 72% of consumers selected the flavor of the product and 63% selected the texture," says Matthews.
To mitigate grainy mouthfeel and bitter taste associated with plant proteins, Matthews says that ProDiem is produced using a proprietary processing technique and the company's flavor-masking technology. This helps ensure that the ingredient produces an acceptable mouthfeel and reduces bitter off-tastes. "With ProDiem, we have developed a product that does the work for product formulators. We've identified it as a product that meets the consumer market demands and also provides solutions to the common formulation challenges of utilizing plant proteins."
Next month's Ingredients section will take a look at some of the ingredients highlighted at the IFT17 food expo in Las Vegas.
---
Correction
The spelling of CP Kelco's Keltrol Xanthan Gum was incorrect in the Ingredients section in the April issue of the magazine. Food Technology regrets the error.

Karen Nachay,
Senior Associate Editor
[email protected]