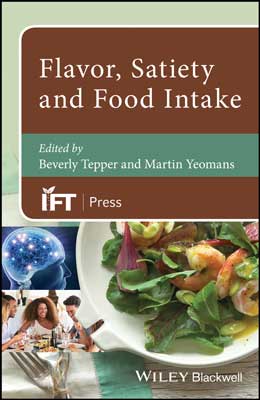 The latest title in the IFT Press book series, Flavor, Satiety, and Food Intake, edited by Beverly Tepper and Martin Yeomans (ISBN: 978-1-119-04489-5), provides a comprehensive review of the latest science on a key aspect of appetite control. It brings together contributions by leading researchers worldwide who approach this complex, multifaceted issue from the perspectives of food science, psychology, nutrition, and medicine, among others.
This reference book explores two aspects of flavor-satiety interactions: the notion that products that require greater oral processing tend to be more sating and the orosensory exposure hypothesis, which holds that flavor and texture in the mouth are critical in determining meal size. This book offers readers an integrated treatment of both concepts and provides product developers with valuable information on how to integrate sensory evaluation with product formulation and marketing. It will also serve as a useful resource for health professionals and is a must-read for students of a range of disciplines in which appetite and satiety are studied.
IFT Press books, developed in partnership with Wiley-Blackwell and crafted through rigorous peer review and meticulous research, serve as leading-edge handbooks for industrial application and reference and as essential texts for academic programs. A 35% off member coupon code is available at ift.org. Be sure to log in and check out the Knowledge Center/Read IFT Publications/IFT Press Books links for information on how to order any of the books in the IFT Press book series. For more information, call 877-762-2974 or visit wiley.com/go/ift. Manuscript proposals may be sent to publisher David McDade at [email protected] (+44-1865-47-6546).
---
Books Received

Egg Innovations and Strategies for Improvements,
edited by Patricia Hester. Elsevier,
sciencedirect.com
,
ISBN: 978-0-12-800879-9
Grocery: The Buying and Selling of Food in America,
written by Michael Ruhlman. Penguin Random House,
penguinrandomhouse.com, ISBN: 978-1419723865.
Sweet Potato Processing Technology,
written by Taihua Mu, Hongnan Sun, Miao Zhang,
and Cheng Wang. Elsevier, sciencedirect.com,
ISBN: 978-0-12-812871-8.