Taylor presents Tanner Lecture
Steve L. Taylor, professor in the Dept. of Food Science & Technology and founder and codirector of the Food Allergy Research & Resource Program (FARRP) at the University of Nebraska, was chosen by the Chicago Section of IFT to present this year's Tanner Lecture on May 8. The annual lecture—now in its 55th year—honors Fred Wilbur Tanner, a food scientist and microbiologist who served in the founding of IFT.
In his speech, "Food Allergies: From Chaos, Confusion, and Concern to Commitment and Control," Taylor provided insight into the history of how the food industry has interacted with food allergies over the past 20 years. In this time, detection and assessment methods have been created and allergy prevention has been explored. While more is known about allergies than ever before, their prevalence continues to rise, and more work will be needed in the future to continue to combat them.
Taylor has been studying food allergies and sensitivities since 1980. His primary research interests involve the development of methods for the detection of residues of allergenic foods, the determination of the minimal eliciting doses for specific allergenic foods, the assessment of the allergenicity of ingredients derived from allergenic sources, and the assessment of the allergenicity of foods produced through agricultural biotechnology. Taylor is heavily involved in outreach to the food industry on food allergies and sensitivities and has helped countless companies on a wide range of allergen-related topics. He received his BS and MS degrees in food science and technology from Oregon State University and his PhD in biochemistry from the University of California, Davis.
Tanner, IFT president from 1945 to 1946, was one of the first editors for the scientific journal Food Research, now called the Journal of Food Science. The Chicago Section of IFT established the Fred W. Tanner Lectureship in 1960.
Food Tech issues on the move
Feeding Tomorrow board member Bernhard van Lengerich first began collecting what would become a vast collection of Food Technology magazine issues when he moved to the United States from Berlin in 1984.
"We lived in New Jersey for eight years, and I started to collect Food Technology and Journal of Food Science (JFS) issues in my home 'office' lined up in neat-looking IKEA organizers," he remembers. But the collection wasn't to stay stationary for long. The issues moved with van Lengerich and his wife to Switzerland and then to Minneapolis, where they were so great in number they were given their own bookshelf in the garage.
"I fondly remember having discussions at work about scientific or technical topics, which I had read about earlier, and then looking up those topics in either Food Technology or JFS and being happy to find either useful background or still-current state-of-the-art science information," he recalls.
A few years ago, though, van Lengerich and his wife decided to recycle all but the most recent years' worth of issues thanks to the availability of internet searches. "I must say though, there is something special about having your own library, and if I had only realized the often contemplated thought of binding those issues into annual books, I don't think we would have ever recycled them."
"So would I encourage others to start a library? It certainly is a great way to take a moment and reflect—just by looking at what was relevant in food science and technology 10, 20, or 30 years ago—and develop some sense where it may go in the future," says van Lengerich.
Fernandez joins MANE
MANE recently hired Luis Fernandez as its vice-president of strategic development in flavors. In this role, Fernandez will work on strategy with the Technology Development and Scientific Research teams and represent MANE in symposiums and scientific conferences, among other duties. He will also organize and supervise the coordination with the Strategic Development team in Singapore and will be an active member of the Innovation Committee.
An IFT Fellow and Certified Food Scientist, Fernandez has more than 25 years of international experience in food ingredient applications in multiple categories, including confectionery, meat, bakery, beverages, convenience foods, dairy, and culinary. He comes to MANE from his position as senior vice-president of global food technology at Tate & Lyle and has also worked for Cargill and DuPont. He hold an MS in food science and biochemistry from the Universidad de Buenos Aires and is a fellow of the International Academy of Food Science and Technology.
Riaz receives alumni award
Mian Nadeem Riaz, a member of the graduate faculty in the Dept. of Nutrition and Food Science and director of the Process Engineering R&D Center at Texas A&M University, has been awarded the 2016 Bernard Lown '42 Alumni Humanitarian Award from the University of Maine Alumni Assoc. The award recognizes University of Maine graduates who distinguish themselves in their service to humanity.
"I am pleased and honored to receive this award and most notably, to be the University of Maine's first student to graduate with a doctorate in food science. I see my years starting at the University of Maine not only as a beginning of an education but of a career that has now brought me full circle to professor," says Riaz.
Riaz, who earned his PhD in 1992, has spent his career working to improve the public's understanding of nutrition and food customs in both the United States and around the world. He has shared information about extrusion technology in underdeveloped countries to help create low-cost foods.
Riaz has worked for the Texas A&M University system for 24 years and has published five books, 22 chapters, and more than 100 papers on extrusion and other related topics. He is a frequent speaker at international and national conferences and meetings, and to date he has delivered more than 300 presentations in 55 countries.
Floros to lead Academies project
The National Academies of Sciences, Engineering, and Medicine named IFT Past President John Floros cochair of its Science Breakthroughs 2030 project. The year-long study will explore novel scientific approaches suggested by members of the scientific community.
Floros, an IFT Fellow and dean of Kansas State University's College of Agriculture and director of K-State Research and Extension, will lead the development of a strategy to answer questions about challenges and opportunities related to food and agriculture science.
--- PAGE BREAK ---
AMSA recognizes Mikel
William Benjy Mikel received the American Meat Science Assoc.'s (AMSA) 2017 Intercollegiate Meat Judging Meritorious Service Award, which recognizes his 35 years of support for the Youth and Intercollegiate Meat Judging Programs.
Mikel is responsible for resurrecting and revitalizing the meat judging programs at Auburn University, Mississippi State University, and the University of Kentucky (UK), according to AMSA. While at UK, Mikel hosted the Southeastern Meat Judging Contest when no other options were available, providing all the required products and negotiating the corporate support necessary to keep the event open.
Mikel has served as president of the American College of Animal Sciences, president of AMSA, president of the Intercollegiate Meat Coaches Association, and president of the Southern Assoc. of Agricultural Scientists.
Nellson hires Hudak-Roos
Nellson, a full-service bar and powder nutrition provider, recently appointed Martha Hudak-Roos to vice-president, quality and food safety. In this role, she will oversee all of Nellson's quality, food safety, and regulatory activities, as well as serve as a member of Nellson's Executive Leadership Team. Hudak-Roos brings more than 30 years of experience in quality and food safety to the position, along with a demonstrated track record of success in the food industry. She holds a BS from Wagner College in biology and chemistry.
Behringer joins Pilot Lite Ventures
Pilot Lite Ventures USA appointed David Behringer its CEO. He brings a two-decade background in food and beverage R&D to the role, including experience helping create Kraft's fat-free salad dressing and the South Beach Diet and Back to Nature product lines. Until recently, he was the chief technology officer at 915 Labs, which offers a healthier alternative for food processing. He is also a certified professional chef.
---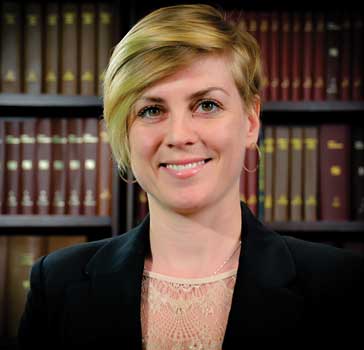 Getting to Know Dawn Merrill

Each month, we meet one of IFT's valued volunteers.
It's fair to say that being a member of my local section of IFT presented me the opportunities I have today," says IFT Board of Directors member Dawn Merrill.
Merrill first got involved with IFT as a student at Oregon State University, attending Oregon Section (OSIFT) events and beginning to form a network that would kick-start her career after college. While in school Merrill served as the section's student representative, and after college, she became its director-at-large. "I loved that role as I had a vote which helped influence our direction as an organization," she reflects.
Eventually Merrill was elected OSIFT president, which afforded her many opportunities, including participating in a pilot program for section unification, presenting to IFT's Board of Directors, and attending Leadership Summits. During the unification process, Merrill was challenged to present the section's ideas before the IFT Board, something that was both intimidating and fun and ultimately opened the door for her own election to the IFT Board of Directors. "I was challenged to summarize our section's experience with a 5-7-5 haiku," she says, which was "an exercise in comedy and lightheartedness in an otherwise intimidating situation."
Over the years, Merrill says she has also embraced finding "success in failure." "Quite honestly, I've learned the most after some of our creative initiatives failed or we didn't necessarily conclude with the result we had in mind," she explains. These experiences, though, have shown her the power that comes from using collective brainpower to get great things done.
Volunteering has brought Merrill many moments that have helped build her professional confidence; volunteering has "given her guts," she says. "I learned to overcome shyness and fear by forcing myself to stand up in front of crowds at dinner meetings, emcee events, lead a live webinar, and stand in front of a camera and lights during interviews," says Merrill, a Certified Food Scientist. "I think there is a volunteer opportunity in IFT for every personality and opportunities exist for us all to bust out of our comfort zones and try new things!"
While Merrill says that volunteering can be time-consuming, her company, Kerr Concentrates, is very supportive of the time she spends on it. "When I'm out talking to others within the industry, I am representing my company as well, which has led to new business," she says. "I've also brought back leadership skills so my employer sees that as a win-win. I would encourage anyone considering volunteering to check in with their employer and review the volunteer job description with their boss so that they have the support needed."
She also notes that not everyone has to be president of a section to make an impact. "There are so many ways to volunteer—like distributing name tags at dinner meetings, or starting a social media group so members can share content with one another, or participating on a committee to review letters from students in need of a scholarship," says Merrill. "Remember, no one person can do it all, so find the right job for you given the time that you have to give. Every small part adds up, and collectively, we make IFT pretty great for our members."
---
Section Meetings
Longhorn
Sept. 14:
Suppliers' night
. Frisco, Texas. Click
here
.
Philadelphia
Oct. 24: Suppliers' night. Cinnaminson, N.J. Click here.
---
In Memoriam
IFT notes the passing of the following members:
E. Demp Alford, Thomas E. Haney, and George D. Lutz
Have some news to share about yourself or another IFT member? Email [email protected].