Almost everyone likes to eat out at least now and then: 90% of consumers say they enjoy going to restaurants, according to National Restaurant Assoc. (NRA) research. But that doesn't mean that consumers are satisfied with the status quo. What they expect from the foodservice experience is constantly changing, and savvy restaurant operators and the food and beverage companies that supply them should be prepared to shift gears in response to that. Presenters and exhibitors at the NRA show in Chicago this spring made that clear. Here's a look at four trends that emerged at this year's annual gathering of restaurant industry professionals.
1. Keeping It Healthy
More and more, health is on the menu in restaurants as consumers seek to live healthy, balanced lifestyles, said presenter Nancy Kruse, president, The Kruse Co., in a session titled "Menus 2017: Turning Trends Into Money Makers."
Sales of veggie side dishes are surging in foodservice; quinoa, kale, roasted vegetables, cauliflower, and grilled asparagus have all shown strong sales growth, said Kruse, citing statistics from Datassential. Burger chain Smashburger offers veggie frites, for example, and Chick-fil-A's menu includes a Superfood Side Salad that features hand-chopped kale and broccolini, roasted nuts, dried sour cherries, and maple vinaigrette dressing. Smaller-portion options are in vogue as well. Au Bon Pain this spring introduced a line of fresh and convenient snacks or small meals in grab-and-go packages under the banner Bon To Go.
Plant-based protein had a strong presence at the restaurant show. Beyond Meat sampled its pea protein–based Beyond Burger, and Ocean Hugger Foods offered Ahimi, a tomato-based tuna alternative designed to be used in dishes like sashimi, sushi, poke, and ceviche. Visitors to the colorful Hippeas booth at the NRA show checked out the single-serving, 130-calorie packs of organic chickpea puffs, a healthful side item option for kids' meals. Gardein, a maker of meatless proteins, said 79% of restaurant patrons eat vegetarian items more than once a week; its research found that one in two patrons would also like to see restaurants offer a wider selection of vegan and vegetarian entrées.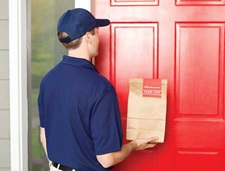 2. Robo-Cooks, Drone Delivery, and More
Watch for restaurant delivery service to move far beyond the Jimmy John's and Domino's Pizza model in the years ahead. And expect automation to play a heightened role in foodservice operations.
Two out of five U.S. consumers claim they would use drone delivery service, reported Hudson Riehle, senior vice-president of NRA's Research and Knowledge Group. It may soon be an option. Riehle says drone meal delivery is currently being tested in the United States and other markets.
"Over the years ahead, the delivery experience will become a much more important component of the off-premises [business]," Riehle predicted. NRA data show that for many restaurant operators, particularly those in the quick-service, fast casual, and family dining segments, to-go foods accounted for a larger share of sales in 2016. Not surprisingly, many restaurant operators in those segments say they plan to expand the off-premises component of their businesses in 2017—from 45% of quick-service operators to 51% of those in the fast casual segment.
New approaches to foodservice are being built into restaurant concepts from the get-go, according to restaurant show presenter Michael Schaefer, global lead, food and beverage research for Euromonitor International. "We're seeing more and more concepts designed from the ground up for things like delivery and automation," said Schaefer, who spoke in a session titled "Global Innovation: What We Can Learn From the Best New Concepts." Euromonitor valued the global food delivery market at $114 billion in 2016 and puts the compound annual growth rate from 2016–2021 at 8.5%.
In Stockholm, Sweden, a delivery service called Foodiebag brings the meal kit concept into the foodservice arena. Customers order precut, prepackaged meal components from participating restaurants; the meal kits are delivered to their homes, allowing them to create memorable meals without venturing out of the house. "It's a new way for restaurants to control the delivery process," said Schaefer, noting that this approach means that restaurants must cede some control over the final result to the home cook.
New technologies promise to expand automation's foodservice footprint. At the NRA show, exhibitor Integrated Control Corp. showed off a rolling robot with a face designed to look human that has the ability to greet customers, take orders, and respond to queries.
And during the "Restaurant 2020" session, Microsoft national director of hospitality and travel Shane O'Flaherty explained that his company believes the future of technology will include the widespread use of bots, virtual personal assistants that will one day be able to interact with companies' bots on users' behalf, booking reservations and ordering food. Today Microsoft's Bing search engine offers these bots on searches for some restaurants. Using this feature, potential customers can ask basic questions for which they would otherwise need to contact a person. O'Flaherty said the tool uses machine learning, which means that on those queries that do need a person to help answer, the bot will remember the answer for future questions, saving manpower.
In Japan, a concept called Gyoza Lab takes foodservice into the realm of robotics. At this quick-service restaurant, fried dumplings (gyoza) are made by a robotic arm. Schaefer predicted that automated delivery-only concepts will be next. Italian pasta company Barilla is also drawing on robotics. It developed a 3-D printer in partnership with TNO for making pasta that allows users to create shapes that are impossible to make by hand. The machine layers pasta dough—just semolina and water—into a variety of forms, such as roses and letters, and users can add flavors and colors to the dough, explained Giancarlo Addario, collaborative research and IPR manager for Barilla. Addario sees potential for fine-dining establishments to use this technology to create a curated plating experience as part of multicourse meals.
3. The Rise of Retail/Restaurant Hybrids
With brick-and-mortar retailers faced with declining store traffic and the resulting difficulty of driving discovery of new products, Schaefer said he sees a trend emerging in which retailers bolster the in-store experience and increase traffic by adding a foodservice option into the mix. As an example, Schaefer cited a recent IKEA initiative in which the home goods retailer launched a pop-up dining outlet for a two-week period in the London area, thus moving the chain beyond the kind of food options consumers most typically associate with it: inexpensive meatballs and hot dogs. For this venture, IKEA offered cooking lessons and invited consumers to apply for the opportunity to host a dinner party with food that they would prepare themselves with the assistance of professional chefs. It was a logical extension of IKEA's role as a lifestyle assistant, Schaeffer said, and effectively positioned the retailer to play a bigger role in consumers' lives.
In another inventive retail experiment, Dungelmann, a long-established butcher shop in the Netherlands launched a Chicken & Burgers quick-service restaurant to capitalize on its established expertise in sourcing and meat preparation. Schaefer said the move represents a "seamless integration between retail experience and foodservice" and a logical opportunity to expand the Dungelmann "pedigree of excellence" into foodservice. In June, Whole Foods opened its first standalone restaurant, The Roast, as part of a renovation of its Midtown Atlanta store. The fast-casual Brazilian spot features dishes created by a rotating list of local chefs, including Top Chef alum Kevin Gillespie, as well as beer and wine on tap.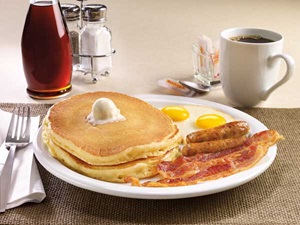 4. Simplicity + Sustainability
In retail and foodservice alike, consumers are looking for free-from options. Almost half (46%) of consumers Euromonitor surveyed in 2016 expressed interest in consuming food with no artificial ingredients, and restaurant operators who recognize the importance of that are positioning themselves for success, according to Schaefer. Denny's decision to revamp its buttermilk pancakes' recipe to include only four simple ingredients (eggs, flour, buttermilk, and vanilla) helped boost same-store sales, said Kruse. Chipotle taps into the pure and simple aesthetic with its commitment to using just 51 real ingredients in its menu items, another example Kruse cited in her NRA presentation. And Panera Bread emphasizes that "100% of our food is 100% clean," Kruse noted.
A convergence of simplicity and sustainability can be a winning foodservice formula as it is in two examples Schaefer cited. One is Jano's, a crowd-funded vegan food kiosk in Helsinki, Finland, which focuses on locally produced, plant-based fare. The other is Chicks by Chicks, a Copenhagen, Denmark–based organic rotisserie, which delivers simple food of good quality while placing an emphasis on minimizing waste by utilizing its locally raised chickens from "beak to tail."
Finally, in what might seem to be a surprising example of foodservice simplicity, Schaefer pointed to the success of Domino's Pizza, which reported same-store sales growth of 10.5% in 2016. "It's an example of how products that you might not expect to fit into this paradigm can [fit]," he said, noting that pizza is inherently an indulgent product and that Domino's takes a simple approach to its menu and presentation. "We're seeing more and more demand for what I would call responsible indulgence—for ways for consumers to feel good about indulging," he observed.
One free-from category seems to be especially hot: gluten-free. Gluten-free options appeal to more than just those with celiac disease, and many restaurants are stepping up their game in respect to ensuring their menus provide high-quality, delicious offerings. These include pastas, sandwich buns, pizza crusts, soups, and sauces, according to Chris Rich, vice-president of development for the Gluten Intolerance Group.
In addition, some restaurants, including those focused on health, are eschewing gluten-containing ingredients throughout their menus, not just in specifically focused gluten-free items. Ancient grains, proteins, and veggies tend to star in these dishes, and Rich says, "The trend toward 'bowls' is perfect for GF guests.
"We have noticed in just the past six months to one year, there is a more intentional approach from restaurants," says Rich. "We believe that they have come to realize that this need is not going away and is projected to continue to grow for the next few years."
Gluten-free goods were on display across the expo, including fresh dough from Wild Flour Bakery, frozen pasta from RP's Pasta Co., cauliflower pizza crust from Venice Bakery, and ravioli and breakfast sandwiches from Kiki's. In addition, free-from offerings also abounded in other forms, from Sweet Street's Manifesto cookie line, which use non-GM ingredients, cage-free eggs, hormone-free dairy, and no additives. Field Roast, meanwhile, offers vegan deli meats and cheeses made from vegetables.
Melanie Zanoza Bartelme
is associate editor of Food Technology magazine (
[email protected]
).
Mary Ellen Kuhn
is executive editor of Food Technology magazine (
[email protected]
).