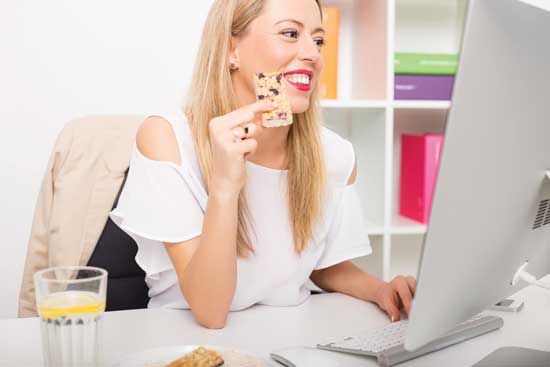 One of the most talked-about generations, the Millennials have surpassed Baby Boomers as the nation's largest living generation. According to the Private Label Manufacturers Association's (PLMA) How America's Eating Habits Are Changing consumer research report, this demographic group represents upwards of 50 million Americans, or about 15% of the total population. Roughly defined as those born in the early 1980s to the mid-1990s, Millennials are a topic of discussion in just about every industry. From technology and health care to environmental science, no area is unaffected by the Millennial generation, including the food industry.
Generally speaking, Millennials are technologically savvy, tend to eat more on the go, and are interested in clean labels. "Millennials are technologically connected, do their research, and share their experiences," observes Todd Johnson, senior director of marketing at Balchem Human Nutrition and Pharma, Layton, Utah (balchem.com). "With a wealth of nutrition knowledge literally at their fingertips, Millennials are extremely informed consumers. However, sometimes it can be like drinking from a firehose, and can make it difficult to sort through information, recognize connections, or find balance when looking at nutritional options, including fortified and functional foods, dietary supplements, and new and innovative ingredients. When selecting products, Millennials often seek simplicity, looking for products with fewer and more familiar ingredients."
When it comes to wellness, the PLMA research report revealed that 78.7% of Millennials said they were very or somewhat interested in health, while 77.9% claimed to be interested in the nutritional value of foods and 73.9% claimed to read nutritional labels. Here is a snapshot of some of the influences that Millennials have had on foods and beverages.
Snacking on the Go
According to PLMA's research, 56.4% of Millennials surveyed said they take breaks to eat whenever they are hungry, 37.3% said they often eat on the run, and 20.3% said they frequently or almost always skip meals and snack instead. "Millennials are driving nutrition on the go," says Johnson. "These busy individuals seek nutritional portability and are looking for options like ready-to-drink protein beverages, fortified smoothies, and functional snacks. They want power nutrition on the go, as they do not generally have lifestyles that allow for traditional sit-down meals. Also, generally, Millennials prefer fortified and functional foods over supplements and pills."
Recent research by Welch's Global Ingredients Group, Concord, Mass. (welchsgig.com), also confirmed the Millennial snacking trend (Welch's 2017). Most American Millennials who snack eat a snack in place of a standard meal at least once a week, according to the company's study commissioned in January 2017. Researchers in the United States questioned snackers between the ages of 18–35 about their snacking habits and preferences. When asked how often they eat a snack instead of having breakfast, lunch, or dinner, 92% of them said they do so a minimum of once a week. Furthermore, half of the respondents said they replace a meal with a snack at least four times a week, while more than a quarter (26%) said they do so at least seven times a week.
Taste, nutrition and health, and convenience were the top three factors guiding Millennials' choice of snack. They also said they are looking for whole food ingredients, such as whole grains (43%), real fruit (42%), and nuts (39%). Besides valuing real fruit, American Millennials who snack also prefer to know the origin of the fruit in their snacks. In total, 68% of survey respondents said it was important for them to know where the ingredients in their snacks, including the fruit, had come from. Welch's Global Ingredients Group supplies FruitWorx real fruit pieces and powders for snack and baking products. The inclusions are real fruit pieces made from Concord grapes, a distinctive, dark purple grape variety with a sweet, bold flavor grown in North America. In addition, FruitWorx delivers more than twice the polyphenols of the leading brand of sweetened dried cranberries, and three times as many polyphenols as the leading brand of raisins.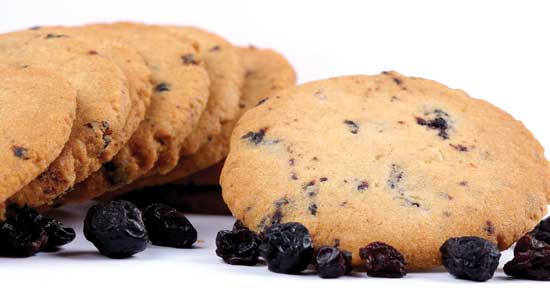 Because blueberries are considered nutritionally beneficial, Millennials, and consumers in general, seek them out in blueberry-containing snacks, says Tom Payne, industry specialist for the U.S. Highbush Blueberry Council, San Mateo, Calif. (blueberrytech.org). "Product developers are using the blueberry goodness cachet to promote snacks of all types, from salty-sweet, baked, and fried snacks to trail mixes and bars. In fact, blueberries are used to enhance indulgent treats as a way to grant permission to the reluctant; almost any snack can be exonerated via blueberries!"
Payne adds that because Millennials favor individuality and customizing what they eat, they are big fans of juices, shrubs, and smoothies, which are inherently customizable. "They see these blends or mashups as a healthy way to get their daily dose of fruits and vegetables, starting with superfoods like blueberries and adding in greens, grains, and spices. The same is true for the meal-in-a-bowl fad, with breakfast and lunch/dinner bowls joining snack-size and dessert bowls as vessels for nutrient-dense, colorful, individualized mélanges."
--- PAGE BREAK ---
Overall Wellness
"Believe it or not, the healthy aging market isn't exclusive to older consumers," notes Johnson. "Younger people, including Millennials, are highly knowledgeable about the importance of vitamins, minerals, and general nutrition through all stages of life. In particular, some of the key health concerns of Millennials include heart health, brain health, energy, skin, and beauty. Minerals like magnesium, calcium, zinc, and others have long been shown to support these areas." He adds that Millennials are driving the demand for known and proven ingredients. "They are also keenly aware of the fact that most individuals today are deficient in minerals and can benefit from fortification and supplementation, particularly with essential minerals like magnesium, zinc, and calcium. All of Albion's chelated minerals are backed by research and science." (Balchem acquired Albion Minerals in 2016.)
Lessened consumption of nuts, fruits, and vegetables is reflected by large gaps between actual intakes and requirements for fiber, vitamins A, E, and K, magnesium, and potassium in both men and women aged 19–30, according to a two-part technical paper series focusing on Millennials by DSM Nutritional Products, Parsippany, N.J. (dsm.com) (Woshnak 2016a). Other nutrients of concern for this age group include vitamin B6, vitamin B12, and vitamin C. The author of the technical papers notes that Millennials are more likely to value a whole foods approach to nutrition, so dietary supplements may be less desirable. "Dietary supplement manufacturers may want to expand their range to include chewable tablets or gummy vitamins, nutrition bars, drinks, and gels targeted at younger adult consumers' nutrition gaps. Using 'superfoods'—foods that contain a substantial amount of a certain nutrient—in product formulations can boost both the nutritional content and healthful appeal of foods."
Alert and Aware
Energy and cognition are two areas of concern for Millennials, and they are looking for natural and science-backed ingredients in these areas. Applied Food Sciences, Austin, Texas (appliedfoods.com), recently launched AMATEA guayusa extract, a highly water-soluble ingredient for the application of focused energy intended for use in beverages and nutritional supplements. It has a unique fingerprint standardized at 20% caffeine, 30% chlorogenic acids, and 5% catechins, and it contains other beneficial compounds. Guayusa is a caffeinated leaf of the holly species that grows only in the upper Amazon region. It is a cousin plant to yerba mate; however, guayusa is uniquely different in that it tastes sweet, not bitter, and has a distinctively different polyphenolic antioxidant makeup. The caffeine helps stimulate the mind while polyphenol antioxidants balance that effect in the body.
Focusing on Millennials and their love of iced coffee, Arla Foods Ingredients, Viby J, the Netherlands (arlafoodsingredients.com), created a refreshing whey protein iced coffee to showcase at the 2016 Health Ingredients Europe show. Its content of naturally occurring caffeine from coffee beans was similar to 1–2 cups of espresso. The coffee product concept was promoted to build muscles, strengthen bones, and boost the brain. Ideal for busy urban consumers, the product concept delivered 20 g of whey protein from Lacprodan DI-7017/350 ml serving. It was a source of calcium and phosphorous thanks to the inclusion of Capolac milk minerals as well.
At Vitafoods in May, Frutarom Health, Haifa, Israel (frutaromhealth.com), showcased NutraT instant drink powders. They were showcased in functional coffee beverages: Detox, which contains CynaxT artichoke extract; Cardio, made with OliveT olive extract; Relax made with RosT, a lemon balm extract; and Mental, which contains Ginseng EFLA 913, a ginseng extract produced using Frutarom's HyperPure proprietary technology to ensure 100% pure and safe ingredients.
Cognivia is a unique synergistic combination of two sage species, Spanish sage (Salvia lavandulifolia) and garden sage (Salvia officinalis), specially developed for people wishing to improve their cognitive faculties. According to Nexira, Somerville, N.J. (nexira.com), studies have demonstrated the benefits of these sage leaves on attention, working memory, long-term memory, and executive function.
Kyowa Hakko USA, New York, N.Y. (kyowa-usa.com, cognizin.com), offers Cognizin. It is a clinically studied and patented form of citicoline, a natural substance found in every cell of the body and that is vital to brain health. A proprietary form of citicoline, Cognizin has been clinically studied to support mental energy, focus, attention, and recall. It is manufactured through a patented fermentation process to yield a high-quality and high-purity ingredient. In December 2016, a mental performance drink mix supplement, INVIA, was launched using Cognizin.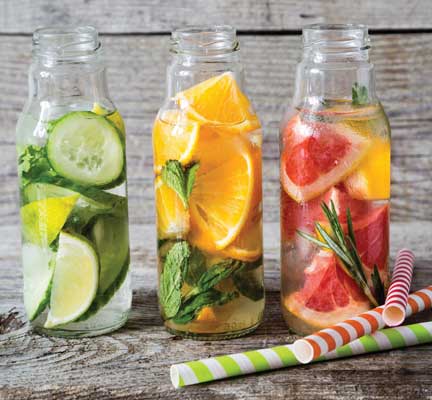 Relaxation/Stress
More Millennials report that they are stressed than older generations, yet they also have more difficulty dealing with high stress levels. Mood foods, which are drinks and beverages designed to provide a sense of well-being, can help Millennials unwind if positioned to their specific needs (Woshnak 2016b). Botanical ingredients, such as chamomile, lemon balm, valerian, hops, and lavender, fit well into the relaxation category for Millennials.
Lutein and zeaxanthin isomers were recently shown to help improve psychological stress levels (OmniActive 2017). Lutein and zeaxanthin isomers—known as the macular carotenoids—are traditionally associated with eye health, but researchers at the University of Georgia found a connection to their function in brain health. Stringham et al. (2017) showed that they improved psychological stress levels and reduced serum cortisol. In the study, 59 healthy young adults aged 18–25 were randomly assigned to receive one of three samples: placebo, 13 mg of lutein and zeaxanthin isomers/day, or 27 mg of lutein and zeaxanthin isomers/day. Blood cortisol, psychological stress ratings, behavioral measures of mood, and symptoms of sub-optimal health were measured at baseline, 6 months, and after 12 months. The results showed that supplementation from both doses for 6 months significantly improved psychological stress, serum cortisol, and measures of emotional and physical health compared to the placebo. This was maintained or further improved after 12 months of supplementation. Lutemax 2020, from OmniActive Health Technologies, Morristown, N.J. (omniactives.com), is a naturally derived marigold extract providing all three macular carotenoids (lutein and enhanced levels of both zeaxanthin isomers—RR- and RS [meso]-zeaxanthin) at the same 5:1 ratio as found in nature.
Next month's Nutraceuticals column will examine ingredients that address the health concerns of women.
---
www.ift.org
Members Only:
Read more about Millennials' food product preferences at
ift.org
. Type the keyword into the search box at the upper right side of the home page.

Linda Milo Ohr,
Contributing Editor
Denver, Colo.
[email protected]