IFT recognizes 50-year members
IFT recognizes the following individuals, who are celebrating their 50th anniversary as members of IFT: Robert B. Beelman, Kenneth E. Beery, James R Behnke, Zeki Berk, Peter Bluestein, Charles T. Bourland, A. Larry Branen, Helen C. Brittin, Dhyaneshwar Chawan, Grady W. Chism III, Bert D'Appolonia, James Elliott, Satoshi Fujita, Harvey B. Krohn, Charles H. Manley, Gary W. Pace, Merle D. Pierson, Thomas A. Topalis, Thomas W. Holzinger, Wynn R. Raymond, Albert J. Ros, Geoffrey L. Sans, Lowell D. Satterlee, Rodolfo Solis, Herbert S. Stein, Antonette N. Trinchese, Josef J. Weiss, and Larry L. Young.
For IFT Past President Charles Manley, his involvement in IFT led not only to his first job but also helped him progress throughout his career, creating contacts that led to a number of new opportunities. It also exposed him to people who would have a lasting impact in his career.
"I always believed that if you are going to be in an organization you should be active," adds Manley, and his involvement with IFT also included chairing committees and serving on the board of directors.
"I believe that I have encouraged many of our members to be inspired and to contribute and grow with IFT," he says. Manley encourages today's members to reach out to those entering the profession to help lead and inspire these new members the way past leaders inspired him.
IFT thanks each of these members for their years of support.
CFS standalone practice test
IFT announces a new standalone practice test designed to help applicants prepare to take the Certified Food Scientist exam. Available this month, the 100-question practice test can serve as an additional study tool for those who are also taking the online or in-person CFS Prep Course. There are no limits to the number of times the practice test can be retaken, and IFT members can purchase it at a discounted price (though the exam is available for anyone to purchase). Click here for more information.
JFSE announces contest winners
The Journal of Food Science Education (JFSE) announced the winners of the 2017 "Food Science In Action" video contest, which had the theme "FSI: Food Science Investigation." To determine the winner, the JFSE Editorial Board evaluated submissions based on scientific accuracy, creativity, tone, appropriateness for the target audience, and production quality. The first-place award went to "Food Science Investigation: The Mystery of The Flabby Pizza" by Amadeus Driando Ahnan from the University of Massachusetts Amherst.
"I hope my video would inspire more students to participate in such a competition, to challenge ourselves in communicating scientific concepts in a fun and digestible way," says Ahnan, who was excited by the idea of communicating food science across elementary, middle, and high school audiences. He says the contest topic immediately called to his mind the idea of a cartoon-style detective, and spending time with his professor's children helped him decide to focus on pizza.
"I am happy that my family members in Indonesia are proud of this achievement, and the prize will contribute significantly in bringing my grandparents and parents to attend my doctoral graduation," he says.
Second place was awarded to "Why Did My Avocado Turn Brown?" by Marta Albiol Tapia, Ramon Marcelo Moloni, Xueqian Shi, and Luis Alfonso Vargas Lopez from the University of Illinois at Urbana-Champaign. In third place was "All That and a Bag of Chips" by Michael Freund from the University of Massachusetts Amherst.
The winners will be recognized at IFT17, and the theme for 2018's contest will be announced soon. Click here to view all videos.
--- PAGE BREAK ---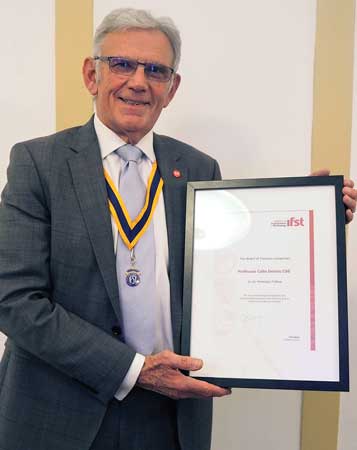 IFST honors Dennis
The Institute of Food Science & Technology (IFST) announced that IFT Immediate Past President Colin Dennis has been awarded its Honorary Fellowship, which is awarded to members and fellows who have made an extensive personal contribution to the working and progress of the institute and to the food science and technology profession.
"It is vital that we all continue to promote the important role which science, technology, and innovation play in ensuring a safe, nutritious, and sustainable food supply for everyone. I look forward to an exciting future for our profession and to continuing my involvement in IFST," says Dennis.
Dennis's career in food science spans 47 years. He was appointed as the first mycologist at the UK government's Institute of Food Research (IFR) in Norwich, where he subsequently headed the mycology and fruit and vegetable storage sections. After 11 years at IFR, including a period as visiting scientist at the Norwegian Food Research Institute (Matforsk) near Oslo, he joined Campden BRI, Chipping Campden in 1981 as head of the Food Technology Division. In 1988 he was promoted to director-general (CEO), a position he held for 21 years and during which the business expanded from an annual turnover of £2.5M to a turnover of over £19M in 2009, when he retired and was elected an honorary member.
Dennis is a fellow and past president of IFST, an IFT Fellow, a fellow of the International Academy of Food Science & Technology, and past chairman of the Scientific Council of the International Union of Food Science & Technology. He also served on the Selection Panel for the World Food Prize from 1996 to 2002.
Dennis is currently chairman of the Board of Trustees of the International Food Information Service and the Scientific Advisory Committee of Flanders Foods (Belgium) and vice-chair of the Board of Trustees of the British Nutrition Foundation (BNF). He also serves as a council member of BNF and is on the board of the National Skills Academy, the Countryside and Community Research Institute, and on the Audit Committee at the Royal Agricultural University.
Heinz receives IFRANA award
The International Fragrance Assoc. (North America) (IFRANA) presented the Eric Bruell Distinguished Service Award to James Heinz, president and CEO of Bell Flavors & Fragrances, in recognition of his legacy of contribution to fragrance.
This award is given to honor individuals in the fragrance industry who "go above and beyond the call of duty," showing an unprecedented level of service, commitment, and contribution to the industry.
Heinz serves on the boards of IFRANA and the Research Institute for Fragrance Materials and has helped better elected government officials' understanding of the fragrance industry by cultivating relationships with officials, hosting town hall meetings, and providing facility tours at Bell.
Nutmeg Section awards scholarships
The Nutmeg Section recently held its yearly event celebrating food science and academic excellence. The awards dinner recognizes both undergraduate and graduate students as well as some junior high and high school projects.
"We hold it annually and really love the chance to share food science with the next generation," says section co-secretary Nicole Whitney, who helped coordinate the event.
Throughout the year, the section raises funds to allocate to scholarships within the local community, and involvement in IFT is included in the scoring rubric. This year's scholarships went to University of Connecticut IFT Student Association chapter president Muhammed Shafeek Muyyarikkandy and vice-president Stephanie Barnes. In addition, the entire UConn IFTSA chapter was invited to attend.
The event also recognized the work of several junior high and high school students. Section members volunteer to judge the local Connecticut junior high/high school science fair and search for food science–related projects, picking top projects there. Winning groups and their parents were also invited to attend the dinner and received a cash prize to acknowledge their success.
RCA names IFT members to board
The Research Chefs Assoc. appointed several IFT members to its 2017 board of directors. Paul Rockwell, executive R&D chef for Diversified Foods & Seasonings and a Certified Food Scientist, was named treasurer, and Catherine Proper, senior director of product development and quality assurance for SUPERVALU, is immediate past president. Board members include Rosemary Trout, head of Culinary Arts, Food Science & Hospitality Management and an instructor of food science at Drexel University, and Mark Hughes, president of Anderson Partners Food Ingredient Marketing. Allen Freed, president of AJ Freed, is the board adviser.
--- PAGE BREAK ---
---
Getting to Know Amy DeJong

Each month, we meet one of IFT's valued volunteers.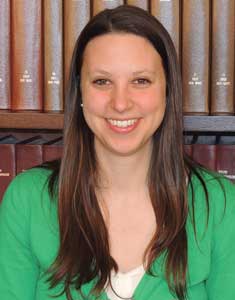 Serving as IFTSA president has been one of the best decisions I have ever made," says Amy DeJong, who was elected to the role in 2014 after serving as her local chapter president and then national competition chair. In those positions, she discovered that IFT was an organization she wanted to stay involved in, and as she says, "the rest is history."
"When I first got involved, I never dreamed that I would have half the opportunities I have had," adds DeJong. As president, she has represented IFTSA around the globe, including China and Ireland. She also learned how to manage groups of people, organize effective meetings, and set and achieve strategic goals, and she says her volunteering experience has helped her grow both personally and professionally. "As a graduate student, it is very easy to become so focused on your research that you lose track of developing leadership and interpersonal skills," she explains.
In addition, she says her involvement has helped her grow as a scientist by helping her see outside her own research "bubble." "Working with other students in IFTSA has given me exposure to research techniques and specialties that I otherwise would not have known anything about," says DeJong. "Leading IFTSA has given me a chance to do big, outside-of-the-box things that have impact much more quickly than academic research."
It also has helped her develop a different perspective on managing her research. "I've learned how to plan, problem solve, and manage tasks that are not as technically draining as research," she notes. "Practicing these types of things on more friendly topics has helped me better apply similar project management skills to my work."
DeJong also values the exposure to the greater food industry that this position has given her, whether by connecting at the annual meeting or working alongside other passionate students or planning large-scale events like IFTSA's first virtual global summit two years ago. "A lot of blood, sweat, and tears went into what was an incredibly successful event and what I hope continues to get even better each year. It was so fun to be part of hundreds of food science students from all over the world who came together to learn about and discuss food science," she says.
DeJong, who says she has met some of her closest friends through IFT, understands that it can be hard to balance volunteering with professional priorities. She advocates planning ahead, relying on teamwork, and being upfront with others on the team about their workloads to get through the tough spots. "It's been helpful to let other volunteer leaders know about major deadlines or exams so that we can all help each other out and hopefully keep anyone from becoming overwhelmed while still moving forward with projects," she says.
It can be easier for volunteers to make time for projects that they feel passionate about, and DeJong encourages members to find what drives them. "Find what you like," she says. "IFT is a large organization with many different types of groups and opportunities. Start somewhere and try different types of roles until you find something that fits."
---
In Memoriam
Howard Schutz
passed away May 7, 2017. An IFT member since 1963, Schutz helped found the Sensory Evaluation Division and received the inaugural Sensory and Consumer Sciences Achievement Award in 2011. An IFT Fellow, Schutz was known for his leadership in establishing the online certificate course in sensory and consumer science at the University of California, Davis. Schutz had experience with the Battelle Memorial Institute, the Quartermaster Food and Container Institute (now the U.S. Army Natick Soldier Systems Center), Hunt Wesson Foods, and a brief marketing research stint before joining UC Davis for the rest of his career. His focus there was on measuring consumer behavior. During his summers, Schutz would return to do research at Natick and tested his ideas at Tragon Corp., educating new employees about opportunities in the field and new approaches to measuring sensory behavior, according to IFT Past President Herbert Stone.
IFT also notes the passing of the following members: Rubin Cohen, Kenneth R. Jury, A.D. King, Jr., Voldemar Madis, Daniel Randall, and Paul S. Smith
Have some news to share about yourself or another IFT member? Email [email protected].