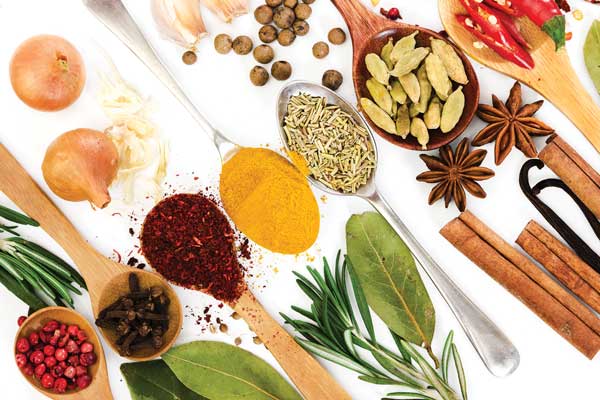 Pathogen removal may impact spice quality
Spices and herbs add flavor and vibrancy to foods, but they are at risk for contamination by pathogens. Processing methods for spices and herbs include fumigation with ethylene oxide (EtO), irradiation, and vacuum-assisted steam, but using these methods can affect the quality of the resulting products, according to a study published in the Journal of Food Science.
While fumigation with EtO has demonstrated the ability to significantly reduce microbial populations on spices, some EtO-treated spices have been shown to undergo alterations in flavor and color. Vacuum-assisted steam processing has been used with increased frequency due to greater consumer acceptance of this process over EtO or irradiation. However, there may be a decrease in quality from the high temperatures typically used in this process. Finally, irradiation has been described as an effective, energy-efficient method for decontaminating spices, but higher doses of ionizing radiation have been shown to change the physical and antioxidative properties of food products. In addition, consumers have not been readily accepting of any product that has been treated with gamma rays, electron beam, or X-rays.
In the study, researchers found that irradiation did not alter visual or odor sensory quality of black peppercorn, cumin seed, or oregano, but it created differences in onion powder, which was lighter and redder in color, and resulted in nearly complete loss of measured volatile compounds. EtO processing did not create detectable odor or appearance differences in black peppercorn; however, visual and odor sensory quality differences, supported by changes in color (darker and more yellow) and increased concentrations of most volatiles, were detected for cumin seeds. Steam processing of black peppercorn resulted in perceptible odor differences, supported by increased concentration of monoterpene volatiles and loss of all sesquiterpenes. Meanwhile, steam processing only altered the visual appearance of cumin seeds. An important step in process validation is the verification that no effect is detectable from a sensory perspective.
"The progression of the relationship of spices and herbs beyond culinary contributions and toward developing relationships to health and wellness further establishes the importance of identifying effective processes that protect spice and herb quality," conclude the researchers.
Consumers unclear on livestock labels
Today's consumers may be reading food labels more closely, but that doesn't mean they fully understand what the claims found on packages may mean, according to new research from the University of Illinois at Urbana-Champaign (U of I). In a recent study, researchers asked participants to rank the importance of seven claims related to beef, chicken, milk, and eggs and were surprised when consumers ranked "no growth hormones" as the most important and "organic" as the least important.
"The biggest surprise in the study is that 'no growth hormones' is the No. 1 concern consumers have across the board on all of these products," says U of I food economist and lead researcher Brenna Ellison. "It's odd because growth hormones are already prohibited for poultry products. Further, products that are certified organic or humanely raised also prohibit the use of growth hormones in animals. Ultimately, it means consumers are spending unnecessary time looking for labels that reflect this particular attribute."
Still, the researchers point out that while this top attribute is already present in some of the other claims, the producer who does not include the repeated information may miss out on sales. "They keep adding more labels to make sure consumers can find all of the things that they want even though one label might do the job," adds Ellison.
--- PAGE BREAK ---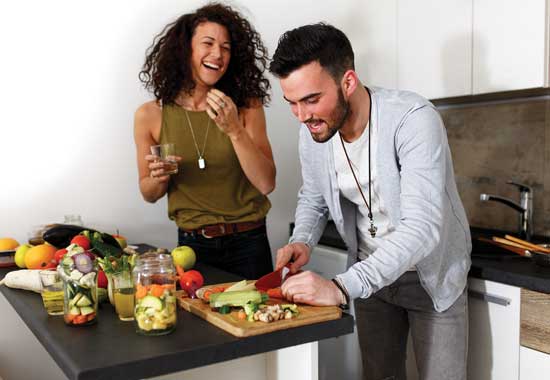 Millennials drive better-for-you snacks
Eighty-nine percent of Millennials have eaten a healthy snack in the past week, and 68% have recommended a better-for-you snack to another person, according to new research from the Center for Generational Kinetics and Amplify Snack Brands. In fact, Millennials are more likely than members of any other generation to try a snack based solely on an online rating, review, or social media post.
While Millennials are open to snacks with fewer, more understandable ingredients, which 64% of respondents say makes a snack healthier, these consumers refuse to compromise on taste. Eighty-nine percent of Millennials say they select taste as their highest priority in choosing a snack.
Millennial parents are also embracing more healthful snacks, with 82% purchasing at least one for their children in the past month. "Millennial parents are instilling these values into their kids and setting the stage for the next generation of better-for-you snackers," says researcher Jason Dorsey. "This study is such a fantastic example of how powerful the Millennial generation can be for businesses. Their passion for healthy eating helped to turn a niche snacking category into a thriving industry," he adds.
Reformulated products on the rise
Manufacturers reformulated more than 180,000 food and beverage products in 2016 to support healthier diets and lifestyles, according to data presented by the Consumer Goods Forum (CGF) in its latest CGF Health & Wellness Progress Report, developed in conjunction with Deloitte. These figures represent an increase of 100,000 products from last year. According to the report, the most common reductions were for sodium and sugar and the most added nutrients were whole grains and vitamins.
"In consumer goods, understanding and anticipating the shifting needs and desires of our consumers is more vital than any other success factor. Health and wellness topics are more frequently top of mind and, as instances of noncommunicable diseases continue to rise at alarming rates, people are looking to use products and services that will help them lead fuller, healthier, longer, and more productive lives," CGF writes.
Quinoa opportunity still strong
Quinoa should be familiar to most consumers by now, even if only 50% of them can pronounce the word; growth of the clean label, gluten-free seed has experienced a 312% growth on foodservice menus since 2012, growing 20% in 2016, according to Dave Sheluga, director of consumer insights for Ardent Mills. He and a team of the company's quinoa experts recently shared insights into the opportunities for quinoa on restaurant menus and in retail products in a webcast highlighting their Great Plains Quinoa ingredient line.
Within restaurants, fast casual outlets use quinoa the most, with 21.4% of outlets listing the ancient grain on their menus, followed by fine dining locations at 18.4%. National chains clocked in at just 2.5%, likely because it takes longer to roll out business-wide changes. On the retail side, there has been an average annual growth of 72% since 2012, with 23% growth in 2016, according to Nielsen Scantrack data. Retail products using quinoa include snack bars, bagels, boxed dinners/sides, ready-to-eat cereal, tortilla chips, and crackers.
There is ample opportunity for foodservice operators to follow retail's lead and fill in some menu gaps by incorporating quinoa into their pizzas, pastas, and baked goods, such as bagels. When it comes to quinoa, the "options are pretty far out there," said Daniel Marciani, executive development chef, who observed that there isn't any international cuisine that quinoa doesn't pair well with. He suggested experimenting with Latin American flavors, since quinoa originated in Peru and Argentina, but also said Italian, Asian, and American flavors complement quinoa nicely.
---
News Bites
•
American Almond
celebrated its move to a new facility in Pennsauken, N.J.
• Bell Flavors & Fragrances announced that all of its North American manufacturing plants completed their 2016 Safe Quality Foods Level 3 recertification audits. It also opened a 3,300-square-foot fully integrated culinary center.
• Catania Spagna Corp. recently changed its name to Catania Oils.
• DSM opened a new state-of-the-art biotechnology facility at its site in Delft, the Netherlands. This facility will expand the company's research and development capabilities in fermentation and biotechnology for food applications.
• First Choice Ingredients shipped its first orders from its new full-scale production facility in Germantown, Wis.
• Food Safety Net Services Certification & Audit was selected as the "Certification Body of the Year" at the BRC Americas Food Safety Conference.
• Glanbia Nutritionals extended its partnership to comarket Nutrition 21's unique ingredient, Velositol.
• Private investment firm Highlander Partners formed a new holding company named Bettera Brands and acquired jelly bean maker Gimbal Brothers.
• The Institute for Sensory Research launched Flash Discrimination Testing, a new sensory research service designed for consumer packaged goods.
• Milk Specialties Global was awarded the Validus Dairy Animal Welfare Review Certification at its Norfolk, Neb., facility.
• Nielsen-Massey Vanillas was awarded Level 3 Certification by the Safe Quality Food Institute.
• Novozymes was named Company of the Year by the Islamic Food and Nutrition Council of America.
• Olam Cocoa opened a new Cocoa Innovation Center in Willowbrook, Ill., to service North American customers. The facility includes an applications laboratory equipped for production of bakery, beverage, confectionery, dairy, and cereal product concepts as well as an adjacent auditorium for customer presentations.
• SupHerb Farms recently celebrated its 25th anniversary and redesigned its website to optimize customer experience.
• tna acquired Australian confectionery equipment supplier NID Pty.
• Symrise joined the World Business Council for Sustainable Development and also signed on to the "Biodiversity in Good Company" initiative.
• Taiyo received Non-GMO Project Verification for its L-isomer-theanine.
• Tate & Lyle entered into an exclusive partnership to supply Sweet Green Fields' stevia ingredients.
• The U.S. Food and Drug Administration issued a Generally Recognized As Safe no objection letter for SweeGen's BESTEVIA Reb-M stevia sweetener.

Melanie Zanoza Bartelme, Associate Editor
[email protected]