Betting on Wellness Ingredients
At IFT17 in Las Vegas this year, it is a sure thing that health and wellness will be a focus among the IFT food expo exhibitors as well as in the educational sessions. Today's wellness trends range from new regulations, clean labels, transparency, and more "natural" ingredients to increased awareness of immune and digestive health, Millennial nutritional concerns, and the innate nutritional properties of whole foods and ingredients. Of course, proteins, particularly plant-based proteins, will be a hot topic of conversation as consumers and manufacturers look for alternative sources of protein not only because of health concerns, but also for sustainability as the world population continues to grow.
"Go with Purpose" is this year's IFT17 theme. For attendees, this means come with questions, ideas, curiosity, and knowledge. You will be sure to find answers to your questions and innovations that will aid in product development in nutritional formulations. You will also be certain to gain more insight into new U.S. Food and Drug Administration regulations and labeling laws that affect your formulation and marketing activities. This sampling of educational sessions and exhibitor highlights shows that IFT17 will be a winning source for your nutritional needs.
DIETARY FIBER
Have questions about the new U.S. regulatory requirements for dietary fiber? More information and insights will be available in session 012, "A Global Overview of Dietary Fiber Regulations: Facts and Impacts, Part 1," on Monday, June 26, from 10:30 a.m. to noon. Attendees will gain knowledge about the new dietary fiber definition as well as the list of acceptable fibers, which includes beta-glucan, psyllium husk, cellulose, guar gum, pectin, locust bean gum, and hydroxypropylmethylcellulose. Part 2 of the dietary fiber discussion, session 030, will take place on Monday, June 26, from 3:30 p.m. to 5 p.m. This will include more open dialogue on the FDA dietary fiber rule. Topics will include the addition or omission of nondigestible carbohydrates as dietary fiber, the impact of the new ruling on consumers meeting dietary fiber recommendations, and a review of the differences among dietary fiber regulations in the United States, Canada, and other countries. At the IFT food expo, attendees can find ingredients and more insight on how to comply with the new dietary fiber regulations by July 2018 and 2019.
CONFIRMED BY THE FDA to qualify as a dietary fiber under its new, more stringent definition, Sunfiber guar fiber is a soluble, transparent, tasteless, truly regulating dietary fiber. Its healthful benefits are backed by more than 100 clinical studies and Health Canada–approved health claims related to treating symptoms of irritable bowel syndrome (IBS) and intestinal issues related to childhood constipation. Sunfiber has low viscosity, is stable at various pH levels, and is resistant to heat, acid, and digestive enzymes.
In other news, Taiyo has a newly branded ingredient, Whole Green Coffee Powder, which is labeled as "whole green coffee beans," not caffeine. This 100% natural, organic-certified, whole, unroasted bean is bound together with the fiber, offering five to six hours of slow-release, steady energy. The fine mesh Whole Green Coffee Powder is perfect for use in cereals, bars, dairy, juice, protein, and smoothie applications. The company's new partnership with Benexia gives it exclusive distribution of its new omega-3 chia oil throughout North America. Produced via XIA PURE Ox Blocker, this proprietary process guarantees significantly improved stability, extended shelf life, and a superior quality chia seed oil for use in foods, beverages, and dietary supplements. Taiyo International, taiyointernational.com, Booth 4432
CORN-BASED, SOLUBLE DIETARY fiber ingredients from Fibersol offer solutions to many of today's formulation challenges. Whether formulators are seeking ways to reduce sugar and calories, meet clean label goals, create products that help promote digestive tract health, or use a well-tolerated fiber to boost the fiber content of a food or beverage, Fibersol has a solution. The ingredient range includes Fibersol-2, Fibersol-2AG, Fibersol-LQ, Fibersol-2L, Fibersol-SF, Fibersol-DLQ, and a non-GM Fibersol.
Fibersol-2 is 90% fiber, provides only 0.02 g of sugar, has 1.6 Kcal, and can replace many of the nonsweetening functional properties of sugar. It is water-soluble and forms a clear solution. It is also heat-, acid-, shear-, and freeze/thaw-stable, and maintains its fiber content under those conditions. The potential gut health benefits of Fibersol-2 may help support structure-function claims in qualifying finished products. ADM/Matsutani LLC, fibersol.com, Booth 762
A NEW PREBIOTIC dietary fiber, VitaFiber IMO, functions as a low-calorie natural sweetener. It utilizes starch extracted from potato, pea, non-GM corn, and tapioca, and employs a unique, patented process to create an ingredient that can help with obesity and digestive problems. The company transforms starch molecules into functional health molecules of isomalto-oligosaccharides (IMOs) by a natural enzymatic conversion process without any chemical additives. IMOs are a mixture of short-chain carbohydrates that have a digestion-resistant property. VitaFiber IMO is the result of nearly 27 years of research and has been approved by the FDA, Health Canada, and the European Food Safety Authority. BioNeutra, bioneutra.ca, Booth 3507
SMART, HEALTHIER SNACKS that are in line with current consumer trends will be presented under the theme, "A Better Day with BENEO." Snacks have taken center stage in consumers' preferences, with 90% of consumers snacking multiple times throughout the day and 7% of consumers even foregoing meals altogether in favor of all-day snacking.
BENEO offers a versatile portfolio of ingredients to improve a snack product's nutritional profile and add proven health benefits. By replacing high-glycemic sugars, BENEO's prebiotic chicory fiber and the slow-release carbohydrate Palatinose (isomaltulose) help support a healthier metabolism, which effectively helps to manage weight. Palatinose is a slow-release carbohydrate that provides full energy in a sustained way. The generic name is isomaltulose, which is also naturally found in honey. Including chicory root fiber in snack products helps to cut sugar and calories and adds a valuable source of prebiotic fiber. Scientific studies show that BENEO's chicory root fiber beneficially influences the gut microbiome and improves well-being. Digestive health, regularity, overall well-being, and feeling fuller for longer are the main benefits consumers associate with fiber. Visitors to the booth can taste nutritious cereal and protein bars enriched with the prebiotic fiber inulin. One of them is gluten-free, has no allergens, and supports weight management. It is made with natural ingredients and contains 7 g of fiber and only 2 g of sugar. BENEO, beneo.com, Booth 4023
HIGH-AMYLOSE MAIZE RESISTANT starch will be showcased in several prototypes. Last year, the FDA approved a qualified health claim enabling food manufacturers to communicate the relationship between high-amylose maize resistant starch and a reduced risk of type 2 diabetes on packages of conventional foods. In reviewing Ingredion's petition, the FDA concluded that there was scientific evidence for a qualified health claim for high-amylose maize resistant starch and reduced risk of type 2 diabetes, while ensuring the claim was appropriately worded so as not to be misleading. The claims are "High-amylose maize resistant starch may reduce the risk of type 2 diabetes. FDA has concluded that there is limited scientific evidence for this claim." and "High-amylose maize resistant starch, a type of fiber, may reduce the risk of Type 2 diabetes. FDA has concluded that there is limited scientific evidence for this claim." These claims can be used on the packaging of conventional foods, as defined by 21 CFR 101.14, including bakery items, nutrition bars, cereals, and pastas. Ingredion offers HI-MAIZE high-amylose maize resistant starch that is derived from a variety of corn that is high in amylose starch. Ingredion, ingredion.us, Booth 2056
WHOLE FOODS, BOTANICALS, AND EXTRACTS
Consumer interest in the naturally inherent health benefits of fruits, vegetables, and botanicals has fueled growing research into what components, like polyphenols, are responsible for these healthful properties. This has also sparked a rise in interest in plant-based diets and plant-based proteins. In session 027, "Health Benefits of Bioactive Compounds in Foods," on Monday, June 26, from 3:30 p.m. to 5 p.m., speakers will expand on the research supporting bioactive compounds in fruits, vegetables, and whole grains and their reported roles in reducing the incidence and prevalence of chronic diseases.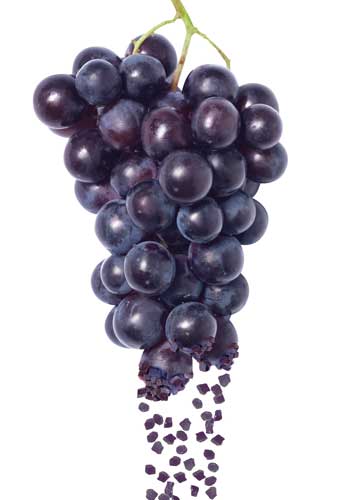 CONCORD AND NIAGARA grape ingredients will take center stage. True American superfruits, Concord and Niagara grapes are grown in North America by Welch's nearly 1,000 family farmers. The Concord grape is a distinctive dark purple grape variety with a sweet bold flavor. Its cousin, the Niagara grape, is a white grape with a golden hue that delivers a sophisticated flavor profile that is crisp, sweet, light, and refreshing.
Welch's Global Ingredients Group will introduce visitors to the FruitWorx range of Concord and Niagara real fruit pieces. Made using a technology called URC, which was developed by Taura Natural Ingredients, FruitWorx pieces are perfect for snack, bakery, and confectionery applications. Also at the food expo will be FruitWorx Concord Grape Juice Powder, which is made with a proprietary dehydration process that gently removes all the water from Concord grape juice but captures its natural wholesomeness and retains its bold flavor and rich purple color. In addition, the company will highlight the great taste and nutrition content of Concord and Niagara grape juices, which are available as single-strength juices, concentrates, and purées. Concord grape juice delivers plant nutrients called polyphenols that have been shown to help support a healthy heart. Also, while more research is needed, emerging science suggests that Concord grape juice may also provide mind health benefits. Welch's Global Ingredients Group, welchs.com, Booth 2135
WHOLE FOOD FRUIT and vegetable powders put clean label nutrition and serving sizes into your formulations. Vibrant Harvest Whole Food Powders are made from high quality, organically or conventionally grown fruits and vegetables. The patented Vibrant Harvest drying process delivers superior nutrient retention and "vibrantly" preserves the color, flavor, and aroma of the original material. Radiant Zone Drying turns locally grown fruits and vegetables into powders in minutes by targeting the water molecules and not the nutrients. PLT Health Solutions is a discoverer, developer, and marketer of high-quality, scientifically supported ingredient solutions for the natural products, food and beverage, and cosmeceuticals markets. The company's goal is to bring innovative and impactful solutions that help food formulators develop new concepts and new products, and grow successful brands. PLT Health Solutions, plthealth.com, Booth 1857
ORGANIC CRANBERRY JUICE powder formulated with organic acacia gum will be offered. The organic acacia gum is an additive as a prebiotic fiber. Fruit d'Or's proprietary drying process results in higher active cranberry components, such as vitamin C, deep color, great taste, flowability, and dispersion. These ingredients are beneficial for urinary tract and gut health.
Fruit d'Or will also be offering organic cranberry juice powder with Taiyo's Sunfiber soluble guar fiber. These ingredients are ideal for digestive health, leveraging the prebiotic fiber benefits of Sunfiber with the benefits of cranberry juice without the sugar. They can be used in foods that support nutrition, ready-to-drink beverages, bars, stick packs, and scoopable powder. Both organic cranberry juice powder formulations are free of carriers (no maltodextrin and no magnesium hydroxide). Both formulations have been clinically tested by researchers at Rutgers University for anti-adhesion benefits. Fruit d'Or will be showcasing these ingredient formulations for women's health using the Güd Pod beverage delivery system (gudpod.com). Fruit d'Or Nutraceuticals, bestcranberry.com, Booth 4215
A RETURNING EXHIBITOR, NP Nutra (Nature's Power Nutraceuticals Corp.) will focus on innovation and quality. Attendees will learn about trending nutraceutical ingredients and have the opportunity to sample a large selection of premium ingredients from numerous categories, including AcaiVida, BettaBerries Antioxidant Blend, CocOganic, Green Balance Alkalizing Blend, MacaXtra, and SachaOmega; NutraPet; Superfruits; and Supergreens, to name a few. Bee pollen powder, blackcurrant fruit powder, oregano leaf P.E. 5:1, and prickly pear concentrate are just some of the new ingredients to be launched at the show. In addition, organic cayenne powder, organic coconut milk powder, and organic grape juice powder will be added to the company's extensive NutraOrganics line of certified organic ingredients. NP Nutra, npnutra.com, Booth 2604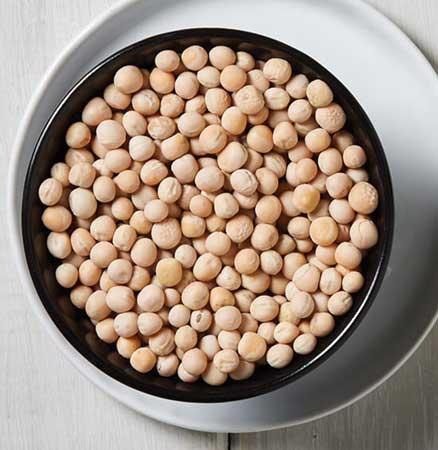 A SEA BUCKTHORN ingredient, SeaBerry Omega Powder, contains all the important essential fatty acids, high levels of vitamins A and E, flavonoids, and tocopherols. While all the nutrients are important to improving health, the essential fatty acids (omega-3, omega-6, omega-7, and omega-9) are what make sea buckthorn an effective tool for gastrointestinal, dermatological, cardiovascular, and overall health. With a fresh berry taste, it boasts an outstanding profile of vitamins, minerals, polyphenols, flavonoids, all the essential fatty acids, and nearly 200 bioactive substances. Puredia USA, puredia.com, Booth V105
A SUPPLIER OF botanical ingredients, BI Nutraceuticals serves the food and beverage, dietary supplements, personal care, and pet care industries. The company manufactures and supplies hundreds of ingredients, including plant-based powders, extracts, proteins, vitamin-mineral blends, and more. The company is cGMP compliant and SQF, organic, kosher, halal, and gluten-free certified. BI Nutraceuticals, binutraceuticals.com, Booth 1745
NUTRITIONAL FATS
Fats are no longer the ingredient to avoid. Consumers have accepted that not all fats are bad, that some fat in the diet is essential, and some fats provide additional health benefits. This is evident in the number of educational sessions highlighting fats. For example, on Wednesday, June 28, from 1 p.m. to 2:30 p.m., during session 104, "Making the Healthy Claim for Fats and Oils," experts will discuss and present research on the various fatty acids and their beneficial role in major chronic diseases. The speakers will also explore labeling regulations and clean labeling and how fats and oils fit in. For those looking for information on the removal of partially hydrogenated oils (PHOs) from bakery formulations, plan to attend session 089, "Innovations in Healthy Oils and Fat Systems and Their Applications in Foods," on Wednesday, June 28, from 10:30 a.m. to noon. This session will explain how high stability oils such as high oleic oils offer a solution for baking and frying applications. Attendees will also learn about low saturated oils and omega-3 oils, which can be a part of reduced saturated fat systems in applications where solid fat functionality is desired. Session 059, "Health Impacts of High-Stability Oils," on Tuesday, June 27, from 2 p.m. to 3:30 p.m., will further explore high oleic soybean oils and their effects on biomarkers of diabetes and cardiovascular disease. In addition, information will be provided on how these oils can be used to replace PHOs while maintaining functionality.
OMEGA-9 OILS are derived from NEXERA canola and sunflower seeds. They contain no trans fats and the lowest amount of saturated fats of any other common cooking oils. Dow combines chemistry and innovation with the principles of sustainability to help address many of the world's most challenging problems, such as the need for clean water and increasing agricultural and food productivity. Dow has an industry-leading portfolio of healthy cooking oils, fat replacements, and other innovative food industry solutions. Dow Chemical Co., dow.com, Booth 4435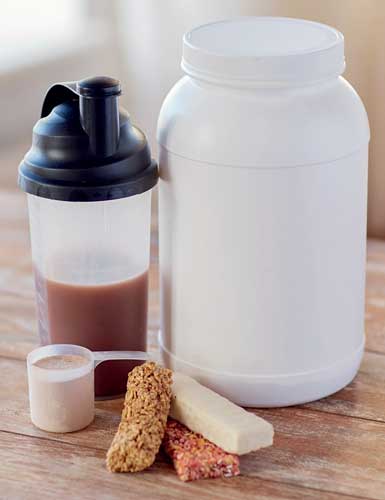 PROTEIN
Lean protein, plant protein, high protein, and sustainable protein. Currently these are some of the buzzwords when it comes to protein ingredients. Protein's popularity as well as staying power are evident in the growing number and variety of protein ingredients. Their benefits as well as advances in their functionalities will be addressed in several educational sessions. Session 062, "Dietary Protein for Food and Nutrition Security: Challenges and Opportunities," on Tuesday, June 27, from 2 p.m. to 3:30 p.m., will look at protein's role in the global issue of feeding a growing population with nutritious food. Those looking for more information in the plant protein arena can attend session 046, "Leverage the Power of Plant Proteins," on Tuesday, June 27, from 11 a.m. to 12:30 p.m. The speakers will discuss emerging sources of plant protein and their nutritional and functional properties. The roles of protein and carbohydrates in body weight and metabolic health will be the focus of session 090, "How Do Dietary Proteins and Carbohydrates Interact to Affect Metabolic Health?" on Wednesday, June 28, from 10:30 a.m. to noon. The speakers will discuss how differences in protein and carbohydrate consumption affect appetite, metabolism, and energy expenditure. And session 074, "The Plant-Based Diet Evolution: The Consumer, Scientific Evidence, and Food Formulation," takes place on Wednesday, June 28, from 8:30 a.m. to 10 a.m. Nuts, seeds, and legumes are being recommended as sources of plant protein that have been shown to improve multiple cardiometabolic risk factors. Attendees will learn about consumer demand for protein, current research supporting protein consumption, and the challenges food scientists face when formulating foods designed to be high in protein and plant-based.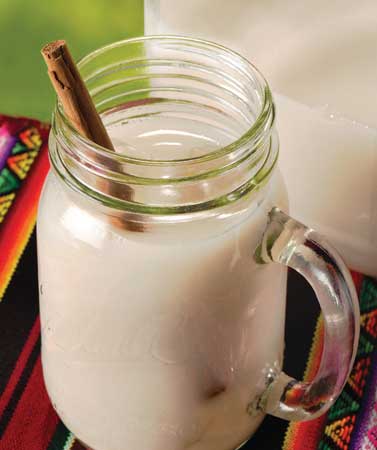 A HAPPY HORCHATA product concept will be available for sampling. Horchata can be found as a beverage and as a flavor in various foods. Ice creams, coffee shop beverages, commercial energy drinks, and drink mixes all offer a horchata choice. While these products commonly contain dairy, most have marginal protein content.
To improve the nutritional value of horchata, Hilmar Ingredients has developed a concept formulation for a dry mix using skim milk powder and whey proteins. Both whey protein isolate and whey protein hydrolysate are used to supply protein nutrition across the range of digestion rates. In total, with whey proteins plus skim milk powder, the mix delivers 9 g of protein and 100 calories in a 26 g serving. The formula mix can be stirred into milk or water. It's application-friendly, too, and can be used to flavor bases for beverages or ice cream and be adjusted for use in baked goods.
In addition to its protein value, the formula has a simple, clean ingredient list. It includes only skim milk powder, rice flour, whey protein isolate, whey protein hydrolysate, natural flavor, cinnamon, and sucralose. The Hilmar ingredients used in the formula include Hilmar LH-SMP Low Heat Skim Milk Powder, Hilmar 8360 Instantized Whey Protein Hydrolysate, a unique instantized 80% whey protein hydrolysate that is highly dispersible, and Hilmar 9010 Instantized Whey Protein Isolate, which is produced with a special agglomeration and surface treatment to enhance its dispersibility and quick hydration into solution. Hilmar Ingredients, hilmaringredients.com, Booth 4130
INGREDIENT SOLUTIONS BASED on natural whey proteins will be in the spotlight. Arla Foods Ingredients' whey proteins are derived from milk produced by grass-fed cows using responsible farming standards. This means they are rBST-free and free from pesticide and antibiotic residues. Furthermore, the company uses safe production methods that comply with non-GM standards and ensure no traces of heavy metals. Attendees can try a high-protein snack bar product concept offering great taste, texture, and a long shelf-life. Also at the booth will be a low-fat Cheddar cheese that offers the same indulgent taste as a full-fat version and which is made using only pure dairy ingredients for a genuinely clean label. Other new concepts will include high-protein water and high-protein cookie product concepts. Arla Foods Ingredients, arlafoodsingredients.com, Booth 4447
CLEAN LABEL AND innovation will be Milk Specialties Global's focus at the IFT food expo. Attendees will learn about the latest in the protein bar category, as well as the company's continued commitment to support customers' needs in clean label protein ingredients. BARsoft 5000 is designed to provide a soft texture, optimal sensory experience, and extended shelf life in high-protein and nutrition bars. This soy-free line of protein ingredients is composed of whey and milk protein isolates to give superior nutrition and digestibility to snack bars. It has excellent pliability and can significantly reduce browning and hardening over the shelf life of the bar product, providing an enhanced organoleptic experience for consumers. Milk Specialties Global, milkspecialties.com, Booth 3407
PEA PROTEIN OFFERS many advantages to farmers, food manufacturers, and consumers. Its production is environmentally friendly, and it is a great source of protein, with numerous applications in gluten-free foods, vegetarian foods, sports and slimming foods, senior nutrition, and clinical nutrition. Roquette recently announced an investment to build a brand new pea-protein manufacturing site in Portage la Prairie, Manitoba, Canada, in order to address the growing demand for plant proteins. The company's investment will reinforce the group's leadership in plant protein and reaffirm its strategy to develop specialties for food, nutrition, and health markets and to accelerate its global growth. This large industrial unit will expand Roquette's pea protein production capacity and help address the growing customer demand for plant-based proteins in North America and globally. Construction is expected to start in the second half of 2017, subject to obtaining the relevant permits. Production is expected to begin in 2019. Roquette, roquette.com, Booth 1866
COLLAGEN PEPTIDES FOR a healthy lifestyle will be available. Peptan ingredients are unique, high-purity bioactive collagen peptides that have been specifically developed to deliver multiple health benefits and functional properties. They are manufactured using a gentle enzymatic process, enabling a precise degree of hydrolysis and optimal molecular weight, to ensure superior performance and ease of use.
Numerous scientific studies, including in vitro, in vivo, and double-blind placebo clinical studies, have demonstrated Peptan's ability to promote healthy living and its benefits in key areas of beauty from within, healthy aging, sports nutrition, and joint and bone health. The company also offers Rousselot Gelatin. Successfully used in pharmaceutical and food applications for decades, gelatin's multifunctional properties and unique clean label characteristics make it one of the most versatile ingredients available today. Rousselot produces more kinds of gelatin from porcine and bovine origin than any other supplier in the world. The company's ProTake is a hydrolyzed gelatin with a high protein content. It is an ideal ingredient to boost protein levels or to reformulate a product with less fat and/or sugar. Rousselot, rousselot.com, Booth 2674
PULSES ALLOW FARMERS to reduce their use of nitrogen-based fertilizers by up to 80%, and in the near future, virtually all of the pea's components will be utilized to allow for great-tasting creations that are good for consumers and the planet. World Food Processing continues to grow rapidly with a strong focus on its PURIS sustainable plant-based ingredient solutions. The company will be showcasing its PurisWhole line of raw and pregelled pulse powders, PURIS Starch, and PURIS Protein, which are made in the United States. World Food Processing, worldfoodprocessing.com, Booth 1347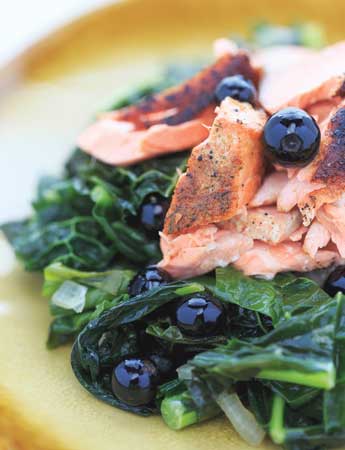 COGNITION
Omega-3 fatty acids, blueberries, and phospholipids are used in products promoting brain health and cognitive activities. This is an area of concern for aging Baby Boomers as well as infants and toddlers with developing brains. As technology and science evolve, more ingredients are being found and sought after for their potential brain benefits. For example, vitamin D2 from UV-treated mushrooms and, potentially from other fungal sources, including yeasts, is being looked at for its cognitive benefits. On Tuesday, June 27, from 11 a.m. to 12:30 p.m., session 039, "Dietary Sources and Bio-Efficacy of Vitamin D2 vs D3 and Comparative Effects on Cognition and Mood in Elderly People," will look at the results from a clinical intervention study where the effects of vitamin D (both D2 and D3 forms) on cognitive function and mood in a healthy elderly population were examined. The study measured the effects of vitamin D, supplied as either vitamin D2 or vitamin D3 in a mushroom matrix together with control mushroom and placebo, on cognition and mood. In support of the importance of vitamin D for brain health is the presence of the enzyme that produces the active form of vitamin D, 1a-hydroxylase, in cerebrospinal fluid, and the fact that the receptor for the active metabolite, 1,25-dihydroxy vitamin D3, is found throughout the human brain.
THE COGNITIVE HEALTH supplement market has been growing steadily since 2003. Cognizin is a patented ingredient designed to help provide three primary brain health benefits: mental energy, focus and attention, and overall cognitive health. Cognizin is a branded form of citicoline, a substance found in every cell of the body and especially vital to brain health. Citicoline is broken down during intestinal absorption and, after passing through the blood/brain barrier, is reconstituted in the brain as citicoline. It supplies precursors for the synthesis of phospholipids, including phosphatidylcholine, a major constituent of brain tissue. It also helps maintain normal levels of acetylcholine, a chemical that regulates cognitive function, and promotes communication between neurons. Citicoline protects neural structures from free radical damage, supports healthy brain activity and metabolism, and helps sustain healthy cellular mitochondria to support cognitive health and energy. Cognizin is backed by clinical studies published in peer-reviewed journals and approved patents and patents pending. It is self-affirmed GRAS. Kyowa Hakko USA, Kyowa-usa.com, Booth 5048
A POWERFUL NATURAL antioxidant, Astalif Astaxanthin is sourced from the Haematococcus pluvialis microalgae. Algalif will showcase the ingredient at its booth. Manufactured in Iceland, Astalif Astaxanthin has applications in brain health, eye health, healthy aging, cardiovascular health, muscle endurance/recovery, and skin health. The ingredient is available in 5% and 10% astaxanthin oleoresin, suitable for softgel capsules and topical oil-based cosmetics; and 5% astaxanthin biomass, suitable for tablets and soft/hard gel capsules. New powder, beadlet, and water-soluble options are under development. Algalif, algalif.com, Booth 1666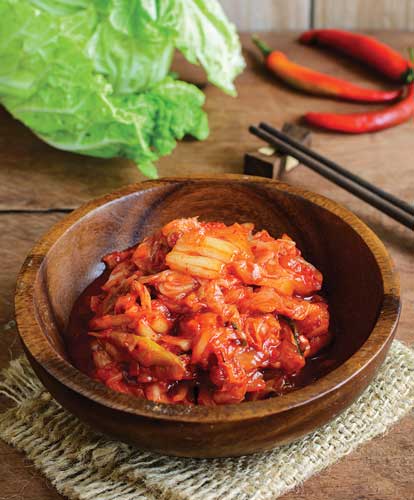 DIGESTIVE HEALTH AND IMMUNITY
Digestive and immune health foods and beverages benefit from the use of probiotics, prebiotics, antioxidants, and yeast beta-glucans. Once thought to be an area that consumers would not understand, the market has evolved into a sought-after category. Consumers have made the connection between a healthy digestive system to a healthy immune system and overall wellness. On Tuesday, June 27, from 2 p.m. to 3:30 p.m., session 061, "Controlled Delivery to Improve Gastrointestinal Health," will look at new technologies for controlled delivery of functional ingredients targeting gastrointestinal health, including microencapsulation and structural design of food. The interest in fermented foods and beverages such as kombucha, kefir, and kimchi is growing thanks to their reported health benefits as well as the "natural" halo associated with them. Session 015, "History, Characteristics, and Health Benefits of Fermented Foods," will paint a picture of the health halo around fermented foods, particularly kimchi. This will take place on Monday, June 26, from 10:30 a.m. to noon with a focus on traditional Korean fermented foods such as kimchi and fermented soy products. Speakers will explain the reported benefits of kimchi and doenjang (fermented soybean paste) in obesity and cancer. In addition, probiotics isolated from kimchi that can influence the gut microbiota of a high-fat-diet-induced in vivo obesity model will be discussed.
MAINTAINING A HEALTHY immune system is an important part of the quality of life for a significant and growing consumer base. Because of this, consumers are proactively searching for immune health products to help them achieve their health and wellness goals. Wellmune is a natural food, beverage, and supplement ingredient clinically proven to help strengthen the immune system, making it easier for consumers to be well and stay well. This proprietary yeast beta 1,3/1,6 glucan has regulatory approval in major markets around the world, including GRAS status in the United States and novel food approval in Europe and China. Safe for everyday consumption, Wellmune is available in more than 60 countries. Wellmune is patented, kosher, halal, nonallergenic, free of GMOs, gluten-free, and Informed Sport certified. This award-winning ingredient is part of Kerry's nutrition and wellness portfolio. Kerry, wellmune.com, Booth 1440
NEW PROBIOTIC LAUNCHES are available from Ganeden, a global leader in probiotic technologies. The company is working with some of the world's top food and beverage companies to help launch new probiotic products in a variety of categories. These launches include unique formulations into new food and beverage spaces. The Ganeden team will also be providing more details around the recent launch of a new immune health ingredient, Staimune (inactivated Bacillus coagulans GBI-30, 6086). The patented ingredient uses the cell walls of the GanedenBC30 probiotic strain to support immune health at cost-effective inclusion levels that don't alter flavor or texture profiles. Available later this summer, Ganeden anticipates Staimune to be an industry-changing development. The ingredient is FDA GRAS, non-GM, and kosher, allowing it to go into virtually any food or beverage application, including shelf-stable beverages and children's immune health products.
Ganeden has also received approval for publication of a 25th peer-reviewed study, which reviews the positive effects of the patented GanedenBC30 probiotic strain on protein absorption, allowing food and beverage manufacturers to make protein utilization claims. The published review is being added to a long list of research showing the safety and efficacy of the GanedenBC30 strain. The GanedenBC30 probiotic strain also made news headlines by becoming Non-GMO Project Verified and receiving a no objections letter from the FDA for GRAS status in infant formula—both further evidence of the safety of the strain. Ganeden, ganedenprobiotics.com, Booth 1732
A PORTFOLIO OF ingredients for digestive health, cognitive health, and bone, joint, and skin health, and a wide range of plant proteins will be the focus for AIDP. Celebrating more than 20 years in business, AIDP is a leader in functional ingredients, with a focus on extensively researched products that meet consumer demand for wellness and healthy aging. The company's commitment is to source high-quality ingredients and provide proprietary ingredient solutions that address formulation challenges. Its success is grounded in its depth of experience and commitment to strong science for functional food and beverage product development. AIDP, aidp.com, Booth 4452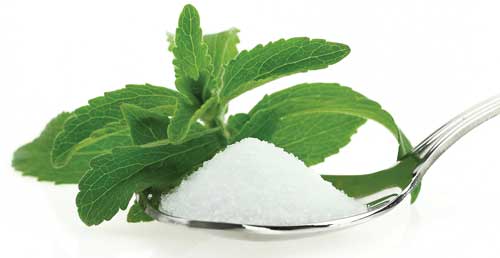 POTPOURRI
RECEIVING ATTENTION THIS year will be the new Nutrition Facts label, the changes in the Daily Value (DV) of nutrients, and how it can impact front-of-package claims. The new DVs will require many manufacturers to reformulate in 2017 in order to continue to meet their existing front-of-package claims. Watson will be handing out several tools to help prepare the industry for this change, including its Ultimate Survival Guide to the Nutrition Facts label changes, as well as desk reference cards for the new DVs, which include the units of measure and recommended rounding increments. Watson will also host several roundtable discussions in its booth on the label changes, to provide opportunities for specific questions to be asked and answered regarding the new labeling requirements. One prototype this year will be the Apple-A-Day Bar. These bars are made with wholesome fruit with no added sugar and no artificial colors, flavors, or sweeteners. Watson's custom nutrient premix rounds out the nutrient profile naturally found in apples to provide a nutritional boost. They are said to be great for a healthy snack on the go or a convenient lunch box treat. Watson, watson-inc.com, Booth 658
HIGH-QUALITY ORGANIC ingredients handpicked for the food and beverage industry will be introduced. This line will feature organic stevia, pea protein, barley grass, pumpkin seed protein, pumpkin seed oil, and inulin. Organic stevia will be highlighted this year for its extremely competitive pricing. The company will also be bringing to market its new patented shelf-stable probiotic. MTC Industries is also pleased to announce its new in-house Innovation Center & Equipment Showcase in Long Island, N.Y., which features pilot plant processing and manufacturing equipment, including bin blender, tablet press, capsule filling machine, and packaging line. MTC Industries, mtcindustries.com, Booth 2474

Linda Milo Ohr,
Contributing Editor
Denver, Colo.
[email protected]