Even though food manufacturers are producing more vegetarian and vegan food options and emphasizing plant-based protein ingredients, consumers are still choosing meat and seafood. Meat and seafood consumption is widespread, with nine of 10 consumers having eaten meat or poultry in the past three days and 80% of consumers having eaten fish/shellfish within the past two weeks, according to research from Datassential (Datassential 2018a, 2018b). It found that American consumers name chicken (60%), beef (55%), turkey (42%), and pork chops (38%) as their favorite types of meat. Their favorite types of fish are salmon (30%), tuna (27%), smoked salmon (24%), tilapia (22%), and catfish (20%). Product developers and chefs are introducing novel offerings by using spices and seasonings; formulating with naturally derived ingredients to keep meat and seafood fresh, safe, and label friendly; and exploring different preparation methods.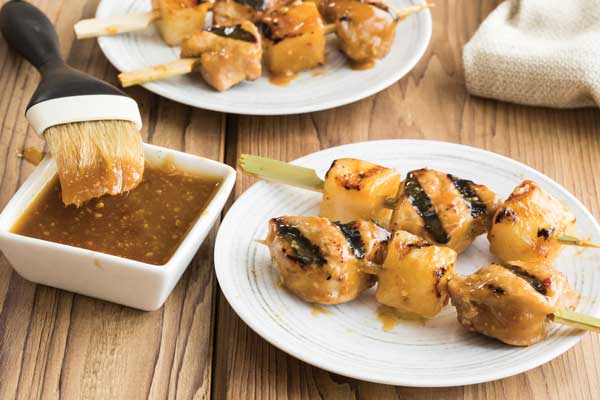 Flavor Impact and Influences
Experts agree that global cuisines, products that offer convenience, and cooking techniques are influencing meat and seafood products and culinary offerings. "The U.S. consumer's palate is expanding, with bold taste, flavorful heat, and new sweet and savory combinations increasingly being sought across multiple product segments and dayparts," says Ryan Kukuruzovic, corporate chef at Wixon. The majority of consumers surveyed for the Datassential market research state that they eat meat, poultry, or seafood because "it tastes great." The market research firm, which follows trends in the restaurant and retail food industries, also notes that slow cooking methods—both wet and dry—are trending on menus. Among beef dishes, roasting and braising have increased 8% and 16%, respectively, on menus. Datassential's research also points out that brined chicken is up 182% over the past four years and rubbed and smoked pork are some of the fastest-growing preparation methods. Consumers can get restaurant-quality flavor for their meat and seafood by choosing from an assortment of seasonings for brines and rubs as well as cooking and finishing sauces. For those consumers and chefs who do not own a smoker, liquid and powdered smoke ingredients can infuse smoky notes into meat and seafood.
Knowing that consumers want flavor variety, product developers and chefs are using ingredients in creative ways. Kukuruzovic points to flavor fusion and "flavor mash-ups" as drivers of product innovation. "For example, we are seeing citrusy-hop notes inspired by craft brews, combined with savory notes of roasted garlic and other herbs, such as thyme, rosemary, and oregano, providing an interesting flavor fusion. Flavor mash-ups, a combination of different food types and flavors, are also capturing consumers' attention."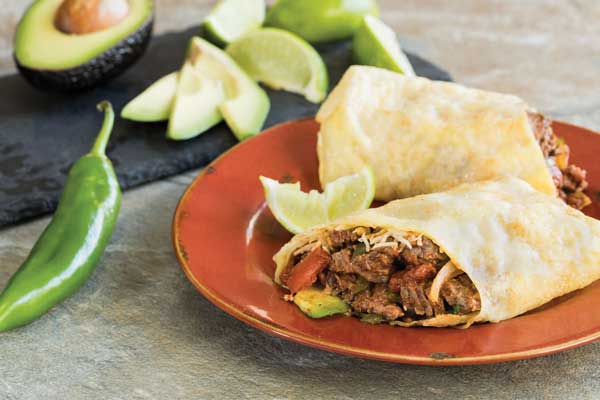 It's also about adding something unexpected to the familiar. An example of this is adding ancho chili pepper—a Mexican varietal that is used in sauces like mole—to a traditional poultry seasoning blend, says Jean Shieh, marketing manager at Sensient Natural Ingredients.
The flavors of meat and seafood and the cooking and preparation methods for them are heavily influenced by global cuisines. "Consumers, especially the Millennials, get excited by authentic ethnic flavor profiles and spices," says Dax Schaefer, corporate chef at Asenzya. "They don't want the Americanized versions that our parents grew up on. It's no longer just a taco, but they want to see conchinita pibil or a Korean braised short rib taco. They also get excited by authenticity of the spice blends. They want to travel with their meals, and the spice blends and seasonings are what takes an ordinary pork shoulder and turns it into the Cuban mojo, which is a Latin-style barbecue."
Thanks to these consumers hungry for more global flavor adventure in their food offerings, product developers and chefs are more often incorporating elements from various global cuisines in products and menu offerings. "Flavors ranging from the robust, bold tastes of Middle Eastern cuisine, to sweet-heat flavors with origins of Chinese and Korean cuisines, are moving from foodservice to packaged retail products," says Kukuruzovic. An example of a dish that he says is influencing product developers is birria, a spicy stew with ancho, pasilla, and guajillo chili, toasted cumin, garlic, onion, and either goat meat or mutton that has its origins in the Mexican state of Jalisco. "This dish has found its way into fast casual and some QSR menu boards with its traditional flavor profile, yet not-so-traditional protein pairing of chicken, beef, or tilapia, to reel the American consumer in," remarks Kukuruzovic. "Aside from Mexican and South American influences on American menu boards, we've noted an ever-growing interest in African cuisine, and regional flavor systems such as berbere and merguez. With regional ingredient availability, we are also seeing continued interest in Middle Eastern cuisine and flavors, combined with cooking techniques which impart flavor, such as fire-roasting and direct coal cooking."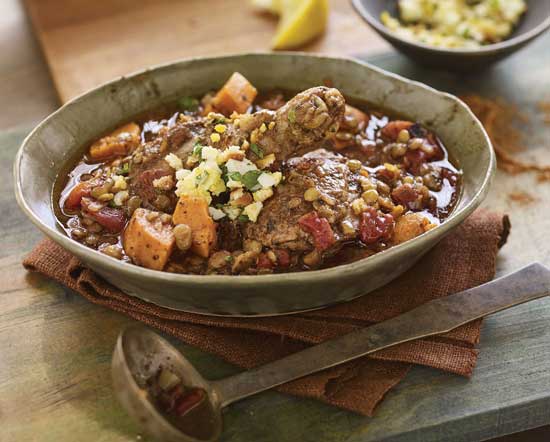 Herbs, hot peppers, spices, and sauces give meat and seafood various layers of flavors, and some are expected to become more popular. In its McCormick Flavor Forecast 2018 trend report, McCormick & Co. points to Ethiopian berbere spice blend (paprika, allspice, coriander, cardamom, ginger, cinnamon, and red pepper), Tanzanian marinade (lemon, tomatoes, green papaya, curry, garlic, red pepper, and ginger), and miso sake yakitori glaze (mirin, sake, and rice vinegar seasoned with brown sugar, white miso, onion powder, and ground ginger) as examples of trending sauces and seasonings that American consumers can expect to see on meat and seafood products and culinary offerings (McCormick 2017).
Fresh and dried herbs and liquid and powdered sauces give food manufacturers and chefs plenty of options for creating exciting meat and seafood products. A great example of this is Sensient Natural Ingredients' take on chimichurri. This trending steak sauce composed of parsley, garlic, oregano, red chili pepper, white vinegar, and olive oil is a perfect complement to grilled red meat, says Shieh. Dried chimichurri seasoning is also an option. For a twist on traditional chimichurri, add one of the many different chili peppers. Shieh says that she has seen examples of habanero added to the sauce but cautions that the high heat levels of the pepper could overpower the sauce if too much is used. Her suggestion is to use a chili pepper that has a mild-to-medium heat level such as green Hatch chili. (The company supplies Hatch chili in forms such as flakes and powders.) The Hatch chili's subtle heat level and fruity green flavor profile is a perfect complement to traditional chimichurri, she adds.
After choosing the spices and other ingredients that make up a desired flavor profile, it's time to consider the application to formulate with the appropriate amount of salt, says Zak Otto, technical R&D manager at Wixon. "The application, and the way that it is applied to the protein, whether rub, tumble marinade, or static marinade, also defines the amount of seasoning required to provide the best taste experience for consumers."
Otto also stresses the importance of texture and the cut of meat, as the proportion of fat and lean helps in determining how to season and prepare the meat. "With tougher cuts of meat, it is important to increase the seasoning, and possibly may require addition of a marinade, holding overnight, and adding some acid, such as vinegar, red wine vinegar, or apple cider, to give the best flavor, texture, and overall eating experience. Higher-end cuts, which are usually more tender, do not require as much seasoning or manipulation of the protein. Certain steak cuts, like the tenderloin, porterhouse, and ribeye need little in the way of marinating or additional seasoning application. The majority of seafood steaks are seasoned with rubs, where the seasoning flavor is on the outside crust, as they most often get seared, and the inner portion is more meaty."
Convenience is Key, Too
The number and varieties of flavor and seasoning options for meat and seafood have increased, especially with the popularity of global cuisines. In addition to a focus on flavor, there is also an emphasis on meat and seafood products that offer convenience. "The combination of consumers' busy lives and increased interest but limited knowledge in cooking are driving manufacturers and retailers to develop products that are ready for their customers to simply finish," says Schaefer. "This can range from a marinated steak that they can just throw on the grill, to a slightly tougher cut that has been premarinated and is ready to put in the slow cooker before they leave for work."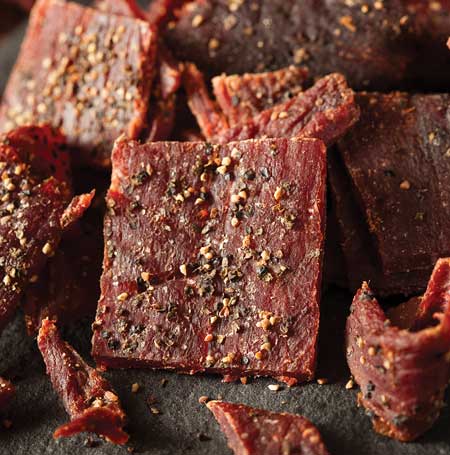 An example of how the demand for convenience is translating to food products is the growth of snacks. Snack products across product categories are popular, and meat and poultry snacks are no exception. Datassential's research on meat and poultry reports that cured meat sticks and jerky or dried meat chips are the meat-based snacks consumers commonly choose as snacks among meat-based snack products. Others are packaged protein snack packs, mini sausages, jerky trail mix, and meat/poultry bars.
There's also demand for nontraditional ready-to-eat concepts, meaning food products that contain various ready-to-eat meat and seafood inclusions and combine portability with flavor pairings ranging from traditional comfort to global and street food–inspired cuisine, explains Ron Ratz, senior vice president at Wixon. "In addition to the convenience factor, consumers are also becoming more familiar with food ingredients on product labels, so it's important to factor that into formulating new meat and seafood products. For example, we must always consider the use of ingredients that contain heightened health benefits that appeal to consumers. This includes clean label trends such as all natural, no artificial, minimally processed, and non-GMO claims."
Quality, Safety with Clean Label Appeal
Product developers are taking new approaches to formulating food and beverages thanks in part to consumer demand for minimally processed foods and naturally derived ingredients. They often turn to using plant-based sources—which are perceived as more consumer-friendly—as alternatives to synthetic ingredients. For years, the meat and poultry industry has relied on synthetic preservatives to keep food safe and to maintain its quality and appeal. With the growth of consumer demands for clean label products and ingredients, meat and poultry product producers now have naturally derived ingredients shown to be effective replacements for synthetic ingredients.
One such naturally derived ingredient is NaturFORT LGR 105, an oil-soluble green tea extract used for flavor stabilization. Kemin Industries, which produces the ingredient, in January announced the results of a study that demonstrated the effectiveness of NaturFORT LGR 105 as a replacement for tertiary butylhydroquinone (TBHQ) in par-fried meat and poultry applications. Par-frying involves placing meat and poultry in oil for less than a full lethality cooking process to set batter and breading, set exterior proteins to hold a shape, or add color and/or flavor to the surface of the product. TBHQ, a synthetic antioxidant, is traditionally used in such applications to protect the flavor and shelf life by stabilizing the oil before and during the frying process. Without it or an alternative, the par-fried meat and poultry products will undergo oxidative rancidity during shelf life. One challenge with using TBHQ is that much of it flashes off during frying, reducing the amount of it that is transferred to the meat and poultry products, according to the company. On the other hand, Kemin demonstrated that NaturFORT LGR 105 is heat stable so the hot oil will retain more of it.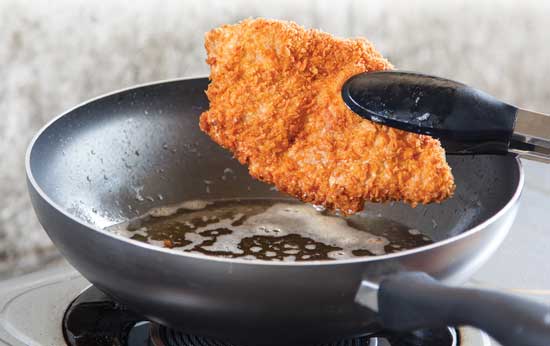 In addition to tea extracts, there are other plant extracts that provide protective benefits to meat and poultry products. Cleanatis M1 and Cleanatis M2 from Naturex are synergistic blends of plant extracts that prevent the growth of common foodborne pathogens in meat. Cleanatis M1 is a combination of rosemary and citrus extracts that prevents the growth of Listeria while Cleanatis M2 is a blend of rosemary and acerola extracts along with buffered vinegar that controls the growth of Salmonella. Tests conducted by the company show that these two ingredients are effective replacements for synthetic antimicrobials such as sodium lactate, sodium acetate, and nitrites used in meat and poultry products. An added benefit is that they are said to not affect the organoleptic properties of the products. Kalsec is also leveraging the bacteria-fighting and antioxidation powers of plant extracts like rosemary with its Herbalox rosemary extracts and Duralox Oxidation Management Systems (combinations of rosemary extract, green tea extract, acerola extract, and/or mixed tocopherols). The results of two case studies show that Duralox NR 20 extended the color and flavor shelf life in samples of ground beef under various retail packaging conditions and fresh sausages during overwrap cooler storage (Kalsec 2017).
Vinegar forms the basis of several ingredients that provide protective benefits to meat and poultry. Hawkins' e(Lm)inate line of buffered vinegar ingredients inhibit the growth of pathogens in fresh and ready-to-eat meat, poultry, and seafood products. Verdad vinegar ingredients from Corbion control the growth of Listeria monocytogenes, Clostridium perfringens, Clostridium botulinum, and more in meat applications such as uncured meats and cooked meats. DefenStat from Newly Weds Foods is made from vinegar, spice extracts, and flavors, a combination that inhibits the growth of pathogens such as E. coli and Salmonella. The liquid ingredient is added directly to ground meat products and to marinades for whole muscle meats, and it is said to not affect the finished product color, flavor, and texture.
Insights into Antimicrobials for Meat
In related news about the safety and quality of meat and seafood, A&B Ingredients in February released the results of an internal study that found that a dilution of its new lauric arginate formulation significantly improved the safety and quality of samples of fresh meat. The company sells specifically designed formulations of lauric arginate under the CytoGurad LA brand. These food grade antimicrobials alter the cell membranes of microbes, which prevents their growth. Lauric arginate is effective against a wide range of foodborne pathogens in meat and seafood products, including Listeria, Salmonella, E. coli, Campylobacter, yeast, molds, lactobacillus, and more. The results of A&B Ingredients' study showed that samples of fresh meat cubes treated with the lauric arginate formulation had a 1.5 log reduction in spoilage organisms, a brighter color, and less off-odor than untreated samples. In a company press statement about the study, Gil Bakal, managing director at the company, said that the study sought to explore the benefits of using a lauric arginate solution as a treatment for raw meat products (A&B 2018).
Enzymes Improve Meat, Seafood Texture
Ensuring the safety of meat and seafood is without argument the most important factor when processing, handling, and cooking these products. But maintaining acceptable texture of both raw and cooked meat and seafood is essential too (no one wants a tough steak or a chewy, gummy piece of fish). Manufacturers can use enzymes to aid in the tenderization of meat in various applications.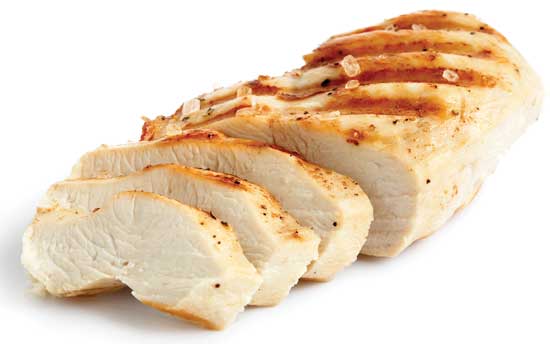 The most common enzymes that are used in the meat and seafood industry are proteases such as papain (from the latex of Carica papaya), bromelain (from mature pineapple plant stems), and microbial proteases (from Bacillus and Aspergillus species), says Christina Barsa, technical sales representative at Enzyme Development Corp. Papain is used when a fast tenderization is needed and the meat is cooked to a higher temperature to deactivate the enzyme, while bromelain is used in cuts of meat used for applications like fajitas, where a fast cook time and lower temperature of deactivation are desired, explains Barsa.
Currently, the company is in the process of getting regulatory approval from the U.S. Dept. of Agriculture for a new enzyme, ENZECO Collagenase. Barsa says that the enzyme is derived from a bacterial source, food grade, and GRAS approved, and would be used to address woody breast condition in broiler breast meat. She points to a technical paper presented by researchers from the USDA at the 2017 Midwest Poultry Federation Convention (Bowker and Zhuang 2017). The paper's authors estimate that 5%–10% of commercially produced breast fillets have severe woody breast and that there are even greater rates of moderate woody breast. All this meat is either sold at a discount, used for further processing, or discarded, they write.
Factors such as nutrition and genetics may be linked to contributing to the development of the condition, which causes abnormal hardness and white striping in the breast meat, and impaired water-holding capacity and reduced marinade uptake and retention in the breast meat, according to the researchers. The breast meat from birds with the condition has a high collagen content, which is thought to play a role in the characterizing texture of the breast meat of birds with the condition. The amount of collagen varies in the birds that have the condition. Some birds have collagen formation close to the skin, while others have it throughout the breast meat, making it unusable as whole chicken breast meat, says Barsa. "The use of the collagenase in this application would help hydrolyze that collagen formation, without having an effect on the meat protein itself."
In addition to its potential use in poultry breast meat affected by woody breast condition, collagenase can also be used to tenderize other meat and seafood products, says Barsa. "It works very well in beef, tenderizing skirt and strip steak, as well as lower grades of meat. It also helps reduce the cook time by up to 30% in pork shoulder and other cuts typically used in barbecue. And it can be used for tenderization of shellfish and softening natural meat casings for sausage. The collagenase also represents a more controlled tenderizing effect compared to papain or bromelain since the action of the enzyme is more limited and less likely to [cause] overdosing and creating a mushy texture."
Next month's Ingredients section will provide details about sauces and some of the ingredients used to formulate them.
---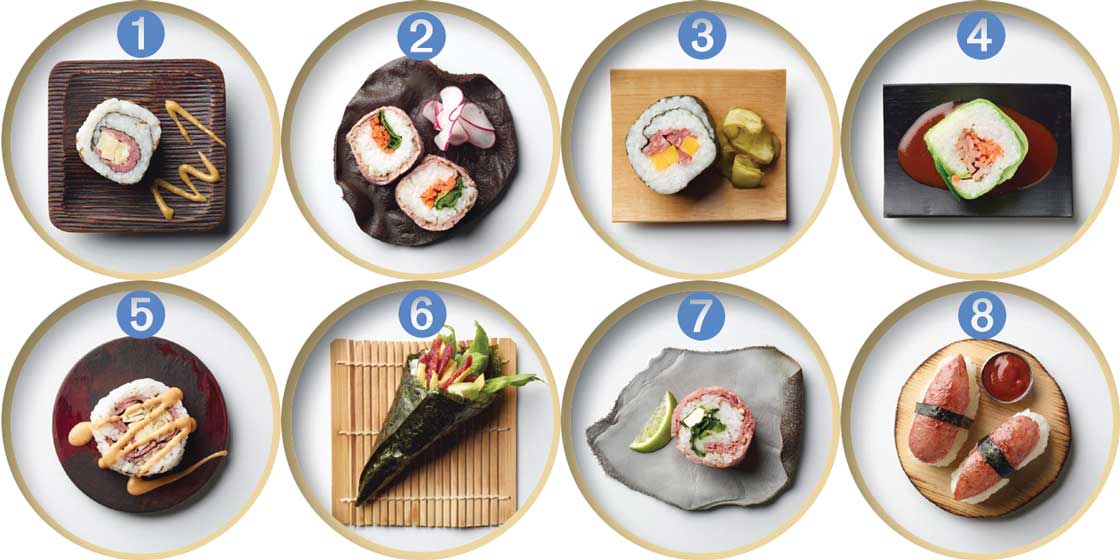 Beef Up Sushi
For a different take on traditional sushi or a creative menu offering, try a new culinary product concept called Beefshi. Developed by a Culinary Institute of America–trained chef and promoted by the North American Meat Institute and Beef Checkoff, the eight Beefshi concepts incorporate prepared beef products like jerky, beef bologna, and corned beef into sushi-style rolls.
1. New York Deli Roll. Corned beef replaces nori on the outside of the roll while Swiss cheese and slivers of horseradish are rolled into the middle. Coat the finished roll lightly in caraway seeds.
2. Sunday Supper Sushi. Thinly sliced roast beef is wrapped around sushi rice with slivered carrots and pea shoots in the center. The top is garnished with grated radish. Serve with au jus for dipping.
3. Inside-Out Wisconsin Maki. Sushi rice forms the outside of the roll while the center features a stick of summer sausage, a sliver of Colby cheese, and shaved dill pickles. Dip in brown, spicy mustard.
4. Carolina Sushi. The center is composed of shredded fried beef bologna and carrot slivers. The rice that surrounds it is seasoned with celery salt. All of this is rolled up in a vinegared cabbage leaf instead of nori. Pair it with Carolina-style barbecue sauce for dipping.
5. Reuben Roll. Warm pastrami, sauerkraut, and thinly sliced Swiss cheese are rolled into sushi rice and served with Russian dressing.
6. The Hiker's Roll. A roll with nori wrapping around sushi rice is filled with slivers of beef jerky, slices of egg omelet, and pea shoots or watercress. Add some heat by dipping the roll into sriracha.
7. Texas Asade Sushi. The filling of this roll is cilantro, slivered jalapeños, and onions surrounded by sushi rice. The outer wrapping is thinly sliced roast beef that is prepared with lime zest, ground cumin, and garlic. Serve with salsa or pico de gallo.
8. Sleeping Dog Sushi. A piece of warm, grilled hot dog tops sushi rice. The accompanying sauce is ketchup-based and seasoned with vinegar and mustard powder.
---
IFT Learn Online
Explore key issues related to meat and seafood products on your own time with IFT's on-demand online learning opportunities. First is "Applied Formulation Approaches for Food Product Development," a webcast organized with the support of IFT's Muscle Foods Division that details application strategies on product development with respect to formulation, identifies the variables of a product formulation, and shows how to apply mathematical modeling of product formulations to enhance the effectiveness of the product development process. The focus of this webcast is on meat products, but the principles can be applied to other products. The other webcast, "Packaging Solutions to Decrease Food Waste for Meat, Seafood, and Cheese-based Products," provides insights into recent packaging advances that help lower cost, add shelf life, and provide better quality. Learn about emerging packaging technologies and trends that have the potential to reduce food waste, extend shelf life, and minimize the use of preservatives in meat and seafood products. IFT's Food Packaging Division organized the webcast. Visit
www.ift.org/knowledge-center/learn-online.aspx
for more information.

Karen Nachay,
Senior Associate Editor
[email protected]