IFT announces election results
Congratulations to the following individuals, who have been elected as IFT leaders and will take office on Sept. 1, 2018: IFT President-Elect Pam Coleman; IFT Board of Directors members Ken Lee, Stacy Pyett, Elizabeth E. B. Russell, and Gordon Smith; and Nominations & Elections Committee members Kelley Lowe, Tara McHugh, and John Ruff.
IFT names Achievement Award winners
Congratulations to the following recipients of the 2018 IFT Achievement Award. These individuals and teams are being recognized for their remarkable contributions in research, applications, and service in the food science and technology industry. The winners will also be recognized for their achievements at the Awards Celebration, which will be held on Sunday, July 15, at IFT18.
Babcock-Hart Award: Casimir Akoh, CFS, PhD
Bernard L. Oser Ingredient Safety: Joseph V. Rodricks, PhD
Bor S. Luh International Award: P. Kumar Mallikarjunan, PhD
Calvert L. Willey Distinguished Service Award: Patti Pagliuco
Carl R. Fellers Award: Charles H. Manley, CFS, PhD
Gerhard J. Haas Award: Vijay K. Juneja, CFS, PhD
Gilbert A. Leveille Award & Lectureship: Rui Hai Liu, PhD
Marcel Loncin Research Prize: Pawan Singh Takhar, PhD
Nicolas Appert Award: Dennis R. Heldman, PhD
Research and Development Award: The Innovative Infrared Research and Development Team—Zhongli Pan, PhD, Tara McHugh, PhD, Ragab Khir Abd El-Kader Gebreil, PhD, Chandrasekar Venkitasamy, PhD, and Hamed El Mashad, PhD
Samuel Cate Prescott Award for Research: Barbara Kowalcyk, PhD
Sensory and Consumer Sciences Achievement Award: Jacqueline Beckley
Stephen S. Chang Award for Lipid or Flavor Science: Devin Peterson, PhD
Trailblazer Award and Lectureship: Roger Clemens, CFS, PhD
W.K. Kellogg International Food Security Award: Dominique Bounie, PhD
William V. Cruess Award for Excellence in Teaching: Luis Rodriguez-Saona, PhD
Cargill honors food scientist Guthrie
Cargill has named Brian Guthrie, senior principal scientist, Ingredient, Material & Nutrition R&D group, one of the company's corporate fellows. The designation, created in 2015, is the highest technical honor bestowed by the company to its scientists. It recognizes a lifetime of scientific achievements and an outstanding reputation in industry.
Guthrie is a world-renowned food and flavor chemist active in R&D for nearly 30 years, as well as the co-inventor in 14 patent families—ranging from microbiology and fundamental physical chemistry to analytical chemistry and sensory science. He has co-authored 20 scientific publications, along with 10 acknowledged contributions in peer-reviewed international scientific journals.
Guthrie is a member of the Institute of Food Technologists and a Certified Food Scientist (CFS). He has been an adjunct professor at the University of Nebraska–Lincoln since 2014 and has mentored numerous PhD and master's students over his career.
Kalsec announces executive promotions
Kalsec recently announced several promotions of IFT members among its executive leadership team, including that of Scott Nykaza to chief executive officer. Nykaza joined Kalsec in 1999 and became vice president of procurement in 2004. In 2010 he was promoted to executive vice president of sales and marketing, then assumed the role of chief operating officer in 2011, and president and chief operating officer in 2013.
Don Berdahl was promoted to executive vice president of research strategy and chief technical officer. Berdahl's role will focus on building Kalsec's research strategy and raising the level of innovation in the business via acquisition of valuable new technology.
Roger Nahas will undertake expanded responsibilities in the position of vice president of global research and development. Previously Nahas served as the vice president of global applications and product development. Since 2007, he has been instrumental in building global lab capabilities to include targeted joint development efforts as well as collaborations with outside entities for the advancement of innovation.
WFFC names IFT members to boards
Women in Flavor & Fragrance Commerce named several IFT members to its 2018 national and regional boards of directors. These include Paige Crist (Allured Business Media), Alpa Roman (Flavor & Fragrance Specialties), and Marie Wright (WILD Flavors & Specialty Ingredients), who were named to the general board of directors.
For the Chicago chapter, Mary Maile (Innova Flavors) was named president, Marissa Piazza Pasky (H.B. Taylor Co.) was named vice president, Kelli Heinz (Bell Flavors and Fragrances) was named treasurer, and Cheryl Schaul Udzielak (Givaudan Flavors) was named secretary. Board members include Marilynn Kelly (Belle-Aire Creations), Dafne Diez de Medina (Innova Flavors), Lindsey Oostema (Synergy Flavors), Jane Pinda (ChemSalesNow, LLC), and Kris Watson (Frutarom).
For the Cincinnati chapter, Erica Boyd (Givaudan Flavors) was named vice president, Lisa Sanders (independent) was named treasurer, and Katherine Miller (Clearbrook Farms) was named secretary. Board members include Melinda Baldauf (WILD Flavors & Specialty Ingredients), Tracey Coffey (Mane), Karen DeWitt (Skidmore Sales and Distributing Co.), Janine Gage (Mondelez International), Melissa Harman (Mane), Amy Horn (MCI Miritz Citrus International LLC), and Lew Weeks (Flavors Producers).
Bell announces promotions, new hire
Bell Flavors & Fragrances recently announced the promotion and hiring of several IFT members. Debbie Goschy has been promoted to regulatory affairs manager after working with Bell's regulatory team for five years. Sandy Yu has been named regulatory affairs supervisor after a three-year stint at Bell. Tracey Gossman has been promoted to the position of purchasing agent after moving from customer service to the purchasing team in 2016. Bell also recently hired Jordan Hill as culinary applications technologist.
Resources for renewing the CFS
Staying on top of the latest advancements in the ever-changing food science field is critical to your career. To reflect this, the Certified Food Scientist (CFS) credential has made the commitment to lifelong learning a pillar of the program. As the fifth anniversary of the launch of the program approaches, many members of the inaugural CFS class are preparing to put their final touches on meeting the renewal requirements.
In order to maintain and renew the credential, all Certified Food Scientists are required to accumulate at least 75 hours of continuing education during their five-year certification period. These hours can be earned in a variety of ways, including food science courses, webcasts, seminars, and workshops. IFT offers many options that are eligible for continuing education, including several opportunities at the upcoming IFT18 event in Chicago. To learn more about maintaining and renewing the CFS, please visit ift.org/certification.
OSU research program guides undergrads
A program at The Ohio State University's Department of Food Science and Technology (FST) is helping undergraduate students get a head start on their careers while honing their research and problem-solving skills.
FoodSURE, a program started by Professor Yael Vodovotz, allows students to choose an area of research to engage in for at least one semester under FST faculty supervision. In addition to receiving personalized mentoring, FoodSURE students have access to graduate student coordinators who conduct seminars covering basic research techniques, research poster organization, and presentation skills. The aim of the program, says Vodovotz, is "to enrich the food science curricula for both the undergraduate students and those that guide them. Additionally, it will make these students more competitive for both further education and industry jobs."
Vodovotz, an IFT member, believes that research is one of the keys to helping students experience different areas of food science. "Critically, it will help them understand what area they may want to go into, as well as if research is what they want (potential graduate school) or other parts of the industry," she explains. "This program also helps the students with proposal writing, presentation skills, critical thinking, and understanding the scientific process."
FoodSURE has been in place for under two years but has already received positive feedback from students and faculty. "This program," says Vodovotz, "not only helps better guide these undergraduate students, it also introduces them to many more opportunities."
---
Getting to know Aliyar Fouladkhah
Each month, we meet one of IFT's valued volunteers.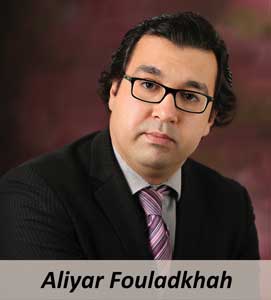 There are a lot of similarities between preparation to play a musical number and successfully presenting scientific research findings," says Aliyar Fouladkhah, amateur pianist and assistant professor at Tennessee State University, Nashville. "Both require years of preparation, discipline, and hard work, and meticulous attention to details."
As the founder and director of the Public Health Microbiology laboratory at Tennessee State, Fouladkhah brings all of the aforementioned qualities to his day-to-day work, which has earned him recognition at recent food conferences at Harvard and Yale, as well as funding from the National Institute of Food and Agriculture to develop a curriculum for a new degree in microbial food safety and foodborne diseases epidemiology. "My program also established the Tennessee Food Safety Outreach Scholarship," says Fouladkhah, "a program that has so far supported 17 low-income small farmers receiv[ing] food safety training and certification."
Fouladkhah's commitment to public health and education began early in his career. As a volunteer with the Rocky Mountain section, he recalls the gratifying experience of working on an annual suppliers' night in which "savings that we obtained from the program funded several scholarships for student awardees, some of them attending national IFT for the first time."
Fouladkhah currently serves as president of the Tennessee (Volunteer) section where, most recently, he says, "we had a chance to organize a statewide research competition for food science students." He has also served as an exam item writer and reviewer for IFT's Certified Food Scientist program and chair of the Food Microbiology track for the Annual Meeting Scientific Program Advisory Panel. In addition, he's served as competition judge and abstract and session proposal reviewer.
As a teacher, says Fouladkhah, "I learned that perhaps the only pleasure in professional life more gratifying than personal achievements is observing the success of mentees and advisees." Watching advisees of the Public Health Microbiology program rise to new heights of success, including receiving Tennessee State's first IFT Feeding Tomorrow Scholarship in 2017, has been a recent highlight, in addition to the ongoing satisfaction of "seeing advisees becoming confident young men and women, watching their independence in laboratory work, and knowing that they are making a foundation for the remainder of their professional careers."
When it comes to the challenges that lie ahead for the field of food science, Fouladkhah finds much to be excited about. "I am really proud to know that, according to a report from the Centers for Disease Control and Prevention, the progress food scientists [have made in] the development of safer and healthier foods has been one of the top 10 public health achievements of the 20th century." Looking to the future, he sees numerous opportunities for continued advancements—in food safety, health, and sustainability. "It is unequivocal for me," he says, "that the food science community will require extensive innovative solutions and cutting-edge technologies for years to come."
---
Section Meetings
Bonneville
April 3: Suppliers' Night & Candy Expo. Sandy, Utah. Click here.
Cactus
April 17: Suppliers' Night. Phoenix, Ariz. Click here.
Central New Jersey
May 7: Golf Outing. Princeton Junction, N.J. Click here.
Chicago
March 12: Student Night. Northbrook, Ill. Click here.
Great Lakes
May 2: Suppliers' Exhibit. Battle Creek, Mich. Click here.
New York
May 8: Suppliers' Day and Mini Career Fair. Secaucus, N.J. Click here.
Northeast
May 16: Food Industry Expo and Technical Seminars. Worcester, Mass. Click here.
May 17: Golf outing. Charlton, Mass. Click here.
Ohio Valley
April 26: Suppliers' Night. West Chester, Ohio. Click here.
St. Louis
April 17: Suppliers' Night. St. Charles, Mo. Click here.
---
Save the date: IFT18
Registration is now open for IFT18, where the most creative minds in the science of food will come together to share the latest research, discuss innovative solutions, and delve into forward-thinking topics in food science and technology. Learn what trends are on the horizon in food ingredients, equipment, processing, and packaging, while interacting with the companies who are at the forefront of food science and technology. At IFT18 you can share and be challenged, question and taste, break boundaries and help redefine the future of food.
More than 100 best-in-class education sessions will be offered, reflecting the latest research, global trends, and developments. In addition, you can attend pre-event short courses on July 14-15 that cover a range of industry topics. For more information on the courses listed below, click here:
Low Moisture Foods from Ingredients to Finished Products: Food Materials Science Fundamentals, Challenges, and Opportunities
Certified Food Scientist (CFS) Prep Course
Clean Label Product Development: Balancing Consumer, Regulatory, and Science
Flavor Interactions in Foods
Food Science for the Non-Food Scientist
Product Development through the Eyes of the Consumer: Applying Sensory and Consumer Insight Tools for Development Success
Formulating for Function: Winning Nutrition and Consumer Preference on Food Product Development Using Dietary Fiber, Hydrocolloid, and Starch
Labeling Requirements and Implications for Food Marketed in the U.S.
Improvise This: The Power of Collaboration (with Second City Works)
Seeing the Opportunity in Change (with Second City Works)
IFTNEXT: Launching a Food and Beverage Business (with The Hatchery)
---
In Memoriam
IFT notes the passing of the following members: George J. Cocoma and Guenter W. Riedel.
Have some news to share about yourself or another IFT member? Email [email protected].