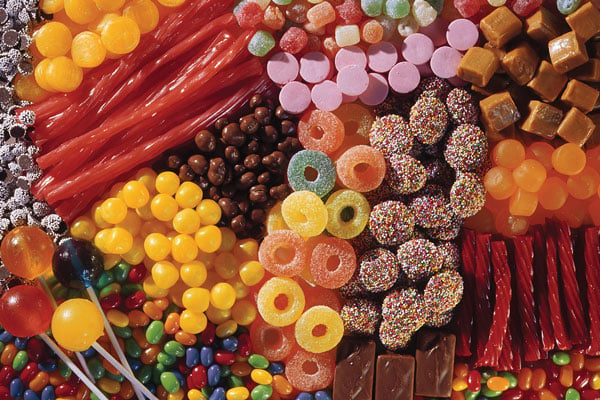 The confectionery industry is big business. So big that confectionery products account for $35 billion in retail sales annually, including $2 billion in exports and more than $7 billion in seasonal candy sales, according to the National Confectioners Association (NCA).
That's a lot of candy to enjoy, and indeed, consumers are doing just that. Most people have chocolate and candy two to three times weekly, reports NCA. There's more variety than ever across the candy category, with product developers and confectioners looking at ways to formulate candy that address the latest trends and consumer expectations, exploring new textures, and using flavor to drive sales.
Alternative Approaches to Sweetening
When you think of candy, you think of sugar. It's what makes candy so appealing. Nowadays there's a growing concern over the amount of sugar in our diets. Nutrition Facts labels will be required in the future to list the amount of added sugar in products. Some leading chocolate and candy manufacturers are participating in an industry initiative called Always A Treat, making a commitment to offering options such as clear calorie labels and smaller pack sizes to help people manage their intake of sugar.
Something else that candy manufacturers can do is reformulate with sugar alternatives. The newest sweetener ingredient from Icon Foods is a blend of several sweeteners optimized to give the sweetness perception that consumers want. With KetoseSweet+, a blend of stevia, allulose, and monk fruit, manufacturers can reduce calories and sugar in candy products such as gummies and hard candies. It is also showing success as a sweetener in chocolate, where it participates in the Maillard reaction and gives chocolate a creamy texture and mouthfeel with no off-notes, says Thom King, CEO and president of Icon Foods. The ingredient's melt temperature is slightly lower than sucrose, so it lends itself to much easier tempering of chocolate. King adds that he and his team have formulated several versions of chocolate with KetoseSweet+, including chocolate bars in both milk and dark chocolate and chocolate chips. He says that there is no need to use ingredients such as flavor modifiers or bulking agents when reducing sugar with the ingredient. "KetoseSweet+ is truly a plug-and-play sweetening system that functions exactly like sugar with less than 10% of the calories," says King. "This is truly a game changer in chocolate making as well as any sweet baked desserts and confectioneries." KetoseSweet+ comes in granulated powder and liquid syrup formats.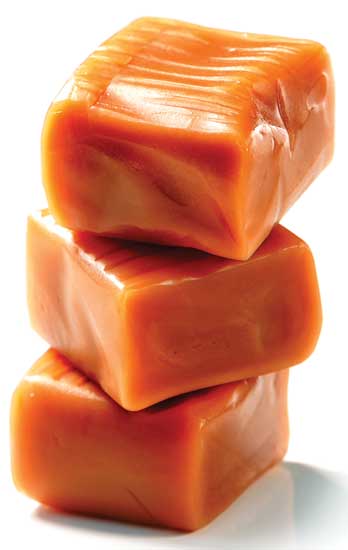 Allulose, a rare sugar monosaccharide, has garnered the attention of product developers, including candy makers. It is the simplest form of sugar, and one of approximately 50 that exist in nature, says Koji Sasaki, manager of snack and confection R&D at Matsutani Chemical Industry Co. The company offers Astraea Allulose (developed in partnership with Kagawa University in Japan), which has 0.2 calories per gram and a "true sugar flavor with no aftertaste," he adds. "With Astraea, manufacturers can formulate reduced or low-calorie food and beverage products with the same sucrose-like sweetness of full-sugared variants," Sasaki says.
Sasaki provides several examples of candy applications in which Astraea Allulose functions. In hard candies like scotch candy and fruit drops, it can replace up to 50% of sucrose, while in soft candies like caramels and nougat, it can replace up to 25%. With this also comes a reduction in calories. While Astraea Allulose is easy to use, it does not function exactly like sucrose, so candy formulators may have to make modifications to the formulation. "When formulating with allulose, products can become more hygroscopic, so manufacturers may need to work on packaging or use an anti-moisture agent to prevent the issue," says Sasaki. "When there is heat applied to the product, then the product may get some color, so manufacturers might need to manage the color sometimes."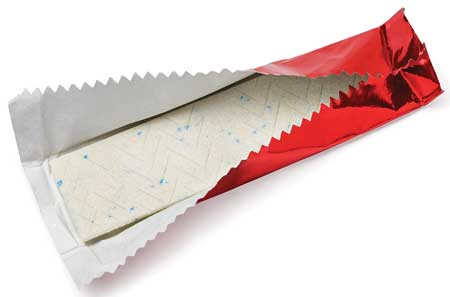 Sugar alcohols—sorbitol, xylitol, maltitol, and the like—provide sweetness to low-calorie and sugar-free candy. The sugar alcohol erythritol is commonly used in different food products, including candy. Cargill's Zerose erythritol, for instance, functions in chewing gum, hard candies, sugar-free and reduced-sugar chocolate coatings, fudge, fondant, gummies, and compressed candy (breath mints). "In chewing gum sticks and centers, erythritol improves chewing gum processability, texture (flexibility), and shelf life," says Ravi Nana, polyols technical service manager at Cargill. "It's also used in coatings, where we have found that the combination of erythritol and maltitol (in a ratio of 40/60) delivers the best crunchiness combined with the lowest moisture pickup. In mint-flavored gum products, erythritol provides an enhanced and long-lasting cooling effect. In hard candies, erythritol has a high cooling effect as a sherbet filling in stamped hard candies, or in double- or triple-layered hard candies, when used in its crystalline form."
Using erythritol in lozenges can help to increase shelf life, since the sweetener is non-hygroscopic, says Nana. It also helps to shorten the drying time of the lozenges.
Erythritol also functions in chocolate, where it enables higher conching temperatures than other polyols, resulting in enhanced flavor development, says Nana. "In chocolate coating, erythritol is the only polyol that allows greater than 30% calorie reduction." He adds that erythritol-based chocolate is non-hygroscopic and has excellent gloss, good snap, and melting properties. Erythritol also has a cooling effect that complements mint-flavored chocolate products. "Like xylitol and other polyols, erythritol has relatively high negative heat of solution, which results in a cooling effect," says Nana. If a cooling effect is not the desired taste sensation, formulators can add chicory root fiber, polydextrose, isomalt, or maltitol to reduce it.
Changes in Chocolate Products
In recent years, chocolate products have been reimagined to go beyond the basic milk and dark chocolate bars. Companies such as Vosges, Wild Ophelia, Chuao Chocolatier, and Chocolove give chocolate bars innovative flavor twists with varieties like Coconut, Charcoal & Banana, Confetti Cake and Sprinkles, Pool Party Pretzel, and Chilies & Cherries, respectively.
Today, candy formulators and chocolatiers are using cocoa and chocolate ingredients to bridge the gap between indulgence and a friendlier label with protein fortification, sugar reduction, and the use of sustainably produced cocoa. Cocoa and chocolate experts at Cargill weigh in on some of these trending developments in chocolate candy formulating.
One area of focus is the premiumization of chocolate, which Gretchen Hadden, marketing communications manager at Cargill Cocoa & Chocolate, calls multidimensional and says is being driven by consumers' evolving perception of both food and chocolate. "Chocolate is no longer just a 'candy' or a quick fix for curbing a sweet tooth. As they do with wine, coffee, or even craft beer, consumers are beginning to look at chocolate as an experience. They are recognizing and appreciating the sensory aspect, the origin, and the story behind it," says Hadden.
She points out that there are three product attributes important to the formulation of premium chocolate: sensory, origin, and the story behind the product.
"Arguably most important, the sensory experience is imperative to premium chocolate. This impacts everything from the ingredients we select to the way in which chocolate is made." Examples Hadden cites include chocolate made with pure vanilla, so developers can highlight claims such as "made with real vanilla"; dark chocolate with high chocolate liquor content for an impactful chocolate taste; and packaging that lists the cacao percentages. Cargill developed a new, 80% cacao dark chocolate available under its Peter's chocolate brand, and is slated to release a super-dark, superpremium high-cacao chocolate called Marbella later this year.
The origin of the cocoa beans is important to manufacturers and chocolatiers who use this to differentiate their products from others. "Similar to the growing popularity of single-origin coffee, the provenance of cocoa beans is also of rising interest to consumers," says Hadden. "Single-origin chocolate offers an experience. It's a small window into another part of the world and creates a feeling of specialness and exclusivity. It's a chance for consumers to ponder and detect the implications that the cocoa bean provenance has had on the flavor of the chocolate." She says that Cargill Cocoa & Chocolate can segregate cocoa beans from various regions—be they Ecuador, Peru, or the Dominican Republic—to develop single-origin chocolate for manufacturers.
As for the final product attribute, "food with a story resonates with people," says Hadden. "From an end-product standpoint, 'food with a story' has driven several different premiumization trends in chocolate, including the 'bean to bar' movement, as well as increased emphasis on how chocolate is made, such as 'handcrafted' or 'made in small batches.'" Cocoa sustainability is also part of a product's story. Hadden explains that the Cargill Cocoa Promise is the company's commitment to improving the lives of cocoa farmers and their communities and helping to secure a long-term supply of cocoa.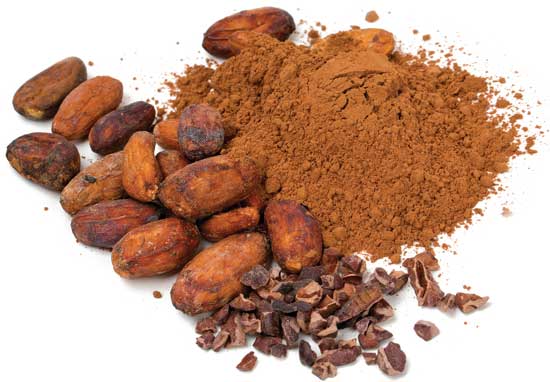 Dark chocolate is often positioned as a premium confection for its rich, roasted, slightly bitter, and fruity flavors as well as for the health halo that surrounds it. "With various published studies around the health benefits of dark chocolate, coupled with growing concerns around sugar intake, more consumers are acknowledging dark chocolate as a 'better-for-you' choice amongst alternative confectionery options," says Marret Arfsten, product line and marketing leader at Cargill Cocoa & Chocolate. Dark chocolate's higher cacao content and lower amounts of sugar than milk chocolate have positive health associations and lead to its growing role in the better-for-you food space, she adds. The company's dark chocolate ingredients include Marbella 80% cacao chocolate, Lenoir 51% cacao, Gibraltar 60% cacao, and Cambra 72% cacao. Chocolate in its Peter's line is formulated to deliver a smooth and easy taste compared to other high-cacao content chocolates, says Arfsten. "This premium product line will allow food manufacturers to deliver a rich, impactful chocolate experience to consumers, in addition to labeling opportunities around cacao."
In addition to taking chocolate to new levels through premium offerings, manufacturers are also exploring the opportunities of protein fortification. Protein ingredients from a variety of sources are turning up in products that range from breakfast cereals and soup to pasta and cookies. "With chocolate's unparalleled ability to bring sensory appeal to food, we recognized an opportunity to bring dual benefits to food manufacturers through protein fortification of coatings and inclusions," says Hadden. Cargill Cocoa & Chocolate develops customized, protein-fortified chocolate ingredients from dairy- and plant-based sources that food manufacturers can use to formulate great-tasting products and make packaging claims around protein, she says.
With the emphasis on added sugars in food products, some chocolate manufacturers are investigating ways that no-sugar-added chocolate products can appeal to label-conscious consumers. "Sugar-related claims, and particularly No Added Sugar, are increasingly popular," says Arfsten. "This growing interest in label-friendly products is challenging for manufacturers striving to balance health, while still delivering the taste that consumers demand." For chocolate products that bridge the gap between indulgence and label appeal, the company offers chocolates and compounds produced with non-sugar sweeteners, she adds. "Whether it's a craveable, chocolate-drizzled granola bar or a sweet morsel in a mix of salty cashews and almonds, our offerings make delicious and better possible."
New Takes on Nuts
Nuts of all varieties are popular ingredients in candy, and there are plenty of examples of this in the candy aisle or at the annual Sweets & Snacks Expo. Whole and chopped forms are quite often used, as are nut butters and other nut-based creamy pastes.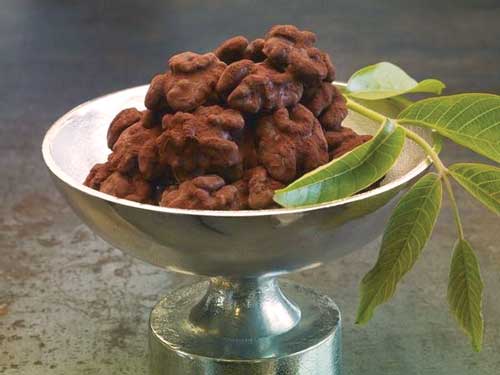 Walnuts are one nut option candy makers can use. The California Walnut Commission promotes walnuts grown in the state as having a mild flavor and a softer texture, making them versatile ingredients in the confectionery category, from chocolate bars, truffles, and nougats to walnut meal dustings, cake pop walnut butter centers, and caramelized walnut inclusions. The organization offers up seven ingredients and flavor pairings especially suited for candy treats. Try walnuts with the classic warm, brown flavors of dark chocolate, vanilla, and coffee. Walnuts add another layer of texture to sea salt caramel, while the slightly bitter flavor of the nuts cuts through the sweetness of candied orange. For a nutty flavor twist on spice, use walnuts with sesame cayenne or cinnamon chai spice.
Almonds are another popular nut ingredient in confectionery, especially paired with chocolate. Brittles, nougats, enrobed and dipped candies, and pan candies can all benefit from the "crunch factor" almonds deliver, says Jeff Smith, director of marketing at Blue Diamond Almonds Global Ingredients Division.
While there are confectionery products featuring the classic chocolate-almond combination, Smith says that the experts at the company's innovation center develop new flavor profiles for almonds and work with their customers to create confectionery products that incorporate almonds and either sweet flavors such as maple, honey, and coconut or savory flavors.
In recent years, plenty of research studies have demonstrated the health benefits that all types of nuts provide. "As consumers become more actively involved in managing their personal health and wellness, we've seen an increase in consumer desire for indulgences that offer some degree of balanced nutrition," says Smith. Almonds have 13 grams of unsaturated fats and 1 gram of saturated fat per ounce. "By incorporating almonds into their confectionery formulations, candy and bar manufacturers can elevate their sweet products to the better-for-you snack or even healthy snack categories. For example, bars that combine almonds with low sugar or dark chocolate could be considered a 'permissible indulgence'—one that satisfies a sweet craving and provides important nutrition at the same time," explains Smith.
American consumers enjoy almonds, but so do consumers is many areas around the world. "In France, for example, almonds are often incorporated in patisserie treats, such as macaroons and almond marzipan," says Smith. "In Italy, chocolate-coated almonds are a popular gift for weddings, graduations, engagements, and baby showers. Chocolate-covered almonds are especially popular in Japan, as are almond-coated chocolate-dipped pretzels." He adds that data from the Almond Board of California show that consumption of chocolate with almonds stayed the same or increased in those regions between 2014 and 2017, especially in the United States, France, and Japan. The same research also showed that consumption of almonds in chocolate slightly decreased in India, South Korea, and China, where almonds are often eaten as a salty or savory snack, he says.
Next month's Ingredients section will take a look at some of the ingredients highlighted at the IFT18 food expo in Chicago.
---
Ingredient Roundup
For additional ingredients that provide functions in a variety of different types of candy applications, consider the following options.
• AAK produces fat solutions that help improve the quality of caramels, fillings, and compound coatings used in confection applications. CEBES is a line of fats that gives compound coatings snap, texture, and flavor release that are similar to chocolate, high bloom resistance, and a glossy appearance. SILKO fats are designed for use in chocolate-flavored and pastel coatings, where the fats provide good melting properties and fast crystallization. The company's line of fats for fillings, CHOCOFILL, allow manufacturers to produce fillings with crunch, fruit chunks, hot chiles, nuts, or liqueurs that are lower in fat (one version has low saturated fat) and have excellent bloom stability.
• At the IFT18 food expo, Barry Callebaut experts presented some of the latest developments in chocolate and highlighted some of its ingredients used to formulate on-trend chocolate and confectionery products. Its Caramel Doré has the creaminess of chocolate, rich caramel flavors with hints of biscuit and salt, and a golden color. Its Pathway chocolates are a dairy-free solution for vegan candy. Earlier this year, Barry Callebaut introduced a new flavor and color to its Callebaut line of Belgian chocolate called Callebaut Gold. The company refers to Callebaut Gold as a caramel chocolate that has an amber color with a golden hue and the flavor of toffee, butter, and cream. It is made from caramelized sugar, caramelized milk, and other ingredients. On its website, the company lists vanilla, apple, pineapple, cherry, almond, matcha tea, coffee, and dark chocolate as flavors and ingredients that pair well with Callebaut Gold. Another recently developed ingredient is what Barry Callebaut calls ruby chocolate. It has a rosy reddish color and a berry fruit flavor. The company reports that the color and flavor come from the cocoa bean and that no berries, flavor, or color are added.
• Kids love sour candy, and many sour-flavored candy products are marketed to them. Candy manufacturers are always looking for ways to offer new flavor experiences, and Corbion offers an ingredient that gives instant and long-lasting sourness to sugar-coated candy. Called acid sanding, it's the coating of sugar confectionery with a blend of sugar and acid powders. PURAC Powder MA is a patented malic acid powder specifically designed for use in acid sanding. The company has demonstrated that the ingredient gives candy an initial boost of extreme sourness and an ongoing, long-lasting sourness compared to fat-encapsulated malic acid. A shelf-life test showed that the sour taste of candy with PURAC Powder MA in the coating remained relatively high. The ingredient's low hygroscopicity means candy coated with it will stay dry over the recommended shelf life.
• A gelatin-based ingredient from Rousselot is designed to produce jelly candies without having to use starch depositing. Traditional confectionery production, especially for gummy candies, involves the use of starch moguls. Formulating the candies with SiMoGel allows for the use of silicone or blisters instead of starch moguls. The company reports that the benefits of using SiMoGel include cost-effectiveness, hygiene, and innovation. The ingredient is available in a customized recipe based on specific gelatin grades, either bovine or porcine. It can also be blended with other hydrocolloids to offer a more diverse range of textures.
• Gelatin is one of the many ingredients that label-reading consumers are scrutinizing. Gelatin produces distinctive textural attributes in gummy candy, and there is no one-to-one replacement for it, but TIC Gums created two ingredients—Ticagel GC-564 S and Ticagel Natural GC-581 B—that are blends of hydrocolloids that give gummy candy springiness and cohesiveness that is quite close to what gelatin produces.
---
5 Ways Flavor Reshapes Candy
Flavor is a key attribute of candy that drives interest and sales. Here, according to Keerthana Perumbala, marketing associate, sweet and beverage, at Sensient Flavors, are five ways that flavor impacts candy formulation.
1. "Sugar confectionery is beginning to follow in chocolate and ice cream's footsteps, introducing alcohol-flavored candies," says Perumbala. "A trend that began in upscale restaurants is now hitting the retail shelves. "Flavors such as rosé and bourbon flavors are popular choices in this category, serving as treats for adults only. Candy has predominantly been catering to kids, and this seems like an opportunity to be explored in a new way."
2. "There is a high potential for innovation in the confectionery industry through texture," she continues. "Layers add an unexpected element by extending mouthfeel. Pairing interesting textures and flavors together adds excitement to a product. Sensations such as heat, cooling, and tingling are exciting, and experience-driven consumers yearn for such unique multisensorial experiences from their food and beverages."
3. "With more consumers paying attention to their sugar intake, brands are finding new initiatives to cut back on the amount of sugar used in their products," she says. "Technology such as maskers and boosters aid in tackling the problems that come with this undertaking. It is important to maintain the balance of the products and execute this successfully as it can make or break a brand."
4. "There is a big uptick in candy with unique shapes and themes, everything from 'facial hair' to multicolored octopuses and sloths," says Perumbala. "Young consumers are seeking the next wackiest thing in candy to share with their friends."
5. "Functionality is an interesting realm to explore in candy," she says. "Historically, there have been throat-soothing hard candy (cough drops) and vitamin gummies, but there is [now the] appearance of collagen and antioxidants in candy with claims of improved functional health."
---
www.ift.org
Online Exclusive: Reduced-Sugar Chocolate
Read an online exclusive about formulating reduced-sugar chocolate at
ift.org/food-technology/current-issue
.

Karen Nachay,
Senior Associate Editor
[email protected]