After working for almost 20 years with the company that owns Four Seasons Hotels in places all around the world, Chef Kevin Hickey returned to Chicago's Bridgeport neighborhood to open his own restaurant in 2014. Named after a restaurant his great-grandmother owned in the same neighborhood, The Duck Inn is known for its rotisserie duck, as well as an array of eclectic dishes including a duck-fat hot dog and spaghetti and snails. Most recently, Hickey has partnered with Eat Purely, a company delivering chef-made meals, to develop 15+ dishes—everything from Chicken Meatballs with Orecchiette (find recipe online) to Thai Chicken Salad.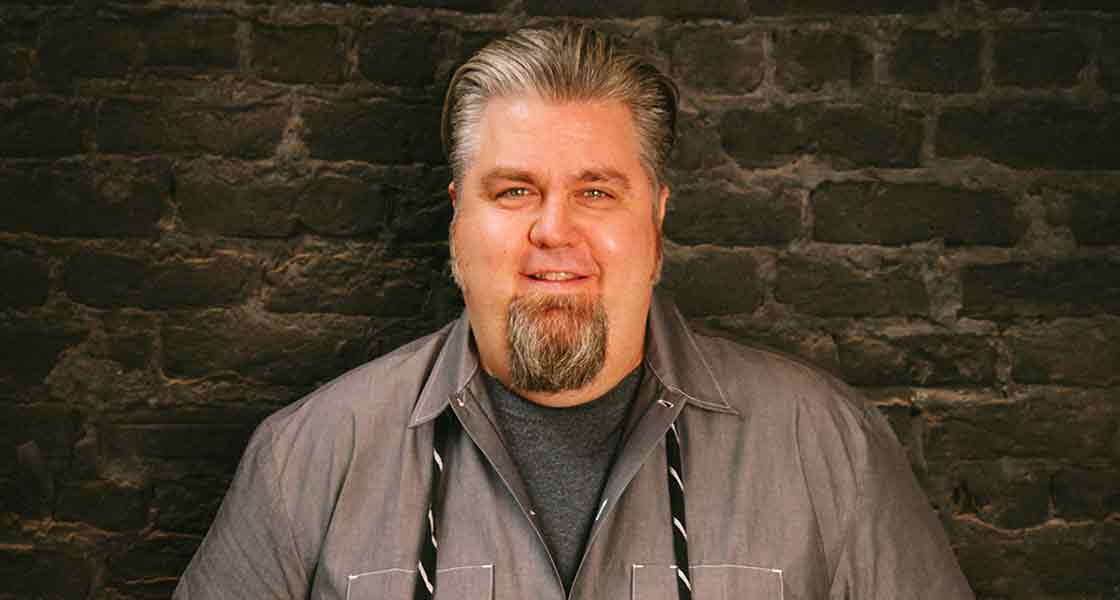 Q: You worked at the Four Seasons for 18 years. How did your role change through the years? What led you to leave and partner with Rockit Ranch Productions to open The Duck Inn?
Kevin Hickey: I was a 24-year-old sous chef at the Four Seasons in Los Angeles when I started, and I worked my way up over the course of five years to become executive sous chef at that location. Then I traveled with the company for a bit, helping to open and work as executive sous chef for a property in Dublin, Ireland, and another in London. I returned to the United States and worked as executive chef in Atlanta for three years, after which I came home to Chicago to be executive chef of the Ritz-Carlton, which at the time was managed by Four Seasons. I eventually moved nearby to the Four Seasons in Chicago.
I have always wanted to open my own restaurant. I had an eye towards doing it after a couple years at the Four Seasons in Chicago where I was making a name for myself, developing relationships, and solidifying my reputation. The only thing that really held me back initially was the global economic meltdown in 2007–2008.
Then, an opportunity came up to create new restaurants at the Four Seasons. We really wanted to do something that would put us right into the pantheon of the independent restaurant scene that was emerging in Chicago. We had achieved Michelin star status with the fine-dining restaurant at Four Seasons Chicago, but to be honest with you, it didn't do anything for business. It's a wonderful accolade and we were very proud to have achieved it, but the restaurant scene in Chicago was evolving and fine dining was evolving and the perception of fine dining was evolving. White table clothes and stuffy, carpeted, over-decorated hotel dining rooms were just not appealing, regardless of the accolades.
So, we decided to go in a new direction and create a new restaurant in the bar-lounge area of the hotel that was more fun and approachable. We wanted to give people the chance to create their own experience—ordering a little or a lot, spending a little or a lot.
This process reignited my desire to be in the independent restaurant scene. I couldn't really ignore it anymore. I was trying to find a location for my restaurant, but since I wasn't a proven entity in the independent restaurant scene, it was very difficult to get financial backing.
Eventually, this neighborhood tavern down the street from my house came up for sale, but I laughed it off when my wife and friends said, "You should buy that and open a restaurant in Bridgeport." I just didn't think it would ever work. But then I lost yet another opportunity in the Randolph-Fulton area due to lack of funding. Coming home that night, I said decided to go for it and ended up buying the building that was for sale in Bridgeport.
Meanwhile, I had partnered up with Rockit Ranch to do some consulting. They ended up offering me a partnership with their group and we worked together to open Bottlefork. Then, The Duck Inn opened within the Rockit Ranch umbrella and eventually some other spots as well. It was great, but after a while I realized we were going in different directions. I wanted to really focus on The Duck Inn brand—my brand. So Rockit Ranch and I went our separate ways and I maintained The Duck Inn as an independent restaurant brand.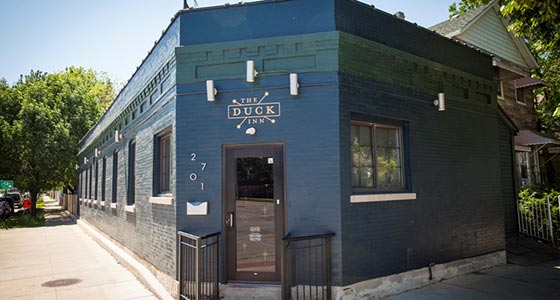 Q: By opening The Duck Inn in Bridgeport—the community you grew up in and are living in now—did you feel like you were investing in the community?
Hickey: Yes. This community is very important to me and to my family. We've been business owners in this community for six generations, so I guess there was a certain tug at me to open the restaurant there. The Duck Inn is on the corner of the street I grew up on and the street my mother grew up on, so it's kind of cathartic.
Also, the restaurant is named after my great-grandmother's restaurant. Back in the depression, my great-grandfather died and left my great-grandmother with six kids. They owned a building around 35th and Ashland, so she decided to open a little diner and called it The Duck Inn. It did well enough that my great-grandmother was able to put my grandfather through school. She closed it sometime around the beginning of World War II.

Q: How did your partnership with Eat Purely come about?
Hickey: Jeremiah Green—who owns Eat Purely—and I have a mutual friend. When I met Jeremiah, he explained his company and what they're doing and it sounded intriguing. He invited me to come by the production facility and then proposed that I work with them to develop some fresh ideas and new dishes.
I liked the concept because I think it's offering something to the market that really wasn't there before. There are delivery services that are going to bring you food from restaurants and then there are meal kits where you're going to prepare food on your own from raw ingredients. Eat Purely is something different.
It's a chef-conceived prepared meal that is packed chilled and you heat it up when you want to eat. Food that is delivered from restaurants is basically food that has been prepared, held hot, put in a hot bag or hot box, driven to you, and finally arrives maybe 45 minutes later. You have to wonder what the quality is like by then. And half of the time you're going to wind up reheating it anyway, so why not get a delicious, well-made, chef-conceived dinner or lunch that has been engineered for you to heat it up?
Q: Did you face any specific challenges when developing recipes for meals that are delivered and reheated?
Hickey: Yes, absolutely. There is a lot of research and development. I spent a lot of time looking at their dishes and tasting them. I started by creating a dish and then chilling it down, putting it into a container, and then microwaving it for two minutes. I would realize things like the sauce was way too wet or too dry. For example, there's a summer barbecued salmon dish that is a Thai-style barbecued salmon with lemongrass cauliflower rice that's cooked in coconut milk. I probably made that four times to figure out how much coconut milk to use to cook the cauliflower rice in so that when it's chilled, put into a container, and then reheated that it's the right consistency and texture. There's a lot of trial and error involved.
It's also about figuring out if the dish is missing an element or even that certain parts of the dish shouldn't be combined until the customer is ready to eat the meal. In our barbequed chicken salad there's chicken breasts dripping with barbecue sauce and diced tomatoes and a couple other things. Well, you put that in a salad and the life of that salad starts getting shorter. So, we decided to separate the wet ingredients into a separate smaller container that can fit inside the larger container. They can then be combined right before eating.
I have created 15 dishes for Eat Purely so far. One of the more popular ones I created was a chicken meatball with orecchiette pasta and broccolini and mushroom broth. That's gone into rotation a couple of times and has been very well received.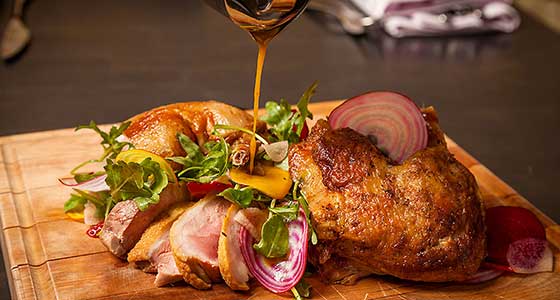 Chef Kevin Hickey's renowned Rotisserie Duck served at The Duck Inn.
Q: As a restaurateur, do you see the popularity of meal kits/prepared meal services impacting the restaurant industry?
Hickey: Absolutely. Anytime someone is getting fed from a new source, it's decreasing somebody else's business. And I think that home delivery—whether it's being delivered from a restaurant, as a meal kit, or whatever it is—is reducing the number of people coming to my restaurant. I have no way of telling how many people aren't coming to the restaurant because they're choosing to get delivery, but enough so that I can't ignore it. We have a relationship with Caviar [a restaurant meal delivery service] now, so you can order from The Duck Inn any night of the week.
Right now, it's a really small part of our business, but at least I can say there's a good chance that the guy who placed that Caviar order last night, who might have come here but just didn't feel like going out, was still able to choose to order from us over somebody else. We captured revenue that I would have otherwise definitely lost.
Q: You said delivery is a small segment of your business now. Do you think that will grow?
Hickey: I think home delivery is a trend. Whether or not it becomes a true staple is hard to say. About three or four years ago, when Grubhub first appeared, it was a fad. But now it's become a trend. I think meal kits—where you get raw product sent to you and you prepare it yourself—are a flash in the pan. To me, Eat Purely is not in that realm. It's more of a variation on the restaurant concept—where a customer orders something and only has to expend minimal effort to make it ready to eat.
This interview has been edited and condensed for clarity.