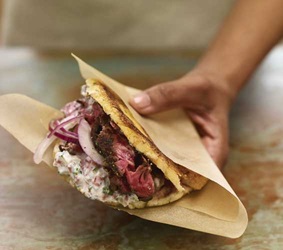 Grab the attention of consumers and keep them coming back by introducing a little global cuisine flavor to food and beverage products and menu items. More than half (54%) of consumers have gone out of their way to try a novel global food, according to Datassential (2017). Breaking the data down by generations shows that 68% of Millennials and Gen Z consumers have gone out of their way to try a novel global food, compared with 50% of Gen Xers and 44% of Baby Boomers. The encouraging numbers speak to the popularity of global cuisines and the potential they have to attract consumers.
For food products and menu items, influences from Asian and Mexican cuisines are plentiful, but other cuisines have garnered the interest of consumers and product developers as well. Mediterranean is one such cuisine, and Mintel notes that consumers are becoming more familiar with key ingredients from the cuisine, such as dates, pistachios, and mint (Mintel 2018). In its Flavor Forecast 2018 report, McCormick calls out East African cuisine as having rich, flavorful seasonings, marinades, and sauces perfect for meat and poultry dishes, vegetables, and legumes (McCormick 2017).
These and other cuisines from around the world are being reinterpreted to give consumers new taste and flavor experiences. Take, for instance, how developers and chefs are formulating more with specific ingredients or highlighting preparation methods from a cuisine. McCormick showcased an example—Japanese izakaya—that combines both approaches. Japanese izakaya are Japanese gastropubs that serve tasting portions of foods that may feature ingredients such as a miso sake glaze or furikake seasoning. There is also an emphasis, especially by some chefs, on delving deeper into what a cuisine has to offer by highlighting regional influences. No longer is it just "Mexican" cuisine. Rather, it's about learning how geography, the people who live in certain areas throughout a country, and the foods and ingredients available have affected the evolution of a region's defining cuisine. Another way product developers and chefs are getting creative with what global cuisines have to offer is by combining aspects of two or more cuisines, leading to flavorful results. A great example of this is what Roy Choi, the chef behind Kogi BBQ, did by marrying the flavors and food concepts of Korean cuisine with those of Mexican cuisine to create such fare as Korean-style tacos and kimchi quesadillas. For the Culinary Institute of America's 2018 Worlds of Flavor conference, José Mendin, chef-owner of Food Comma Hospitality Group, and Andrew Hunter, foodservice and industrial chef at Kikkoman, developed bite-sized samples that blended the flavors of Japanese cooking with key aspects of other global cuisines. Featured were Corn Soup Agnolotti with Kikkoman Shortrib Reduction and Truffle Bubbles; Mofongo Ramen with Kikkoman Soy-Cured Egg; Uni Pasta with Harissa Yuzu-Kikkoman Soy Butter; and Ponzu-Spiked Sazerac.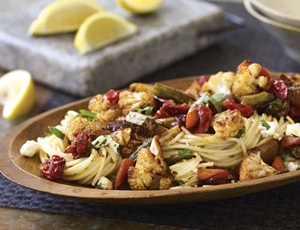 Something else happening in product and menu development is the emphasis on hot and spicy foods and ingredients. Hot and spicy foods are featured in many cuisines around the world from areas like New Orleans, Southwestern United States, India, Mexico, the Caribbean, and Southeast Asia. Research conducted by Kalsec in partnership with Innova Market Insights found that new product launches with hot and spicy flavor ingredients have risen every year from 2007 to 2017 (Kalsec 2018). The ingredients that are showing the most growth potential include peri peri, pasilla, arbol, Jamaican jerk, baharat, gochujang, sriracha, and harissa. The research also found that one in four consumers in the United States and one in five consumers in Europe are eating more spicy foods than they did a year ago. For product developers looking to give their items a boost of heat or spiciness, Kalsec produces extracts that impart a heat sensation such as garlic, onion, capsicum, and spices like cinnamon, allspice, black pepper, and Szechuan.
This month's Ingredients column is a brief culinary journey to regions around the world to learn about some new ways to give foods and beverages a global flair.
Regional Asian Barbecue
Barbecue is a way of cooking that is as diverse as it is delicious. In the United States, barbecue is known for rich, flavorful sauces and, typically, large pieces of meat. Various styles of barbecue evolved throughout areas in the South and Midwest. North Carolina barbecue generally involves pork and a vinegar and pepper sauce, Texas barbecue more often than not involves some cut of beef that has been rubbed with a flavorful seasoning blend, while Kansas City barbecue features a thick, sweet molasses and tomato sauce on pretty much any type of meat. It is the regional differences in the sauces/marinades, smoke profiles, preparation methods, and types/cuts of meat that are celebrated and recognized by chefs, home cooks, and product developers. For example, Kraft Heinz produces a line of barbecue sauces inspired by regional barbecue (North Carolina, South Carolina, Texas, Memphis, Hawaii, Kansas City, and Kentucky) and developed in conjunction with top pitmasters from the regions. Like American barbecue with its regional differences in sauces, meats, and prep methods, Asian barbecue is equally diverse, culinarily speaking. With consumers more willing to try new flavors and cuisines, now is the time for product developers to explore the formulation opportunities that the barbecue styles across regions throughout Asia offer.
Asian barbecue emphasizes flavor profiles that balance savory, sweet, and heat, and typically involves small pieces of meat that have been marinated and then grilled over high heat, according to a recent trend report produced by Asenzya (Asenzya 2018). The report profiles nine varieties that span several regions of Asia and provides inspiration for culinary and product development, including the key ingredient components and flavor profiles of the barbecue styles. Here's a look at a few.
Korean barbecue is getting all the attention right now, and justifiably so. Generally speaking, it involves smaller or thinner cuts of meat marinated in a combination of aromatics like onion, garlic, and ginger and umami-packed ingredients like soy sauce. For Americans, their introduction to Korean barbecue has most likely been bulgogi, thin slices of beef (sirloin, flank, skirt, tenderloin, or top round) that are marinated in soy, ginger, sugar, onion, sesame oil, and sesame seeds and then cooked tableside or on a metal plate over a burner. The meat is often served with soybean paste and lettuce pieces to create a wrap and sides of kimchi or shredded pickled vegetables. The Asenzya trend report details several other varieties of Korean barbecue such as jumulleok, short steak marinated in a blend of sesame oil, hot pepper, and salt that is cooked tableside, on a grill, or over a burner, and dak galbi, medium-sized portions of chicken marinated in gochujang, rice wine, chile flakes, soy sauce, and aromatics and cooked in a pot, stone bowl, or pan.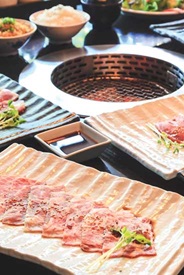 While the report is heavy on descriptions of various styles of Korean barbecue, it also looks at several others from regions beyond Korea. Char siu, for example, is a popular barbecue method in Cantonese cuisine. With this one, cuts of pork—be they pork loin, pork belly, pork butt, or pork fat—are coated with a blend of hoisin, honey, mirin or sherry, soy sauce, and five-spice powder and slow roasted and smoked on a hook over a fire. The marinade imparts both savory and sweet tastes along with a slight fermented flavor to the pork. The trend report notes that the cooking process for char siu is the most closely related to American barbecue of the Asian barbecue methods. In Japan, yakiniku is popular and thought of as a variation of bulgogi that was modified to suit Japanese taste preferences, according to the report. After beef is marinated in soy sauce, sugar, mirin, garlic, miso, chile peppers, and sake, it is cooked tableside or on a metal plate over a burner. The report notes that other meats besides cuts of beef can be used, and these include offal, pork, and chicken. Even seafood, shrimp, and squid can be marinated and prepared in the yakiniku style.
Gastronomic Cues From the Islands
The next stop on the culinary journey is island hopping across the Caribbean, the Philippines, and Hawaii. Fuchs North America recently introduced the Island Inspirations Collection of tropical-inspired seasonings, bases, and flavors. Developed by Elizabeth Lindemer, Fuchs' corporate executive chef, the blends represent her interpretation of some of the characterizing ingredients that define cuisines from these regions.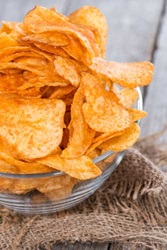 The collection features four blends. The Caribbean Style Coconut Curry Milkshake Seasoning combines a golden-colored curry with coconut and warm spices such as ginger and cardamom. It's perfect for milkshake applications as well as frozen desserts like ice cream. In Puerto Rican cuisine, sofrito—a traditional base that is an ingredient in many Latin-style dishes—is made from roasted red bell peppers, garlic, onion, jalapeño, and cilantro. The San Juan Style Sofrito Dip Seasoning is patterned after the classic sofrito recipe, and it easily blends into sour cream, Greek yogurt, and the like for a flavorful dip.
The other two seasonings are based on flavors and cuisines from islands in the Pacific. The Hawaiian Style BBQ Turkey Burger Seasoning hits the mark with sweet, tangy, and smoky ingredients such as pineapple, molasses, onion, garlic, aromatic spices, vinegar, and smoke. The Filipino Style Banana Ketchup Snack Seasoning may seem like an unusual flavor to some. But banana ketchup, or banana sauce, is a popular Filipino condiment made from mashed bananas, vinegar, sugar, and spices. Many commercially produced products are dyed red to resemble tomato ketchup. The seasoning blend takes inspiration from the Filipino condiment with banana, vinegar, and sweet-scented spices and blends them with tomato and garlic. This flavor-forward seasoning blend brings familiar flavors together in a combination that many consumers may not expect. Use it on chips, popcorn, nuts, and other types of snack foods to appeal to consumers looking for new flavor experiences.
Small Tweaks for Big Flavor Impact
The strong interest in global cuisine and ingredients among consumers shows no sign of slowing down. This gives manufacturers and foodservice operators the opportunity to take advantage of consumers' adventurous nature by developing products that combine the core flavors and ingredients of global cuisines with familiar dishes, says Kristie Hung, marketing specialist at Sensient Natural Ingredients. "When purchasing or eating international food, consumers expect the delivery of authentic flavors with elevated, complex flavor profiles, innovating beyond just simply savory. They seek out other flavors like meaty, sweet and sour, sweet and spicy, and smoked. As the trend of spicy flavor continues to rise (6% CAGR), we can expect food developers to use more traceable ingredients, like calling out a specific chile variety and its growing region on the label. Regional specificity holds a high importance for consumers as it communicates additional information regarding quality and authenticity."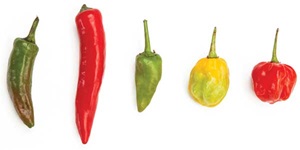 Hatch chile peppers hail from the Hatch Valley region in New Mexico and have long been popular in the regional cuisine there. Hung explains that chile pepper lovers and chefs around the world are enjoying this flavorful chile pepper both on its own and formulated into different recipes and products. "Just like fine wine that is identified by its unique taste and flavor because of its geography, geology, and climate, this coveted gem from New Mexico's Hatch Valley has been distinguished for its mouth-watering aroma and bold, savory flavor," she says. "Recently, Hatch chile has moved beyond sauces, condiments, and snacks and ventured into more unexpected products like dairy, sweet spreads, beverages, and more." The chile pepper's bold, savory flavor and mild back-end heat make it a versatile ingredient in savory applications such as salsas, cheese, and condiments and sweet applications such as jams and ice cream, she adds. "By calling out 'Hatch Valley HATCH Chile Peppers,' a product with a unique novelty stands out more among a sea of spicy products," says Hung. Sensient Natural Ingredients sources Hatch chile peppers from growers in the Hatch Valley and produces ingredients made from the peppers in powder, flake, and granule formats.
Chile peppers of all sorts are integral ingredients in cuisines from around the world—be they the sweet, fruity and moderately hot aji amarillo used in Peruvian cuisine; the tien tsin, a small pepper that packs a big heat sensation in Hunan and Szechwan cuisines; the Urfa biber pepper from Turkey that when used in its dried and flaked form has a smoky and raisin flavor; and the fiery hot scorpion pepper (aka Trinidad moruga) that is a component in Caribbean cooking.
Formulating recipes and products with chile peppers gives consumers a taste of international flavors as do other ingredients and products. "To remain relevant and competitive, operators for restaurants and foodservice need to be innovative and provide an authentic dining experience featuring unique global and ethnic flavors that are exciting to consumers," says Hung. Like chile peppers, spice blends and marinades can introduce new global flavors to home cooking, especially when they are part of popular meal-kit subscriptions, grocery delivery services, and ready-to-go ingredients, says Hung. "The versatility of a blend or sauce provides a great platform for consumers to experiment with a variety of international flavors in small quantity. In addition, premade spice blends provide consumers with a time-saving option that transforms flavor with minimal time and effort." Taking inspiration from various global cuisines, Sensient Natural Ingredients developed a collection of seasoning blends formulated with different kinds of chile peppers, onion, garlic, and other ingredients that deliver a target heat level and layers of flavor. Choose from Red Sriracha, Indian Curry, Thai Chile, Moroccan Harissa, and Pickled Jalapeño.
Celebrate the Diversity of Regional Cuisine
The tour now heads back to North America, specifically Mexico, a culturally diverse nation whose culinary history reflects the influences of both the indigenous people and immigrants who call the country home. For years, Americans' exposure to Mexican food was often tacos and burritos made with seasoned ground beef, diced tomatoes, and shredded lettuce topped with plenty of cheese and sour cream. Today, the influences from myriad cooking and travel shows; the internet, which gives people instant access to food writers from around the world; and chefs who have diversified their menus to introduce consumers to new cuisines, as well as the availability of new globally inspired food and beverage products, have made many consumers more willing to delve deeper into the nuances of various global cuisines.
A great example of this is the emphasis on regional cuisines—in this case going beyond the generic Mexican cuisine and emphasizing the ingredients and cooking methods of the various regions around Mexico, be they the coastal areas, mountainous regions, or dry and arid zones. As part of its Trending Now series, SupHerb Farms recently examined the foods and ingredients of several regions in Mexico, the trends that are driving their popularity, and the opportunities for food product developers and culinary professionals.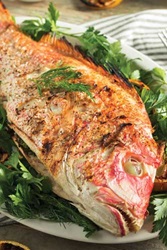 With data from Technomic, SupHerb Farms looked at four regions: northern, Gulf Coast, central, and west central. The northern region of Mexico is the largest of the four that SupHerb Farms and Technomic researched, and therefore has great diversity in its foods and flavor profiles. Culinary influences come from many groups; the Aztec and Spanish influences are found throughout the entire region, while Mediterranean, Asian, and Jewish influences pop up in specific areas. The report cites a few examples (SupHerb 2018a). Pan de Semita (bread made without leavening, featuring dried fruit, nuts, and spice blends), popular in Northeastern Mexico, was inspired by the Sephardic Jews who settled in the region. Asian influences such as lemongrass and scallions, and Mediterranean influences like fish, wine, and olives, are prevalent in the food of Baja California. Mollete shares some similarities with Italian bruschetta. It is made of bolillo bread that is sliced lengthwise, partially hollowed, filled with refried beans, and topped with cheese and chiles. The report looks at two broader culinary traditions in the region: coastal seafood and inland ranch. People from the coastal states such as Baja California, Sonora, Sinaloa, and Tamaulipas take advantage of the variety of fish, shellfish, and shrimp that the sea offers when preparing dishes. One dish the report highlights is caguamanta/cahuamanta, a Sonoran/Sinaloan dish of manta ray, shrimp, and vegetables served either as soup or tacos. While a relatively small number (16%) of American consumers report that they have tried the dish and liked it, almost half (47%) have not tried it but think is sounds good, according to the report. The arid climate of inland Northern Mexico is perfect for the ranch industry. As a result, meat like beef and goat are prominent in the cuisine, and the meat-based dishes are often topped with chile-based sauces and salsas. Something else that is popular throughout the region is cheese production, with the region supplying the most extensive array of cheese varieties in Mexico, according to the report. One thing that restaurant operators and product developers should keep in mind regarding the cuisine from Northern Mexico is its growing popularity: the report found that 48% of consumers said that they have tried the cuisine from the region and have enjoyed it.
The cuisines in the West Central regions of Mexico are heavily influenced by the native Purepecha people, who specialized in churipo stew and variations of the tamale, and the Spanish, who introduced sausage and rice dishes and seafood seasoned with spices commonly used in various European dishes (SupHerb 2018b). One word describes the cuisine, and that is robust, according to the report. The center of the plate is often beef, goat, pork, or seafood flavored with ingredients that impart sour, smoky, heat, spice, and savory tastes. Pescado zarandeado, a whole grilled fish seasoned with achiote spice and soy sauce; morisqueta, sausage and rice topped with beans and a tomato-based sauce; and tortas ahogadas, a sandwich of bolillo bread, meat, onions, chiles, radish, and avocado covered in an arbol chile- or tomato-based sauce are dishes that the report suggests can offer chefs opportunity for menu development. Stews are popular in the West Central region, with pozole, a stew made with hominy, chile peppers, onions, garlic, avocado, salsa, lime, and pork or chicken being the most familiar. Data from the report show that 23% of consumers say they have tried and like pozole and 45% say they have not tried it but that they think it sounds good. What's more, mentions of pozole on menus are up 7.7% in the past two years, according to the report. It goes without saying that restaurant operators should consider developing a pozole recipe or even other West Central Mexican stews to offer. Food product developers can take cues from the dishes as well and may consider product applications like frozen entrées, prepared soup/stew products, or even culinary pastes and sauces that, along with meat or poultry, can be added to slow cookers, pots, or pressure cookers for a convenient way to recreate the flavors of these regional dishes.
Central Mexico includes Mexico City, the country's capital and the capital of the ancient Aztec Empire. Mexico City is one of the world's most populous cities, a cosmopolitan area with influences from around the world. The city has much to offer food lovers, everything from haute cuisine featuring meticulously plated food to street food stands that serve up tacos, edible insects, tamales, tortas, and more. Sandwiches, tacos, and other handheld foods filled with any variety of meats, vegetables, and sauces are some of the Central Mexican food items with which consumers say they are the most familiar (SupHerb 2018c). And they want more of these dishes on menus; 59% of consumers say that they want to see more Central Mexican influence at restaurants, and 56% of consumers say authentic ingredients and dishes add value to their foodservice visit, according to the report. As far as ingredients are concerned, there are certain sauces and herbs that are prominent in Central Mexican cuisine. One sauce, called borracha, consists of black pasilla chile blended with fermented agave pulque (an alcoholic beverage made from fermented agave). A couple of key herbs the report highlights are papalo, which has a flavor of arugula and cilantro and is used in salsas and on cemita sandwiches, and huauzontle, a plant that is used as an herb and vegetable and prepared like spinach or broccoli.
The final report in the series on regional Mexican cuisine looks at the cuisine and ingredients of the Gulf Coast of Mexico, a warm and tropical area that encompasses the states of Veracruz and Tabasco and popular cities such as Tampico and Veracruz. In general, the cuisine across the region was inspired by the indigenous people and the Spanish as well as African and Caribbean slaves during the colonial period, according to the report (SupHerb 2018d). Mole xiqueno, for example, combines culinary influences from African cuisine (peanuts) and Spanish cuisine (almonds) in a chocolate-based mole, while the Veracruz chicken dish, pollo encacahuatado, features ingredients such as chile peppers from the indigenous cuisine and peanut sauce from African cuisine. The report also names other ingredients with roots in these cuisines, including corn, squash, rice, vanilla, seafood, and tropical fruits (indigenous); citrus, nuts, and plantains (Afro-Caribbean); and parsley, thyme, marjoram, cilantro, olives/olive oil, and capers (Spanish). The coastal waters are rich with fish and seafood, which are prominent in Gulf Coast cuisine. The seafood dishes of the region offer development opportunity. The report points out how fish, shellfish, and other seafood can be prepared in soups and stews or baked whole with any number of chile peppers, herbs, and spices to appeal to consumers who say they would like to see more of these dishes offered.
Next month's Ingredients section will discuss developments in candy formulation.

Karen Nachay,
Senior Associate Editor
[email protected]