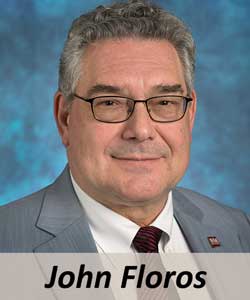 Floros named president of NMSU
Renowned food scientist John Floros has accepted the position of president of New Mexico State University. A past president of IFT, Floros previously served as dean of the College of Agriculture and director of K-State Research and Extension at Kansas State University, where he led the development of the college's strategic plan and guided the college to record student enrollments, retention, and graduation.
His research spans the application of chemical engineering science, applied mathematics, and industrial statistics to the field of food science, food process engineering, and food packaging. He has written more than 220 scientific articles, book chapters, abstracts, and other publications, and delivered more than 350 invited presentations around the world.
Floros' research has been funded by the U.S. Department of Agriculture, NASA, state agencies, and private industry. He has been a member of several professional organizations, including IFT, the American Society of Agricultural and Biological Engineers, and the American Society for Quality Control. He is an IFT Fellow and a Fellow of the Food Systems Leadership Institute.
Recently the U.S. Food and Drug Administration recognized Floros for his "distinguished service to the people of U.S.A." as a member of the agency's Science Board. In 2017, he testified in front of the Senate Committee on Agriculture, Nutrition, and Forestry on "Agricultural Research: Perspectives on Past and Future Successes for the 2018 Farm Bill," and he is now co-chair of the National Academies of Sciences, Engineering and Medicine, Executive Committee on Science Breakthroughs 2030: A Strategy for Food and Agricultural Research.
Robach to retire from Cargill
Mike Robach, global vice president of food safety, quality and regulatory at Cargill, will retire after nearly 15 years with the company. After his retirement, he will continue to serve as chairman of the board for the Global Food Safety Initiative through 2020.
Succeeding Robach will be Sean Leighton, who joined Cargill in January 2017 as global food safety and quality leader. Leighton began his career with The Pillsbury Company, followed by quality assurance and microbiology leadership roles with Land O' Lakes Dairy. Most recently, he held various leadership roles in food safety at The Coca-Cola Company, including a multi-year assignment in Vienna, Austria. Before joining Cargill, he served as Coca-Cola's vice president of quality assurance, safety and environmental sustainability. Both Leighton and Robach are members of IFT.
IFT members honored by AMSA
Among the recipients of the American Meat Science Association's (AMSA) Distinguished Achievement Award are IFT members Brad Kim and Poulson Joseph. The Achievement Award was established in 1992 and is designed to recognize and foster the development of young AMSA members who have demonstrated significant scientific skills in muscle foods research and technology that contribute to the animal products industry and AMSA. The award is sponsored by Burke Corporation.
Yuan H. "Brad" Kim is an assistant professor in the Department of Animal Sciences at Purdue University. He leads the meat science and muscle biology research program, focusing on identifying key biochemical mechanisms governing meat quality and developing systematic strategies to improve fresh meat quality attributes. Kim has published more than 50 peer-reviewed journal articles and abstracts, 20 proceeding articles, and four book chapters, in addition to having three patents. Kim was also awarded the 2018 Outstanding Young Researcher Award from the American Society of Animal Science for the Midwest Region.
An active professional member of AMSA, Kim currently serves on the editorial board of the Meat and Muscle Biology Journal, the AMSA Journal Committee, and the RMC Planning Committee. He is also an IFT Muscle Food Division member-at-large and honorary scientist and advisor of the Korean National Institute of Animal Science. He earned his BS from Konkuk University, Korea, and was a visiting student in animal science at the University of California, Davis. He received his MS from Kansas State University and PhD from Texas A&M University and continued postdoctoral training at Iowa State University.
Poulson Joseph began his professional career as lead scientist at Kalsec and is currently the principal scientist and leader of the Center of Excellence in Meat and Poultry. Joseph has authored and co-authored more than 80 publications, including 35 peer-reviewed journal articles and three book chapters. He has also delivered invited presentations at conferences and institutions across the globe.
Joseph's research utilizes proteomic tools to interpret biomolecular interactions in postmortem skeletal muscles to solve protein-based concerns in meats. In industry, he has been instrumental in supporting clients to improve their meat product quality. Under his leadership, the launches of new ingredient solutions have resulted in significant commercial success for Kalsec, especially for clean label and shelf-life extension in meat and poultry.
Joseph is a professional member of AMSA, ASAS, IFT, and Phi Tau Sigma. Currently he serves as the chair of the IFT Muscle Foods Division as well as chair of the Phi Tau Sigma Awards Committee. Joseph has been a recipient of the IFT Muscle Foods Division's Member-of-the Year Award and Outstanding Volunteer Award. Recently he was awarded the 2018 IFT Emerging Leader Network Award. Joseph is a strong advocate for student internships at Kalsec, and a reviewer for several international journals in meat, animal, and food sciences.
---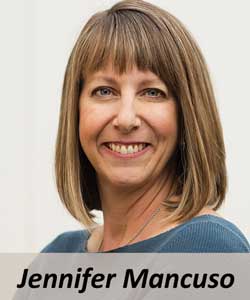 Getting to know Jennifer Mancuso
Each month, we meet one of IFT's valued volunteers.
As president and owner of Natural Food Concepts LLC, Jennifer Mancuso spends her days helping both small and large consumer packaged goods companies solve their innovation challenges. Her experience as an R&D manager at ConAgra Foods, along with a variety of scientist roles she has held at General Mills and Kellogg's, has prepared her to assist her clients in every step of the product development process—from ideation and rapid prototyping to full commercial development. "I enjoy the variety of technical challenges and breadth of innovation required in meeting my clients' creative needs," she says. "I also enjoy working with cross-functional teams to bring new products to the market."
An IFT member since 1991, Mancuso participated in food science clubs at the University of Massachusetts Amherst and Cornell. "While I was a graduate student at Cornell, I met Al Clausi, IFT president, after he spoke at a Western New York Section meeting," she recalls. "Al asked me to participate as a member of IFT's Ad Hoc Committee on Diversity. It was an honor to serve at the national level as a graduate student. It gave me a great overview of the organization and motivated me to take on more leadership roles."
Since then, Mancuso has served as secretary of the Minnesota Section and is currently completing her second term as president of the Aksarben (Nebraska spelled backwards) Section. "I've been enjoying my role in the Aksarben Section the past five years," she says. "The section had gone dormant prior to 2013. With the help of other board members, I brought the section back to an active status and am pleased we have an engaged membership. I'm now able to give back to other students through our section activities and scholarships."
As a hardworking business owner who enjoys traveling, bicycling, and skiing in her off hours, Mancuso finds the time she devotes to IFT to be a worthwhile investment. "Volunteering with IFT has helped me create a strong network in the industry and helped build my confidence in public speaking. I've made close friends and found new business opportunities through my various roles."
---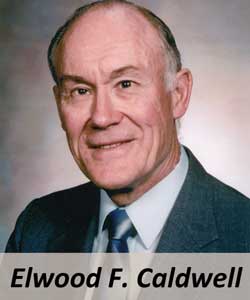 In Memoriam
Elwood F. Caldwell, the first department head of Food Science and Nutrition at the University of Minnesota, passed away on May 22, 2018.
A native of Canada, Caldwell received his MA in food science and PhD in nutrition from the University of Toronto. After moving to Chicago, he became an active member of IFT's Chicago Section and established the Tanner Lectureship, which brings outstanding scientific speakers to the section.
Caldwell moved to Minnesota to head the Department of Food Science and Nutrition, serving in this capacity from 1972 until 1987. As a member of the Minnesota Section of IFT, he was responsible for the beginning and subsequent growth of Minnesota's Suppliers' Night, with over 250 exhibitors. He also chaired (and raised the initial funding for) the establishment of Minnesota's Macy Award. Established in 1981, the award is given annually to recognize an outstanding example of food technology transfer or cooperation between scientists in academia, government, and private industry.
A major Minnesota Section scholarship named in Caldwell's honor is also awarded every year to a qualified applicant, reflecting his commitment to the section after serving as president and chairing/serving on all major committees during his time as a member. The Elwood F. Caldwell Scholarship for Student Volunteer Service is given annually to one student member who demonstrates a commitment to the Minnesota Section by their volunteer service and/or a commitment to the betterment of the community in which they live.
In addition to his service to the Minnesota Section, Caldwell served on national IFT committees, was elected a Fellow of IFT, and in 1991 was the recipient of the Calvert L. Willey award for distinguished service to IFT, serving on numerous committees while a member. He was also a Fellow of AACC International, served as its scientific director of services and executive editor of Cereal Foods World, and was the 1996 recipient of its William F. Geddes Memorial Award. In 2002 he was the recipient of AOAC International's Reference Material Achievement Award.
Caldwell was the president of Phi Tau Sigma, The Honor Society of Food Science and Technology, from 1980 to 1981. During his presidency, he and others were recognized for establishing the Dr. Carl R. Fellers Award, which is bestowed annually to an individual who has brought honor and recognition to food science and technology through achievements in areas other than research, development, education, and technology transfer. Elwood is also recognized as the founder of the University of Minnesota Phi Tau Sigma Chapter.
IFT also notes the passing of the following members: Loman D. Brown, Richard Rice, and James Ross Stubblefield.
---
Section Meetings
Chicago
Aug. 21: 11th Annual CSIFT & CFSF Golf Outing at Cog Hill. Lemont, Ill. Click here.
Rocky Mountain
Sept. 20: Suppliers' Night. Denver. Click here.
Have some news to share about yourself or another IFT member? Email [email protected].