K.P. Sandeep appointed department head
K.P. Sandeep has been named head of North Carolina State University's Department of Food, Bioprocessing, and Nutrition Sciences. Since June 2017, he has served as interim department head and succeeds Chris Daubert, now vice chancellor and dean of the College of Agriculture, Food, and Natural Resources at the University of Missouri.
Prior to his new role, Sandeep held the position of associate department head, in addition to working as a research leader and professor. He is also site director of the Center for Advanced Processing and Packaging Studies at North Carolina State, a National Science Foundation Industry-University Cooperative Research Center.
College of Agriculture and Life Sciences Dean Richard Linton noted that Sandeep has been instrumental in helping advance the North Carolina Food Manufacturing Initiative, a partnership of the college, the North Carolina Department of Agriculture and Consumer Services, the North Carolina Department of Commerce, and the North Carolina Research Campus. The centerpiece of the initiative is a food processing and innovation center being planned in Kannapolis.
Sandeep is a longtime IFT member and a graduate of the Indian Institute of Technology at Kharagpur, India. He earned his master's and doctoral degrees in agricultural and biological engineering from Pennsylvania State University. His research is related to thermal processing of foods, and he has taught courses on food engineering, thermal processing of foods, and food packaging. He has been a College of Agriculture and Life Sciences faculty member since 1997.
Sandeep says he's excited about the opportunity to lead the department forward with the support and commitment of its outstanding team of faculty, staff, and students. "The strength of the department lies in its people and that the family atmosphere prevalent in the department makes it a great place to work," he added.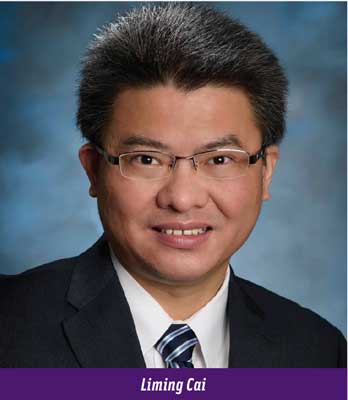 MGP names Cai principal scientist
MGP, a leading supplier of premium distilled spirits and specialty wheat proteins and starches, has announced the promotion of Liming Cai to the role of principal scientist. Cai's primary responsibilities include providing research, applications, and technical support to grow and enhance the company's portfolio of specialty starches and proteins that address increased demand for clean label, healthy, and functional food products. The position also involves assisting in the development of operational process and system improvements related to ingredients production.
"Dr. Cai's talent and competencies as a food scientist have shined during his nearly five years of employment at MGP," says Ody Maningat, vice president of ingredients R&D and chief science officer. "He has a very strong fundamental science background that greatly complements our value-addition research initiatives."
An accomplished food and grain science expert, Cai joined MGP in the role of applications scientist in 2013. Previously he served as a post-doctoral research associate in cereal chemistry at Washington State University in Pullman, Wash.
A native of Putian, Fujian, China, Cai received a bachelor's degree from Wuhan (China) Polytechnic University in 2004. He earned a master's degree in food science from South China University of Technology in 2007 and his doctorate in grain science from Kansas State University in 2011. He has authored or co-authored more than two dozen scientific research publications and presentations.
Cai has served as assistant editor of Food Science, Versita Open Access Books (2012–2013), and has been a guest editor of the Journal of Chemistry (2016) and a member of the editorial board of Food Research International since 2015. He is a member of the American Association of Cereal Chemists International and the Institute of Food Technologists.
IUFoST elects fellows to IAFoST
The International Union of Food Science and Technology (IUFoST) recently presented the eleventh class of food scientists and technologists to be elected to the International Academy of Food Science and Technology (IAFoST). The new Fellows will be inducted during the 19th World Congress of Food Science and Technology (World Food Congress), which will take place October 23–27, in Mumbai, India. Among the 20 new Fellows are nine members of the Institute of Food Technologists: Mukund Karwe (United States), Margaret Patterson (United Kingdom), Allan Paulson (Canada), Michele Perchonok (United States), Geoffrey Smithers (Australia), Susana Socolovsky (Argentina), An-I Yeh (Taiwan), Suk Hoo Yoon (Korea), and Guanghong Zhou (China).
Fellows elected to IAFoST are acknowledged by their peers as outstanding representatives of international food science and technology. The IAFoST comprises a pool of scientific expertise in food science and technology from which IUFoST draws advice on scientific matters. Fellows serve as independent persons to work and promote high standards of ethics and scientific endeavors.
Cal Poly professors receive USDA NNF grant
Stephanie Jung and Amanda Lathrop of California Polytechnic State University's Food Science and Nutrition Department have been awarded a nearly $250,000 grant through the U.S. Department of Agriculture's (USDA) National Needs and Postgraduate Fellowship (NNF) Grants Program to focus on the conversion of agricultural and food waste challenges into opportunities.
The funding will be used over a four-year period to enroll six students in the master's in agriculture program with a specialization in food science. The students' coursework will focus on global issues related to agricultural and food waste.
Eleven faculty members from across the university will be involved in the cross-disciplinary program, representing food science and nutrition, industrial packaging, animal science, and engineering. Overseeing the program will be Jung, professor of food science, and Lathrop, associate professor of food science, both of whom are members of IFT.
"This program will expose fellows to ... academic, intellectual, and global themes pertaining to food waste and the ways to overcome the challenges associated with it," Jung says. "Students will address the economic, environmental, and social burden of food waste."
It is estimated that 40% of food produced in the United States is wasted each year. In 2015, the USDA launched the first-ever national food loss and waste goal, calling for a 50% reduction in food waste by 2030.
"To meet those goals both nationally and outside the U.S., there will be an increased demand by the industry and governmental institutions for food scientists to implement solutions," Jung says. "As it is now, there are limited training opportunities for food science students in this area. This program will provide the research needed to guide the food industry on possible alternatives to handling food waste and provide trained students with the leadership and technical skills needed to solve those challenges."
The Cal Poly program will include a mandatory internship with key industry partners and leadership development through undergraduate mentoring and teaching opportunities. Students with a bachelor's degree in food science, chemistry, biochemistry, or engineering are encouraged to apply. Evaluation of candidates will begin immediately. A stipend of $18,000 per year for two years, plus partial tuition, will be awarded to the selected candidates. For more information on admission requirements and application procedures, contact Jung at [email protected].
---
Getting to Know Natalie McElwee
Each month, we meet one of IFT's valued volunteers.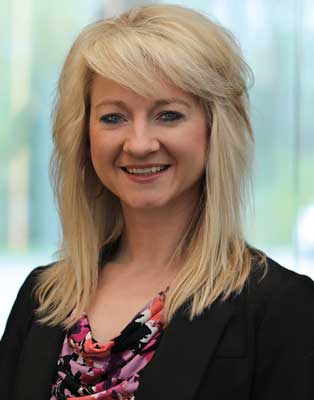 Natalie McElwee loves to eat. "It's true," says the senior sensory scientist at Givaudan Flavors in Cincinnati, "and we do this a lot at my office." Good food aside, the part of her job she enjoys the most is helping people work through their challenges by providing sensory guidance and insights. "I work with some really wonderful and talented individuals," she says, "and this makes Givaudan a great place to be."
McElwee holds a bachelor's degree in biochemistry, cellular and molecular biology from the University of Tennessee, Knoxville, an education that prepared her for the five years she spent with Unilever Home & Personal Care in Trumbull, Conn., before joining Givaudan.
She first became involved with IFT when a former coworker who served on the board of the Ohio Valley Section told her about an opening on the board for a newsletter editor. "She mentioned it would be a great networking opportunity within the food science community, and since I trusted her at our workplace, I figured I'd give it a go," she says.
With coaching from the previous editor and the board, says McElwee, "I navigated through the challenge and found unique fulfillment with this type of contribution to the section." The rest, she adds, "is history." Since then, McElwee has gone on to serve as the Ohio Valley Section's treasurer for two years, then chair elect for two years, and now as chair.
Of all the experiences she's had as a volunteer with IFT, she has found the annual kickoff meeting for the Ohio Valley Section to be particularly memorable. "There's a lot of excitement, since it will have been a while since members have gathered together," she explains. "Attendees at this event like to hear about the year ahead and meet the new board members as well. We've typically held this event at a local vineyard, and it is always well attended. It's a very positive evening with lots of conversations and laughter (I am sure the wine helps!). I come home from this event every year with momentum and drive—feeling happy, proud, and ready for the year ahead."
In addition to being a great way to network, volunteering has enriched McElwee's professional life in several other ways. "I have been exposed to new aspects of food science, expanding my knowledge base outside of sensory science," she says.
Volunteering has also given her a new perspective on time management. "Often-times," she says, "we are taxed with work, home, and volunteer responsibilities. And in these moments, I can look to my awesome board members for support. Everyone is willing to help out and knows that the 'struggle is real' with day-to-day demands."
Although it can be intimidating to try something new, McElwee encourages others to step outside of their comfort zone. "New experiences are what help us grow personally and professionally," she says. "You never know how that new experience will impact you—you might find a new passion! Believe in yourself and get exposure for yourself. Volunteerism takes dedication and commitment, and your investment outside of your professional responsibilities will not go unnoticed by others in your circle."
---
In Memoriam
IFT notes the passing of the following members: Robert P. Greenspan and Otto O. Unterholzner.
Have some news to share about yourself or another IFT member? Email [email protected].