The Scientific Program at IFT18 in Chicago, July 15–18, 2018, will feature more than 100 oral sessions, 624 printed poster papers, and 107 e-poster presentations. The following are brief descriptions of the sessions related to food safety and quality.
Analytical
In session 004, "Rheology: A Bridge Between Food Structure and Texture," on Monday, July 16, from 7:45 a.m. to 8:45 a.m., Helen Joyner will discuss structural, rheological, and sensory analyses of acid milk gels and yogurt; Osvaldo Campanella will discuss determining dough quality from rheological measurements; and Judith Whaley will discuss how starch texture maps relate to physicochemical properties, rheological behavior, and texture.
In session 006, "Whole Genome Sequencing," on Monday, July 16, from 7:45 a.m. to 8:45 a.m., Martin Wiedmann will discuss how whole genome sequencing (WGS) is being used for outbreak detection, traceback investigations, and characterization of different foodborne pathogens; and Eric Brown will discuss how the U.S. Food and Drug Administration (FDA) uses WGS in its outbreak and compliance activities and the procedures it follows in making regulatory decisions.
In session 020, "Marcel Loncin Lecture: Advances in Food Materials Science: Physical and Chemical Stability of Low-Moisture Foods," on Monday, July 16, from 10:30 a.m. to noon, Shyam Sablani will discuss techniques for characterization of carrier materials used in design of encapsulation systems for improved stability of micronutrients; Shelly Schmidt will discuss the effect of the amorphization method on the physicochemical properties of amorphous sucrose; Lisa Mauer will discuss the water-solid interactions and moisture-induced phase transformations in amorphizing and crystallizing ingredients such as sugars and vitamins C and B1; Laurent Forny will discuss how the physical state of dehydrated beverage powders affects their reconstitution and advanced techniques for characterization of their physical properties; and Brady Carter will discuss advances in measurement of water activity of foods to predict shelf life.
In session 030, "The Use of 'Omics' for Evaluating Meat Quality," on Monday, July 16, from 3:30 p.m. to 5 p.m., Jerrad Legako will discuss how measuring volatile compounds responsible for meat flavor via metabolomics approaches can be used to make more informed decisions about animal production practices and meat handling; Gale Strasburg will discuss how genomic tools such as microarrays and RNA sequencing can be used to study the effect of environmental factors on gene expression as part of a comprehensive strategy to define mechanisms of meat quality problems; and Ranjith Ramanathan will discuss use of a novel metabolomic technique focusing on the metabolite differences in beef muscles to help formulate strategies for muscle-specific processing approaches to minimize losses due to discoloration.
In session 029, "New Insights Into Using Photon Emission to Image Lipid Oxidation Patterns in Food Matrices," on Monday, July 16, from 3:30 p.m. to 5 p.m., Simona Birtic will discuss how luminescence can be used to screen extracts from different parts and species of edible plants for high chelating and antioxidative capacities; Margot Loussouarn will discuss how cameras initially developed for use in astronomy for detection of light emitted by stars can be used to remotely image the autoluminescence of living organisms, providing a new noninvasive tool for mapping oxidative stress and lipid peroxidation; and Mickaël Laguerre will discuss why the ability of reactants to move from a lipid particle to others in lipid dispersions such as mayonnaise is an important but often ignored determinant of lipid oxidation and its inhibition by antioxidants.
In session 053, "Next-Generation Sequencing Metagenomics Approaches to Probe the Microbiome Throughout the Beef Chain: From Fundamentals to Applications," on Tuesday, July 17, from 12:30 p.m. to 2 p.m., Joe Heinzelmann will discuss the use of metagenomics for determining key bacteria and understanding the shelf life of raw ground beef; Kendra K. Nightingale will discuss the fundamentals of next-generation sequencing and the application of shotgun and 16s rDNA metagenomics approaches to probe the microbial ecology of meat systems; Kameswara Rao Kottapalli will discuss identification and quantification of bacterial species based on 16s ribosomal and rpoB genes; and Paul Morley will discuss use of shotgun metagenomics to investigate the influence of production practice on the relationship of microbial ecology and antimicrobial resistance to human, animal, and environmental health.
In session 112, "Edibilomics: Using Metabolomics in Food-Related Research," on Tuesday, July 17, from 3 p.m. to 4 p.m., Jessica Cooperstone will explain how metabolomics can be used to investigate how a food product changes with processing, detect adulteration or misbranding, understand what flavor compounds contribute to product liking, and explore how dietary interventions alter the human metabolome; Devin Peterson will discuss applications of metabolomics to advance understanding of chemical sensation and flavor perception; Emmanuel Hatzakis will discuss applications of metabolomics to food composition, quality control, and nutritional value; and Rachel Kopec will discuss applications of metabolomics in human nutrition research and personalized nutrition.
In session 075, "Critical Parameters in Application of Antioxidants to Arrest Lipid Oxidation in Food," on Wednesday, July 18, from 8:30 a.m. to 10 a.m., Karen Schaich will show that lipid oxidation kinetics are much more complex than predicted by simple free-radical chain reactions; Fereidoon Shahidi will discuss the fundamentals of lipid oxidation, use of antioxidants, and natural antioxidant sources, which would not violate nutrient content claim regulations; and Namal Senanayake will discuss enhancing the shelf life of pet foods and pet food ingredients, using natural extracts instead of synthetic antioxidants.
In session 076, "Whole Genome Sequencing: Overview and Role in Food Safety Systems," on Wednesday, July 18, from 8:30 a.m. to 10 a.m., Mike Robach will discuss next-generation sequencing techniques such as WGS, core genome sequencing, 16s metagenomics, and shotgun metagenomics and their industrial applications and limitations; Sasan Amini will discuss how next-generation sequencing technologies make it possible to conduct routine pathogen monitoring to prevent and rapidly respond to outbreaks; and Betsy Booren will discuss how WGS is used by the FDA, the U.S. Department of Agriculture (USDA), and the food industry.
In session 069, "Biosensors: Multiple Transduction Architectures for Practical Applications in Food," on Wednesday, July 18, from 8:30 a.m. to 10 a.m., Raj Mutharasan will describe a sensitive piezoelectric-excited millimeter-sized cantilever immobilized with an antibody to detect pathogenic Escherichia coli in ground beef; Christopher Culbertson will discuss the use of capillary electrophoresis/electrochemistry for diagnostic assays using microchips; Carlos Garcia will describe a colorimetric biosensing method to quantify toxins in complex samples, based on selective interaction of the target toxin with highly fluorescent modified graphene quantum dots; and Jonathon Claussen will describe a disposable electrochemically based, all-graphene microfluidic biosensor for real-time detection of Salmonella strains.
In session 088, "Whole Genome Sequencing: An Industry Perspective," on Wednesday, July 18, from 10:30 a.m. to noon, Alex Brandt will describe how WGS works, how the food industry and regulatory and public health agencies are using it, and third-party testing laboratory considerations; Sanjay Gummalla will discuss use of WGS in the food industry and as a regulatory compliance tool; Melody Thompson will focus on potential applications of WGS and other next-generation sequencing technologies in the meat industry; and Jennifer McEntire will focus on potential applications in the produce industry.
In session 092, "New Advancements in Botulinum Neurotoxin Detection Methods: From the Mouse Bioassay to Mass Spectrometry," on Wednesday, July 18, from 1:15 p.m. to 2:45 p.m., Sabine Pellett will describe the mouse bioassay and advances in tissue culture methods for detection of botulinum neurotoxin, including the first human-specific botulinum neurotoxin detection model; Suzanne Kalb will discuss the Centers for Disease Control and Prevention's use of mass spectrometry to detect the enzymatic activity of botulinum neurotoxin in clinical samples; and Yun Wang will discuss development of a nanobiosensor that uses quantum dots and specific peptide probes to detect and differentiate biologically active botulinum neurotoxin serotypes.
Food Fraud
In session 040, "Non-Targeted Methods and Application of Food and Dietary Supplement Adulteration Detection: Challenges and Future," on Tuesday, July 17, from 10:30 a.m. to noon, Zhuohong Xie will describe the U.S. Pharmacopeia's guidance document on non-targeted methods for detection of economically motivated adulteration; James Harnly will describe chemometric methods for authenticating the presence of botanical ingredients in supplements; Bert Popping will discuss the European Commission's regulation protecting premium products of designated origin from food fraud and describe a non-targeted analysis for detecting such fraud; and Sanjeewa Karunathilaka will compare two portable Raman spectroscopy instruments for non-targeted detection of melamine adulteration of milk powder.
In session 095, "Food Fraud: Addressing New Standards and Current Challenges," on Wednesday, July 18, from 1:15 p.m. to 2:45 p.m., Steven Sklare will provide an overview of economically motivated adulteration, its effects on the food industry, and resources for complying with regulatory requirements; Gary Smith will discuss developing a food fraud program that meets Global Food Safety Initiative standards; Neil Bogart will discuss food fraud in the coffee and tea industry, potential health-related issues, and mitigation plans; Lars Reimann will present an authentication testing strategy for a fraud-mitigation plan; and Rosalie Hellberg will discuss mislabeling and other types of seafood fraud, the negative health impacts, how the government is addressing seafood fraud, and DNA barcoding for the detection of species substitution.
Food Safety & Traceability
In session 044, "Hot Topics Session: Say What? Challenges in Science Communication," on Tuesday, July 17, from 10:30 a.m. to noon, Carl Winter will discuss important nonscientific factors that influence public response to chemical food safety risks and techniques for communicating key scientific concepts to the public; Jeffrey Margulies will discuss courtroom strategies used by lawyers in cases involving complex science; Howard Moskowitz will describe an app that can help create consumer-relevant answers to questions from the public on what the public needs, wants, or perceives; and Kirsten Zu will discuss how nutritional epidemiology studies and regulatory decisions based on them are often sensationalized.
In session 062, "Is It Time to Change the Paradigm for Food Toxicology? Nitrate as a Case Study," on Tuesday, July 17, from 2:15 p.m. to 3:45 p.m., James Coughlin will discuss the toxicology and risk assessment of nitrate and nitrite and urge that the acceptable daily intake for nitrate should be reassessed based on current science and nitrate's health benefits; Nathan Bryan will discuss the biochemistry of nitrite and nitrate in human physiology and their health benefits; and Daniele Wikoff will recommend that the health benefits of nitrate and nitrite be considered when revising the acceptable daily intakes from foods and beverages.
In session 116, "Debate: Utilizing Blockchain for Improved Traceability," on Wednesday, July 18, from 10:15 a.m. to 11:15 a.m., Brigid McDermott will provide an overview of blockchain technology and its potential benefits in transparency, traceability, food safety, sustainability, reduction of waste, and other key benefits; and Frank Yiannis will discuss how blockchain has the potential to enable a new era of end-to-end traceability and transparency in the global food system.
Food Security & Harmonization
In session 066, "W.K. Kellogg Award Lectureship: Role of Food Science and Technology in Addressing Food Security Issues in Humanitarian and Non-Humanitarian Contexts," on Tuesday, July 17, from 2:15 p.m. to 3 p.m., Dominique Bounie will discuss food security issues that are faced in humanitarian crises and how innovation and more inclusive solutions may help address some of the emerging food security challenges that threaten developed countries.
In session 086, "United Nations Agencies and the Role of Food Technology in Supporting Global Food Security," on Wednesday, July 18, from 10:30 a.m. to noon, Carla Mejia will present the World Food Program perspective on contributions of food science and technology in humanitarian settings; Robert Baker will describe the relationships established by Mars and United Nations (UN) food agencies that combine technical assistance and knowledge transfer with financial contributions to solve food-security problems; and Patrick Webb will discuss how academic research on global agriculture, food, and nutrition serves as a basis to influence donors, UN agencies, and governments to address global nutrition and food-security issues.
In session 091, "The Codex Alimentarius Commission: A Harmonizing International Benchmark for Global Food Trade," on Wednesday, July 18, from 1:15 p.m. to 2:45 p.m., Rosemary Walzem will discuss issues addressed by the Codex Committee on Nutrition and Foods for Special Dietary Uses; Francis Busta will discuss work by the Codex Committee on Food Hygiene; Gloria Brooks-Ray will discuss work by the Codex Committee on Food Labeling; and Rosetta Newsome will describe how IFT members can provide scientific and technical input to Codex and be a resource for IFT's scientific and technical input to Codex.
Health and Nutrition
In session 005, "Dietary Fibers: A Noninvasive Path to Modulate Colonic Microbiome for Improved Health," on Monday, July 16, from 7:45 a.m. to 8:45 a.m., Bruce Hamaker will discuss the need to understand how to use dietary fibers for beneficial effect in the gut microbiome and processing them to target specific bacteria; Yunus Tuncil will discuss how subtle differences in the chemical structure of dietary fibers such as arabinoxylans affect the colonic microbial community and microbial fermentation end-products; and Stephen R. Lindemann will discuss how food processing can influence the gut microbiome's response to dietary fibers.
In session 011, "Probiotics: Trends, Opportunities, and the Latest Quality-Management Technology," on Monday, July 16, from 10:30 a.m. to noon, Marco Pane will discuss the use of flow cytometry for enumeration of probiotics products; Suzanne Schloemann will discuss how flow cytometry can be used to better address the needs of the food industry than traditional microbiological methods; and Andrzej Benkowski will discuss the use of flow cytometry for enumeration of probiotics in products on the market and considerations in applying this technology to foods.
In session 013, "The Safety, Regulatory, and Claims Status of Phytonutrients When Added to Food and Dietary Supplements," on Monday, July 16, from 10:30 a.m. to noon, Ray Matulka will discuss how the safety of functional foods consisting of isolated phytonutrients depends on the dose and isolation technique; Cara Welch will discuss how claim statements depend on whether the phytonutrient is viewed as a food, dietary supplement, or drug; and Gavin Thompson will discuss lawsuits filed against companies with functional food health claims that may have questionable scientific substantiation.
In session 016, "The Unique Nutrition and Feeding Needs of Infants and Toddlers: Considerations for Product Development," on Monday, July 16, from 10:30 a.m. to noon, Elieke Demmer will discuss what food groups American infants and toddlers are first introduced to and how these diets affect nutrient intake; Erin Quann will discuss the results of Nestlé's Feeding Infants and Toddlers Study on food consumption and health; and Julie Mennella will discuss how early life experiences with healthful tastes and flavors may promote healthful eating.
In session 107, "Who's Driving Personalized Nutrition and Why?" on Monday, July 16, from 11:15 a.m. to 12:30 p.m., Jeff Hilton will discuss consumer demand for customized health and nutrition solutions and what food and beverage manufacturers need to do to deliver the personalized nutrition that consumers want.
In session 022, "Protein Quality and Nutritional Assessment: Global and Sustainable Perspectives," on Monday, July 16, from 3:30 p.m. to 5 p.m., David Plank will discuss protein quality rating systems and why and when protein quality assessments matter; Clyde Don will discuss the global sustainability of current eating practices and the nutritional value, texture, taste, and protein-safety aspects to be dealt with as more sustainable proteins are introduced; James House will discuss estimates for dietary protein and amino acid requirements across the human lifespan; and George Salmas will illustrate the regulatory and litigation challenges faced in marketing foods containing proteins.
In session 008, "Protein: Understanding Consumer Interest and Attitudes to Develop Impactful Messaging," on Tuesday, July 17, from 10:30 a.m. to noon, Ken Donaven will discuss a study on what consumers know about protein and benefits of different sources of protein; Michelle Braun will discuss protein research as it relates to health outcomes; Cathy Kapica will discuss ways to leverage consumer interest in protein; and Lulu Mauro will discuss ways to communicate to consumers the benefits and attributes of products characterized by protein ingredients in the current regulatory environment.
In session 082, "Current Nutritional Trends in Immune and Gut Health," on Wednesday, July 18, from 10:30 a.m. to noon, Parveen Yaqoob will discuss how dietary polyunsaturated fatty acids (PUFAs) modulate the immune response; Bobbi Langkamp-Henken will discuss the effect of probiotics on immune responses and clinical models for examining the effects of probiotics on immune health in healthy individuals; and Donald Cox will discuss the scientific evidence needed to support the benefits of PUFAs, prebiotic fibers, and probiotics in modulating the immune response.
In session 055, "Get Your Head in the Game – The Science Behind Ingredients for Sports Nutrition," on Tuesday, July 17, from 12:30 p.m. to 2 p.m., Phil Harvey will discuss the role of nitric oxide in sports nutrition and how the combination of glutathione and citrulline relates to nitric oxide production. Danielle Citrolo will discuss brain-health ingredients for sports nutrition products. Federico Harte will discuss the functionality of casein ingredients in liquid and viscoelastic foods; the physicochemical properties of a casein system in a strong ionic environment; and the effect of temperature, pH, and salt concentration on the structure and function properties of casein-based ingredients. And Matthew Pikosky will discuss the benefits of high-protein diets in sports nutrition, weight management, and healthy aging.
In session 090, "Sugar: Dietary Recommendations, Current Intakes, and the Future of Sweets," on Tuesday, July 17, from 12:30 p.m. to 2 p.m., Barbara Schneeman will describe the World Health Organization's recommendations regarding sugar consumption, how they compare to those of the United States and other countries, and differences in how those jurisdictions define sugars (free, added, or total); Kathy Musa-Veloso will discuss intakes of free, added, and total sugars in the United States and the United Kingdom and the key foods and beverages that contribute to those intakes; Melanie Goulson will discuss the role of non-nutritive sweeteners in reformulating foods to meet the FDA's daily value of 50 g from added sugars; and Jim Painter will discuss ways to sweeten foods with sweeteners that are derived from fruits and vegetables and therefore do not need to be declared as added sugars.
In session 061, "Eating Less Red Meat: The Evidence Behind the Recommendation," on Tuesday, July 17, from 2:15 p.m. to 3:45 p.m., Wayne Campbell will address research needed to clarify the relationship between red meat intake and health outcomes; Dominik Alexander will discuss reports on the association between fresh red meat and risk of colorectal cancer risk; and Donald Layman will discuss the challenges of limiting livestock production to improve environmental outcomes while maintaining healthful diets for a growing population.
In session 087, "Dietary Fiber: New Regulations, Methodologies, and Industry Response," on Wednesday, July 18, from 10:30 a.m. to noon, Paula Trumbo will discuss the new Nutrition Facts and Supplement Facts labeling regulations regarding dietary fiber; Joanne Slavin will discuss the physiological benefits associated with different dietary fibers and the requirement for isolated fibers to show a physiological benefit to be listed as dietary fiber on the new Nutrition Facts panel; George Salmas will present strategies for compliance with the new dietary fiber regulations, regulatory and class-action risks associated with noncompliance, and strategies for dealing with lawsuits; and David Plank will discuss the benefits and shortcomings of the commonly used AOAC methods for analysis of dietary fiber and recommend methods for compliance with the new regulations.
Nanotechnology
In session 025, "Novel Application of Nanotechnology for Control of Pathogenic Viruses and Bacteria: An Innovative Approach to Food Safety," on Monday, July 16, from 3:30 p.m. to 5 p.m., Soojin Jun will describe development of nano-engineered surfaces that discourage microbes from biofouling them; Geun Woo Park will discuss development of nanotechnology-based self-sanitizing surfaces for the control of norovirus; Swadeshmukul Santra will describe use of nanotechnology to develop copper and zinc oxide–based bactericides and fungicides for control of citrus canker and bacterial spot of tomato; and Casey Jeong will discuss how development of chitosan-based nano- and microparticles significantly reduced pathogens in the gastrointestinal tract of cattle and the uteri of cows with the disease metritis.
In session 080, "Establishing the Safety of Cellulose Nanomaterials for Food-Related Uses," on Wednesday, July 18, from 10:30 a.m. to noon, John Simonsen will present an overview of nanocellulose types, manufacture, characterization methods, and applications; Mengshi Lin will discuss characterization of nanocomposites of cellulose nanofibers and silver nanoparticles and investigation of their toxicity to human cells and their antimicrobial properties against natural gut microflora; Fanbin Kong will discuss how three types of nanocellulose adhere to the human gastrointestinal mucosal surface and whether their incorporation into foods could affect digestion of starch and lipids; and Jo Shatkin will discuss the safety of cellulose nanomaterials and the types of studies sought by regulatory agencies for use of nanoscale materials in food-related applications.
Regulatory
In session 015, "Preventive Controls for Human Foods: Successes and Challenges for FDA and the Food Industry," on Monday, July 16, from 10:30 a.m. to noon, JoAnn Givens will discuss the FDA's experience in enforcing the Preventive Controls for Human Foods rule, industry guidance documents, and instructions to field staff; Jeffrey Acker will discuss preventive controls investigations from the perspective of a food manufacturer; and Susan Moyers will discuss which approaches are working and which need tweaking to meet FDA expectations and the impact of the Foreign Supplier Verification Program (FSVP) rule on foreign food manufacturers.
In session 042, "Food Importing: Green-Light Strategies for Compliance With Game Changing FSVP Requirements," on Tuesday, July 17, from 10:30 a.m. to noon, Robert Brackett will describe the Food Safety Modernization Act (FSMA) requirements for written documentation; Susan Moyers will discuss issues that importers are encountering regarding compliance with FSVP requirements and suggestions for assessing and improving systems; and Charles Breene will discuss FDA expectations during an inspection.
In session 050, "Educating the Future Food Scientists Capable of Facing Evolving Regulatory and Technological Challenges in the Global Food Industry," on Tuesday, July 17, from 12:30 p.m. to 2 p.m., Purnendu Vasavada will discuss the role of education, outreach, and industry-academia partnership in training a new generation of food industry professionals; Robert Brackett will discuss the evolving food safety philosophy and how it will affect the way the next generation of food safety professionals will be trained; and Vijay Juneja will provide an example of food safety education in India.
In session 054, "Hot Topics Session: Establishing Regulatory Action Levels for Food Allergens – Do We Have the Data We Need?" on Tuesday, July 17, from 12:30 p.m. to 2 p.m., Lauren Jackson, Stefano Luccioli, Steven Gendal, and Stephen Taylor will discuss setting FDA action levels for allergens.
In session 021, "A National FSMA Training, Outreach, and Education Landscape for the Produce Industry, Part I," on Tuesday, July 17, from 2:15 p.m. to 3:45 p.m., Armitra Jackson-Davis will describe the experiences of the four regional centers of the National FSMA Training, Outreach, and Education Program's competitive grant program, which provides food safety training, education, extension, outreach, and technical assistance to farms, small food processors, and small produce wholesalers; Janie Simms Hipp will discuss the cooperative agreements of the FSMA Training Strategy; and Michael Frazier will discuss the food safety outreach programs in the United States and their training strategy.
In session 056, "How Does the Sanitary Transport of Human and Animal Food Impact Our Supply Chain?" on Tuesday, July 17, from 2:15 p.m. to 3:45 p.m., William Kennedy will discuss what liquid and dry transporters need to meet the requirements of the Sanitary Transport of Human and Animal Food rule; Christine Summers will discuss how Global Food Safety Initiative–recognized audit programs have taken a more in-depth look at how products are transported and whether suppliers are meeting the requirements; Brian Stegmann will discuss how suppliers need to make sure that outgoing and incoming products and all the third-party facilities that handle the products are in compliance with the rule; and Cloeann Durham will describe Coca-Cola Co.'s implementation of a total supply chain food safety system to meet requirements of the rule.
In session 059, "Whistleblower Protections Under FSMA: Food Industry and Legal Perspectives," on Tuesday, July 17, from 2:15 p.m. to 3:45 p.m., David Acheson will discuss the FSMA's whistleblower protection provision and how it fits into preventive food safety systems; and Elizabeth Cordello will discuss how the whistleblower protection provision has the potential to have a large impact on the food industry, the legal status of whistleblower protections, how the law has evolved since its passage, and legal trends and developments that may impact the law in the future.
In session 065, "Hot Topics Session: Proposition 65: What it Means for the Food Industry," on Tuesday, July 17, from 2:15 p.m. to 3:45 p.m., Jeffrey Margulies will discuss California's Proposition 65 and courtroom strategies used by lawyers in cases involving complex science.
In session 073, "Buzzwords Used in Food Labeling and Advertising: Maximizing Success and Minimizing Risk," on Wednesday, July 18, from 8:30 a.m. to 10 a.m., Kathy Musa-Veloso will discuss the influence on purchase intent of such concepts as food sustainability; perceived food safety; where the food was made/grown; and whether it is natural, organic, and GMO-free. Betsy Rakola will discuss the USDA's National Organic Program and the role of accredited certifying agents. Maribel Ryena will describe the regulations concerning country-of-origin labeling of foods. And Martin Hahn will discuss legal battles resulting from the use of such claims in food labeling or advertising as "non-GMO," "natural," and "product of USA."
Sensory
In session 009, "Taste: A 360 Toolbox for Dietary Compliance," on Monday, July 16, from 10:30 a.m. to noon, Naomi Fukagawa will discuss how taste underlies food choices and compliance with dietary guidelines; Marie Latulippe will discuss the ILSI North America Taste and Diet Committee's work on how taste science can be used to improve dietary compliance; Nancy Rawson will discuss what is known about modifying taste perception and opportunities for new solutions; Debra Zellner will discuss prenatal, perinatal, and early childhood influences on the establishment of flavor preferences; and Dattatreya Banavara will discuss approaches for altering food composition to better align with dietary guidance.
In session 018, "Innovations in the Natural Savory, Meaty, and Umami Characteristics of Foods," on Monday, July 16, from 10:30 a.m. to noon, Justin Shimek will discuss key sensory drivers for savory foods and how using culinary techniques focused on balancing basic tastes and using fundamental savory ingredients can lead to creation of food products meeting contemporary consumer demands; Chris Davis will discuss replacing animal-based foods with plant-based foods that handle, cook, and taste like meat; Michael Merz will describe the use of mass spectrometry and high-performance liquid chromatography to isolate and characterize microbial peptidases for use in hydrolysis of plant proteins to increase their nutritional value and characteristics; and Hans Heldt-Hansen will describe development of improved enzyme products for generating umami taste from vegetable proteins.
In session 105, "The Promise of Digital Olfaction: A Demonstration of the Artificial Nose," on Monday, July 16, from 11:15 a.m. to 12:30 p.m., Tristan Rousselle will demonstrate use of the artificial nose to obtain numerical information about tastes and smells and discuss technologies being developed that will allow for the manufacturing of handheld devices.
In session 034, "Sensory Science: The Bridge Between Food and Health," on Tuesday, July 17, from 10:30 a.m. to noon, Roger Clemens will stress the importance of interaction among food, nutrition, and sensory scientists to develop consumer-preferred food and beverage products; Ciaran Forde will discuss how sensory factors such as food taste and texture influence food-intake behaviors by adults and children; John Hayes will discuss how traditional sensory science methods can be integrated with behavioral genetics to gain a better understanding of taste differences among individuals and how those differences influence food choice and intake; and Rajesh Potineni will discuss how the nutritional composition of a product can influence sensory perceptions and key considerations in formulating food and beverage products.
In session 084, "What You See and What You Taste: Color-Flavor Interaction in Product Development," on Wednesday, July 18, from 10:30 a.m. to noon, Deepti Dabas and Shane McDonald will discuss how color influences the flavor and consumer acceptability of food products and the challenges in developing combinations of colors and flavors as ingredients; Debra Zellner will discuss the effect of color on the identification of odor and flavor and perceived intensity when experienced through both the nostrils and the mouth; and Carmel Levitan will suggest that color-flavor interactions in flavor perception cannot be understood solely in terms of multisensory integration but that higher-level cognitive factors, such as expectations, must also be considered.
---
Exhibitor Information
The IFT18 annual event and Food Expo will include a Food Safety and Quality Pavilion that will feature vendors offering options and solutions for food safety and quality. The following are brief descriptions of some exhibitors offering products for food safety and quality.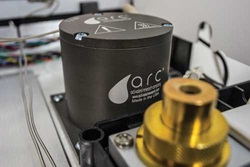 New technology transforms gas chromatographs. The Polyarc system (above) combines catalysis with chemical analysis and features a catalytic microreactor that enhances gas chromatographs with flame ionization detectors. The catalytic microreactor converts all organic compounds to methane molecules before they are detected by a flame ionization detector. This reduces the need for calibrations, improves sensitivity and accuracy, and provides universal carbon detection. Activated Research Company, activatedresearch.com, Booth N6920
High quality testing is possible with quick turnaround. ALS provides microbial, chemical, and nutritional food safety testing at all stages of processing. The laboratory's services include pathogen detection, shelf life determination, water activity, pesticides, mycotoxins, adulterant detection, and nutrition analysis for nutrition labels. ALS's laboratory facilities are accredited to ISO 17025. ALS, alsglobal.com, Booth S4738
Clean equipment with dry ice technology. The i3 MicroClean cleans and decontaminates intricate cavities of equipment with food-grade dry ice. With patented shaved dry-ice technology, the system eliminates the need for chemicals, wire brushes, and abrasive pads. The product can remove bacteria such as Salmonella and E. coli and reduce cross-contamination from common food allergens. Cold Jet, coldjet.com, Booth S3453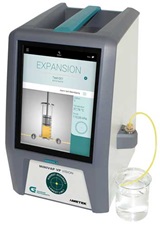 Measure vapor pressure of low-volatility liquids. The Grabner Instruments Minivap VPL Vision (above) is a completely automatic analyzer that tests chemicals with a vapor pressure of less than 5 kPa in temperatures ranging from 0° C to 120° C. Requiring only 1 mL of sample per test, the device measures food, flavor, and fragrance products with precision. AMETEK Petrolab Co., petrolab.com, Booth S205
High-quality instruments for testing physical properties and quality of materials are C.W. Brabender's specialty. The company creates instruments for testing materials used by the milling, baking, and starch industries and is an industry leader in food extrusion. The company's new GlutoPeak measures gluten aggregation in minutes and is simple to use. C.W. Brabender, www.cwbrabender.com, Booth S815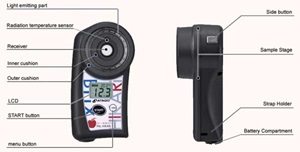 Pocket-sized meter accurately measures Brix. The PAL-Hikari (below) is a compact Brix meter that measures the sugar level of fruits by simply placing a fruit on the sample stage. It can also provide accurate reading without needing to cut or squeeze the fruit, thereby eliminating the need to wipe the instrument after each measurement. The PAL-Hikari is pocket-sized. Atago USA, atago.net/USA, Booth S638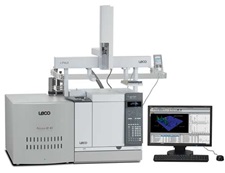 Increase productivity with quick analysis. LECO Corp.'s TGM800 Thermogravimetric Moisture Determinator measures moisture content with the primary loss-on-drying method. The instrument offers time-saving features such as the ability to measure 16 samples at a time. LECO also offers the Pegasus BT 4D (above), a tool that utilizes high-performance thermal modulation to identify unknown analytes in food samples. LECO Corp., leco.com, Booth S234
Easily document procedures for food safety standards. The Matrix Gemini Environmental Monitoring system (above) provides a framework for documenting procedures to meet food safety standards. It features graphical trending that provides an early warning of sanitation problems before they become violations. The platform also produces documentary evidence that a company is meeting food safety standards pertaining to the Food Safety Modernization Act, Current Good Manufacturing Practices, and HACCP. Autoscribe Informatics, autoscribeinformatics.com, Booth N7008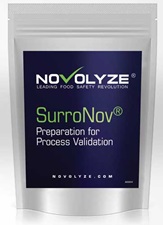 Microbes that mimic pathogens streamline safety testing. The SurroNov range is a set of ready-to-use surrogate bacteria that mimic the inactivation of foodborne pathogens under various kinds of stress. The microbes can be used to test the efficacy of microbial intervention processes such as extrusion, pasteurization, and roasting. Requiring no enrichment before inoculation, these bacteria facilitate the testing of microbial intervention procedures before they are commissioned. Novolyze, novolyze.com, Booth S5322
New device simplifies quality control. The QuikCheck-BCU at-line analyzer (above) for baked goods determines the brownness of baked products (i.e., the baking contrast unit) to ensure product consistency. The device measures the smallest discernible change in color that could be perceived by the human eye. The QuikCheck-BCU also analyzes moisture value to further ensure product consistency. Process Sensors Corp., processsensors.com, Booth S431
A suite of software products analyzes nutrition and makes labels. The Genesis R&D Food Analysis and Labeling software analyzes the nutritional content of product recipes and generates government-compliant nutrition facts panels. The program automatically builds ingredient and allergen statements and features HACCP guidelines. It also generates barcodes for labels. A similar software program now exists for the supplement industry. ESHA Research Inc., esha.com, Booths S1704, S1705
Powder tester has patented methodology. The FT4 Powder Rheometer uses automated shear cells and a series of bulk property tests to quantify powder behavior, including flow. This rheometer works complementarily with the Uniaxial Powder Tester, which provides accurate measurement of the uniaxial unconfined yield strength of a powder. For both instruments, results are easy to interpret and reliable. Freeman Technology, freemantech.co.uk, Booth S4673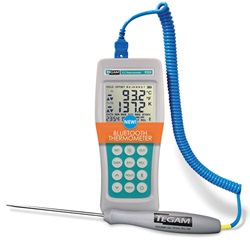 Industrial thermometers deliver accuracy. A leader in precise thermometry offers its next generation of handheld thermometers: the 931B and 932B (above) datalogging thermometers. Both combine temperature, time, and location into one simple device. The 931B and 932B feature 1000-hour battery life, one-hand operation, Bluetooth connectivity, and free access to the TEGAM cloud. TEGAM Inc., tegam.com, Booth N7307
Analytical testing lab specializes in natural products. Intertek's nutraceutical center in Champaign, Ill., specializes in analyzing dietary supplements and natural products. The laboratory's services include determining chemical composition of a broad range of botanicals with techniques such as high-performance thin-layer chromatography, high-performance liquid chromatography, and liquid chromatography–mass spectrometry. This laboratory has at its disposal various methodologies to meet analytical testing needs. Intertek, intertek.com, Booth S5221
There is a new alternative in the protein sector. The In Vitro Protein Digestibility Corrected Amino Acid Score is a service from Medallion Labs that safely measures the protein quality of alternative proteins in finished products. The method reduces cost and turnaround times, delivers high accuracy and correlation, and eliminates the need to use animal feeding studies. Medallion Labs also provides chemical analysis, dietary fiber testing, microbiological analysis, and shelf life studies. Medallion Labs, medlabs.com, Booth S826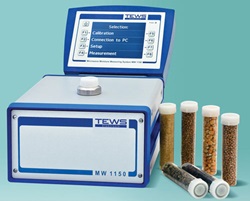 Obtain accurate measurements of moisture content in seconds. TEWS Elektronik produces instruments that accurately determine moisture content and density, facilitating better process control and quality assurance. The MW 4300 measures moisture content in product samples without sample preparation. Designed for the lab or a process line, the MW 1150 (left) is a compact instrument that provides microwave moisture measurement in less than a second. And the MW 4260/70 is designed for rapid moisture analysis on a process line. TEWS of America Corp., tews-elektronik.com, Booth S342
Vendor offers more than 150 analytical methods. The Nestlé Quality Assurance Center Dublin utilizes more than 150 analytical methods to test raw ingredients and finished food and beverage products. The facility provides nutritional analysis, chemical analysis, allergen tests, and GMO testing. Laboratory staff are also qualified to test for spoilage microbes in raw ingredients and finished products. Nestlé Quality Assurance Center Dublin, nqacdublin.com, Booth N6707

Analysis of foods and beverages can be automated. The Gallery Automated Photometric Analyzer (left) provides colorimetric, enzymatic, and electrochemical measurements in a compact design. The analyzer has a capacity of 200 tests per hour, detects very low levels in samples, provides automated analysis for all steps, and prevents contamination. Thermo Fisher Scientific, thermofisher.com, Booth S420
Accredited laboratory offers range of testing services. NP Analytical Laboratories offers accredited product and ingredient testing services. With experienced chemists and microbiologists on staff, the laboratory's services range from evaluating product concepts to verifying the safety of products. NP Analytical Laboratories, npal.com, Booth S1067
High-performance NIR instrument is also easy to use. The Spectrum Two N FT-NIR spectrometer is a high-performance, transportable Fourier transform near-infrared system that provides reliable near-infrared analyses. The easy-to-use device features a portable instrument with optimized plug-and-play sampling accessories and modules along with a comprehensive software platform. The instrument also boasts wireless connectivity and battery-powered operation. PerkinElmer, perkinelmer.com, Booth S4660
Upgrade the performance of laboratory services. Waters Corp. is a leader in providing solutions for food testing laboratories by delivering scientific innovation to make significant enhancements. The company helps its clients optimize laboratory operations, make profound discoveries, and comply with regulatory guidelines. Its portfolio includes analytical science, laboratory informatics, mass spectrometry, and thermal analysis. Waters Corp., waters.com, Booth S5214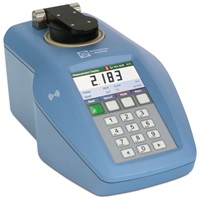 New refractometers deliver precise results. The RFM-M series of refractometers (left) are durably built and feature four-inch color displays, alphanumeric keypads, comprehensive measurement of several parameters, significant data storage, and built-in library of more than 20 recognized scales. Complex models in the series also feature Peltier temperature control and audit trails with electronic signatures. Bellingham + Stanley, a Xylem Analytics Brand, belling hamandstanley.com, Booth S731

Neil H. Mermelstein, IFT Fellow, Editor Emeritus of Food Technology
[email protected]