Protein, plant-based, personalized, clean, simple, and transparent. These are some of the buzzwords that characterize today's healthy food and beverage sectors. At this year's IFT food expo, attendees will be able to explore just how these buzzwords affect their research and development endeavors and what tools are available to help them address consumer trends.
Always popular, Innova's Taste the Trend pavilion at booth S460 in the South Hall of McCormick Place is the place for hard-hitting data on new product trends. The display will feature in-depth analysis of issues shaping the food and beverage landscape, including innovative packaging ideas and plant-based trends. Key presentations will be supported with new product development examples addressing the top 10 consumer trends driving the industry today. The Innova Database enables users to track trends, ingredients, and flavors, and see what global food manufacturers are doing.
Here is a sneak peek at some of the ingredients to be found at the food expo that address health and wellness trends, including protein popularity, digestive health, and overall wellness.
PROTEINS
For diabetes, joint health, muscle building, skin health, weight management, satiety, and more, proteins have stepped into the limelight in healthy foods and beverages. Innovative product development has resulted in protein ingredients being added or increased in prepared meals, soft drinks, sports beverages, chips, cereals, and baked goods, among other product categories.

A High-Protein Pre-Meal shot concept highlights the potential for launching innovative products that deliver improved blood sugar control in a natural, tasty, and convenient way. Arla Foods Ingredients' new 100 ml Pre-Meal Shot concept is high in fiber and contains 15 g of Lacprodan whey protein. Results of a recent clinical trial demonstrated that consumption of 15 g of whey protein by people with type 2 diabetes before a meal helped to keep their blood sugar levels within the normal glycemic range following the meal. "The high prevalence and growth of diabetes and prediabetes is primarily due to a global rise in the prevalence of obesity associated with unhealthy lifestyles and a global aging population. There is an enormous market opportunity for health and functional food companies to offer natural solutions to help people living with the high blood sugar levels associated with these conditions," says Peter Schouw Andersen, the head of science and sales development at Arla Foods Ingredients. Arla Foods Ingredients, arlafoodsingredients.com, Booth S4034
The Promise of dairy can be found in whey proteins from Hilmar Ingredients. Nutrition and function will be on display in two product concepts: Cappuccino Nutrition Bar and Vanilla Sport Recovery Shake. The nutrition bar uses a trio of whey proteins—Hilmar 8200 WPC, Hilmar 8370 WPH, and Hilmar 9000 WPI—with proven success in extrusion and texture improvements.
The protein-packed bar has the added advantage of fitting into a balanced diet with 40% of calories from carbohydrate, 30% from fat, and 30% from protein. The protein-rich shake provides nutrition and fuel to build lean muscle for athletes, fitness-minded consumers, and anyone whose diet needs a protein power-up. On-trend with today's consumer demands, the shake is formulated with Hilmar 9400 WPI, so it is low in fat and has only 1 g of sugar. Want to explore more? How about a clear beverage, fortified pasta, DIY smoothie, or bar mix? It's all possible with Hilmar Whey Proteins and its inventive applications team. Hilmar Ingredients, hilmaringredients.com, Booth S2021
Although Gelatin is typically associated with gummies and certain confectionery due to its irreplaceable thermo-reversible gelling behavior, the true potential of this hydrocolloid goes way beyond the expected applications. GELITA Gelatine can be used in a wide variety of food applications. It is an excellent binding, gelling, and whipping agent and an emulsifier and stabilizer. It also forms films and foams. And more than simply improving texture with a one-of-a-kind mouthfeel, GELITA Gelatine—as a pure protein—boosts a food's nutritional profile, contributes to clean labeling, and features no allergenic potential.
Collagen is a major component of the human body, comprising about 30% of total body protein; it is one of the primary structural proteins of connective tissues. Consuming products supplemented with collagen peptides may provide strength, mobility, flexibility, and beauty benefits. Research shows that GELITA Bioactive Collagen Peptides are optimized to maximize the stimulatory effects on specific cells in the body, and the level of stimulation is different for varying collagen peptide compositions. GELITA USA, gelita.com, Booth S2955
An Optimal Source of rapidly digestible milk proteins, SureProtein Fast MPC provides muscles with a higher level of amino acids within the first two hours of consumption compared with standard milk protein offerings. Whey has traditionally been considered the gold standard in sports because of its excellent nutritional profile and rapid absorption. However, consumption of SureProtein Fast MPC after exercise results in a similar pattern of amino acid appearance as whey protein, unlike standard milk protein ingredients. SureProtein Fast MPC provides a new science story from which to engage consumers in the sports and healthy lifestyle segment by taking milk protein concentrate from a "slow" protein to a "fast" protein. NZMP, nzmp.com, Booth S4652
Milk Proteins, Micellar casein, native whey, and hydrolysates are available from Ingredia. The company offers Proferrin to support the digestive and immune systems and clinically supported Lactium with stress-reducing properties. Ingredia also promotes and sells high-quality, U.S.-origin, non-GMO Project Verified milk proteins from Cayuga Milk Ingredients. Ingredia, ingredia.com, Booth S704
Proteins That Inspire create high-quality, innovative products. AMCO's extensive ingredient portfolio includes specialty proteins, milk proteins, whey proteins, caseins/caseinates, Profit premixes, protein hydrolysates, and plant proteins. AMCO assists its customers from concept to commercialization. AMCO Proteins, amcoproteins.com, Booth S302
PLANT-BASED PROTEINS AND FLOURS
Proteins from pulses, wheat, peas, rice, and hemp are muscling their way into the protein sector. Their consumer-friendliness is related to their nutritional profiles, digestibility, sustainability, and clean label appeal.
The Only U.S. producer of pea protein isolate, PURIS will showcase its innovative ways of utilizing the common yellow field pea. PURIS starts with non-GM and organic seeds grown in its own farmer network and traceable to the field. This unique vertical integration allows PURIS to turn a yellow field pea into great-tasting, clean label ingredients, such as pea protein isolates, starches, and fibers. At its booth, see how the company delivers on a delicious, nondairy yogurt, showing formulators how they can incorporate not only 10 g of protein into a serving of vanilla yogurt, but how the pea starch can be used to replace corn starch and gums, which are becoming the latest to be replaced as consumers search for cleaner label ingredients. Since its inception, PURIS continues to play a key role in helping U.S. farmers grow more non-GM and organic acres. These acres of peas not only create healthy, great-tasting pea ingredients in the hands of the team at PURIS, but they also give back to the earth by adding nitrogen to the soil, sequestering carbon, and acting as a cover crop, all of which contribute to the health of the soil. PURIS, PURISfoods.com, Booth S2306
The World is falling in love with the idea of pulse flours. And why not? They're healthy, nutritious, good for the environment, and promote sustainability. Artesa Chickpea Flour from PLT Health Solutions has been developed to bring pulse flours mainstream by addressing the issues of taste, texture, mouthfeel, and in-product functionality. Every aspect of ingredient development, from the sourcing and selection of chickpeas to the manufacturing of this flour, has been reimagined, giving product developers the tools to create great-tasting, nutritious food and beverage products. The manufacturing process for Artesa Chickpea Flour removes much of the oil from the finished product, producing a clean, neutral flavor and a white color. Combined with the fine particle size achieved from proprietary milling, this allows the flour to deliver numerous properties comparable to wheat flours. Product development work and panel testing across a broad range of gluten-free foods has shown that Artesa is ideal even for difficult-to-formulate gluten-free applications such as pasta, leavened bread, flatbreads, and pastries. PLT Health Solutions, plthealth.com, Booth S1826
Combing Innovation with in-depth experience and expertise, MGP supplies specialty wheat proteins and starches and is dedicated to providing customers with highly functional and nutritional ingredients that align with today's consumer trends. The company's wheat starches and most of its wheat proteins are Non-GMO Project Verified. Additionally, MGP offers clean label ingredients, along with a gluten-free fiber option. Among prominent ingredients in MGP's portfolio are Arise Wheat Protein Isolates, Fibersym RW Resistant Wheat Starch, Midsol Cook-Up Wheat Starches, Pregel Instant Wheat Starches, and TruTex Plant-Based Textured Wheat Proteins. MGP will demonstrate the benefits of these ingredients in tasty product samples. The company's team of experts will be available to assist attendees with determining the right ingredients for their product formulations. MGP Ingredients, mgpingredients.com/food, Both S1053
Plant-Based Protein and meat alternatives will be highlighted by DuPont Nutrition & Health. The company will share its decades of experience in plant-based proteins and their food and beverage applications during three educational sessions at the annual meeting. "The Challenge of Meat Alternatives: Stepping Up to the Center of the Plate" will be held from 10:30 a.m. to noon on Monday, July 16. "Protein: Understanding Consumer Interest & Attitudes to Develop Impactful Messaging" will be held from 10:30 a.m. to noon on Tuesday, July 17. "Flavors of Food Protein Ingredients and their Applications in Product Formulation" will be held from 2 p.m. to 4 p.m. on Tuesday, July 17.
DuPont Nutrition & Health combines in-depth knowledge of food and nutrition with current research and expert science to deliver value to the food, beverage, and dietary supplement industries. The company's experts draw on consumer insights and a broad ingredient portfolio to help customers turn challenges into high-value business opportunities. DuPont Nutrition & Health, food.dupont.com, Booth S1062
DIETARY FIBER
Consumers are beginning to understand the link between gut health and overall wellness. Dietary fiber plays a major role not just in promoting gut health, but also in supporting weight management and heart health.
As an FDA-Approved, branded soluble fiber ingredient, Sunfiber (sourced from the guar bean) has strong prebiotic characteristics that stimulate health-promoting indigenous gut bacteria such as Lactobacilli and Bifidobacteria. Tasteless, odorless, and colorless, Sunfiber has been shown in more than 120 clinical studies to support digestive health without uncomfortable side effects. The soluble dietary fiber helps with occasional constipation and helps to reduce occasional diarrhea, returning stool content to a normal, healthy state. Health Canada has approved it for use as a dietary fiber source based on safety and clinical evidence that the addition of Sunfiber to foods results in reduction of postprandial blood glucose levels by more than 20%. Sunfiber also boasts Health Canada–approved claims related to its effectiveness in treating symptoms of irritable bowel syndrome, as well as its ability to relieve intestinal issues related to childhood constipation.
Resulting from the unique partnership between Taiyo's Sunfiber and Fruit d'Or's Cranberry Juice Powder, SunCran provides prebiotic fiber benefits combined with cranberry juice benefits, without the sugar. It can be used in functional ready-to-drink beverages, bars, stick packs, and powders. SunCran harnesses the science behind two ingredients with well-documented, scientifically validated benefits. A just-completed human clinical study from researchers at Rutgers University showed significant benefits for digestive and urinary tract health. Taiyo International, sunfiber.com, Booth S3820
A Premier Line of soluble dietary fiber ingredients, Fibersol offers support for nutrition, weight management, sugar reduction, satiety, and gut health. The Fibersol ingredients benefit from the strong technical and scientific expertise of the ADM/Matsutani team and are backed by reliable service and supply. They are available in a variety of formats, including dry, liquid, agglomerated powder, and non-GM.
A prebiotic fiber fermented by microflora in the colon, Fibersol is digestion resistant. It provides potential benefits for gut health and can support "good-for-you" structure/function claims for qualifying products. Clinical studies show Fibersol helps support or maintain intestinal regularity and helps control the rise in blood glucose after a meal. The studies also found that Fibersol may attenuate the rise in blood triglycerides following a meal, and when 10 g are consumed with a meal, it may increase satiety.
Fibersol offers many formulation benefits, including minimal viscosity; no added flavor, taste, or color; and low hygroscopicity in dry formulations. Fibersol-2 is 90% fiber, provides only 0.02 g of sugar/g and 1.6 cal/g, and can replace many of the non-sweetening functional properties of sugar. It is water soluble and forms a clear solution. It is also heat-, acid-, shear- and freeze/thaw-stable, and maintains its fiber content under those conditions, thus allowing for ultimate formulation and food processing versatility. Enhanced positive organoleptic attributes are reported for Fibersol-2, including improved mouthfeel and bitterness masking, but it contributes no flavor of its own. ADM/Matsutani, fibersol.com, Booth S2002
Looking for a dietary fiber that is functional, clean label, has digestive health benefits, and meets the U.S. Food and Drug Administration's fiber definitions? BEST Pea Hull Fibers, dry milled from the outer seed coat or hull of peas, may be just what is needed. BEST Pea Hull Fibers are 90% total dietary fiber with a natural balance of insoluble/soluble fiber. BEST Pea Hull Fibers may be used to hold water and provide binding and structure in baked goods, both wheat-based and gluten-free; as a nucleation agent in twin and single extrusion; as a binder in processed meat products; and as a fiber additive in dry beverage mixes. Additionally, recent research has shown that adding pea hull fiber to the diet improves gut health through modulation of gastrointestinal function and gut microbiota. BEST Pea Hull Fibers meet the FDA's definition of "intrinsic and intact" dietary fibers, as listed in the November 2016 Guidance for Industry, which means the fiber content from pea hull fibers may be included when calculating a claim. These fibers also carry a Canadian Letter of Approval from the Health Canada Bureau of Nutritional Sciences.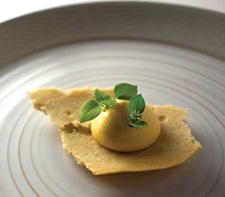 The BEST 'Oat 'n' Lentil' Puff, a prototype snack made with just four ingredients, celebrates Best Cooking Pulses becoming a part of Avena Foods. This "clean and clear," plant-based, healthy snack is certified organic, gluten-free, kosher, and non-GM. It demonstrates how a proprietary flour blend made with BEST Oat and Lentil Flours and BEST Pea Hull Fiber can be used to create a tasty product that is naturally nutritious. The complementary amino acid profiles of BEST Oat Flour and BEST Lentil Flour are combined into a flour at the optimum ratio, increasing the PDCAAS (Protein Digestibility Corrected Amino Acid Score), and therefore maximizing the total quality protein. This results in a snack with a "good source of protein" claim. Best and Avena invite attendees to be a part of their Complementary Duo celebration by dropping by and sampling the BEST 'Oat 'n' Lentil' Puff. Best Cooking Pulses, bestcookingpulses.com, Booth S2220, and Avena Foods, Booth S3827
A Multipurpose Creamer, FiberCreme has high fiber content with a great creamy taste. FiberCreme is included in the high dietary fiber category due to its 30% fiber content (AOAC 2011.25), which helps to ensure adequate dietary fiber intake for a healthy digestive system. The fiber content in oligosaccharides, which are low-calorie, also helps to control the sugar intake in diabetic patients because the sugar content in FiberCreme is 1.81% based on sugar content testing from an accredited laboratory. Based on the company's clinical study on humans, FiberCreme showed slower-release glucose response when compared to glucose, making it very suitable for diabetic patients or people who want to lose weight while getting the satiety effect. FiberCreme can be used to substitute for creamer, coconut milk, and milk in applications such as coffee, smoothies, fruit juice, herbal drinks, ice cream, cookies, cheesecake, pasta sauce, and more. PT Lautan Natural Krimerindo, lautan-natural-krimerindo.com, Booth S5218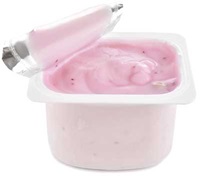 DIGESTIVE AND IMMUNE HEALTH
Dietary fiber is not the only nutritional ingredient that promotes gut health. Probiotics, yeast beta-glucans, enzymes, and other prebiotics also help promote digestive and immune health.
A Market-Leading Probiotic, GanedenBC30, and Wellmune, the natural immune-health ingredient, will be featured together for the first time. Brought together by Kerry, the two branded ingredients provide product manufacturers the opportunity to meet growing consumer demand for recognizable, trusted, functional ingredients that offer science-based benefits. GanedenBC30 was recently acquired by Kerry and joins the company's health and wellness portfolio, which includes Wellmune. Under the Kerry umbrella, both ingredients bring increased formulation, nutrition, taste, and technical expertise to product manufacturers looking to create nutritional products for consumers across all life stages. The GanedenBC30 and Wellmune booth will feature both branded ingredients and highlight market insights and consumer trends, new partner product launches, new research, and innovative product concepts. GanedenBC30 and Wellmune, ganedenprobiotics.com, wellmune.com, Booth S2423
Chia With Probiotics will be featured in a new offering from Salba. With the addition of GanedenBC30 probiotics, Salba chia can now provide support for digestive health as well as support for the immune system. The addition of GanedenBC30 does not diminish the existing nutrition-filled aspects of Salba chia.
"Already full of omega-3s, fiber, and other vitamins and minerals, adding a probiotic was a natural next step to enhance our product line," says Rally Ralston, president of Salba. "Salba chia is pleased to be on the cutting edge of health with the addition of a probiotic to a chia product." All Salba chia ingredients are grown using organic practices in the temperate climate of South America and are Non-GMO Project Verified. Salba Corp., salbasmart.com, Booth S310
A New Exhibitor, Deerland Enzymes & Probiotics will feature two of its branded ingredients, DE111 and ProHydrolase, which are designed to boost the health benefits of foods and beverages. Deerland's exclusive strain of Bacillus subtilis, DE111, provides probiotic benefits to healthful foods and drinks. Because it remains viable under a wide range of temperatures and pH, the probiotic can withstand the processing conditions of foods and beverages. The strain is GRAS, Non-GMO Project Verified, kosher, and Health Canada approved. The strain is supported by multiple human clinical studies for its benefits to digestive and immune health and sports nutrition.
Designed to maximize the benefits of protein powder supplements, ProHydrolase is an innovative blend of enzymes that helps the body better digest and absorb high quantities of protein. Backed by two human clinical studies, ProHydrolase has been shown to break down protein into smaller peptides to allow for more effective absorption of amino acids, and to reduce the potential for digestive discomfort. It is Non-GMO Project Verified and Health Canada approved. While visiting the booth, get a digital caricature of yourself drawn by a professional artist, just for fun. Deerland Enzymes & Probiotics, deerlandenzymes.com, Booth N6926
A Growing Digestive health portfolio and applications for food technology will be highlighted by AIDP. The company's popular PreticX XOS prebiotic has been shown in human clinical studies to selectively boost healthy bifidobacteria in the gut. PreticX provides a unique profile of beneficial bacterial that other prebiotics lack. In May 2018, AIDP began offering a certified 100% organic PreticX. The Livaux prebiotic is a whole gold kiwifruit ingredient that has been shown to increase healthy Faecalibacterium prausnitzii (F.prau). This bacterium is extremely important for production of short-chain fatty acids in the gut, reducing oxidative stress and maintaining gut barrier function. AIDP's Actazin is a green kiwi–based ingredient that is ideal for promoting bowel regularity while maintaining stool integrity, issues that are important to many aging individuals.
AIDP has also added a new prebiotic ingredient, NeoGOS, the next generation, patented form of prebiotics that promote healthy bacterial growth. Nondigestible NeoGOS selectively stimulates growth and activity of a limited number of beneficial bacteria in the colon. It has numerous benefits in the gut, including improving the gut environment, increasing beneficial bacteria, and decreasing harmful bacteria while also improving water retention in skin, decreasing facial wrinkles, and more.
In addition, AIDP's Naticol fish collagen ingredient has now been shown to be effective in a low (2.5 g) dose to increase radiance, brightness, and hydration. AIDP will also be discussing its new distribution agreement with Kappa Bioscience for the sale of its patented K2 MK-7 ingredient, K2VITAL DELTA into the U.S. dietary supplements market, which fits well with AIDP's vitamin D3 eVantec D3 and calcium collagen chelate KoAct. AIDP, aidp.com, Booth S718
BOTANICAL INGREDIENTS
Botanical ingredients come in various forms, including powders and oils and dehydrated and freeze-dried. Botanicals can impart unique flavors, and they also provide nutritional benefits by increasing antioxidant, polyphenol, and nutritional fatty acid content in product formulations.
More Than 90 Premium products can be viewed and sampled at the NP Nutra booth. They include NP Nutra's recently launched organic NutraProtein Power Blend, a plant-based protein powder, and MaquiForza Freeze-dried Maqui Berry Powder, which contains 50% more anthocyanin, polyphenol, and ORAC amounts than the company's previous signature ingredient. In addition to showcasing a selection from NP Nutra's unique Signature Ingredients line, the company will also have superfruits (blackberry, blueberry, cranberry, dragonfruit, maqui, noni, papaya, pomegranate, and strawberry); superfoods (açai, cacao, goji, hemp, mangosteen, and maca); supergreens (broccoli, collard greens, kale, moringa leaf, and spinach); and more than 80 ingredients in its Nutra Organics line (amaranth, ashwagandha, beet, baobab, chia, coconut, matcha, quinoa, and turmeric). Validated by the company's unique Triple-T Verification program, all of the ingredients are sustainably sourced; of high quality and purity; and processed at certified state-of-the-art manufacturing facilities. NP Nutra, npnutra.com, Booth S4649
An Organic Cranberry seed oil has been approved with Health Canada's Natural Product Number claim as a source of omega-3 and omega-6 fatty acids for the maintenance of good health, a source of antioxidants, and a source of oleic acid. Stephen Lukawski, partner of Fruit d'Or and CEO of RSSI, will discuss the functions of the ingredient, Organic Cran Naturelle Cranberry Seed Oil, within the nutraceutical, cosmetics, and personal care side of the natural products industry.
Cranberry seed oil is one of the most unsaturated oils available, making it an ideal moisturizing ingredient. With a composition of more than 95% fatty acids, cranberry seed oil may protect and reestablish the protective lipid barrier of the skin. The bioavailability of these ingredients in skin care applications may enhance regeneration, healing, protection, and, ultimately, beautification of the skin. Organic Cran Naturelle Cranberry Seed Oil has excellent oxidative stability, a pleasant odor and texture, and the ideal 1:1 ratio of omega-3s to omega-6s. Due to its stability and the protective characteristics of its high vitamin E content, cranberry seed oil is also an excellent ingredient for products requiring stabilizing, emulsifying, and penetrating actions. Using a cold-pressed extraction method with no excipients ensures the retention of the oil's beneficial compounds and biological activities. Fruit d'Or, fruit-dornutraceuticals.ca, Booth N6219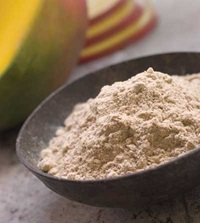 An Extract of organic dark leafy greens, Solarplast is enzymatically enhanced by a unique and proprietary manufacturing process. It utilizes the power of the chloroplasts found in dark leafy greens to provide a rich source of molecular chaperones and antioxidants, all in a naturally occurring lipid protective coating. Solarplast supports healthy aging, beauty from within, and general digestive health. The green powder is an ideal component to superfood smoothies and nutrition bars. Deerland Enzymes & Probiotics, deerlandenzymes.com, Booth N6926
Overall Health And Wellness Two Branded Ingredients, Cognizin Citicoline and Sustamine L-Alanyl-L-Glutatmine, will be discussed at Kyowa Hakko U.S.A.'s booth. Cognizin is the branded form of citicoline and is used in the brain health and sports nutrition sectors. It has multiple clinical studies supporting focus, attention, and mental energy. Sustamine is the branded form of L-alanyl-L glutamine, a unique dipeptide used in the sports nutrition arena. Clinical studies have shown that Sustmaine is 224% more absorbable than glutamine alone. Kyowa Hakko U.S.A. is the North American location for Kyowa Hakko Bio Co., an international ingredients manufacturer whose primary goal is to provide solutions that support optimal health for improved quality of life. Kyowa Hakko U.S.A., kyowa-usa.com, Booth S3961
Celebrating Its 40th anniversary, BI Nutraceuticals plans to showcase a functional popcorn snack and two unique beverages: one featuring apple cider vinegar and another drink featuring beet and hibiscus. BI Nutraceuticals is a global, full-service supplier of dietary supplement and functional food ingredients, including whole herb powders and teas, standardized and ratio extracts, custom blends, vitamins, minerals, drum-to-hopper blends, granular ingredients, and time-released and encapsulated ingredients. The company offers more than 200 ingredients that have been determined as safe for use in foods and beverages by the U.S. Food and Drug Administration or the Flavors and Extracts Manufacturers Association.
In 2002, BI Nutraceuticals pioneered a steam sterilization process known as Protexx HP Green Steam, which is the industry's only species-specific, organic sterilization method. All the company's ingredients undergo stringent quality analysis that includes testing for heavy metals and pesticides. All herbal powder ingredients are also tested under the company's Identilok species identification process. The company has also developed a proprietary process, UltraHD, which creates high-density herbal powders that allow for superior flow and less dusting during the manufacturing process. BI Nutraceuticals, botanicals.com, Booth S1045
Enhancing Human Health and nutrition around the world, Watson is a leader in developing quality products and ingredient systems for the food and supplement industries. Expertise in microencapsulation, agglomeration, micronizing, spray drying, and film technology allows the company to develop unique formulations and products using Watson-manufactured, value-added ingredients. Offerings include custom nutrient premixes, bakery ingredients, chelated ingredients, drum-to-hopper blends, Edible Glitter, film technology, granulations and agglomerations, microencapsulation technology, spray-dried nutrients, and trituration.
Watson has published a Quick Reference Guide on Nutrition in an easy-to-use format. The daily values of many nutrients are changing, making previously published guides outdated. Key facts on nutrients, carbohydrates, proteins, fats, labeling requirements, and Dietary Guidelines for Americans, valuable to many professionals working in the food industry, are now consolidated in a single, easy-to-use guide.
"The Food and Drug Administration has changed the regulations for both nutrition and supplement facts panels to combat some of the prevalent health problems in this country. Its goal is to assist consumers in maintaining healthy dietary practices," states Moira Watson, vice president of marketing and communication at Watson. "While the media has focused mostly on the sweeping changes to sugars and fibers in the nutrition facts panels, there are also significant changes to the recommended daily intakes of vitamins and minerals." As a result of these significant changes, there is now a need for updated reference cards and data sheets for formulators and professionals in the food and beverage industry. The reference guide is available for download on Watson's website. Watson, watson-inc.com, Booth S2813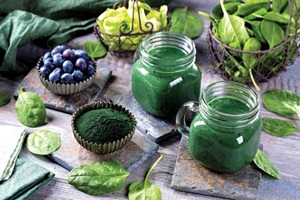 The Importance of transparency, innovation, and quality are understood by PAT Vitamins. The company discloses the original manufacturers for each of its ingredients and can support customers with complete technical documentation profiles. PAT Vitamins works closely with its manufacturers to help customers meet new demands for modern innovations and technology. It has strict vendor qualifications for each of its original manufacturers and offers non-GM, kosher, halal, and vegan ingredients.
Ingredients for nutritional applications come in different formats. Some of them are powder, fine powder, ultra-fine powder, trituration powder, spray-dried powder, and instant powder. Others include micro-encapsulated beadlets and ones that are cold water dispersible/soluble. The company's product line includes vitamin A, beta-carotene; vitamin E, natural and synthetic; B vitamins and coenzyme forms; vitamin C powder; vitamin D2 and vitamin D3 powders and oils; glucosamine HCL and chondroitin; stevia; monk fruit; sucralose; soy protein; and phytosterols. PAT Vitamins, patvitamins.com, Booth S3806
A New Website was recently launched by Provitas, a manufacturer of vitamins A, D, E, and K and mixed tocopherols in the form of powders, oils, and emulsions. The revamped website provides quick and easy access to information about the Provitas product lineup with clear and straightforward data about the vitamins and the varying forms they come in. Provitas' personable team treats each customer with respect and attention to ensure that high-quality product is delivered on time and at an affordable cost. Defined by integrity and transparency, Provitas offers products of high quality, including synthetic, PCR negative, and non-GM vitamins in both industry standard and custom formulas. Provitas, provitasllc.com, Booth S3655
A Leading Global supplier of innovative nutritional and functional food ingredients, NutriScience is celebrating more than 25 years of experience serving the food and dietary supplements industries. Its specialty ingredients include InnovaTea Natural Caffeine 98% from tea; Sunfiber prebiotic, a fully water-soluble and FDA-approved and Non-GMO Project Verified dietary fiber (from guar plant); Suntheanine, a patented and Non-GMO Project Verified high-purity L-theanine; Sacha Inchi Protein Powder; and organic compliant and Non-GMO Project Verified L-malic acid. NutriScience Innovations, nutriscienceusa.com, Booth S5121
Fruit, Vegetable, and grain-based ingredients for the functional food, cosmetics, and dietary supplement markets are provided by FutureCeuticals. With more than 700 conventional and 500 certified organic acres of farmland and more than 1,000,000 square feet of manufacturing and research facilities in Illinois, Wisconsin, California, and Europe, the company is vertically integrated from field to finished product and offers a comprehensive line of fruit, vegetable, and grain-based powders and extracts. FutureCeuticals is a gathering place for chemists and biologists committed to discovering new avenues for human health from real, whole fruits, vegetables, and grains. The team has generated more than 50 patents pertaining to metabolic health, inflammation, cardiovascular health, and healthy aging. FutureCeuticals, futureceuticals.com, Booth S3444
From Product Development to turnkey solutions, SternMaid America supplies contract manufacturing services and R&D expertise. The company provides customized outsourcing solutions for powdered food ingredients, functional foods, and dietary supplements. From compounding, filling, and refilling to raw material sourcing, product development, warehousing, and logistics, SternMaid America offers a broad range of services for all kinds of customer requirements.
At its booth, visitors can learn about SternMaid America's semi-automated blending line, which can mix orders ranging in size from 500 pounds to more than 22,000 pounds, with a precision of 1:100,000. The blending line distributes micro-components (such as flavors and emulsifiers) very finely. Thus, it is possible to add probiotics, vitamins, and minerals as well as larger amounts of fats and highly viscous liquids (such as lecithin) to foods. SternMaid America, sternmaid-america.com, Booth S671
Consumers Are Looking for healthier foods and beverages with better taste and more variety. At IFT18, DSM Food Specialties will highlight innovative solutions for developing healthier products. Key innovations include Modumax for better taste in applications that are lower in sugar, salt, and fat; AmpliVida, a prebiotic that selectively feeds good bacteria in the digestive system to support digestive balance; and Custom Nutrient Premixes and Coloration solutions that can be used in any application, segment, and market. Stop by the booth to taste product concepts and learn how the company can collaborate with its customers to "See Further, Think Bigger, Achieve More." DSM Food Specialties, dsm.com, Booth S2849
The Wright Group offers custom nutritional blends, vitamin and mineral premixes, and direct compression and microencapsulated ingredients for the functional food and nutritional supplement markets. The company has more than 100 years of innovative expertise. Its accomplished R&D team and comprehensive production capabilities allow it to provide faster lead times in order to successfully bring its customers' products to market. The Wright Group, thewrightgroup.net, Booth S1444

Linda Milo Ohr,
Contributing Editor
Denver, Colo.
[email protected]