Webinar educates new journal authors
IFT's scientific journals received nearly 2,500 original manuscript submissions in 2017. Of those, more than 50% were rejected, usually due to poor experimental design, inadequate data, plagiarism, or other indicators of low-quality research. Nearly 30% of submissions come from China, plus 62% from 75 other international countries, yet international submissions have a much higher rate of rejection than those from U.S.-based authors.
To assist international and domestic researchers in submitting high-quality research papers to IFT's journals, six Journal of Food Science editorial board members have developed a one-hour webinar on the basics of publishing research in a peer-reviewed scientific journal. This webinar is free and available in English and Mandarin. The editors cover every aspect of publishing research: raising a hypothesis, designing your experiment, keeping immaculate data records, writing, ethics best practices, the peer-review process, and what to do when your paper is published.
FDA Science Board reappoints Kowalcyk
Barbara Kowalcyk, assistant professor in the Department of Food Science and Technology at The Ohio State University, has been reappointed to the Food and Drug Admin-istration Science Board for an additional two-year term. The FDA Science Board advises the federal agency on complex and emerging scientific and technical issues, and provides input on the agency's research agenda and on upgrading scientific and research facilities and training opportunities.
Kowalcyk is a member of IFT and a recognized expert in food safety, with broad experience and training in epidemiology, biostatistics/informatics, risk analysis, regulatory decision-making, and public policy. For nearly 15 years, her efforts have focused on advancing a more systems-based approach to food safety that promotes evidence-based decision-making and considers the broader connectedness of human, animal, and environmental health.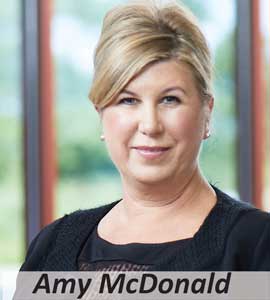 FONA president wins leadership award
Amy McDonald, president of FONA International and a member of IFT, received an inaugural Great Place to Work for All Leadership Award. One of 77 honorees, she was recognized for consistently playing a critical role in helping FONA deliver strategic growth and create a high-trust culture.
Great Place to Work is the global authority on high-trust, high-performance workplace cultures. Through certification programs, it recognizes outstanding workplace cultures and produces the annual FORTUNE "100 Best Companies to Work For" and Great Place to Work Best Workplaces lists for Millennials, women, diversity, industries, and, internationally, countries and regions.
A life in food science
In his new book, A Food Designing Life, IFT member Ed Hirschberg takes a look back at more than 60 years in the field of food science. A leader and creative pioneer in the freeze-drying and food-dehydration industry, Hirschberg has filed more than 15 patent applications; invented more than 50 novel, healthy food products; tested, invented, and perfected new processes; and designed and built new machines to perform them.
In A Food Designing Life, Hirschberg recalls his search for "an industry worthy of my industry," and recounts the lessons he learned along the way about the value of perseverance, collaboration, imagination, resilience, integrity, and more. A Food Designing Life is available in digital format at amazon.com.
IFT18 Short Course Learning Opportunities
Attending IFT18? Consider attending one or more of the pre-event short courses on July 14–15 that cover a range of industry topics. For more information on the courses listed below, click here:
Low Moisture Foods from Ingredients to Finished Products: Food Materials Science Fundamentals, Challenges, and Opportunities

Certified Food Scientist (CFS) Prep Course

Clean Label Product Development: Balancing Consumer, Regulatory, and Science

Flavor Interactions in Foods

Food Science for the Non-Food Scientist

Product Development through the Eyes of the Consumer: Applying Sensory and Consumer Insight Tools for Development Success

Formulating for Function: Winning Nutrition and Consumer Preference on Food Product Development using Dietary Fiber, Hydrocolloid, and Starch

Labeling Requirements and Implications for Food Marketed in the U.S.

Improvise This: The Power of Collaboration (with Second City Works)

Seeing the Opportunity in Change (with Second City Works)

IFTNEXT: Launching a Food and Beverage Business (with The Hatchery)
---
Getting to Know Oluwafemi Adebo
Each month, we meet one of IFT's valued volunteers.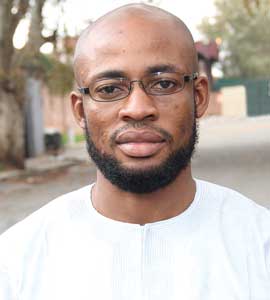 Growing up in the slums of Mushin, says Oluwafemi Adebo, doctoral student at the University of Johannesburg in South Africa, brought to light the difference that nutritious food can make in the lives of people. "I subsequently developed an utmost desire and insatiable thirst for knowledge about food, which has continued to propel my curiosity," he says. "The desire for finding solutions to the challenges of food insecurity motivated my choice of food science as the discipline of study."
After completing his degree, Adebo intends to apply his knowledge to ensuring food security in Africa and the world at large. He explains, "Although various issues, including crime, political instability, and economic recession, among others, are plaguing the world, availability and accessibility to safe, sufficient, and nutritious food continues to be a priority." His passion for food science, he says, "is thus born out of the desire to develop and 'reinvent' food to ensure it is safe, nutritious, and confers health benefits."
Helping people to live better lives is one of Adebo's driving forces. "While my bit may not readily address the overarching challenges of food insecurity, I believe my little effort will cause a ripple that would subsequently affect lives," he says. As such, he hopes to work in an R&D environment that offers a degree of freedom to innovate and implement his ideas.
Adebo first learned about the IFT Student Association (IFTSA) during his undergraduate days at Moshood Abiola Polytechnic in Nigeria but did not join until he became a postgraduate student at the University of Johannesburg. He is currently a board member of IFTSA, serving as a member at large. In this role, he says, "I usually work with the Office of the IFTSA president on initiatives and programs that would serve the interest of IFTSA members. When there is need to, I equally provide perspectives on the board.
"Volunteering has improved my confidence, leadership, and management skills, as well as communication ethos," he adds. "Some of this I do apply in my daily activities. I have also been able to meet amazing people in IFT and long-lasting friends in IFTSA!"
After graduation, Adebo looks forward to undertaking research that will contribute to the well-being of others. Of particular interest is fermentation, an aspect of food science that, he says, "fascinates me quite a lot, as it's absolutely amazing how food is transformed through the actions of beneficial microorganisms. The analytical part of food science is also of significant interest, especially food metabolomics/foodomics, an emerging field."
Fulfilling his desire to find solutions to the challenges of food insecurity will require a mix of many skills, both scientific and personal. Taking on the role of volunteer has augmented Adebo's knowledge about the importance of personal relationships and has added a valuable dimension to his professional skills.
"Volunteering is an absolutely rewarding experience and an investment in one's career," he says. "It is a learning platform, an avenue to interact with like minds, build networks, and expand existing ones. I would really encourage others to do the same."
---
Section Meetings
Central New Jersey
May 7: Golf Outing. Princeton Junction, N.J. Click here.
Great Lakes
May 2: Suppliers' Exhibit. Battle Creek, Mich. Click here.
New York
May 8: Suppliers' Day and Mini Career Fair. Secaucus, N.J. Click here.
Northeast
May 16: Food Industry Expo and Technical Seminars. Worcester, Mass. Click here.
May 17: Golf Outing. Charlton, Mass. Click here.
---
In Memoriam
IFT notes the passing of the following member:
Olivia Fisher.
Have some news to share about yourself or another IFT member? Email [email protected].