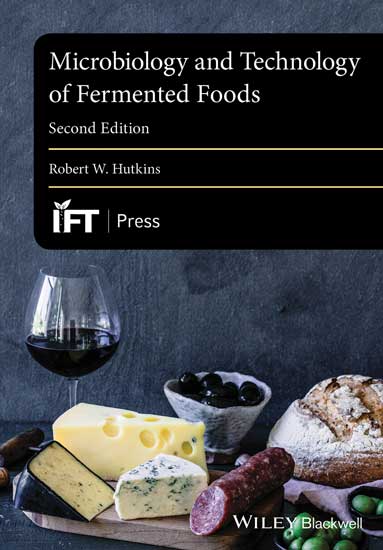 Microbiology and Technology of Fermented Foods, Second Edition, edited by Robert W. Hutkins (ISBN: 978-1-119-02744-7), brings fresh perspectives and updated content to the subject of food fermentation. Covered are all major fermented foods, with chapters devoted to fermented dairy, meat, and vegetable products, as well as breads, beers, wines, vinegars, and soy foods.
The author's insights are enhanced by detailed explanations of the microbiological and biochemical processes that underpin fermentation, while an account of its fascinating history provides readers with richly contextualizing background knowledge.
New to the edition are two additional chapters. One discusses the role that fermentation plays in the production of spirits and other distilled beverages; another focuses on cocoa, coffee, and fermented cereal products. Furthermore, key chapters on microorganisms and metabolism have been expanded and elaborated upon, and are complemented by other relevant revisions and additions made throughout the book, ensuring that it is as up to date and applicable as possible.
This essential text also includes discussions of major fermented foods from across the globe as well as background information on the science and history behind food fermentation. Information on relevant industrial processes, technologies, and scientific discoveries is also included.
Microbiology and Technology of Fermented Foods, Second Edition, is a definitive reference tool that will be of great interest and use to industry professionals, academics, established or aspiring food scientists, and anyone working with fermented foods.
IFT Press books, developed in partnership with Wiley-Blackwell and crafted through rigorous peer review and meticulous research, serve as leading-edge handbooks for industrial application and reference and as essential texts for academic programs. The member coupon code is available at ift.org. Be sure to log in and check out the Knowledge Center/Read IFT Publications/IFT Press Books links for information on how to order any of the books in the IFT Press book series. For more information, call 877-762-2974 or click here. Manuscript proposals may be sent to Rebecca Ralf at [email protected] (+44 1243 770248).
---
Books Received
Case Studies in Food Retailing and Distribution, edited by Alessio Cavicchi and Cristina Santini. Elsevier (ISBN: 978-0-08-102037-1).
Postharvest Physiology and Biochemistry of Fruits and Vegetables, edited by Elhadi Yahia and Armando Carrillo-Lopez. Elsevier (ISBN: 978-0-12-813278-4).
The Role of Functional Food Security in Global Health, edited by Ronald Watson, Ram Singh, and Toru Takahashi. Elsevier (ISBN: 978-0-12-813148-0).
Analysis in Nutrition Research: Principles of Statistical Methodology and Interpretation of the Results, edited by George Pounis. Elsevier (ISBN: 978-0-12-814556-2).
Thermodynamics of Phase Equilibria in Food Engineering, edited by Camila Gambini Pereira. Elsevier (ISBN: 978-0-12-811556-5).
Nutritional and Health Aspects of Food in Nordic Countries, edited by Veslemøy Andersen, Eirin Bar, and Gun Wirtanen. Elsevier (ISBN: 978-0-12-809416-7).
Analytical Methods for Agricultural Contaminants
, edited by Britt Maestroni, Victoria Ochoa, and Andrew Cannavan. Elsevier (ISBN: 978-0-12-815940-8).