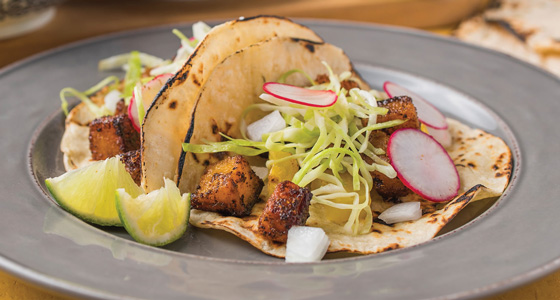 Flavor continues to drive consumers' purchase habits, with two-thirds of U.S. consumers saying they "love to discover new flavors," according to Innova Market Insights (Innova 2019). Millennial and Gen Z consumers in particular are demanding what Innova calls "novel, creative, impactful foods with funky colors, shapes, and flavors" that they can share with others through social media. What better way to excite the palate than through the foods, ingredients, and flavors of cuisines from around the world.
The interest in global cuisines is due in part to people learning more about other cultures and cuisines through increased travel around the world and greater online activity. Innova data show that three in 10 U.S. consumers "love to discover flavors of other cultures." Product developers have taken note and increased the number of product offerings to target these global flavor—seeking consumers. Innova found that there was a 65% growth in global food and beverage launches with an ethnic flavor between 2014 and 2018. The flavors seeing the biggest growth in launch activity are from Mediterranean and Far Eastern cuisines, and the leading categories are meat, fish, eggs, sauces, and seasonings, according to Innova. Cuisines from other parts of the world are also serving as inspiration for product developers looking to reach adventurous consumers.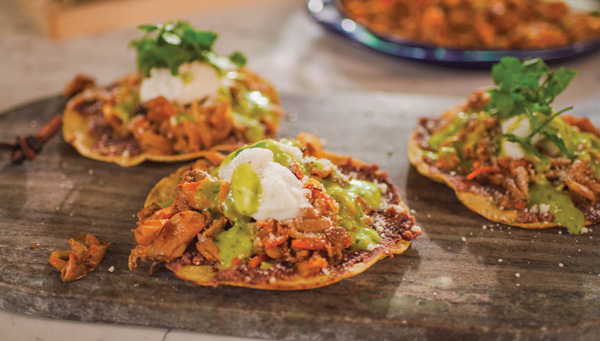 Vegan-Friendly Mexican Food
The increase of plant-forward fare is not slowing down anytime soon, as its popularity is being driven not only by vegetarians and vegans but by consumers who want to occasionally limit their meat consumption. At the same time, consumers are craving foods from around the world, with one of the most popular global cuisines among Americans being Mexican. So it's no surprise that these two food trends have intersected to bring us Mexicana vegana (Mexican vegan), the latest Flavor Forecast trend from McCormick & Co.
"It's the two together, looking at Mexican food from a vegan lens, that appeals to Americans," says Kevan Vetter, executive chef at McCormick. "Some consumers hear vegan and are intimidated. We found that leaning into familiar foods is a great entry into this trend."
Mexican cuisine is diverse, and its regional cuisines are characterized by smoky chile peppers, bright citrus, crunchy vegetables, a range of mouthwatering spices and seasonings, as well as beans, rice, and corn-based ingredients, all of which fit well into non-meat food options. McCormick prepared a collection of Mexican vegan recipes that incorporate some of these ingredients to create foods that appeal to vegans, vegetarians, and meat lovers alike.
Around Mexico, street vendors and food halls sell inexpensive and customizable foods like tortas, tacos al pastor, tostadas, and more that can be eaten on the go. Many of these are made with seasoned cuts of meat, but the versions from McCormick swap out meat for vegan-friendly foods like butternut squash, pineapple, and mushrooms. Roasted butternut squash is seasoned with cumin, ancho chile powder, ground cloves, and other spices and topped with chunks of roasted pineapple and crunchy cabbage and radishes to make a vegan version of tacos al pastor. Vegan tinga is made with grated carrots and thinly sliced mushrooms, which mimic pulled or shredded meat. They're cooked in a spicy, smoky chipotle sauce.
Grilled and shredded eggplant and sliced mushrooms stand in for beef in vegan barbacoa while cooked garbanzo beans and spices roughly pulsed in a food processor create a vegan version of chorizo. Coconut milk and rice milk seasoned with cinnamon and vanilla extract form the base for vegan horchata no-churn ice cream. A vegan version of tres leches cake features almond milk, cashew milk, and sweetened condensed coconut milk in place of the traditional three milks.
Diverse Thai Curries
No longer are the cuisines of Asian countries being lumped together. Inquisitive consumers want to know more about the cuisines of China, India, Vietnam, and other Asian and Southeast Asian countries, including the regional differences of the cuisines within these countries. "The hottest global, macro cuisine is Asian," says Dax Schaefer, corporate chef at Asenzya. "The flavor profiles are exciting, well balanced, and delicious. Under the Asian umbrella, I'm seeing Korean and Thai flavors grow in popularity with both developers and consumers."
One of the Asian cuisines that Schaefer explored was Thai cuisine, with an emphasis on regional curries. Thai cuisine is one of the most flavorful cuisines in the world and has one of the most approachable flavor profiles for Americans' taste palates, according to research by Asenzya (Asenzya 2019). The research also shows that consumers want more authenticity in Asian cuisine options, with the drivers being sauces and spices. Curries fit into this category.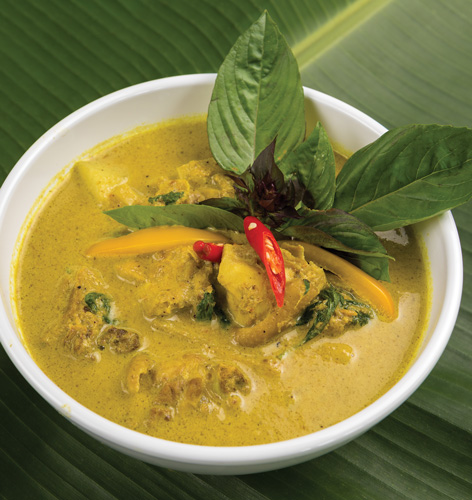 Thai curries are pastes made from different flavorful ingredients, and Asenzya classifies them into one of two categories based on the liquids used to rehydrate them. Coconut milk–based curries are well-known Thai curries in America and include green, red, and yellow, which are all popular in the central region of Thailand. Water-based curries are typically more popular in the northern region and the inland areas of other regions away from the coconut trees found near the coast.
"Curries are an essential part of the country's cuisine, and Americans have only begun to scratch the surface of what is truly available," says Schaefer. "Most consider Thai food to be the world's most flavorful cuisine because of its balancing of sweet, heat, savory, and umami in the traditional dishes. The average consumer understands green, red, and yellow Thai curries, but there are so many other flavors to explore. One of my new favorites is massaman. It is a derivative of red curry with deep brown spice notes."
Massaman is one of the coconut milk–based curries that Asenzya's research notes. Another is panang, a sweet and savory curry with toasted spice notes. A couple of water-based curries the company showcases in its report are jungle, which is made with green chiles, galangal, lemongrass, and aromatics like shallots and garlic, and sour curry, a sour and spicy curry cooked with seafood and having a flavor that is tamarind-forward.
Filipino Cuisine Continues to Emerge
Another Asian cuisine to keep an eye on is Filipino. The diversity of Filipino cuisine comes from both the use of local ingredients and the influences from other cuisines like Chinese, Malay, and Spanish.
"All of these factors come together to create an incredible fusion of flavors that, while uniquely Filipino with its sour/sweet notes and indigenous ingredients, also incorporates flavors borrowed from other cuisines," says Ryan Kukuruzovic, corporate chef at Wixon. "This is what contributes to the appeal of Filipino flavors—they're both novel and approachable."
Experts are seeing a rising interest in Filipino cuisine, which is why Wixon identifies "Filipino-forward flavors" as a developing taste trend. The company cites a few reasons why this is, such as the ethnic diversity of younger generations and the growing demand by consumers wanting global flavors in both foodservice and consumer packaged goods. It also points to Google trend data that show Americans search Google for information about Filipino food more today than they did in the past decade. "All of these indicators point to an unmet demand for Filipino flavors in the market," says Becca Henrickson, marketing manager at Wixon. "Pacific Island cuisines are also primarily dairy- and gluten-free, which adds another layer of appeal among consumers following these dietary patterns. Our Innovation Team sees unlimited opportunities to incorporate Filipino flavor into products across the health and wellness spectrum, as well as into savory snacks and meal solutions."
Middle Eastern Cuisines Grow in Popularity
One of the latest cuisines named to SupHerb Farms' Trending Now series is Levantine, which features the ingredients and flavor profiles popular in Israel and surrounding countries, known as the Levant (SupHerb 2019a).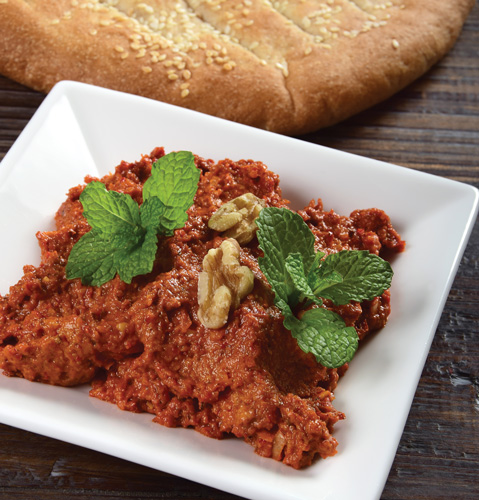 "At SupHerb Farms, we closely monitor cuisine, flavor, and ingredient trends as well as what is happening on independent restaurant menus, which is often where consumers are introduced to new flavors and, in turn, notice when those flavors show up in consumer packaged goods," says Peggy Castaldi, marketing director at SupHerb Farms. "Israeli food had been trending the last few years, but in the first half of 2018 we noticed that Israeli cuisine was becoming even more popular and that key Levantine ingredients and dishes (s'chug, Aleppo pepper, Urfa, labneh, za'atar, muhammara, tahini, toum) were being talked about by a variety of sources and popping up on independent menus."
The interest in Israeli cuisine has in turn generated interest in other countries of the Levant, such as Syria, Turkey, Cyprus, and Lebanon, says Castaldi. "We surveyed consumers on their experiences and attitudes with Levant cusine.
"Depending on the Levant country, just 10%–20% of consumers have tried its cuisine; yet, approximately half of those same consumers surveyed are interested in trying each and every one of the Levant countries' cuisine."
What makes the cuisines of Israel, Turkey, Lebanon, and other Middle Eastern countries so intriguing is that many of the ingredients and flavors are very accessible, says Kara Nielsen, vice president of trends and marketing at CCD Helmsman. London-based chef and author of several popular cookbooks Yotam Ottolenghi has been influential in bringing attention to Israeli food and ingredients from Middle Eastern cuisine to a wider audience, she adds.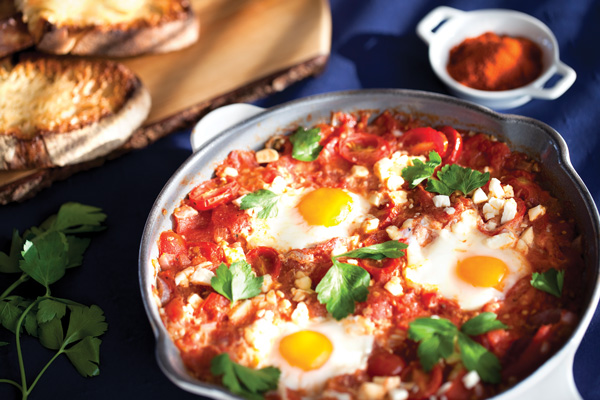 Levantine cuisine features staple ingredients like chickpeas, peppers, eggplant, zucchini, mint, lemon, and yogurt that most people are aware of. These ingredients and others are used to create dishes that many U.S. consumers may not have tried, such as menemen, a Turkish dish of eggs, tomato, green peppers, and spices, and amba, an Iraqi sauce made with pickled mango, vinegar, and spices. As U.S. consumers learn more about the cuisines of the Levant and become more exposed to some of the unfamiliar dishes, it presents opportunities to introduce menu options and consumer packaged goods. Take galayet bandora, a popular dish in Jordan made from tomatoes, roasted bell peppers, garlic, and chile peppers like Urfa and Aleppo, which could pair well with meat and fish, grains and pulses, and vegetables, says Castaldi. "Manufacturers would not have to call it galayet bandora. They could simply call it a vegetable stew or vegetable sauté. For those a bit more trendy, they could call it a vegetable gremolata."
The region is home to several different chile peppers like the Urfa and Aleppo that can appeal to heat-seeking consumers. Aleppo pepper has cumin-like undertones and some fruitiness, and provides a touch of heat to any dish, says Castaldi. The pepper is used along with walnuts to make the dip muhammara that can easily be named red pepper and walnut dip.
Sauces, dips, and spreads are integral to the cuisines. Harissa is a smoky-spicy chili pepper paste that can be used, among other things, to coat and season meat for skewers. Tahini, a sesame seed paste, is the main component of hummus but can also be used to make dressings for salads and sauces for noodles and vegetables and baked into cakes and brownies. Labneh, a Greek yogurt-cheese spread, is perfect for traditional flatbreads or to accompany crisp vegetables.
Even zhoug (or s'chug), a spicy cilantro sauce with Yemeni roots, is turning up on menus and in grocery stores like Trader Joe's. Tastewise, an AI-powered food intelligence startup that leverages real-time analytics, calls zhoug "the next sriracha," noting an increase in mentions on social media (129%) and on menus (3.5%) throughout the United States from 2017 to 2018 (Tastewise 2019). Zhoug is an incredibly versatile sauce that can be used in egg breakfast sandwiches, bowl applications, dressings, ranch and tartar sauces, hummus, glazes, and even in alcoholic beverages like the Bloody Mary, says Castaldi. SupHerb Farms offers zhoug under its Fusions Culinary Pastes line. Some suggested applications are huevos rancheros with s'chug; honey-roasted squash with feta, chickpeas, and s'chug; s'chug spiced poké bowl with pita chips; and s'chug queso dipping sauce.
In addition to offering up delicious flavors, the foods of Levantine cuisines, which include fresh cuts of meat and fish, vegetables, nuts, seeds, chile peppers, herbs, and spices, generally have a healthful image. "Levant ingredients and dishes tie directly to the numerous industry trends we are seeing regarding health—plant-forward, gut health—and as such are a great way to enhance consumer packaged goods, such as pulses, vegetables, frozen entrées (including grain bowls), yogurt, and spreads," says Castaldi.
Opportunities Around West African Food
West African cuisine has piqued the interest of some trend watchers, and there are aspects of the cuisine that product developers and foodservice professionals can leverage. The cuisine combines ingredients native to the region, such as sorrel, kola nuts, and grains of paradise, with ingredients that Europeans brought to the region, such as chile peppers and tomatoes.
Kola nuts, moringa, plantain, yam, cassava, ginger, scotch bonnet chiles, beans, fonio, okra, peanuts, and sorghum are among the West African cuisine ingredients that could be highlighted in product innovation, according to Ayisha Koyenikan, global food and drinks analyst for Mintel (Koyenikan 2018). She also writes that many West African dishes are gluten-free and high in plant-based protein, which addresses two of today's top food trends. Trend analysts from CCD Helmsman named African flavors a flavor trend in a recent report based on knowledge gleaned from trade shows like the Winter and Summer Fancy Food Shows and Natural Products Expo West and East (CCD Helmsman 2018). They noted a few products inspired by ingredients in West African cuisine, such as Ethiopian Berbere Dry Roasted Almonds from Departure Snacks and Ginjan, a traditional West African juice made with ginger, pineapple, lemon, vanilla, anise, and sugar, from Ginjan Bros. They also discovered soups in varieties like West African tomato obe ata, brown-eyed peas gbegiri, melon seed egunsi, and peanut butter groundnut from Egunsi Foods, and an Ethiopian-style cultured, grass-fed, clarified butter called Niter Kibbeh Ghee from Ahara Ghee.
While consumers are more aware of various global cuisines, West African is still a bit unfamiliar to many. A survey shows that 21% of consumers have tried and like West African cuisine (SupHerb 2019b). Almost half (45%) of consumers haven't tried West African cuisine but would like to and think it sounds good. (The survey respondents were given the region's culinary influences and specific popular dishes and ingredients.) A little more than a third (36%) of consumers say they would like more restaurants to offer West African cuisine.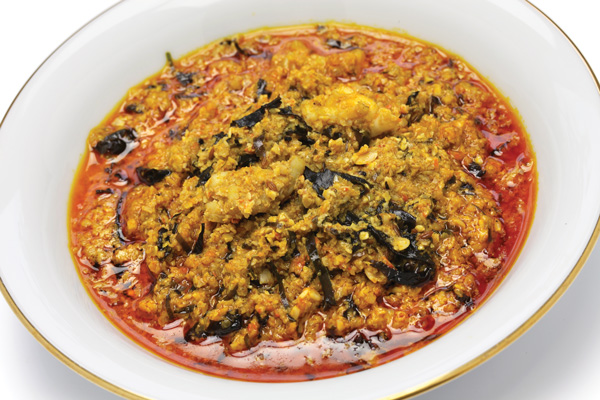 There are opportunities to generate the buzz needed to propel West African cuisine to the forefront in the United States. One way is for an expert such as a chef who specializes in West African cuisine to become the champion of it, similar to what David Chang (the restaurateur who founded the Momofuku restaurant group) and Roy Choi (who came to prominence with his Kogi Korean barbecue taco truck) did for Korean cuisine, says Nielsen. This means bringing attention to the diverse regions of West Africa and teaching consumers and food writers about the indigenous ingredients found there.
Another way is to look at foods from West African cuisine that are adaptable to restaurant fare and consumer packaged goods. Soups and stews are two examples. They are popular across West Africa and are great showcases of these different ingredients. SupHerb Farms notes several, including egusi soup, a Nigerian soup made from ground squash seeds, tomatoes, chile peppers, and leafy greens; cachupa, a Cape Verdean stew with corn, cassava, sweet potato, tomatoes, onion, garlic, and fish or meat; and kedjenou, a spicy stew from Ivory Coast made with chicken, flaked cassava, tomatoes, onions, peppers, thyme, and bay leaf.