In the annals of photographs that changed history, the 2015 photo of an olive ridley sea turtle may not be the Hindenburg dirigible blowing up in 1939, Neil Armstrong on the moon in 1969, or the man holding off a tank column in Tiananmen Square in 1989. But the image of a turtle captured off the coast of Costa Rica with a plastic straw up its nose accelerated a global movement against plastic disposables and packaging—and now is rippling through the consumer packaged goods (CPG) and foodservice industries.
Also amplifying consumer alarm have been documentaries such as BBC's Planet Earth II that chronicle the contagion of plastic waste in the great outdoors. Throw all of that emotional messaging into the echo chamber of social media, and it has created rapidly coalescing worldwide outrage over single-use plastic.
"It has really galvanized consumer action against plastic," says Chase Buckle, trends manager for GlobalWebIndex, a consumer research firm based in London and New York City. "And the war on plastic is part of a wider shift toward consumers taking a leading role in all things green."
Indeed, plastic waste has become Public Enemy No. 1 in the food and beverage business these days. As a result, traditional packaged goods giants, huge restaurant chains, and startups in both businesses—and their packaging suppliers—are scrambling to create new single-use plastic packages that are recyclable or biodegradable—or, preferably, are reusable or eliminate plastic altogether. As part of this ethos, in fact, many companies are performing thorough reexaminations of their approach to all their packaging.
A Rising Tide of Consumer Concern
Yet their response still can't keep up with a tsunami in public sentiment that continues to shift massively against soda and water bottles, plastic bags, and plastic straws, and simultaneously to elevate commitment to a "circular economy." The concern has rocketed from a marginal plaint of environmentalists to one that is at the very center of green sensibilities, nearly on a par with discussions of climate change.
WestRock, a giant paper and packaging supplier, shares research with clients that shows that 74% of consumers now say materials used in packaging are an important way companies can show interest in and support for the environment.
"It's a gatekeeper concept for consumers and a representation of that company," says Jeremy Keenan, strategic marketing director for the Atlanta-based company. "They're competing on-shelf for presence, and consumers will choose the product and brand that connects with them on sustainability measures."
More than 60% of consumers are likely to switch away from a brand that they don't believe is sustainable, according to research with American and UK consumers conducted by GlobalWebIndex. And 56% now are likely to pay more for products they perceive as sustainable, up from 40% in 2011.
All this attention and concern is hardly surprising. The world seems to be literally choking on single-use plastic. While some still argue about the science behind man-made global warming, there is little argument with the evident ravages of plastic wastes that aren't quarantined and hidden in landfills. Out in the ocean, there is a NASA-measured "gyre" of plastic wastes of various concentrations that has become the size of Alaska. Microcapsules of broken-down plastics are said to inhabit every creature that plies the seas and end up in human digestive systems.
Activists present reams of damning statistics about plastic wastes that seem as overwhelming as the piles of plastic garbage themselves. For example, more than 6.3 billion tons of plastic waste already exists out there. Just 14% percent is collected for reuse.
And besides the olive ridley sea turtle, other maritime animals provide unfortunate anecdotes. For example, in pushing for a plastic straw ban in California, former Governor Jerry Brown last year mentioned that researchers found 80 plastic bags in the stomach of a dead pilot whale that had washed ashore in Thailand.
Combating plastic waste has become a business priority. SodaStream, which supplies a beverage carbonating device for in-home use, made that clear in a video ad, which managed to spoof a corporate rival at the same time that it sent a high-profile message to the world about its ability to reduce the number of plastic water and soda bottles flowing into the waste stream. In the style of Coca-Cola's iconic 1971 commercial, "Hilltop" (think, "I'd like to teach the world to sing"), SodaStream fielded a commercial that depicted another diverse group of singers. But each had a plastic bottle of water in their hands, and they were standing on an iceberg-sized heap of discarded plastic bottles.
SodaStream—which has been acquired by PepsiCo—recruited celebrities such as actress and singer Sarah Catherine Hook to join its choir of people, and Rod Stewart voiced a sea turtle that was being carried by Icelandic strongman Hafthor "The Mountain" Bjornsson.
Challenging the Status Quo
Practically anything Starbucks does qualifies as a cultural moment, so its NextGen Cup Challenge also has attracted a lot of attention. Run by Closed Loop Partners, the Challenge is an initiative aimed at redesigning the fiber to-go cup to create a widely recyclable or compostable alternative. Among the other major CPG and foodservice brands involved are McDonald's, Coca-Cola, and Nestlé.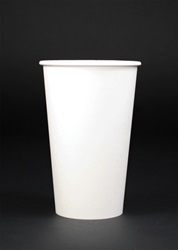 The 12 winners of the Challenge include alternatives to the polyethylene plastic liners that can make to-go cups difficult to recycle, ranging from a coated paper cup that is recyclable and home-compostable from Thailand-based PTT MCC Biochem to WestRock's recyclable and compostable paperboard solution for cups.
"We're in a unique and interesting time," notes Keenan. "There's a convergence from consumers, media, and government regulation. We're seeing an acceleration away from plastic."
Indeed, governments have gotten involved: France, for instance, has made an ambitious commitment to recycle 100% of its plastics by 2025, and the United Kingdom announced a 25-year environment plan with a major focus on moving away from throwaway plastics. The European Union has banned plastic plates, cups, and cutlery beginning in 2021. Many U.S. communities already have banned plastic straws. (See sidebar on Reaching the Last Plastic Straw?.)
But the real action on this problem is at the company level, where CPG and foodservice players alike are scrambling as never before.
"Everyone agrees that plastic waste does not belong in our oceans or anywhere in the environment," declared Procter & Gamble Chief Executive Officer David Taylor in January as he announced the founding of a new organization called Alliance to End Plastic Waste, made up of 30 member companies that committed more than $1 billion with the goal of investing $1.5 billion over the next five years to help end plastic waste in the environment. "This is a complex and serious global challenge that calls for swift action and strong leadership."
Food Companies Take Action
Many food and beverage companies also have announced their own specific goals to use recycled content and ensure that their packaging is recyclable. Leaders in this area include Anheuser-Busch, Coca-Cola, Danone, Kellogg, McCormick, McDonald's, Nestlé Waters, PepsiCo, and Starbucks. For example, Danone pledged to increase recycled content in water bottles to 100% by 2025 from the current 25%; McDonald's promised to have recycling in place at its 36,000 locations by 2025; and Coke's World Without Waste initiative pledged that its packaging will contain 50% recycled content by 2030.
Former Unilever CEO Paul Polman emerged early as a decisive actor and thought leader among CPG executives about how the industry could attack the waste challenge. Already since 2010, the waste associated with the disposal of its products had decreased by 28%, and the weight of its packaging had been cut by 15%, the company said last year. Before he retired in January, Polman further pledged Unilever to ensure 100% of its plastic packaging is fully reusable, recyclable, or compostable by 2025, to source 25% of its resin from post-consumer recycled content, and to publish its full plastics palette by 2020.
"There is no doubt that the response from the consumer goods industry will be amongst the most critical in determining the speed at which positive change takes place," Polman said in a Unilever release. "We are at a critical juncture."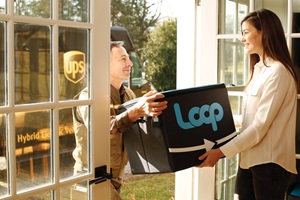 Loop is a new durable packaging program launched at the World Economic Forum earlier this year that offers popular products from about 25 CPG companies in reusable containers that customers can order online or purchase in stores and return to the company when finished. Launched by TerraCycle, a New Jersey–based recycling company, the goal is to cut plastic waste and advance the "circular economy."
So, for instance, Unilever has designed containers for the program that will ship Hellmann'smayonnaise in durable glass. Nestlé designed Häagen-Dazs containers that are a double-walled aluminum jar that actually keeps ice cream colder than traditional waxed-paperboard packaging.
Requiring the packages to be reusable does introduce an element of complexity because the brands want to make sure consumers perceive all the containers as being fresh and tamper-free. "We're looking to help build a world where plastics need never become waste," Simon Lowden, president of PepsiCo's global snacks group, told Bloomberg. "Trials like this help us evaluate the future potential for reusable models and our ability to scale initiatives."
Besides the NexGen Cup Challenge, many foodservice brands are launching other initiatives to cut plastic waste. KFC, for instance, announced its intention to make all of its plastic-based, consumer-facing packaging reusable or recoverable by 2025. The Yum Brands–owned company already is headed in that direction with initiatives such as replacing its plastic in-store serving trays with a paperboard tray that includes a grease barrier and is produced by WestRock.
"With different substrates and materials, we can give them the performance they need with trays," says WestRock's Keenan. "This also gives KFC something to use in their brand. They can connect with the consumer on this for their in-store dining experience."
Beyond limiting their use of virgin plastic, many CPG companies are getting even more basic and rethinking packaging altogether. Lifeway Foods, for example, recently launched corn-based biodegradable packaging for certain sizes of its kefir probiotic dairy beverages that previously were housed in single-use plastic.
"Consumers demand it, but it's also important for the earth not to have plastics and to reduce our plastic footprint," says Julie Smolyansky, CEO of the Chicago-based category leader. "As manufacturers, we have to be very conscious of that. We want always to reduce our impact on the environment if not leave a positive impact. There's certainly a cost to doing it, but this goes beyond costs and profits."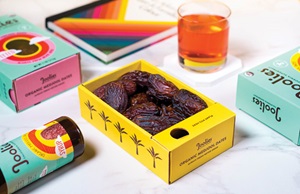 And David Kohl has created a brand of medjool snack dates called Joolies that he grows on his vast farm in Southern California. Scion of the family that founded Kohl's Department Stores, he knows business. And so when he decided to attempt to decommoditize dates, much as Wonderful Pistachioshad done with pistachio nuts several years ago, he hired émigrés from Wonderful Company to help with positioning and marketing.
Kohl also focused on packaging, quickly rejecting the traditional clamshell plastic containers that housed existing snackable date brands in favor of a completely recyclable paperboard container. The company bedecked the package with palm trees and other attractive graphics and included features such as a slide-out tray for whole dates with a pop-up hole where consumers could put the pits.
"We wanted to create a package that would entice people to find out what Joolies are," Kohl said. "But we also knew that making it 100% recyclable would be a big attraction in itself to today's consumers."
Retailers Embrace the Cause
Some retailers also have gotten into the fray. Trader Joe's, for instance, plans to reduce its use of single-use plastic. While it already took some steps late last year, such as eliminating single-use plastic bags for customers, the chain also has launched new efforts, such as reducing the amount of produce sold in plastic packaging, replacing Styrofoam trays with recyclable ones, and eliminating nonrecyclable plastic and foil from tea packaging. And Target, in its Design for Tomorrow Initiative, has incorporated recycling targets into larger sustainability goals. Whole Foods announced recently that effective this summer, it is eliminating plastic straws from its stores in the United States, Canada, and the United Kingdom.
Alltown Fresh, a convenience store in Plymouth, Mass., has opted for recyclable, biodegradable, and compostable plant-based packaging for every order of avocado toast, iced coffee, and house-made granola that goes out the door. There's nary a Styrofoam cup or plastic straw to be had by the mostly Millennial clientele attracted by better-for-you food and beverage options that are atypical for a c-store.
"It's important that there's a purpose and a cause not just around the food but everything associated with the experience," says Ryan Riggs, senior vice president of retail operations. "And part of that is packaging. It's of importance to this demographic set, and it's the right thing to do."
Perhaps ironically, while activists and industries have been attacking the plastic problem, there has been relatively little concern expressed about an environmental scourge that is even worse: foam. Foam plates and cups are made from polystyrene, a rigid thermoplastic material.
Vericool is attacking that. Based in Livermore, Calif., the startup designed 100% recyclable coolers made from 100% postconsumer materials that have become popular for cold-chain shipping of meal kits, confections, and other products, replacing the reliable but eco-dangerous foam container. "We came up with a solution that's going to change the market forever," says Darrell Jobe, founder and chief executive officer of Vericool.
Foodservice companies are also experimenting with ways to eliminate the ubiquitous foam takeout container. "What if when you don't eat all your pad Thai, the restaurant gives you a reusable container that's like Tupperware?" says Claire Koelsch Sand, chief executive officer of Packaging Technology and Research, a consulting company. "Every place could use a standardized reusable container, and next time you're at a restaurant, you could bring it with you. But most people probably wouldn't; it's like how people leave nondisposable [grocery] bags sitting in their trunk."
Indeed, despite all of the advances against the stream of single-use plastic waste, huge challenges remain. One of them is the debate among companies, suppliers, activists, and regulators about the desirability of various types of "sustainable" packages, ranging from reused ones to those that are recyclable, biodegradable, and compostable. (See sidebar on Shrinking the Footprint of Food and Beverage Packaging.)
Another challenge is that all of this new packaging costs mountains of money to develop and often ends up adding expenses across the value chain. "Trying to change the behavior of people who continue to use the same amounts of single-use or disposable plastics comes down to affordability," says Buckle of GlobalWebIndex. That criterion "trumps sustainability in every single age group" and especially with older consumers, he says.
But for the sake of both sea turtles and humans, the food business will continue to work on ways to reduce the environmental footprint of its packaging, plastic or otherwise. "There's not just going to be one solution," Sand says. "We need to rethink how we do everything."
Dale Buss is a freelance writer based in Rochester Hills, Mich. ([email protected]).
IFTNEXT content is made possible through the generous support of Ingredion, the IFTNEXT Platinum Content Sponsor.